All of us face infinite notifications in our handsets, which are inevitable.  There are reasons for such notifications and analyzing it will give us relief from it.  One such notification provider is this Samsung push service.  When some users use it to gain instant updates, many folks see it as a distraction during their usage.  If you wish to uninstall, then full control of your phone is needed.  Rooting can give you this superpower.  Also, some efficient apps can assist you in this process without rooting too.  Let's elaborate on What is Samsung Push Service App?
Author Contribution: Subalekha and Sherya
Samsung: a brief overview
Samsung is one of the most popular devices in the market currently. Having over more than 100 million active devices, consisting of 36.8% of all the devices used over the globe. Making Samsung the largest smartphone company in the world. And the reason why Samsung holds on to this tag is because of the special apps and features it provides. Such as Samsung Health, Samsung Clouds, Samsung Pay, Device Care, Find My Mobile, Samsung Kids, Samsung Notes, Samsung Wireless Charger and the list keeps ongoing. And to get the tag of the world's largest smartphone seller company by establishing a good relationship with customers.
Samsung created many apps where you can ask any inquiry or report any problem and bugs. Where you can get various solutions by the Samsung team and also get help from other customers of Samsung devices. These apps also send you the latest updates about the Samsung Market. This includes the latest apps released along with its features to the latest offers on Samsung pass, incallui and products and apps. One such app is Samsung Push Services. Samsung Push Service App is one such platform where you can interact with other Samsung Customers, know about the latest launched apps of Samsung, and get notifications of great offers and discounts.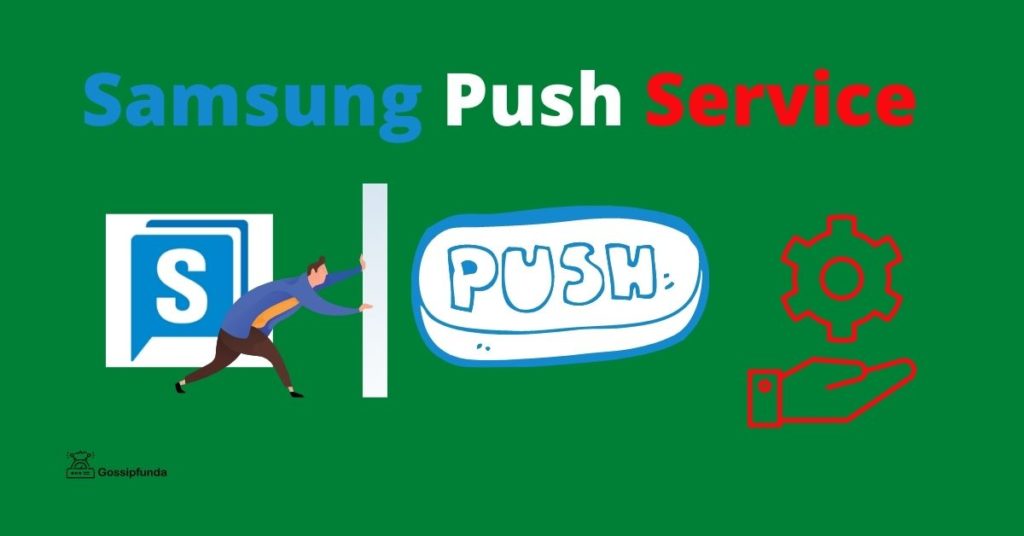 What is Samsung push service?
An app developed by Samsung, known as Samsung Push Service is a platform which is designed to send you "Push Notifications". These notifications (or push notifications, as they say) consists of various types of information about apps, latest launches, and exclusive offers on Samsung products. It also shows you messages or of the latest updates available for device and Samsung apps present in the device. This platform is completely based on the internet (online) communication among people part of the Samsung Community.
A major scale, this app sends most notifications of updates and offers from mostly Samsung Link, Samsung Apps, Samsung Members, Samsung Wallet, SAMSUNG LAPTOP, Samsung Music Player and few more such apps. There are also some Non-Samsung apps of which Samsung Push Services sends Push Notifications are ABC News and other apps' update which may improve the functionality of the device. This application is mainly designed for website publishers, application publishers, and central servers' publishers, for their ease of sending message requests to Samsung.
What are these "Push" notifications
Push notifications are the pop-ups that offer updates on various fields.  This service is used to grasp consumer's attention towards such notification.  Mostly, sports news or business news or stock weather updates are all provided.  By notifying this, the user will note the pop-up and not push it off without even considering it. 
A push notification is nothing different than any other notifications you get on your device. Just like a normal notification, "push" notifications also pop up on the device's screen. These push notifications are mainly used by the app publishers for sending notifications of an update, error occurrence, or any important information at any time. You will not need to keep the app open for receiving these push notifications. Samsung Push Service app runs on the background which keeps the notifications active even when the application is closed. These push notifications look similar to SMS text messages and mobile alerts. But you will get these notifications only when you have installed apps that provide this service. Push notifications add up special features that add value to these application users. Some of the interesting features are:
Downloading of some coupons from apps.
Informing the user about some events.
Notifying about some flash sale on products.
Showing the live score of any Sport, chose as preference.
Highlights news and current affairs on the device lock screen.
Provides weather forecasts and ski snow reports.
Provides current traffic status.
Shows flight check-in status.
Shows connectivity information.
See also: Samsung Smart View
Samsung push service
Samsung push service is a notification provider in-built in all smartphones produced by Samsung. This application gives an alert only for Samsung apps, links, Samsung Wallet, and Samsung pay. Now, if the service provider updates the user about the product's update then it will also gain the attention of the user.  It acts as a form of communication between the manufacturer who tends to provide an update about the technology available in the industry and the user, who wishes to make optimum utilization of the resources available in the industry to upgrade the personal standard of living. 
Uses of Samsung push service
Samsung push service, acting as a notification provider helps you in any situation.  When you are stuck in an emergency to travel during peak hours and blinking without knowing which route you should choose, here comes a notification on your mobile.  It can guide you in route choosing too.  (Don't always expect it to show notifications on traffic, it may show if the route you are moving on is high on traffic or by any coincidence it may show up)
You can even receive updates about sports when you have missed live streaming.  Receive updates about trading signals and changes in NYSE.
Know about the government's sudden announcements.
Getting predictions on weather changes can help you to take precautions and beware of it.
Beyond all these notifications, updates and new releases of Samsung can be often seen in notifications.  It helps you to get notified about newly released gadgets by Samsung. 
Read more: Screenshot on SAMSUNG
Functions of Samsung Push Services
When the Samsung application publishers send the utility request of the "Push" notification, then the Samsung Push Service starts to run on the background. This application when runs on the background of the device, starts downloading and updating all the applications and services that are exclusive of Samsung Store. This may include S Calendar, S Notes, S Voice, S Members, S Max, Screen Record and more e similar apps.
The Samsung Push Services doesn't download or update apps of other parties. It is only and only for Samsung software products and few other apps such as ABC News, CSC code. It is used for reminding or can say to keep a check on Samsung devices on regular basis by popping up notification on your screen. These notifications can be displayed as a message popped up on the screen or the slide pannel or as a badge on the app icon. This app is maybe very beneficial for the people who use multiple Samsung Apps on their device. 
Benefits for Samsung App publishers in using Push Notifications Service
You may assume that for Samsung App publishers, Samsung Push Services acts as a direct connection with its customers. These app publishers get a platform where they are never left 'ignored or forgotten in the inbox' content. And are more likable to be more expressive with customers. The publishers can also remind the customers of their apps to use the app more frequently. Few advantages that these Samsung Application Publishers may get for using this feature for Samsung Customers are:
Publishers will get a platform to show off their skills and get highlighted among their competitors. (If they provide a great software for its customers.)
A place where they can easily promote their products and also get noticed by the customers.
offer exclusive offers for their customers for increasing the sale of the product.
easily connect with customers and provide instant service for them.
have more exposure to the customer demands from the application.
Platform to get their 'not so known' apps more wide access among society.
Delivering transactional receipts straight to the consumer.
Easy targeting of the customers for publishers.
Another view of SPS
When this service app offers such easiness to the users, it also has some demerits.  This service typically complains about interruptions. Learn Unlock Bootloader Samsung.
Samsung Push Service App can be annoying too!
Amm. Well, maybe or maybe not. It depends on the type of user, their daily life activity, their profession, and most importantly their point of view. If you are a user who has a lot of Samsung Apps installed on your device. And you actively use those apps. Then this is the service that is just made for you to ease up your life a little. Regularly updating you with new versions and changes. Popps up all the necessary information you set up for. Instant access to news, weather, and other widgets.
Now if you are a person who is more interested in having a clean and organized phone screen then your living space. Then I guess this isn't an app that you would likely wish to have in your device. As many Samsung customers have reported that this app creates a lot of trouble and annoyance by sending regular update notifications. Poping of badges and notifications every then and now. Also sending continuous advertisements of the gadgets and products. Interrupting a lot while working or using the phone. Also, this app drains a lot of battery which makes the device gets charged more frequently. And thus because of these issues, many customers wish to get rid of Samsung Push Services App.
As already said, new updates and releases about Samsung will be shown in notifications.  Repeated notifications by the handset may annoy the user. She has already invested in that particular company to buy a phone.  Even after that if she gets messages to re-invest or to buy some updates, she may be disturbed.
Occupies internal space: 
When such bloatware occupying the internal memory is higher, then the usage will limit a lot.  Continuous message to free up the storage will disturb the peace of mind.
Resource usage: 
It consumes battery life and the working capacity of the mobile phone to provide notifications to you.  Traffic updates are shown using GPS (turned on) on the phone.  All these features when enabled consumes resources.
Data usage:
This push service uses the internet connection of the users to gain current updates occurring in news.  It needs to show updates about weather, sports, and business.  All of these require mobile data of the device to show up. 
AVAST's statement about Samsung push service says that SPS is "depleting resources by draining battery". Such dislikes by the majority of the users made it a need to disable SPS.

AVAST
Where can you get this Samsung Push Service App?
You can download the Samsung Push Service App from Play Store. Just type the name "Samsung Push" on the search bar and you will be directed to the app. Or you can get this app on Samsung Galaxy Store. Which comes pre-installed on the Samsung devices. There also you may type the name of the app, "Samsung Push" on the search bar. You will be directed to the app. In some cases, it may be also possible that you might already have this application pre-installed on your device. You may find your Samsung Push Service App on the app menu.
How to tackle annoyance of Samsung Push Services
If you one of those frustrated users of the Samsung Push Services App. Then worry not, we will help you fix this announce in no time. You have two types of solutions to solve this problem of yours. Either you can disable the notification function of the Samsung Push Services App. Or you can remove (uninstall) the app completely for once and all. See also: SM-G930V.
How to disable SPS simply?
Turn off notifications: Enter Settings < Apps < Choose show system apps < Select Samsung push service.
Tap app notifications < Press disable or force stop.
How to restrict SPS from data consumption in the device?
Tap settings < Connections < Data usage.
From data usage, move on to mobile data. Now select Samsung push service.
Toggle the switch off to disable the background data usage by the app.
Now you will no longer get any notifications from the Samsung Push Notifications App. And your phone screen will be free from all the messy messages and notifications.
Uninstalling of Samsung Push Notifications App
The second and maybe the last option for getting rid of these annoying push notifications are, by just uninstalling the app. Just remove the root of the cause! But it isn't that you can't again get back that. Sure, you can get the Samsung Push Notifications App back from Play Store or Samsung Store. As we got to know that there were many complaints from the Samsung customers that this application drains a lot of battery of the device. So, if you find no such major use of this app then it will be better if you install that.
For uninstalling of the Samsung Push Notifications App, follow these few easy steps:
Step1: Open your home screen of the device.
Step2: Find the "Play Store" app on the home screen.
Step3: Now type on the search bar "Samsung Push Notifications".
Step4: Tap on search.
Step5: The very first app will be the Samsung Push Notifications App. Tap on it.
Step6: Now press on "Uninstall".
How to uninstall Samsung push service with the aid of the ROM Toolbox?
This method can be used in a rooted phone (rooting is a method used to take control of the software by the user also see: download Odin Tool.)
Install the ROM toolbox.
Start the app and select the app manager.
Select all the apps you wanted to disable.
Remove.
Reading Required: How to Root Samsung Galaxy S5
How to uninstall SPS using a package disabler pro?
Package disabler pro:  This app contains in-app purchases.  Users who don't tend to root their phone usually uses this app.  Providing a one press solution to your bloatware issues doesn't mean that it's free of demerits.  By disabling the bloatware, the app uninstalls all the pre-installs (including Samsung theme).  So, be clear when you act.  You should never remove your android package present in your device unless you tend to change the OS.
Steps to uninstall:
Install the app from Google Play Store.
Open Package disabler pro in your device.
All the applications will appear on a list.
Select Samsung push service from it.
Choose disable.
How to use Debloated tool in uninstallation of Samsung push service
Debloater is an android blocker software that helps you to block and unblock applications installed / pre-installed in your device.  It is compiled under mobile phone tools and published by gates junior.
First of all, turn on USB debugging on your PC.
Now install the Debloater tool.
Access the software and check whether it could analyze your device connected to it.  (connect the device to computer)
Tap on "read phone packages" options available.  Now it shows all the apps installed in your device.
Select the "Samsung push service" from it and tap on uninstall.
Don't Miss:
How to reset a Samsung tablet?
Apps to uninstall bloatware in your Samsung device
No bloat free: 
Holds a feature of blacklisting apps.  Blacklisting refers to a permanent block of apps.  When you block that particular app for once, and then involved in the installation of any other ROM, as a bloatware same app may be re-installed in your device.  To avoid such re-installations you can opt to do blacklisting.  (It is a paid feature to blacklist)
Procedures
Go to system apps.
Select the app you want to uninstall.
Click uninstall.
System app remover: 
System app remover is a free-app and seems like an informative one.  During the process of app removal, you are given the facility of acknowledging all the details of that app by doing a long press on it.  Details shown are Install time, package name, apk, and path of that app.  It helps you to sort out the apps according to type, name, size, time, and path.  This app helps you to re-install the app if you need so in the future as it is saved in the recycle bin of the app. 
Procedures
Open the app.
It asks for root access in your device.  Allow it.
Select those apps you need to uninstall.
Tap uninstall.
Root app deleter: 
This app functions in a well-organized method.  It well segregates apps into third-party apps, plugins, wallpapers, themes, official optimized app, OS component, OS kernel, and unknown.  It helps the user to figure the app needed to uninstall easily.
Procedures.
Open app.
Select system apps.
Asks you to select between the junior route or pro route.  (Junior route:  temporary deleting of the app; pro route:  permanent deletion of the app)
After this selection, app lists will be provided.
Select that particular app from segregations.
Tap uninstall.
Note:  Don't uninstall anything in the field of OS kernel.
Disable Bloatware: 
Disable bloatware helps unrooted phones and doesn't ask for root access.  At the same time, it cannot uninstall any of the bloatware.  It merely hides any apps. 
Procedures
Open the disable bloatware tab.
Select the app you need to disable.
Tap the disabled icon.
Now, you can unhide the same app by accessing it in the "hidden apps" tab and use it again.
System apps
Procedures
Go to apps.
Select the app and choose disable.
Avoid marketing notifications by following below-mentioned steps
Using privacy settings.
Enter settings.
Go to the privacy option.
Toggle off the feature "receive marketing information".
Using galaxy store in your Samsung mobile
Open the app galaxy store.
Choose the three-dot icon representing the menu and select settings.
In settings, you can find "marketing choice".  Toggle off that option.
If you have uninstalled Samsung push service using any rooting apps, then you may find it difficult to re-install it.  Using the below-mentioned backup app, install Samsung push service if needed. 
How to use titanium backup to install Samsung push service
Titanium backup:  Titanium back is an application that helps the user to re-install apps/bloatware that is disabled. This application is considered as a useful tool for a rooted device.  Whenever you root your device, there is a requirement for the device's configuration and reinstallation of apps.
How to use titanium backup?
Verify there is no warning
Click backup tab
Click menu
Select backup all user apps
Reboot the device.
Summary
In conclusion, if this app is useful or not depends on the type of user you are. What is Samsung push service? What is your demand, what is the effective profit you could get from this app? Hence, Gossipfunda provided you an all the information to help you decide if that app is useful for you. Hope this will help you decide easily.
So, Samsung push service works ultimately perfect as a promotional application.  But most of the users feel it as an annoying service.  It's up to the user's decision to use it or else disable it.