ANDROID FIREWALL
Android Firewall: Protect Your Data, the ultimate solution to all your security questions. Let's learn in deep about an android firewall. How to use it? How does it work?
Hola Everyone, we entered in 2020 and we all know how important the internet is in our life now. Everyone has a smartphone today with high-speed internet connectivity. I do agree that the internet had made our life easy as it helps everywhere like contacting someone, sending work assignments, booking a flight ticket and many more. But we cannot deny the fact of the dark side of the internet.
So the question arises who will protect or what else can be done?
Here is the answer to all your questions?
Android Firewall, the ultimate solution to all your questions. You would be wondering what is it? If I explain in a simple way then it is like a guard standing at the entrance gate of your college whose job is to allow only the authorized persons to enter the premises. Security to our data must be our number one priority.
Android Firewall is a network security term used to prevent the unwanted connection establishment. 
It is used beacuse we dont know who out there on the other side of our network is spying on our activity. So Android Firewall protects our confedentiality and integrity of valuable information from outside attacker.
It acts as shield between inside network and vast world of network outside. It decides which type of traffic to be allowed to pass and which to deny. It protect both sides of network from being defected. 
We use internet and fill so many forms or we sign in by providing our mail these all are data that can be accessed easily by a guy who codes like a pro and can use that data in anyway which is very much dangerous. without knowing the consequences we use to allow any permission asked by any application while installation which can he harmful to us.
It can be implement as hardware,software or combination of both.
What can a firewall do to protect You?
Protects us from unauthorized access
Blocks unwanted sites/content
Prevents ransomware from gaining traction
Helps keeping our confidential data safe
Creates a secure network for multi-person interaction
Following are the different ways how firewall controls network
Packets Filtering :- Small amount of data is analyzed and filtered before distribution
Proxy Service :- Information available on internet saved by firewall before sending to requesting system
Stateful :- Trusted information is matched with specific details of data packet
Don't Miss: KWGT
BEST FIREWALLS FOR ANDROID 
1. NoRoot Firewall
This one is one of the best firewall with 4.5* rating and it is easily available at google play store. It is a firewall that lets you block any app from accessing the Internet. It gives a pop-up notification when the internet is accessed by any app.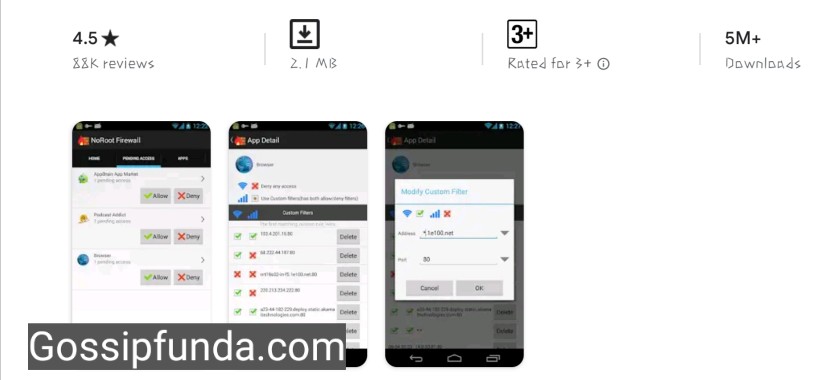 This is the best firewall available for your android smartphone. This app doesn't compromise with user experience because it does not ask you to root your phone and it's totally free. It is also one click start functioning app which will never bother us at all.
This Firewall also provides us with Hostname/Domain name filtering.
Please note that it works on LTE as it doesn't support IPv6. It has come up with its beta version which was released on 13th Nov.
2. AFWALL+(Android Firewall+)
Another best firewall in the list with 4.1* rating on the Google Play Store and 500k+ happy users.
This app is also one of the best because it allows us to view our detailed data usage statistics. How to use it clearly described by the developer it the video in the link provided. It has also a feature that allows its users to toggle between profiles. It also supports LAN, VPN, and tethering. While installing the new application it will always pop with permission notification on the screen.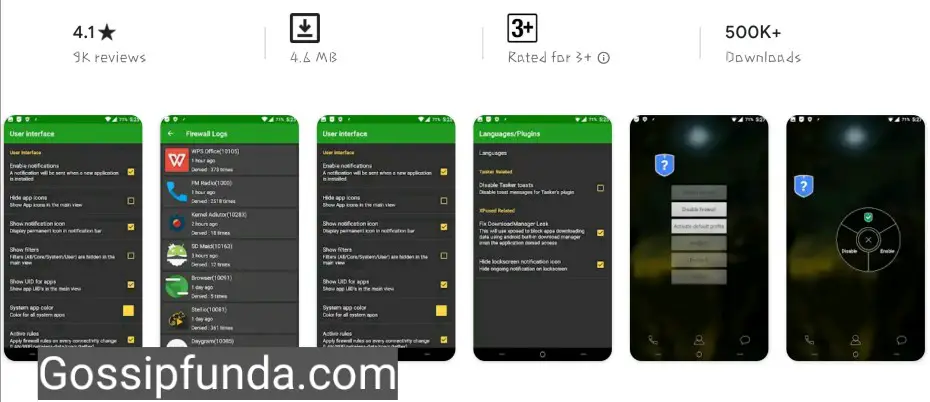 3. NetGuard
It is just like NoRoot Firewall. This one also comes with no root feature and provides advanced methods to block access to apps. one of the best features is that it is a multitasking app. It can control another device too and records internet usage. It has features like app blacklist and whitelist, like others this is also a user-friendly app. The best thing about it is that it is free and open-source. If you want to invest then you can have its advanced features bt in-app purchase.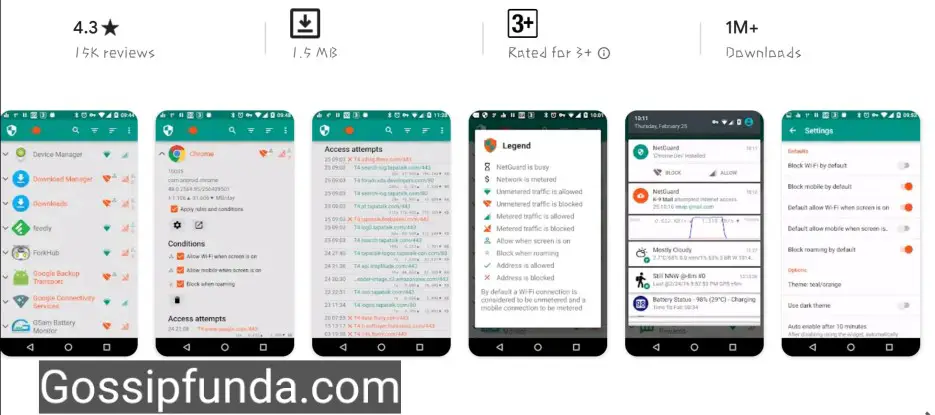 4.LostNetNoRoot Firewall pro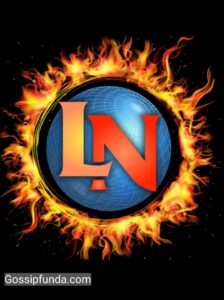 Just like others after doing some simple steps of allowing and denying apps to access internet you can use this app.But the best part of this app is that it allows you to block ads. It has also a functionto set timings to restrict accesses to networks. It will not slow down any of the apps which makes it more efficient app for use.The price of it is $0.80 which is less for it as it provides so many functions like it closes of once screen is off.
We can take our android to next level to security.
But it is a pro version so you need to buy. But its worth and you will not regreat.

5. NetPatch Firewall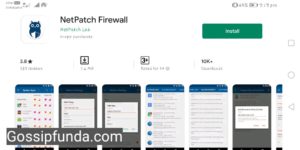 This app is different from all others listed above because this one will provide you with feature to bloack apps while yousr phone screen is off.Like others it also allows you to bloack particular domains and can block a set off apps at once. This app also comes with the feature like off when screen off and on once screen is on. It will run as usual without disturbing your smartphone performance and keep all your data safe,
But the best part is you can create your own rule settings. This app is free but for advanced settings you have to pay.
6.NoRoot Data Firewall
It is known beacause of its blocking ability. Its one of the feature which makes it good app that it keeps and shows records of all preinstalled data intractions. Like other apps this will also pop a notification whenever a blocked app will try to access the network.
So,it is a perfect tool which can monitor your smartphone according to your needs.Using this application you can block individual domains or IP addresses, block images, modify DNS server, thorttle bandwidth, capture packets.
7. Droid Firewall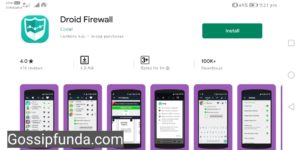 Old is gold makes it add on the list because it is one the most old and trusted firewall for android smartphones.Your phone needs to root first if you want to run this application in your android smartphone. Like other firewalls it also gives you basic blocking features. And in-app purchase option it comes with advance setting.
8. Protect Net
As the name itself suggest that it is to protect you from internet not by not allowing you to use it but by blocking sites, apks and files from download which can harm your smartphone and the data.
The best thing about it is that is can work on both rooted and non-rooted smartphones.Like others it also comes with blocking abilty. 
9. Mobiwol
This another application in the list which doesn't requires any rooted device. Its simple User Interface and simple handling made it millons of users favourite . It kept all things simple just like NoRoot Firewall,click to restrict usage and click to allow access.
10. Kronos Firewall
Kronos is new and simplest firewall in the market. For users like non technical guy who dont likes to deal with advanced setting, this one is the best Firewall for them.The app has a very simple display easy to understand. Just like NoRoot Firewall one tap allow or deny function is provided.
But it doesnt comes with the option to manage wifi and mobile data in separate way.
Why Does Android Set not comes with Internet Firewall?
Since our home router usually by default blocks all incoming malicious websites and data.The truth is that we will never need it if we use a reputed site to download aaps and sites to do our job. So is the android manufactures dont provides us with internet firewall.
But we somehow need to access such sites without thinking more about the consequences so do we need the firewalls.
ANDROID FIREWALL SETTINGS
Open Play Store and downlod any of the above firewalls.
Then just open the app and click start button.
Be Smart Enough To Protect Yourself From An Unknown Incoming Danger.
Hence, I have listed above all top 10 best apps with root and without root, with money without money. Now it's time for you to choose from which method you want to secure your data before someone steals it.
Although there is much more application available on the web which will promise to keep your data safe they will need permissions to access but I have listed above some of the best Firewalls.
You will find more than thousands of blog writing over this topic but I am mentioning this here at that end of this topic because transparency over the internet is very dangerous as in the era of 21st-century data is more valuable than money. So never install the app from an unauthorized site because it can never be secure.