Samsung Smart View
Samsung Smart View: Samsung is known to make one of the best panels for LED and OLED TVs. Moreover, not only for its own TVs but it also produces panels for companies like Sony. This is the prime reason why people buy TVs from the company. Today we will learn how to use your smart TV to the full extent from your very own smartphone using the Samsung Smart View
Firstly, let us understand what exactly is Samsung Smart View. It is an Android/iOS application that can be downloaded from the Play Store or the APP store respectively on your smartphone for free. It helps to cast and control the content you watch on your Samsung TV.
Therefore, if the user interface of the television is not up to your liking, you can make the application as your remote itself. You can completely control the TV and cast your favorite media such as photos or videos that you like.
It is always difficult to learn new technology for anyone especially if you control it through a remote. Therefore, the fun part is to learn how to use an app to do the same. Mobile phones are part of our daily lives, thus we tend to learn the facilities offered by phone easily. Similarly, you can learn everything about Samsung Smart View from this blog.
Compatibility
First things first, we need to make sure your device is compatible with the app itself. Compatibility is a huge issue while using this app and you need to ensure that your product is compatible.
Therefore, to begin with, the Samsung Device that is bought between 2011 to 2017 is the only one compatible with Samsung Smart View. If you do not have a Samsung television, or you have bought the television after 2017, don't worry. Samsung has an entirely different app that I will be covering below. Furthermore, if you do not own a Samsung TV at all, then we also have some good casting apps picked out for you below.
The Samsung TVs that are compatible with the Samsung View are as follows:
2011 Releases: Samsung LED D7000 & PDP D8000 series
2012 Releases: Samsung LED ES7500 & PDP E8000 series.
2013 Releases: Samsung LED F4500 & PDP F5500 series.
2014 Releases: Samsung  H4500, H5500 series
2015 Releases: Samsung J4500, J5500 series
2016 Releases: Samsung K4300, K5300 series
2017 Releases: Samsung ULS003U series
Note: These are unsupported ( H6003, H6103, H6153, H6201, H6203)
If you are unable to find the model number of your television, download the app by clicking here. When you launch the app, connect it to the Wifi that the TV is connected to. If your TV is incompatible then this should be on your display.
Downloading the Application
The Samsung Smart View was originally designed for the Samsung Galaxy devices. The company has now released the application for any device. You can clearly download the application as stated above for free.
Please click here to visit the play store, or click here to visit the App Store to download Samsung Smart View
Downloading Samsung Smart View for your Windows Device
Most importantly, Samsung has made available to download smart View for your Windows Device. If you have important media on your computer, you can just literally use it to cast on your TV.
Firstly, click here to visit the link to download.
What is com.android.incallui?
Now scroll down and click on "Download For PC with Windows"  to continue downloading.
You will get a popup prompt to begin to download the .exe file. If you use Google Chrome, the browser will give an alert that the .exe file is dangerous to keep. Please do not be alarmed and continue to press yes to download. I will be addressing this issue later on.
Now that the .exe file has successfully downloaded on your computer, double click to open the setup wizard to continue. You should have the screen as follows.
Please click next to continue. Now read the license agreement and check the box to accept and proceed. You can wish to install the software at the desired location by modifying the path. If you are unsure, leave it as default.
Finally, the setup should conclude with the option to run Samsung Smart View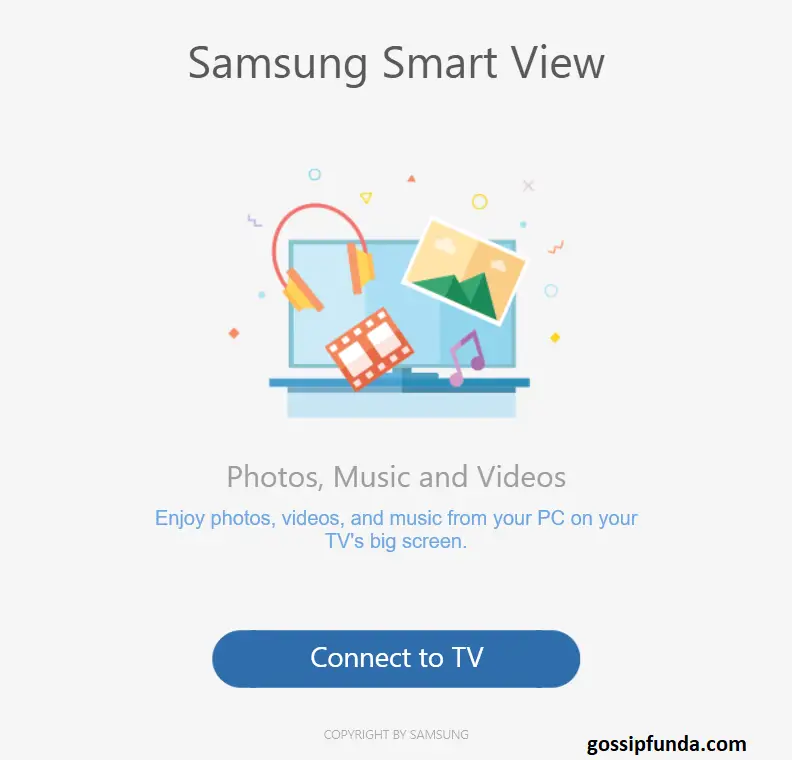 Troubleshooting TV
There is a slight chance that your TV might not be available, specifically, the software is unable to detect. There might be various issues that you can troubleshoot at your own end.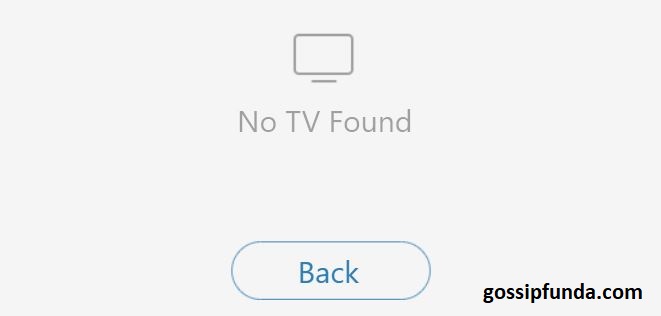 Firstly, if you are trying to use the Windows Application of Smart View, the beta version might be a problem. The company has not entirely released perfected software and thus there are a lot of issues. Therefore, if you are unable to connect, my suggestion would be to contact the customer service.
Now, if you are trying to connect through the app, please ensure that the TV has the latest software update. If there is a firmware or software update available, it might be the prime reason for connection failure.
Lastly, if you have an ethernet cable lying around, you can also try to plug that in. There might be an issue with the wifi adapter. A new Wifi adapter might come costly, hence the cheap ethernet cable is an awesome fix.
How to perform a software upgrade?
The easiest way to perform a software upgrade is through the settings in your Tv. You need to navigate to the settings that say "Firmware/Software" updates.
Even if you have no trouble in connecting through the app, you should always perform the latest software upgrade. Remember, security is a good thing. You would cast a lot of personal stuff on the smart Tv. It is very easy for a hacker to find an old vulnerability in your TV. Therefore, please perform the software upgrade.
More importantly, always check if the website has anything new to offer. Click here to visit the website to search for software related to your TV. If you can't find the model number, then check it from the Info option on your TV.
Now after you have visited the above link, search for the latest software that is available. Ensure to flash it for the latest security patches. Believe it or not, even your TVs get them
There will be specific flashing guides for every different model, that is available on the official website. Please ensure to follow them to get the desired result.
What to do after a successful connection?
Now that you have established the successful connection, lemme tell you the perks:
You can cast your media, including screen mirroring. You can cast your phone completely to play games on a big screen
Next comes the fun part, casting stuff like Netflix, Hulu & Amazon Prime. Obviously, you need to get an account working for them.
Finally, you can simply use the app as your remote. The UI is simple in design, and you can learn it quickly to your liking.
Samsung SmartThings
Do you remember, earlier I asked you to continue reading if you own a Samsung Tv bought later than 2017?
Well, it is because Samsung has an entirely different app for all the Smart TVs bought after 2017. Yep, it is known as the "SmartThings"
Click here to download it from the play store.
The best part about this app is that you can control every appliance that you own of Samsung. TVs, ACs, air-purifier, you name it.
The app is always free to download from the play store. It is even more efficient than the Smart View application.
Furthermore, if you do not own a Samsung TV, then stay tuned for the next app that I have for you
Cast to TV
This is a completely free casting app on the play store that you can download by clicking here. The best part is that it works with any Smart TV or Chrome cast. You can easily perform the same functions as the Samsung Smart View for any TV.
What are the statistics of the best TV brands to consider while buying?
Samsung still tops the list while buying TVs in 2020. It has a huge variety at the best prices. Many people tend to buy Samsung Smart TVs that also makes panels for many companies.
The next on the list is taken by Sony. The brand has name value and offers excellent quality. Sony's BRAVIA are a huge delight to the eyes and are preferred by many people
Lastly, you never forget LG and Panasonic which are also excellent at the price.
Conclusion
To conclude, you can download the Samsung Smart View app on your Android or iOS device to control what to watch on your Samsung Television. You can even download the beta Windows Smart View application to cast from your PC
Finally, there are many other casting apps that you can take a look at which can help you can on other TVs. Furthermore, you should always update your software to the latest update so that you are secure.
Don't Miss: Activate Youtube via youtube.com/activate