With the development of technology and the accumulation of a large amount of medical data, it has become possible to create smarter bots that analyze patient responses and ask clarifying questions based on them. They help speed up the collection of medical history by the doctor and even establish a preliminary diagnosis, thereby improving the quality and speed of medical care. In this article, we will consider why healthcare chatbot development is so popular nowadays.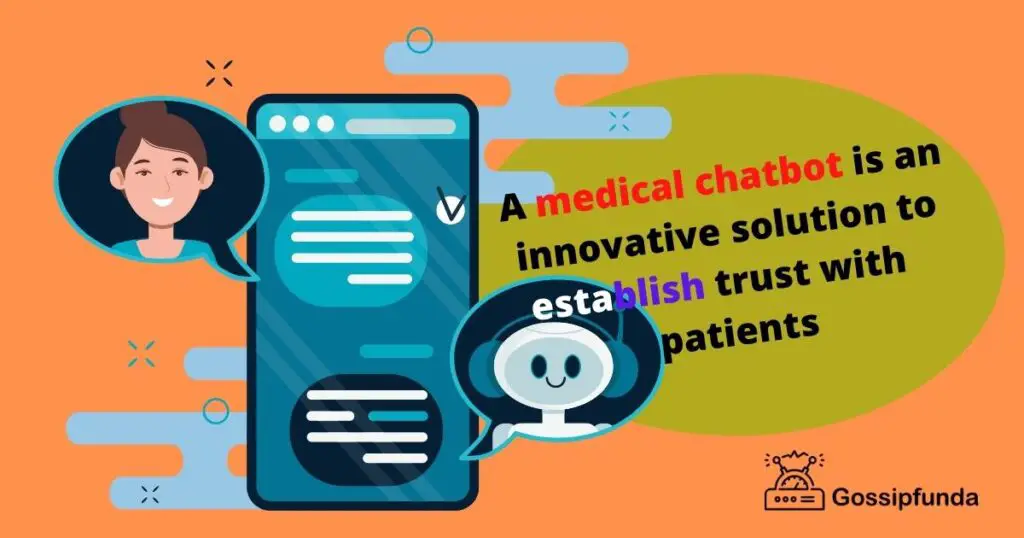 What is a medical chatbot?
Healthcare chatbots are specialized programs, usually based on artificial intelligence technologies, that help patients find the answer to questions and help them decide what they need to do next.
A typical medical chatbot is an application that appears as a chat popup and asks for symptoms before sorting responses to decide on actions (such as whether to schedule a clinic visit). After a series of simple questions and answers (yes/no), such a program suggests a solution – for example, go to an emergency center, make an appointment with a doctor or get some prescription drugs, drink more water, and rest for a while. More advanced chatbots can schedule a user to see a doctor for a specific time, warn them in advance, send medical records along with a transcript of the chat, notify a relative by text message, and, for example, inform them of what costs and co-payments may be required. If the chatbot detects that the user's symptoms are not described by any scenario, the program can connect it with an online doctor for further diagnostics.
The benefits of medical chatbots
So what do such systems give to the healthcare system and, most importantly, to consumers of medical services?
Chatbots provide immediate access to healthcare.
In the vast majority of cases, people do not need to see a doctor, and many do not. The health sector is understaffed and the situation is only getting worse over time. Patients who want to access health care find it difficult to contact the doctors they want to talk to for a variety of reasons. As a result, patients experience frustration and physicians face professional burnout. Not surprisingly, access and convenience have been cited as top goals for health care leaders in many countries in many studies. A software tool, such as a chatbot, may help at least partially to cope with this task.
Chatbots help the patient get to the right doctor at the right time.
Modern chatbots are so advanced that their recommendations are almost 90% accurate. Patients use it most often when the case is urgent and requires immediate treatment. Nowadays, the range of scenarios and groups covered by such systems is limited, but this is just a start. As with the use of chatbots for process automation, the accuracy and convenience of the tool will eventually lead to its wider adoption with machine learning and natural language processing tools, which may eventually lead to more complex tasks.
Great specialists can help you to solve possible problems related to chatbots.
It's true that chatbots can solve a lot of current problems, but still, there are some pitfalls. An experienced medical chatbot development company pays attention to possible issues to avoid the interruption of work. Let's consider the most common issues.
Expenses and income.
Such applications and software systems can reduce costs for patients by eliminating the need to visit a doctor or call an ambulance, which is very expensive in many developed countries. On the other hand, chatbots take away part of the income from medical organizations in this way, which is part of the reason why they are not yet very willing to implement such systems. The flip side of this is the fact that some medical systems, such as those in the US, have launched symptom screening services to try and direct consumers towards appropriate treatment options. And, if such an organization has control over the interface of communication with the consumer, then this may have corresponding consequences.
Disorganization.
A related problem is a possible growth in the number of chatbots, which can lead to the "spread" of such an automation system. For example, in the USA, some medical systems already have multiple web portals for patients trying to access medical care in organizations in that system. There are too many digital "front doors" for patients. The proliferation of chatbots, often from different technology providers, can lead to the same situation, only now, in addition to numerous phone numbers and portals, no less numerous chatbots will appear.
All of these channels must be carefully coordinated, and all chatbots must disclose their "artificial identity" to consumers due to the potential for harm from misleading advice.
The expected benefits of chatting in healthcare are enormous. Chatbots can not only improve access but also improve the quality of nursing consultations over time. The technology already exists, but is still at a very early stage.
Mistrust
Сurrent medical chatbots do not quite meet user expectations. 5 chatbots existing in the USA were tested.
Based on the results obtained from UserTesting's research, it can be argued that consumers do not fully trust chatbots. They are wary of relying on brands they don't know and worry about keeping their personal information safe. Others state that they prefer to do more testing before trusting the diagnoses and information provided. In addition, some participants complained about spelling errors and inaccurate links to content.
Another conclusion of the study is that there is a possibility for chatbots' improvements when it comes to complex symptoms. For example, when users tried to diagnose food poisoning, chatting became less intuitive and more tedious. The ease of use also caused a number of comments from users. 
Conclusion
In the world of medical services, there are many different symptom checkers. Most of them are based on the traditional question-answer system – they do not use artificial intelligence, and all the questions asked are "scripted". Such solutions can collect complaints and anamnesis of patients within the most common cases.
With the development of technology and the accumulation of volumes of medical data, it became possible to implement smarter questionnaires. They adapt to the situation, changing the "line of conduct" depending on the responses of users. Binariks is a reliable company to order medical chatbot development for your business. In addition to this, the company provides customers with EMR, CDMS software, remote care solutions, healthcare insurance products, etc.