Over the years people are willing to do smart work rather than hard work. They want to live a comfortable hassle-free life without putting too much effort.  We want anything to be a reachable space to save time and effort. Are you one among them? Then this article is for you! You need to try one such wondrous feature the google Message application developed for the Android mobile operating system. Anyone doesn't like switching work between a system and a mobile device right?
Personally, while I'm working on my laptop I would like to go with the flow of my work always. Switching between big and small phone screens is always an inconvenience.so, I use this Google message on the web browser. It gives me the flexibility of viewing and working on the big screen which avoids too much strain on my eyes too. Wondering what can be done with Messages.google.com.web! You can visualize the android mobile device screen on your computer and send SMS, MMS (restricted to some carriers), and chat messages. Especially chrome users are enjoying this facility to access android messages. On your phone, you need just the latest version of messages, WiFi, or Data connection. On your chrome browser, you just need a stable internet connection. To open Messages on your chrome use this shortcut Key by pressing Control+Shift+F.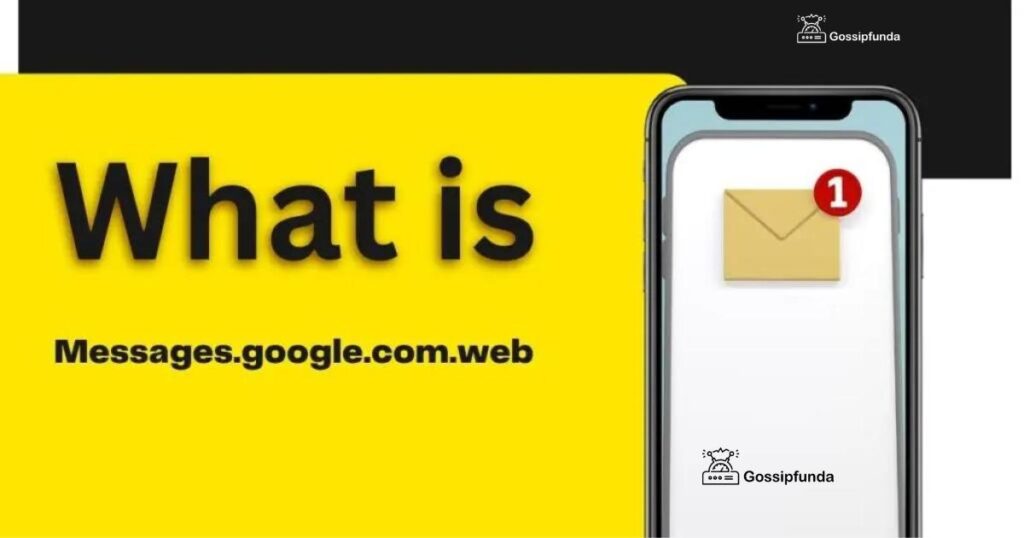 What is messages.google.com.web?
This feature allows you to send and receive messages by pairing your device to the system and your messages get synced and displayed in the browser. Our traditional way of sending messages was by using SMS. Messages have replaced this by adding a component named RCS(Rich Communication Services). RCS is an upgraded feature that combines both SMS and MMS. In RCS messaging chat feature you send more content, High-quality images, videos, and verified messages.
This feature was used by Apple iMessage, Facebook Messenger, WhatsApp, and Google Messages. Most phone manufacturers and carriers have set up Google Messages as their default messaging app. This app works in most browsers such as Chrome, Mozilla Firefox, and Microsoft Edge. But Google has mentioned that this feature doesn't work in Internet explorer. So to get started open messages.google.com.Web on your browser, and scan the QR code shown here from the Message app that you had installed on your android phone.
What Can messages.google.com.web Do?
Messages such as SMS, MMS, and voice messages can be sent to your friends, family members, or colleagues and all these actions can be taken in a browser as it supports a web interface feature.  There will be one more option given on that page" Remember this computer".If you select that option ON you will get automatically connected whenever you open the browser without the need to do pairing and scanning again. Also, make sure your phone is let down by being out of battery. If your phone shuts down, the messaging service on the web stops working as it needs the phone to be paired. All your recent chats and conversations will be encrypted and stored in the browser. If you didn't open your message web account for two weeks it will automatically become unpaired.
How to use Google web message?
If you have Google message as a default message service app you can directly click on the messaging app. In case your smartphone doesn't have the Google message app you have to install it from the Google Play store. I'll guide you step by step in displaying the message content of your device to your computer's web browser.
Go to any browser and type  Google Message web. you will be getting the link as"https://messages.google.com/web/" or "Messages for web.
Click on the link and it takes you to the next page. There will give a list of instructions to be done on your mobile.
How to scan the QR code of Google messages?
Open 'Messages'app from your Android device or any other smartphone.
How to Unpair Google Messages for the Web?
Unpair Messages on your Device
Open the messaging app on your mobile.
On the top right corner of the page select the three dots.
You will see the option device pairing'.click on that.
On the next page, a list of devices that you had paired with is shown.
Click on 'X' to stop pairing with that device and you will get the option 'sign out from all computers.
If you forget to sign out don't panic that someone else logged into the system will be reading your messages. You can stop pairing and control signing out from your mobile itself.
Unpair Messages on your PC
Go to the Google message for the web.
Click on three dots.
Select unpair.
How to Manage Contacts in Google Messages
Once you have saved any contact on your mobile phone you need to get permission from Google Messages to access those contact names and other details. You can do certain activities such as adding a contact, adding a  new number from a group conversation, blocking a contact, etc. To start a conversation with any one of your contacts you should start chatting, enter the phone number or name, or email address. Type the message and tap on the send button.
If the contact is not saved in your phone you can add that phone number in add contact option. To block a contact from your contact list open a conversation with that contact and tap on three dotted lines at the top. select the details option and it shows Block and RReportsspam options. you will not get any messages from that blocked contact.
Limitations of Messages.google.com.web
It's essential to note that you can open this web messaging service on an 'N' number of computers but it works only on one computer at a time. It opens messages only on one computer. If you switch between two browsers it sends you a notification with the 'Use here' button.
Click on that button and start messaging from that selected browser. It needs your phone to be switched on because your web browser should be paired with your phone.
There are some requirements for google messages to work well on both devices. Your phone should be using the least android version 5. Also, use the latest version of the Message app on your phone to avoid any issues in working.
Schedule Texts With Google Messages
Nowadays even kids are using the Messages app for transferring homework. Google has developed the app in a simple way that is even accessed by kids. Let's look at the Steps to schedule texts with Google Messages.
Open your Message App from your device.
you will get the list of contacts saved on your mobile. Select any one contact.
Type your message or attach a file or image, the voice message option is also available beside the chat message box.
Tap the send button.
How to make Google Messages your default messaging app
Your phone can have many messaging apps but it is preferred to have one default messaging app. As other apps can read data stored in messages you need to be careful while giving app permissions. Some mobiles come with inbuilt SMS apps which you may not be comfortable with such apps. So you can change this by downloading any SMS app from the play store and making it your Default SMS app. Please note down the steps to set up your default messaging App
Open your phone settings.
Click on Apps.
Under General click on Default apps.
Tap the SMS app.
Select the app which you want to switch over.
Click the OK button.
Solutions for 'Messages for Web ' not connecting to Chrome Browser?
Change your network from WiFi to Mobile Data
The foremost thing to be considered is to check your internet connectivity on your phone. A good internet connection assures you that there will be no issue while pairing or syncing the messages on your PC. People who experienced some issues tried to switch off  WiFi and connect their device to mobile data and it worked.
Reload your web session
Try to disconnect your phone from your PC and start to pair it from the beginning. This may solve the issue as there might be some problem occurring in pairing the device.
Enable Background Data to be ON
If you fail to keep this data ON, then the google message app will not fetch messages from your device. All the data that has been stored on the cache will be fetched but new data will not be synced to the web message.
Step 1: Long-press on the Google Messages app and you will get the info symbol. Press the info symbol and you will land on a page with more options.
Step 2:Go to Mobile data & WiFi. Enable the Background data.
Switch Off VPN 
Google strictly prohibits unauthorized users from accessing your information. So if you are using a VPN  connection on your PC  access to web service.
Turn off browser extensions
I know the usage of browse extensions on our PC is enormous. But in certain cases, we need to disable it to rule out any issues with the web message service.
If you are using the Chrome browser, type chrome://extensions. You will get the list of extensions that you are using on that PC. You will get two buttons. once is detailed and the other is the remove button. And you do need to remove the extension. There is will a toggle button. You can disable it for some time. Restart your browser you can enable it again.
Try a new browser
If all the above methods didn't work try with a new browser. Because Google messaging service works in many other browsers such as Firefox, Mozilla, Microsoft Edge, and Safari.
Clear App cache and browser cache
To clean the browser cache go to the top right corner of the browser. Click on three dots. Click on settings click on the Reset and clean up option. Go to the message icon app and long-press it. Click on the info symbol and you will get a new page. Go to storage & cache .click on clear cache.
Update App
Last but not least. A regular update of apps will never miss out on any features, so try updating the messaging app on your phone from PlayStore.
Google Messages Setting Menus
I'll list out some of the menus available in the Menu setting of the Messages App on your android phone.
Choose your theme
Many people like to use themes of their choice. There are three options available. One is light, dark, and system default. If you are a person who likes to have dark colors choose that. I always like to go with Google system default.
Notifications
Nowadays notifications are one such important feature that makes us pick up the phone often. if you keep the phone down and relax for some time and when you hear the notification sound your brain tempts you to take the phone immediately. Go to the setting in Message App and you will see the notification title. Click on that as it takes you to the next page. Enable the toggle button 'ON' if you want to be quick to respond to your family, friends, or your Boss.
Archive and Unarchive Messages
If you select a message to be archived means that it hides it from your inbox until you chat with that person again. This option is used in case you have a particular conversation thread to be hidden choose archive.
Click on a conversation.
Go to the menu.
Once you click on the archive the message will be archived.
If you want to unarchive select the message again go to the menu and you will find unarchive option. Click on it.
Emojis 
Do you love to input emojis while typing? It makes a difference when using emojis. A simple smile emoji can replace any number of words. To make this option work in your messages app Go to the menu, click settings, click the advanced option, and enable the toggle button ON  near emojis.
Make Video call
Video call creates a live presence of people around us. There are no words to express the benefits of video calls. You can't imagine the boundless joy when a child across the seas smiles and gives flying kisses to his grandpa. This messaging app allows you to make a video call with the person with whom you want to talk. Select a conversation with the person you want to talk to. you will see the video call symbol at the top. Click that  and the messages app starts video calling through the website duo.google.com
Send Images, videos
We are nowadays using a lot of drag, drop, upload, and attach files in our day-to-day activities. Simply click on the attach file icon on a message thread. You can select an image, Pdf file, video anything that you wish to send.
Mute a contact
If you want to stop receiving notifications from a particular contact you have to select that contact. Go to the menu, and click on  Mute notifications. So, your messages app will never show any statements related to that contact.
Unpair Device
It's better to unpair your device once work is done. If you are doing text related to work for a very long time there is no need to unpair. Suppose you are using message web on your friend's laptop it is a must to unpair the device once work is done. There are many more features that are simple and you can explore them easily if you go through the messaging app recursively.
Searching and Sending Messages on Google Messages
We send countless messages and images, videos, addresses, links, and email IDs in a day. If we want to look back at any of this information for a specific purpose it's almost like a cakewalk. Google messages have made it easy for you to take any information from your messaging history. Go to the search icon in the messages app and select a contact. You will receive all the information shared with this contact.
Conclusion
Though the messaging feature has been a PWAs(Progressive Web App)for a very long time finally it came to a solution of texting from your computer with surplus added features. If you are a person who texts regularly and often you need to opt for "Messages for web" and enable the toggle button" Remember this computer".The message for the web is a real-time and quick communication platform that allows us to send short messages and gives us instant responses.
It is very much effective in terms of business communication where employees connect and get back a quick response. Although it has its security risks and privacy concerns google overcomes them with frequent updates and the addition of new features to the existing application. I hope you will never miss out on a day without opening your message app on an android mobile which makes life simpler and easier.
FAQ
Do Google messages have a desktop app?
Google messages don't have a particular desktop app but they can be accessed on a desktop through a web platform. The accessible desktop link for google messages is google.messages.com.web.