Does android auto use data?
Yes, your Android Auto app uses data.  Read about what for the data is used, how much data is used plus how to save android auto data?  Also, know about data consumption with consideration to Google maps specifically.  Your maps app may be one of the important reasons for your spike in the monthly bill.  Analyze data usage and limit it.  Data usage is measured by the apps that you use.  But it is still in your hand control.
  With a few manual changes, data consumption can be deduced gradually.  With controlled data usage, facilitate yourself with a variety of apps.  Google maps is a huge data consumer than any other apps like music players and podcasts.  Explore about few other apps that can help you to make optimum utilization of the Android Auto app.  Beware of the data collected by Google when you use this facility and then decide its usage. 
What is Android Auto?
Apps that control car driving have been designed long before.  But only two apps namely, Android Auto and Apple CarPlay have gained attention among users.  When mobile access is gained using such apps and cars that have a modern infotainment supporting system.  It can help users to text messages, attend a call, listen to music, stories, and even news updates.  One such popular app is Android Auto. 
Android Auto is an app providing the feature that connects the smartphone to the car.  This can be said as a screen mirroring facility too.  You can use some of the mobile apps after connecting it to Android Auto.  Those apps include music streaming applications, mapping apps, radio apps, and messaging apps.  If your vehicle is compatible with Android Auto, you can just launch the app.  If not, use a micro USB-TO-USB cable to connect with your vehicle. 
In this market, there are many optional apps to use that can help you to substitute the Android Auto app.  They are Automate car dashboard, Car Dash Droid, Drive mode-safe driving, HERE We go, and so on.      
Don't miss: How to Install Custom ROM on Android Device
Compatible for Android Auto
Manufacturers have installed compatibility for Android Auto app in most of the cars produced after 2016.  Verify the list of cars that can be compatible with the Android Auto app on the official website of AA.  Your phone with the Android 6.0 version even android 11 can support cars.  If your car isn't compatible with Android Auto, using an aftermarket car stereo will help to do a wireless connection to your vehicle.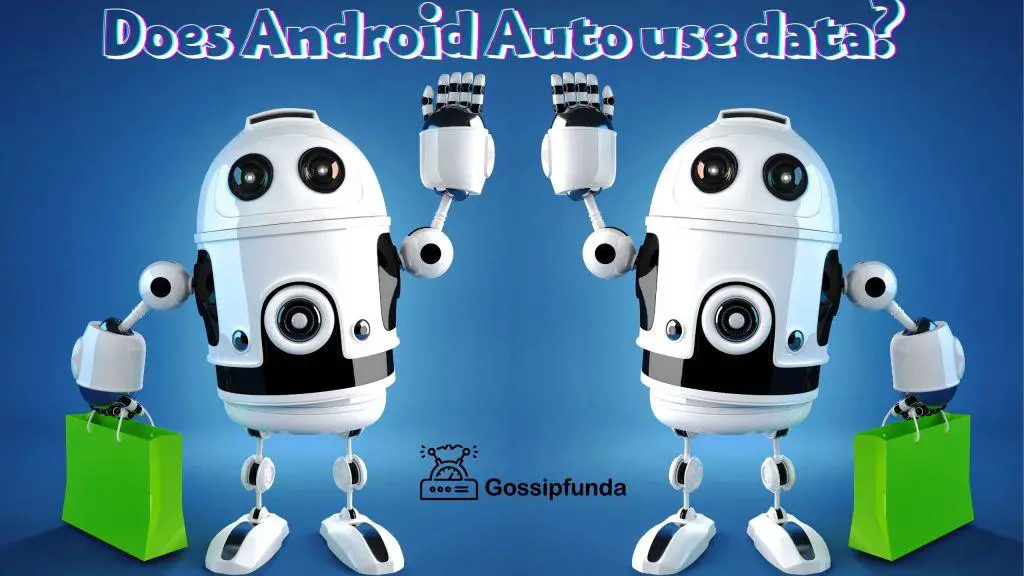 How much data is used by Android Auto without MAPS?
Based on apps used, Android Auto's data consumption is decided.  Google Maps usually consume more data than any other apps.  But besides it, you may face more data consumption from your streaming players and voice assistant.  When you use music streaming players, they consume data for loading and listening.  These streaming apps consume more data even when you use it casually.  Android Auto doesn't contribute to data consumption because of using these apps.  This app only does activity similar to screen mirroring of your phone.  So, it may take only 0.1 MB or nearly to that.
How much data is used by Android Auto with MAPS?
Android Auto and Google MAPS are much interconnected not by functions but by uses.  Android Auto helps you to be compatible with your phone in the car and MAPS helps you to drive in perfect routes.  Every one of us will mostly use Google maps when we are out for a drive or picnic.  At that time, when you track the route and drive, it consumes more data.  It even consumes 800 to 900 MB of your data pack.  But for that data, it provides you with more and more information.  
How to save data in Android Auto?
To reduce data consumed by maps when using it in Android Auto, take up the option of offline routes.  When planning a picnic, view that particular route and make it available offline.  When you see a live route map, data consumption spikes at a great level.
How to disable data usage of Google Maps? 
If you want to disable google maps data consumption, you can disable it.  When you switch off the data consumption of google maps, until you restart it you cannot use the routing app.  When you are familiar with the route and there is no need for google map and even then, if your Maps app is biting up data, it's better to disable data. 
Steps for Disabling data usage of Google Maps:
Open phone settings.
Go to apps.
Select google maps.
Tap on data usage and toggle off the background data option.
Using the Waze app as a substitute can also reduce your data.  (only when compared to google maps its data consumption is low) If you use google maps or Waze, in consideration of data usage, it is recommended to use advance downloads in the apps.
Read also: Android x86 for PC
In other apps
You can use offline modes in streaming players.  Rdio, Rhapsody, Slacker Radio, and Spotify are a few apps that have the feature of offline mode players.  When there is access to WIFI, get connected to it, and find out songs that you need.  Create playlists and manage them in the WIFI connection itself.  Later on, open your offline folder and listen to those songs using Android Auto app in your car.
What personal data is Google's Android Auto collecting?
Mobile compatible apps that ease your driving experience.  Those apps include Android Auto and Apple CarPlay. When car manufacturers don't claim any dissatisfactions or privacy claims on Apple CarPlay, Android Auto has complained about the user's information collection.  When asked about data collection to Google, it says that to improve the driving performance, data is collected and they are
Vehicle's speed and driver's data
Throttle position and fluid temperature: By analyzing such data, apps give you notifications if it is getting over or any issues with it.
GPS of vehicle:  Android Auto detects whether the vehicle is parked or running.  By gaining this information, it chooses between an on-screen keyboard and Google's voice typing.  If the vehicle is parked, it provides a screen keyboard whereas if it is under the driving, it avoids disturbing the driver by compelling to type on the keyboard and enables voice typing option.  By collecting the current location of the vehicle, it provides traffic information in the nearby areas.
Beyond this basic information, technical people warn against the usage of such apps in rental cars.  When you connect your mobile and car, it can re-access your device.  Do not worry, unless your device identification number is available with it, it cannot access your mobile's information like contacts, calendar notifications, and messages too.
Best way to use Android Auto
When you have connected your mobile to your vehicle via Android Auto, you can enjoy many facilities that can make your long drive more colorful.  Even your official journeys can become more informative with this Android Auto app.
NPR One:  NPR one app is a radio streaming app that lets you listen to the radio and all fields of news.  When connected with Android Auto, you can listen to the news and get updated.  Time can be well managed when you are using such listening apps that enrich you with information and updates.
Scanner Radio: Scanner radio helps you to get updated with local and on-ground news.  This can warn you when there are any strikes or clashes between people.  It provides you with information even about air traffic, marine radios, and weather radios.  To put it in a nutshell, it grasps the radio signals and gives you access to listen with those radios.   
WhatsApp:  As a messenger app used by the majority of people across the world, it has a feature that can help people to even use it while driving a car.  You can reply to messages with the voice message option.  This can be even without entering WhatsApp and pulling down the status bar itself.  
Few more popular apps
Spotify: Spotify, as a music player provides you an offline mode facility that can help you to reduce data consumption.  Organize your playlists connected with WIFI and listen to it whenever you need it.  It is a freemium app that helps you to improve your experience with this app by subscription.  Explore more about Spotify and sort out all your problems by referring to this article:  Spotify not working.
Pocket casts:  Pocket casts are one of the popular podcast apps that helps you to listen to songs, books, and other forms of files through audio.  
Audible:  Audible is an app that acts as an audiobook that makes your journey more interesting by providing you the option of listening to your favorite book by downloading it.  The best sellers list and wish list can be seen and edited with the Android Auto app itself.  It is not compulsory to use it in your phone only.  Managing facility is an added feature of audible that provides comfort to the user.   
Conclusion
Hope this article helps readers to well analyze about Google's Android Auto app.  Similar to the introduction of air conditioner cars, that were considered as an unwanted luxury in the automobile industry and later on accepted by users all over the world, these apps that help you to screen mirror your smartphone may look like a luxury or added expense.  But it is going to be the new normal.  We can make changes, consider privacy concerns, and improvise the compatibility of its usage in even old model cars too.