Android Auto is an absolute enthralling feature that previews the phone apps on the car display. It was publicized for the first time at the Google I/O conference in June 2014. This was brought to help prevent distraction while driving due to phone handling. This app enables access to calls, messages, music, and maps all at once.
However, people find it disturbing and irritating and tend to turn off Android Auto. This is because all the time the app keeps on insisting the owner to use it while driving! Some claim that it contains bugs that cause unexpected behavior in their cars. The Android Auto user interface is so confusing that more people are preferring the general vehicle user interface over them.
Here, we are going to talk about the possible ways of turning off it. So, let's dive into the facts right away.
Why does Android Auto launch automatically?
It might be the case that last time, the app was somehow installed on your phone. Next time, when you connect the USB cable to the car in order to charge your device, the app launches itself automatically. You might have enabled the "Start Android Auto automatically" option in your phone's Android app settings. 
If your phone is operating the Android 10 version, you will see the app already in-built on your device. Such devices are not prompted to install the app from the play store. But if the device is not compatible, Android Auto even tries to connect with other vehicles which is certainly a headache. So it is better to turn it off.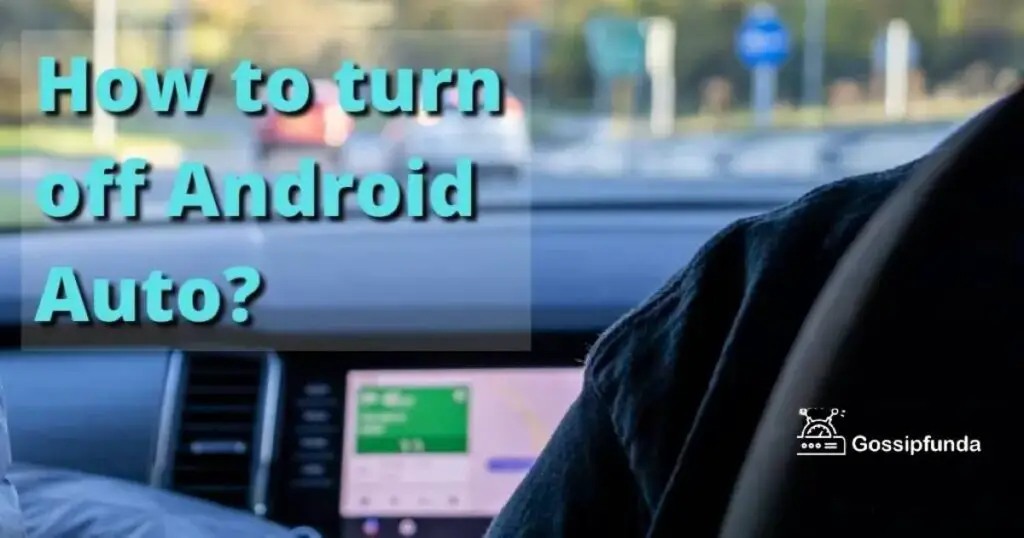 Does Android Auto use your mobile data?
Intriguing indeed that it uses your phone's data. Access to your entire call logs, contacts, messages, and all are required by the app. The application needs a cellular data connection as well, in order to efflux information to its users. Thus, Android Auto in general is everything right on the car display that you do on your phone. The app's efficiency is also influenced by your mobile network. If you are driving through a rural or semi-rural area, the app might lag. Although, this is not a problem while driving in urban or semi-urban regions. But it's always advisable to use wi-fi.
Is it safe to use Android Auto?
Yeah, Android might boast that this thing seamlessly integrates all of your favorite media applications while driving. But to be honest, it is limiting everything just to the car's display. That is why it's evident that it might question your safety at some point. You never want anyone else to access your android device through your car's head unit. What if you have mistakenly left the app synced to your device and someone else starts handling it while driving? Your privacy gets put at stake.
Besides this, some applications are more commodious to use in Androids rather than Android Auto. Then why the urge to Debarr their full potential just for the sake of driving? Many people are inclined toward turning off this app once they discover these facts.
Major problems with using Android Auto 
Messaging:-
Message accessibility is a bit critical in the case of Android Auto. Usually, it does not pop up the message on the screen. You need to ask Google assistant to read it for you. Moreover, you can reply to the message by speaking it aloud. But sometimes this leads to incorrect interpretation of words and you might end up sending erroneous messages. 
It might have been better if the message would have popped up on the screen for some time. Few details like the sender's name and time could have been easily deciphered by the driver just at a glance. 
High battery usage and heating up:-
One of the most predominant problems of Android Auto is its high battery usage. It consumes battery heavily if you have installed a new app that doesn't run well with your phone. Some apps are poorly optimized and a buggy update can cause high battery drainage. 
Even wireless usage of Android Auto can make the device warm and slow. Charging becomes pathetic in the case of heated devices. 
High data usage
It uses high data-consuming applications like the Google voice assistant, Google maps, caller ID systems, and some music streaming third-party applications. All these readily increase your data usage and might land you in trouble if you have a limited data plan. This sometimes also starts to update itself if the auto-update setting is left unchecked. It is not always possible to carry a portable wi-fi or own an unlimited data plan. Therefore, this issue remains a major problem. 
Software bugs:-
There are some serious software bug issues regarding Android Auto. This software updates sometimes raise problems which can be irritating. Some have faced the problem of getting their dark modes automatically turned back to light while driving. 
Moreover, the app might crash in between driving. This happens due to the corrupted residual cache which piles up over days. For this, you need to clear the cache data from the app regularly.
Entering the address while navigating
It's a real hassle if you want to enter the name of a particular destination in Android Auto while driving. You will surely not start typing the full name of the place on the screen but will expect a few letters to pop the destination up, isn't it? But in this case, Android Auto doesn't support you. It will make you park the car nearby and then type the entire address. This is undeniably a major drawback. Some opinions suggest using the voice assistant once again for this purpose. But you know sometimes the voice assistant fails to interpret when it comes to naming complex street names and all.
Music or podcasts:-
The overall functionality is good but users have reported a problem that turns out to be a major drawback. Most users tend to voice over their favorite song to the voice assistant while driving. But sometimes it leads to the wrong track. A whole different song might show up. The user might also desire to listen to the acoustic or reverbed version of the song and choose from a few options available. But it doesn't entertain this.
How to turn off Android Auto or disable it from launching?
Tip 1: Uninstall the app
The most simple way to prevent yourself from continuously getting intrigued by Android Auto is to uninstall it. Just press the icon and tap on "Uninstall". Why bear the headache if you don't need it? If your version has in-built Android Auto, disable it. Or you can just navigate to "Settings" and disable it from there.
Tip 2: Disable automatic launch
The mechanism is different for different Android versions. Let's put some stress on it.
1. For Android 10 version and above
Since it is in-built, it cannot be completely uninstalled or turned off. It can only be disabled by following this method-
Deactivate auto connection via Bluetooth:
This application is mechanized to turn on automatically once you get into the car. You have to turn it off. Here's how:
Move to the "Settings" option on your phone.
Look for "Android Auto". Open it.
Scroll downwards.
Access the "Automatic Launch" tab.
Turn off "Automatic Launch".
If you have an issue with Android Auto Keeps Disconnecting, do check our article on it!
 2. For older versions of Android
Older versions of Android need the Google Playstore to download the app. However, you can turn off Android Auto from getting auto-launched without uninstalling it from your device as well. The steps for this are as follows-
Open the "Android Auto" app on your phone. 
Open "Settings".
You will see the "Connected vehicles" tab below. Tap on it.
An option telling "Add cars to Android Auto" will appear. Uncheck it.
Also, you can see three small dots at the top right. Access it.
Delete all pre-registered cars.
Now you can rest assured that your car will not auto-launch Android Auto by any chance.
Tip 3: Block Android Auto
Every time you plugin the phone to your car for charging, the app turns on automatically. Yes, this can be maddening. And you don't know how to prevent it. So, here's what you can do to turn off it when wired.
Tip 4: Turn off Android Auto from Dashboard
You can easily deactivate the app from auto launching itself from your car's settings only. Yeah, different cars can have different interfaces but the basic steps are more or less the same. Just search and select the most appropriate options from:
Connection settings
Connection peripherals
Managing external devices
Tip 5: Turn off Android Auto from phone settings
Amateur drivers might need it some days but not always. Let's assume a person wants to turn off Android Auto starting up every time but only likes to use it according to choice. For them, Android supports deactivating the application temporarily without uninstalling it completely. To do this, run over the following steps:
Open the "Settings" on your phone.
Look for "Applications" tab. Tap on it.
Search "Android Auto".
On the top left-hand corner, you will see the "Deactivate" option. Select it and it will be deactivated temporarily.
Tip 6:  Using a Charge-only USB cable
This is probably the last possible way you can stop or turn off it. There are certain USB cables whose utility is only charging and not data exchange. Hence, these will be more convenient for you if you don't want to let it launch automatically every time you drive.
Conclusion
The Android Auto app is truly a fascinating piece of technology released by Google officially in 2015. With a simplified interface, It was meant to be your smart driving companion that eases your driving experience. The app's complicated whereabouts and UI is solely responsible for the degradation of its popularity. Moreover, other competitors of Android have edged over it in recent years. Most people seek ways to turn off Android Auto for the greater good. Hope this article helps them.
Frequently Asked Questions
How will I use Android Auto in my car?
Install "Android Auto" app on your phone. If you possess the Android 10 version and above then it will be in-built on your device. Else download it from the play store. Open from your car and sync the devices. You can make both wired as well as wireless connections according to your need. 
What apps can I use on Android Auto while driving?
Almost all of your favorite apps that you use frequently on your phone. You can use everything according to your needs. Google maps for navigation, Voice assistant for sending messages, and podcasts for streaming music.
Is there any latest version of Android Auto?
Yes, there is the latest version of Android Auto which is the 7.9.1228 beta version. It was released this year. This update comes with some overall fixes to enhance app stability.
Can I use Android Auto wirelessly?
You can certainly use Android Auto wirelessly using Bluetooth. Find the icon and select it. Switch on the "Bluetooth" and sync your phone and the car. Follow the steps on the car display to start using Android Auto.
What other alternatives do I have for Android Auto?
To be specific, all these struggles of dealing with Android Auto shouldn't bother you much. You have so many other alternatives.
-Users from Android 12 and above can get access to a feature called "Assistant Driving Mode". This can be operated from the Google Maps settings itself.
"Waze" is undoubtedly one of the easiest and most reliable navigation apps on the market. The app gives accurate data about probable traffic you might face ahead, construction, accidents, etc. The most fascinating advantage is that it smartly changes your route if the previous one showed heavy traffic.
-You can also choose "Automate" as an alternative to "Android Auto". Automate edges over Android Auto with more perks and customization. Automate also boasts of a smoother and user-friendly user interface. Moreover, it is not just limited to driving. You might feel it's needed often in your everyday life.
-Another tech-savvy app you will love to use is "Car Dashdroid". It gives access to any app you want while driving without much fuss. It has its own voice assistant for sending messages. Also, It gives your car display a whole new outlook. You can customize it according to your needs.