Can't take screenshot due to security policy fix the error by the best tips and tricks. Can't take screenshot due to limited storage space fixed by gossipfunda. You will get various reasons with methods to cope with screenshot not working problem. Simply follow the steps and take the screenshot!
The screenshot is a very useful feature or service provided by Android, Apple iOs, Apple macOS, Windows, Maemo 5, Xbox One, Windows phone, Linux, HP WebOS, Chrome OS, Amazon Kindle, etc which enables you to capture or screen grab the digital image of the contents getting displayed on the screen. The screenshot is a very useful feature that lets us capture exactly what we are seeing on our screen so that we can share with others or save it for later reference. Taking, sharing, and saving screenshots is extremely helpful. Screenshots aren't just handy but also revolutionary to getting more work done at a faster rate.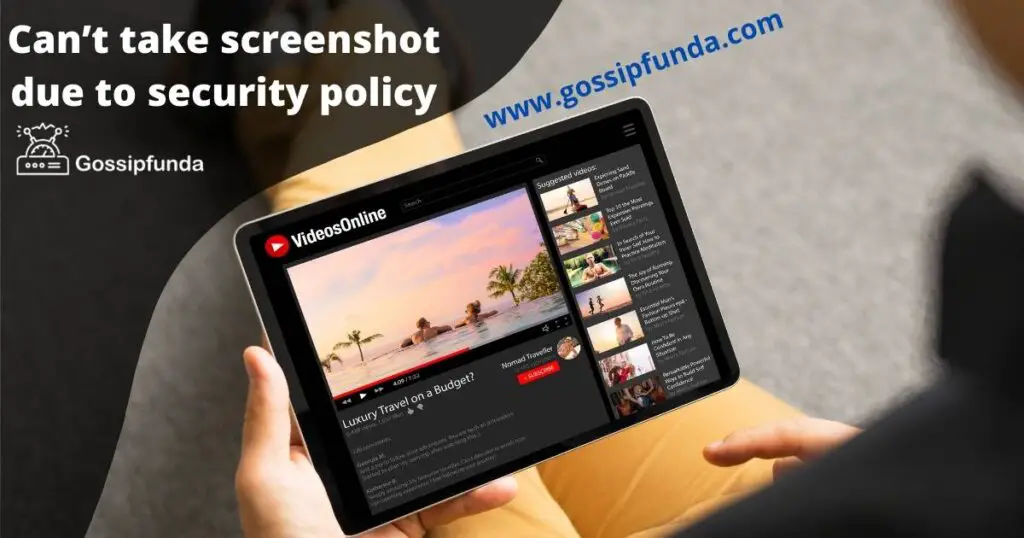 Can't take screenshot due to security policy
We take a lot of screenshots in a day and we have usually seen "Can't take screenshot due to security policy" or "Can't take screenshot due to limited storage space" these notifications get pop-ups due to security issues or limited storage space respectively. So, we either reboot the device, or if that doesn't help we try a disk clean-up app to clean unwanted data or we move some files to either an SD card or cloud storage to save some space.
But, what about people getting prevented from taking screenshots due to privacy policy? This is a new most common occurrence and we have seen people complaining and getting worried about their attempts while capturing screenshots using their Android-based mobile phones like Samsung Galaxy Note 8, and Samsung Galaxy S9. They are greeted with an unwanted notification saying "can't take screenshot due to security policy". What is the reason behind the blocking of such screen-capturing options?
Let us find out several reasons behind such notification:-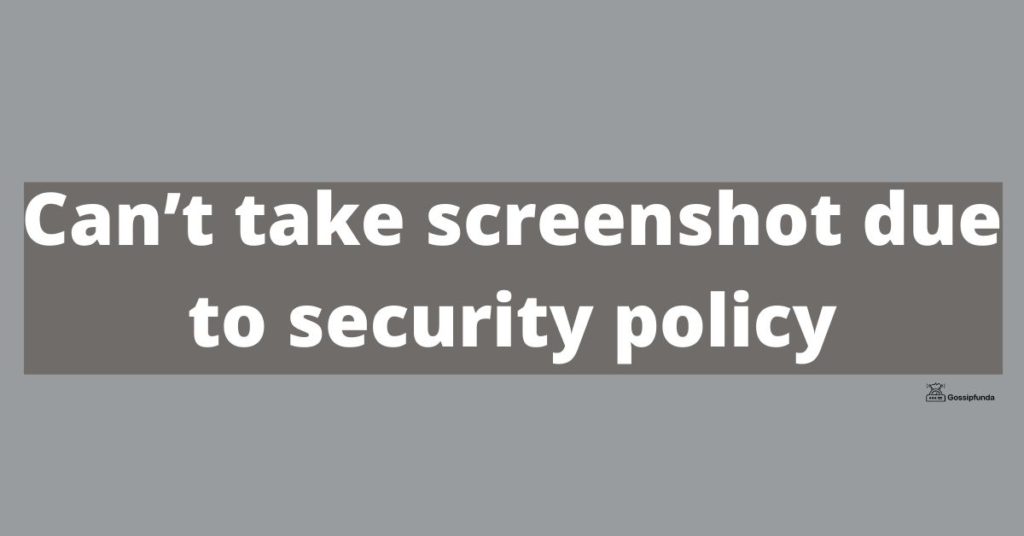 1. Security policy of chrome browser
It can be possible that you are in incognito mode in Chrome Browser. There is no option available to disable or enable this feature when you are in incognito mode of Google Chrome. So, please ensure that before taking a screenshot you are NOT in incognito mode.
Sometimes, such notification appears when we are trying to take a screenshot on Facebook or Snapchat. Actually, both(Facebook and Snapchat) allow you to take a screenshot. But, if it shows"CAN'T TAKE SCREENSHOT DUE TO SECURITY POLICY" then it means you might be using Facebook in incognito mode. If it is not the case that means you are not in incognito mode, you can try the steps below:-
Go to Settings> Other Apps>Apps lock(if any)>Permission>Enable permission for the storage
By following these steps you would be able to take a screenshot on Facebook.
2. Apps policy
Nowadays, many apps provide extra-security features to safeguard and protect the information, credentials of the user. These apps have a policy that prevents or obtains screenshots from being captured. Such apps protect your privacy and confidential information from being displayed on the screen by preventing intruders and harmful viruses from trying to peek into it by taking a screenshot.
There are certain banking apps and financial apps that have an android system built-in mechanism which blocks screenshots. In this way, they prevent a trespasser from capturing screen to save financial data.
There are certain organizations that don't allow their employees to take screenshots with the help of app developers who have disabled the setting of taking a screenshot or capturing screen because of various security reasons.
3. Phone settings
There can be certain settings on mobile phones which prevent you from taking a screenshot. In that case, you can contact customer care services and verify it but before that revise your phone's settings.
How to fix Can't take screenshot due to security policy
You have seen several reasons for the screenshot not working on some applications. It is not easy to fix this problem. However, Gossipfunda provides some best solutions. After deciding the issue, choose these tips and tricks. This may assist while you can't take screenshot due to security policy.
Screenshot disabled due to high security app like Banking, PayPal., Money transferring App, then use third party app to take screenshot. If you are using any banking app or other financial app then to maintain confidentiality, integrity, and authority of data you might not be allowed to take a screenshot as it is restricted from the server-side.
Uninstall any newly installed app. If you recently installed an application that may cause an issue due to it's coding to regulate or limit your phone's properties. So, uninstalling the app may able to catch screenshots.
Enable Screenshot Toolbar. Go through your phone's settings and see whether permission to take a screenshot is enabled or not. If it is disabled, you can enable it by swiping the button to your right, it will allow you to take a screenshot.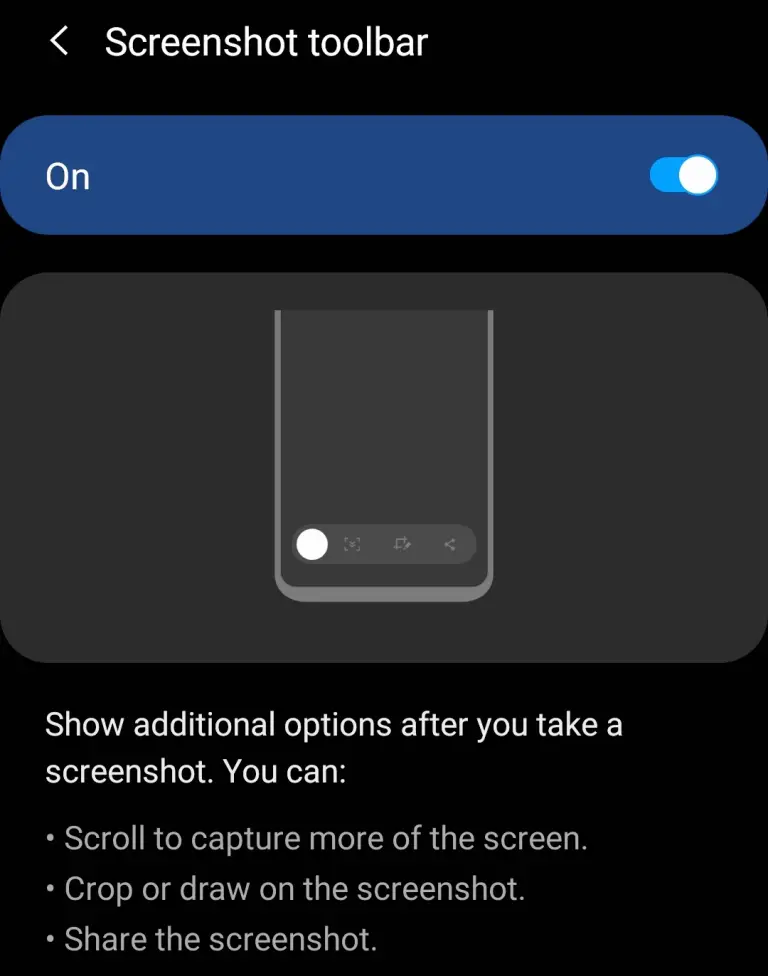 Incognito mode doesn't give permission to take a screenshot. If you are using google chrome and while taking a screenshot it refrains you, please check whether you are in incognito mode as incognito mode doesn't give permission to take a screenshot. To fix this issue use normal mode.
Can't take screenshot due to security policy in Facebook, Instagram: Enable Camera Permission. If this message pops-up again while using user-friendly apps such as Facebook, Instagram, etc. first you need to check if you are in incognito mode, if yes, switch to normal first, if no, then follow the below procedure.
If you want to take a screenshot that is not followed by the app then follow these steps:-
Launch app that imposes a screenshot restriction.
Tap and hold the Home Button and launch GOOGLE ASSISTANT.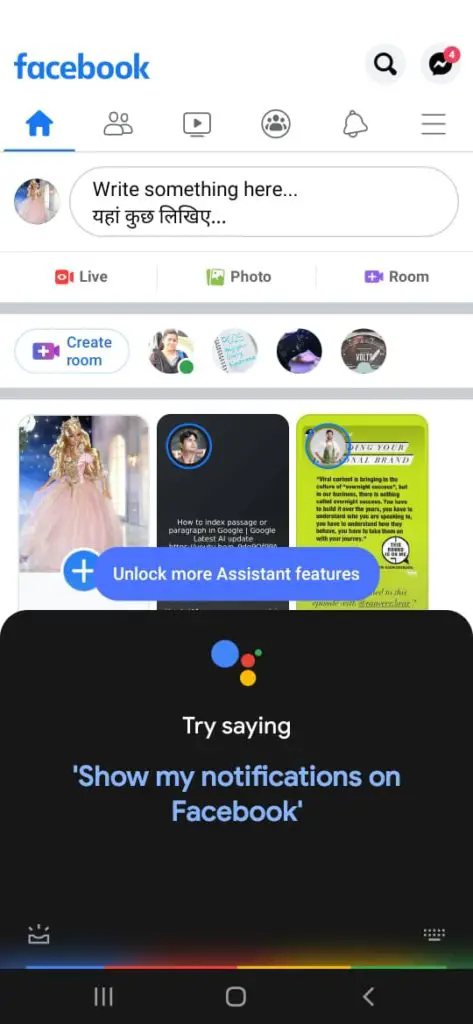 Go to WHAT'S ON MY SCREEN button.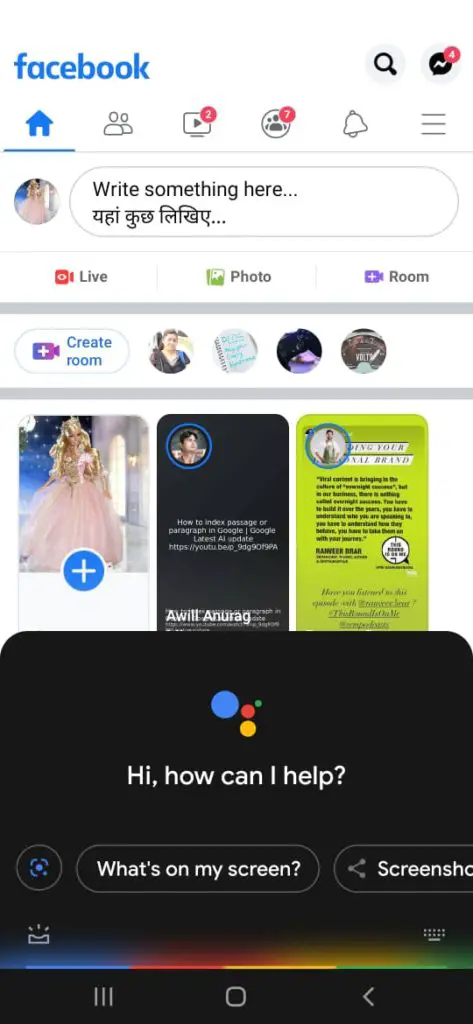 Tap Share Screenshot Button.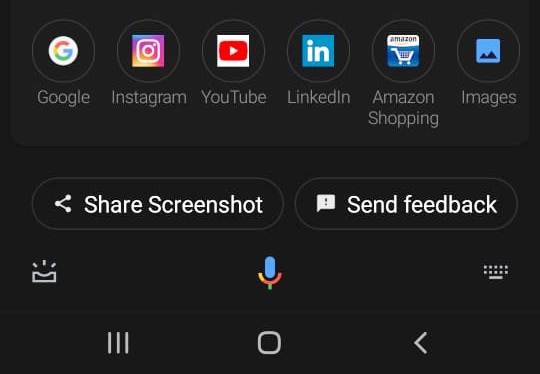 After following these steps you can choose a place to save the screenshot from the apps getting displayed.
Use any third party app to take screenshot: Click here.
Can't take screenshot due to limited storage space. See your storage space, insert SD card if ROM space is less, format or delete the invaluable data from the ROM and SD card. May be your card get corrupted then see how to fix corrupted sd card on android without computer.
Use another mobile and take photo of the screen, it is one of the best method to come out from this problem, if you have a better camera.
If all the mentioned steps are not fit for you, attempt a factory reset on the device.
Phone has malware: this may be one reason that your phone hass beed hacked or you have a malware in your phone. In this case check for virus by any antivirus and fix your hacked phone.
Again if not fixed Can't take screenshot due to security policy, then contact to the device customer care service.
How to fix "cannot capture screenshot of personal information"?
Sometimes personal information is very crucial, so it is not allowed by some apps to take screenshots. Here are some tips:
Use a third-party screen recording app. There are many screen recording apps available in the Google Play store that allow you to record your screen and save the video as an MP4 file. Some popular screen recording apps include AZ Screen Recorder, DU Recorder. If non of the apps are available to take screenshot then use ADB (Android Debug Bridge) commands to take screenshots.
Another way to capture the screen is by using the built-in Google Assistant feature. You can activate Google Assistant by saying "OK Google" or long-pressing the home button, then say "take a screenshot" and it will automatically capture the current screen and save it to your device's gallery.
In case you have a phone with a rooted system, you can use apps specifically designed to take screenshots on rooted devices.
Use the camera of your other smartphone to take a photo of the display by positioning the phone with the rear camera directly on the screen. Make sure to hold the camera steady and have no lighting.
Many apps on your android device have a "Share" feature that allows you to share content with other apps like Gpay. You can use this feature to share a photo of the screen with a note-taking or document app, such as Google Keep or even WhatsApp.
Some text-editing or note-taking apps allow you to copy text from a screen and then paste it into the app. You can use this feature to copy personal information from a screen and then paste it into a note or document.
Many mobile phones have an Accessibility feature that allows you to magnify the screen or use a text-to-speech feature to read text out loud. You can use this feature to read personal information from a screen and then write it down.
What is the need of a screenshot alert?
As cybersecurity risk is increasing, gone are the days of firewalls and antiviruses being the sole measures of security. We can no longer leave Information security to cybersecurity professionals. These risks are driven by global connectivity and the usage of cloud services to store personal information and other sensitive data. Cyber threats can come from any level of organization. We have knowledge of scams and cybersecurity attacks like ransomware and spyware.
We take a screenshot as it is reliable and it is long-lasting but cybersecurity attackers and hackers know that screen capture is the attacker's way of stealing any crucial information. Any sensitive information displayed on the screen including banking information, login credentials, etc without security measures is a great point of interest to the attackers they can use this information to satisfy their purpose. So, any security measures should not be compromised at the cost of our personal data.
Attackers know that screenshots are taken again and again at regular intervals, it can be an invaluable source of information, therefore certain malware such as BISCUIT and Gh0st RAT is used.
BISCUIT is a backdoor tool that has been used by APT1 since 2007. BISCUIT has a command to capture keystrokes, to periodically take screenshots, and to gather the username from the system. It also has a command to launch a command shell on the system.
Gh0st RAT is a well-known trojan horse.RAT in the suffix refers to "Remote Access Tool" I.e it has the capability to remotely capture the screenshot.
It is easy to attack our data as even novice criminals can execute and accomplish their purpose.
Data is valuable whether it belongs to any group or organization and we are very bad at stopping attackers who try to breach into our security. We should be aware of what hackers could do to accomplish their purpose and what are the different ways to stop them. We should "Think before taking a screenshot".
WhatsApp abuse
It is very easy to capture a screen of any misinformation and spread that fake news which might be hateful all over the world via different WhatsApp groups. Therefore, WhatsApp has taken several steps to fight with this common problem of fake news on its platform.
How to protect our data?
In the last half a decade, cybercrimes against women have gained and reached its peak. Cases of culprits using photos of young girls to create a new account or misusing them or sharing them among people have been numerous.
Before taking a screenshot we should think twice. Take care of the following points:-
First: Do not take a screenshot of any sort of personal information ( like passwords, login credentials).
Second: Do not take a screenshot of your sensitive information.
Third: Do not take a screenshot of something which seemed suspicious.
Benefits of screenshot alert
It protects you and your organization against different styles of malware, ransomware, social engineering, and phishing.
Prevention of unauthorized users.
Protection of end-users.
Where do we need screenshot alert?
We need screenshot alerts on every application where our sensitive and probate information is stored. We need a screenshot alert in certain apps such as Facebook, Instagram, Snapchat, etc to make sure who is trying to take a screenshot of what detail?
Does Instagram alerts you when screenshot is being taken?
Instagram will soon alert you when a screenshot of your Instagram stories will be taken. This feature is going to be tested among some selected number of users.
How will it work?
When someone takes a screenshot of your story they will be warned that if they will be taking any further screenshots the user who posted the story will be alerted. A notification will be sent to the publisher of the story exposing the name of the person who does so. Instagram is always testing different ways to enhance its features and to improve the experience of its users on Instagram.
Instagram is trying to reduce cybersecurity crimes against women by releasing a feature of the screenshot alert. We see many users having a fake account on Instagram and they take a screenshot of the stories of the user of the real account to make their account more believable and catchy.
Does Snapchat alerts you when screenshot is being taken?
Snapchat has many unique features such as snaps, streaks, selfies, cameras, filters and many more, therefore, Snapchat gives a prompt notification whenever a screenshot is taken, whether it is an image sent to someone privately or uploaded in the story.
Conclusion
Gossipfunda hopes that you have fixed the error can't take screenshot due to security policy. You need to special take care of the policies of the banking app, even though we have provided different method to take screenshot.