How to fix a Hacked android phone? Security is the main concern of all users, a security breach may cause a huge loss of a person or organization. Everyone must know how to protect your privacy? if it breached how to restored it easily. From the1990 to 2005, this hacking word was only used for computers, but from 2005 to 2021 onwards, hacking becomes most common from a mobile phone to smartphones.
More than 6.99 billion mobile users in this world are not safe if they do not about the basic security features. Allowing setting to unknown app or even known applications may cause vulnerability in your mobile. In today's article, we are going to provide a detailed structure to come out of this problem. Before starting this article Gossipfunda team wants to mention that If you feel that you are hacked, then immediately contact to cybersecurity department of your country.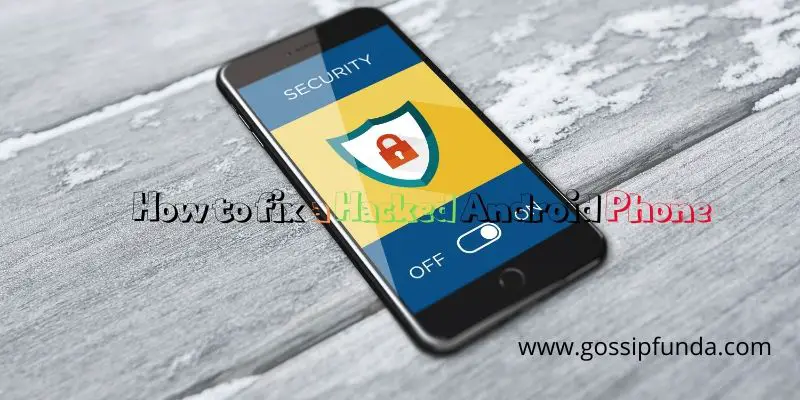 How to fix a Hacked android phone
How to fix a Hacked android phone? Your mobile phone could be easily hacked. Always follow security rules and install required licensed antivirus App. It's easy to fix a hacked Android phone. It is possible to hack a mobile phone; from the hacker's point of view it is good but from a user's security and privacy point of view it is dangerous and worst. Maximum people are unaware of mobile phone hacking and its impact. They may be a possible target of bad guys or black hat hackers.
The mobile phone is lash with all IT facility, so user keeps here all information like credit card details, email account, document, internet banking and many more. This information could be used by hacker and the user may be in great trouble. Here Gossipfunda will provide some unique technique by which you could easily save your privacy, bank details, phone and many more.
If your phone got hacked by hacker then How could it be restored?   And advanced technical tips to secure your phone. A person who is aware of the computer and IT field may easily check that the phone is hacked or not. The user who is unaware of IT fraud and some technical points of the phone may not detect the issue. For all users, Gossipfunda has given such an easy solution either an expert or a beginner in IT may easily check the issue and be able to fix it
Symptoms of Hacked android phone
Moreover, there are lots of symptoms by which you could easily find that your system/ Mobile phone is hacked or not. These symptoms are below mentioned with their solutions- Check out our video too
Must read: How to catch someone spying on you?
Unknown Apps
Monitor your phone and check, is there any unknown application installed? If yes and then check the data usage of this application. If this application will be sending your information anywhere else it will use more data. Some times when you click on ads and may be installed any application. Might be you have installed it but forget to remove or use it. One very important way to know check data usage. Spying Apps will use high data.
How to check data Usage
It is very simple to check data usage on your phone.
Turn on your phone–>Unlock it–>Tab setting –> Data usage.
Follow these steps you will able to check data usage by a particular application. If there would be any doubtful app uninstall it soon.
How to uninstall an unknown App
Here are the mentioned steps to uninstall a particular application. Further, If you don't know how to uninstall an App please follow the below-mentioned steps. Unlock phone–>setting–>Apps–> select an App tab on that and click uninstall. In this way, the unknown application will be uninstalled and the phone will be secure. For enhancing security your phone please install any licensed antivirus software on your phone. Your phone will be highly secured. Never use any free antivirus and use only licensed trusted antivirus.
Phone Performance issue
This is another symptom of a hacked Android phone. Why phone performance becomes sluggish? It has a very simple answer, every hacked machine will be in control of another guy. How this control will be possible? These controls will be done by internet connection. When any machine or phone will be accessed over the internet then it consumes more memory space and data of that particular machine.
Hence the victim machine's performance becomes slow. May be in hacking first attempts, a hacker might be transferred more unnecessary files and apps in the target machine/phone. Therefore, the phone space will be full or may have very little space. So, check the unnecessary apps and uninstall soon. In this way, your machine/phone will be free from hackers' hand and the phone will work fine.
Battery drainage issue
Battery drainage issues in all phones may not. May be phone will be old then obviously there would battery issue. Here Gossipfunda is mentioning the issue with health battery. If your phone battery is fine and sudden start drain from the last few days. Then it's noticeable, keep in mind there is any background App who is using high battery power and transmitting something from your machine /phone. Check it urgently and remove it from the phone.
Automatic calls or text
Most importantly, Monitor your phone if you get any suspicious message sent or suspected calls from your phone. Maybe your phone is under the control of any other person who is controlling your phone. First, check if someone else would not use this phone in your family or colleagues.
What to do?
If you see regular activity in your phone, log in your google account on the computer and change all passwords of Gmail, Facebook or any other password. Keep in mind never change the password by using a hacked phone, because your phone may be in control of hackers and he will restore your password. When changed all passwords reset your phone and fresh login. In this way, you could save your privacy and data.
Unwanted pop-ups
Pop-ups are message notification while surfing the internet. There might be some pop-ups but it could not say that your phone is hacked. How normal pop-ups occur? When you subscribe notification of any particular website links then you will pop-ups of that particular website, you may unsubscribe it then you will not get any pop-ups. In-case after your un-subscription of website notification you get pop-ups to continue and from not a single website, it occurs from lots of unknown websites where you never visited. Then it's sure that your phone is affected by viruses or in the control of others. Must see How To Stop Pop Up ads on Android Smartphones.
What to do
In this case, scan your phone with licensed antivirus software, 90 % chance is, your issue will be resolved. In-case there is still same issue check all application installed in your phone and uninstall all unwanted application and monitor sharply hackers may change the look of the app just like the real app then check data usage of a particular app is seems there is high data usage uninstall that app and reinstall it from trusted store. The final step is to reset your phone then definitely phone will be in your control except for some critical cases.
Don't Miss: Latest Hacking Technique
How to fix a hacked Android phone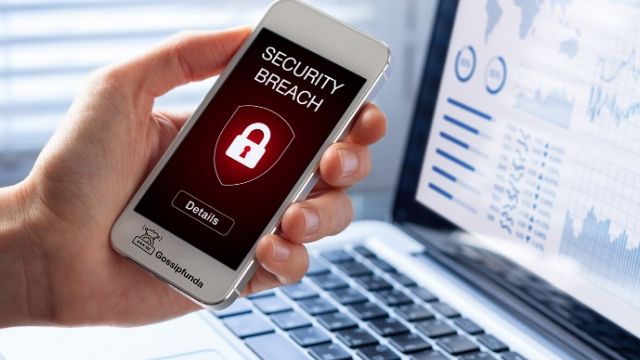 It is very important to restore your all setting and privacy of phone. Some methods are mentioned above with symptoms that will be helpful but, in some cases, may require the help of any technical guys. So, If you tried all steps as mentioned above are not sufficient just contact any cyber expert or technical guys help get restored your phone. Gossipfunda has listed some general methods to get back your phones are –
Uninstall unwanted apps
Install trusted licensed antivirus
Check your phone activity regularly.
Turn off spam notifications.
Unsubscribe from all linked websites or uninstall your browser and reinstall.
Check application data usage.
Do not pick up spam calls, if you have received then do not provide any personal data to him.
If still issued not resolved reset your phone keep a copy of your important data then reset.
Finally, if none above-mentioned works then format your complete mobile and restore it to the factory setting.
If none of the mentioned methods work for you then contact your service provider customer care as well as the mobile manufacturer.
Else if quickly reach to cybersecurity cell.
Rebooting the Android device
It some time works if the attack was for the one time, but if your android device is really hacked then Rebooting your Android phone will never work because once you boot the hacked program/ malicious software will start again.
Uninstall unwanted apps
In most of the cases, it works perfectly, It is the very first action should be performed to fix a Hacked android phone. However, some unwanted apps are totally hidden and you can not detect them. You have to decide that it is unwanted or not, or it looks like. You should also remove the unused apps too. Follow the steps.
Go to the Settings. It is very easy to find.
Drive your approach to the unwanted Apps or Application Manager part and initiate it.
You will see a list of apps installed, verify, and tap on the one you want to remove.
Touch the Uninstall key to remove the app from the device.
Disable Unknown Sources
As you observed some symptoms mentioned in the blog for hacked android phone, Immediately you have to take this action "Disable Unknown Sources."
Go to the Settings section of your Android device.
Drive to the System – Advanced label and locate the Developer options menu.
Navigate below to locate Unknown sources and disable it by touching it.
Never register on vulnerable websites
Vulnerable websites are those websites whose security is very weak. So, Hackers could easily get all information about registered user details and many more. If you keep your debit or credit card details on vulnerable websites. Your data could easily reach to hackers and you will be in great trouble.                        
Clear the Phone Cache
Power off your Android device.
Just the machine is turned off, concurrently press the Power and Volume Up button till the screen boots up.
You will see the recovery mode on Android and grant you the facility to Clear the Phone Cache or wipe the device cache.
Applying the Volume buttons for navigating, roll under to select Wipe device cache, and wait for the phone to reset.
When the phone cache has been wiped clear, reboot your Android phone.
Factory reset the Android Phone
When none of the mentioned trick to fix a Hacked android phone works for you, or you feel that someone is spying on you, then take a backup of your phone( only important document), then follow these steps
Switch off the phone, and then press and hold the Volume Up button and the Power button together.
Loose the Power button when the device logo seems, but remain to press the Volume Up button as it is.
At the Android recovery screen, apply the Volume Down button to drive down to wipe cache partition and push the Power button to choose it.
Apply the Volume Down button to choose "Yes — delete all user data," and later push the Power button to authenticate.
Antiviruses to fix Hacked android phone
Antiviruses are special software and essential for all machines/PCs/mobile etc. On the other hand, Antivirus protects your machine from the hacker. Here are mentioned some very popular antivirus could be used.
McAfee
It is a computer security software company. Intel has purchased it in 2011. For best protection take McAfee total security. In the same vein, this pack provides will get many features as, web security, premium security software, PC optimization, and id security. That is to say, McAfee has trusted antivirus it could be used for your personal use or professional use.
Norton
Subsequently, Norton is a product od Symantec company. It's a good antivirus and could be used in your budget. For your personal use, Norton plus could choose there are lots of variety with features. Choose any one all good.
Quick Heal
Quick heal is an Indian antivirus software company in Pune. Its also a very good antivirus it could also be used. Total security comes with threat protection, web protection, password manager and many more.
Buy it now: Click here
Who can hack your phone?
Your phone might be hacked by many persons, he may be your known or any professional hacker. Thus, there might be some moto to hack your phone or PC.
Reading Required: Single Click System Hack
Hacked by colleague
Many times, your security is breached by your known and trusted person. There might be many reasons for it. Even your colleague may wonder how to hack into someones Facebook messages. Meanwhile, very close friends may conduct the hacking activity for accessing chat messages or some private pictures.
Hacking Learner
Some one who is trying to learn hacking may hack you android phone, and its easy to get rid from him because the hacker is not experienced enough for a deep hack attempt. So follow only few rules and save yourself from being hack.
Black hat Hackers
Moreover, Black hat hacker attacks on those who possess very crucial information and having lots of money. So, they try to steal personal information and money from bank accounts. Maybe some other intention. So, keep update your phone with a secured antivirus and keep away from fraud messages and emails.
Note: follow security rules your phone will not be hacked by anyone
Contact cybersecurity
Conclusion
Consequently, If we follow security rules and show little awareness of cybersecurity,  we will never be in trouble, always we must use antivirus software and never reveal your private information to anyone. Never register and save your bank details over the vulnerable websites and try to not save bank details on any websites.