Taking screenshots is the easiest way to capture something we need. For everyone who uses smartphones, it is handy to take screenshots whenever they want. For every type of smartphone, there are different ways to take screenshots. Along with these changes every company comes with some other ideas which are easier and simple compared to the previous one. In this article, you will get to know some easy options for "how to screenshot on Galaxy s21".
When you're trying to save any information for instant or future use or share with someone there is a need to capture and restore it. So, the screenshot is a standardized feature that will capture the content and allows you to make an edit, add a note, mark important data, etc. Below mentioned are the methods to take screenshots. In each section, we will explain step wise regarding these methods.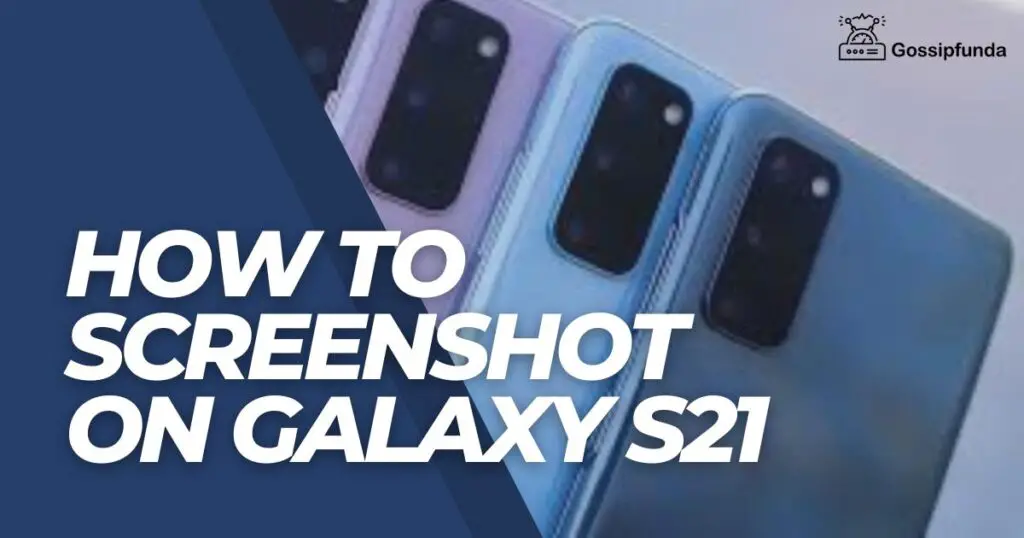 Using buttons
Palm swipe to capture gesture
Using S Pen
Using Smart Capture or Edge panel
Using scroll capture
Using the Assistant menu
Using Bixby voice
Using Google Assistant
Using a third-party app
Method 1: Screenshot on Galaxy s21 using buttons
It is the most conventional way to take screenshots using buttons on most devices. If you have not done is previously follow the instructions carefully and take screenshots.
First, Resize the content by zooming in or zooming out to capture the content shown.
Press the power button and the volume (low volume) button at a time for a short time.
Note 1: Don't press for a long time, if done the power control screen will be shown.
Note 2: Press the downside of the volume button.
It takes the screenshot.
Open the Gallery, the picture taken will be saved under the Screenshot album.
It will work for all the latest versions, if you are using older hardware from Galaxy S7 or before, it won't work. Only press it for a maximum of two seconds not more than that.
Method 2: Screenshot using palm swipe to capture gesture.
An alternative easiest way to take screenshots without any glitches is using palm gestures. It is available for most of the S series where it uses gesture control. To work on this first you need to change some settings, so follow the instructions below.
On the Samsung device open settings, and tap on Advanced features.
In that look for Motions and gestures and tap on it.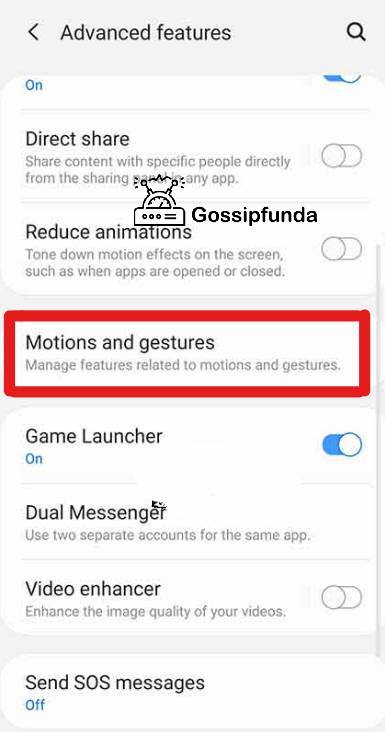 You will have some options available, in that enable Palm swipe to capture.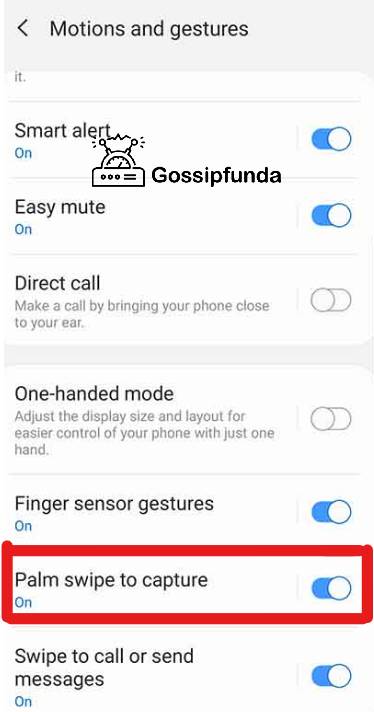 Now your mobile is ready to take screenshots using a palm swipe. You can try this by swiping the side of your hand across the display either left or right both works fine. If you are not familiar with this, follow the below steps.
Open the image or content you want to capture.
Set your hand on one side of your screen. As your thumb pointing upwards.
Swipe your hand from left to right or another way just like the scanner.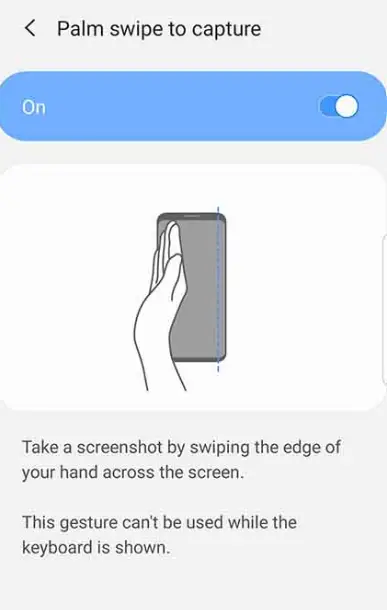 The screen flashes, and you will receive a notification that the picture is taken.
You may not feel it working for some time, because you haven't gotten in touch with it. Try it for few times. If you are ok taking screenshots by other methods, it is recommended to disable Palm swipe to capture so that it never happens including any accident. 
Method 3: Screenshot using S Pen
This technique will work with Samsung Galaray S21 and other Samsung model users with an S Pen. The notable feature of the S pen is activating smart select with so ease. If you have already used it for taking screenshots then you might know it's helpful. But if you have not then try this by following the below instructions.
Get the S Pen stylus and click on the Air Command icon.
From the options choose 'smart select'.
Tap on the screen using the pen, when you are ready to take a screenshot.
It gives you so many features like writing notes, changing color, and size, erasing the changes made, etc.
After the edit, tap on save at the bottom.
The Samsung Galaxy S21 has S Pen and other versions also have it. If your mobile don't have a pen then try other methods to take screenshots. Using a pen is stylish thing, but most users don't have the time and patience to use a pen when they are working on their phone.
Method 4: Screenshot using smart Capture or Edge panel
Let's look at smart select first, it is an edge panel. If it is, you can swipe it on the screen from the edge screen. So first activate it by the below instructions.
First of all, Open settings and look for display.
Check for the 'Edge panel' and make sure it is enabled or toggled on.
From the menu, if the smart select edge panel is disabled then enable it.
Select panels, and scroll right for selecting them.
Multiple panel types can be enabled.
Now smart select is enabled, you can take screenshots now. To do so swipe the screen to open the edge panel and take the screenshot.
If you don't have any idea regarding this follow the below instructions.
Firstly, Open the content on the screen on which you want to take the screenshot.
Open the edge panel by swiping on the screen from the side. (Ensure you have enabled it correctly)
Select the shape or type of selector like oval, rectangle, etc.
It will take you to the capture page with the frame selected by you.
You can make changes to size and position to get the actual frame you want.
At the end, Press 'done' after making changes.
The screenshot will be displayed, with options like save, and share.
Click on save to save in the gallery.
From the above steps it seems it is the lengthiest process but it is not,  we have just explained it in clear steps. If you have tried it for few times, it will be so much easier than it seems. It might be not available for old devices. 
Method 5: Screenshot using scroll capture
Scroll capture is one of the best features in Samsung when you want to capture content that is longer than your mobile screen. To work on this, first, you have to know how to take a screenshot using the Power and Volume buttons.
Press the Power and Volume (down) buttons at a time.
The smart capture menu will be shown at bottom of the screen.
The captured content, bouncing arrow, edit option, and share option.
You can use this share option directly to send it via other apps. Captured content will show the total content captured till now. A bouncing arrow (bouncing up and down), if you click on it. It will capture the content by scrolling the screen.
Tap the bouncing icon, and continue to tap until the desired content is captured.
It will be saved under the screenshot album in the gallery.
It is useful when you want to capture some long content like web pages, some answers, etc. By using this feature you can take long screenshots. And the main advantage is if you take a long screenshot the content is readable by zooming it.
Method 6: Screenshot using the Assistant menu
This method may not be known by all. It is an icon with some features like Recents, Volume Screenshots, etc. First, enable the Assistant menu on your Samsung device. To do so follow the points below.
At first, Open the settings app on the device.
Look for Accessibilty.
Click on Interaction and dexterity.
Enable the Assistant menu.
At last, Now you are able to see one icon on the screen.
Now you can take screenshots. So let's look at this. As we mentioned that you will get a new Assistant menu, which will have features like Recents, Home, Back, Screen off, Volume, screenshots, etc.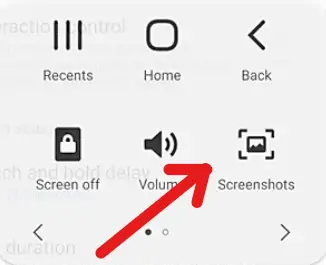 If you press and hold that icon, it will show an (X) mark at the top as hide here. If you drag that icon and leave it at the X mark, it will be shown on the notification panel. From this menu tap on screenshots, it will take one and it will be stored in the gallery as simple as that.
Method 7: Screenshot using voice on Bixby
Bixby voice is available on most Samsung Devices, you can take screenshots by using it. First, let's know about Bixby. Bixby is just like Google Assistant, which is a virtual assistant, that helps to use your phone in an easy way. Bixby will remember your interaction with it, with your most used apps. It is just like Machine Learning, where it provides your individualized experience. If you use it more, it gives better service. You can use it to make calls, lists, reminders, etc. 
At first, You have to activate it to use it. Here we will walk you through the steps to activate it. Your device will have Bixby home if you swipe it from left to right on some devices. For other devices, you will have the Bixby key, so press it once to open Bixby home. 
On enabling Bixby voice, say 'Hey Bixby, take a screenshot'. This will take screenshots with just a command. If you want to share the screenshot with other apps you can say 'Hey Bixby, take a screenshot and share it on Facebook'.or 'Hey Bixby, take a screenshot and share it on Twitter'.
Method 8: Screenshot using Google Assistant
Everyone has used Google assistant, as you can work with commands. If you have Google Assistant on your device, then press and hold the Home button on your device. It will open Google Assistant, and say 'Ok Google, take a screenshot' it will capture the content on the screen. If there is any issue with your Google Assistant, then solve it. At last, it not only helpful for screenshot but also other services based on your interaction.
Method 9: Screenshot using a third-party Application
It can be the last way to take screenshots if your device is supporting. Search screenshot-taking apps in Google Play Store, if you find any app then install it. Then take screenshots using it.
Conclusion
To conclude, the screenshot is as important as the camera we have on our mobiles, to capture needed content which is on the screen. In this article, we have given 9 methods for 'How to screenshot on galaxy s21'. Try the basic methods to take screenshots, if you are not comfortable with that method then move on to other solutions. This could be helpful to understand different ways of solutions for taking screenshots with simple methods and with some long methods by changing some settings. At last, If you think any points are missing and have any suggestions you can comment on them. 
FAQ
What are the features available in the Assistant menu?
The assistant menu is a notable feature in Samsung devices, it has features like Recents, Home, Back, Screen off, Volume, Screenshots, Notification panel, Cursor, etc. It provides a short-cut menu for the user, which improves efficiency like taking screenshots, working with the notification panel, etc. Enabling the Assistant menu allows you to use it as an icon or button and in the notification panel also. If you hide the button, it will show as an 'Assistant menu' with a few features like Recent, Home, Screen off, and Volume.
Can I work with Cursor on a Samsung device?
Yes, Samsung device has this amazing feature of the cursor within the Assistant menu. If you enabled the Assistant menu, it has the option of the cursor. Click on it, it will display a digital mouse pad, which you can use as same as a mouse pad in a laptop. A zoom-in button to zoom the content, and you can relocate the mouse pad, settings, and a close button. When we use it as a screen touch, viewers may get confused regarding what you are operating. If you use the cursor, it will be easily noticeable to others.
How can I take screenshots without using S Pen in Samsung?
You can take screenshots with various methods without using S Pen. Take screenshots using the Power button and Volume down button it is simple and efficient only if you are good at it. If you press it for a long time, it will show power options. Try Bixby, because it provides services based on your interaction, by using commands you can take screenshots it is similar to Google Assistant. If you are using an old device, and somehow the button combination is not working and it has no Bixby at that time use some other third-party app to take screenshots.