How to split screen on Mac? In today's world, we are loaded with multiple responsibilities which require attention and usability at every sphere. For this, you have to open multiple windows on your Macs at all times,  checking the never-ending calls, emails, messages while constructing illustrations, editing photos, managing calendars and replying to feedback. If we have a look on shallow perspective, the result might come that throughout the day, the designer or the person who is creating the content is just switching back and forth from a full-screen application to a split screen on windows.
If you are one of them who is just dedicated to work with multiple tabs in one screen without the work getting jumbled then, they can just turn on the a split screen. Moreover, Split screen enables you to work with more than one section, involving each of the two applications along with their own set of information. These sections also enables you to work faster, and acquire more information all at once without making the use of a second screen.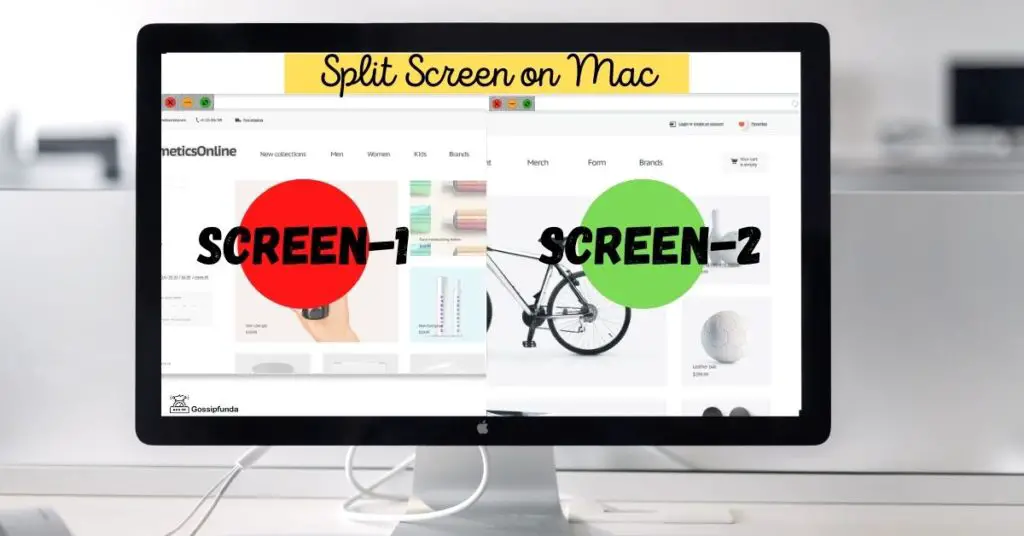 How to split screen on Mac using simple steps
Step 1: So let's get started with opening two or more windows on the screen so that you can pair those two applications on a layout of a split screen. Now you can open applications, write and edit documents and excel sheets, surfing throughout the internet or whatever you want to do. Then, you have to pick the first window and then navigate to the upper left corner of the window so as to find three dots which are colored with yellow, red and green.

Step 2: Now you have to navigate to the cursor over the green dot which will offer you with two more tiny "expand" arrows. Now hold them down over the green dot. A list of options pops up. Now, Enter into the Full Screen mode, then go to the Tile Window situated at the Left hand side of Screen and then Tile Window to the Right hand side of Screen. You have to select either the second or third option. Then your window will fill up the part of your display.

Step 3: By now, one fraction of your Split View is done and dusted. You can see the first application on one half of the screen along with the inbuilt thumbnails for the purpose of any other on the other side of open windows. Now you can select other window of your choice which you intend to use in a Split View mode. This is going to expand and fill in the void thereby completing the view of a Split Screen experience.
How to activate Mac split screen:
First you need to open any two apps of your choice.
You have to hold press the green "full-screen" button situated at the top left corner of the monitor screen.
Then, drag the window in order to fill either the left or right side of the screen.
Now, click on the other app so that you can fill up the rest.
How to enter into Split Screen
Mac Split Screen needs OS, and the procedures may vary on different macOS you're handling. 
Note: If those actions don't split-screen, select MAC menu > System Preferences, tap Mission Control, and ensure that "Displays have separate Spaces" is chosen.
How to split screen on Catalina macOS 
Hover your arrow above the full-screen button in the top left corner. You may also tap and hold the button too.
Pick "Tile Window to Left of Screen" to split-screen on the left side or "Tile Window to Right of Screen" to split-screen on the right side. The display stretches to that corner of the screen.
Now, you can use both windows side by side.
How to split screen on other mac versions
Tap and hold the full-screen button in the top left corner. 
When you keep the button hold, the window contracts, and you can pull it to the screen's left or right view.
Now, Free the full-screen button, and choose the vacant window for other application.
How to work with Split Screen on MAC
In Split Screen, we can handle two or more applications side-by-side without disturbance from other applications.
Select a window to operate by snapping anyplace in the window. 
Display the menu block by shifting the pointer to the head of the screen.
We can swap window areas by dragging it to the opposite corner.
To fix the window height, drag the vertical line separating the windows.
Change to other applications with Mission Control, or we can utilize a Multi-Touch gesture, e.g., swiping left or right corners using fingers on the trackpad.
To exit the Split screen, Move the pointer to the screen's top to show the window keys.
Choose the full-screen button in any of the windows. This window exits Split Screen from MAC.
Ref: official site
Don't Miss:
Uses of Split Screen on MAC
1. Increased productivity
One of the best thing for the designers and also for those working class, is the amount of escalating productivity. Over the years, many experts have performed researches in order to keep a check and calculate the amount of productivity changes from using multiple monitors. In accordance to a Research study completed and done by the researcher Jon Peddie, the productivity of multiple displays increases to an average of 42% while you are using multiple displays.
2. Designers often use multiple programs simultaneously
In some cases, you may be swinging back and forth from Adobe Illustrator to Adobe Photoshop and from Adobe Photoshop to Adobe Illustrator, or else may be from HTML (Hypertext Markup Language) editor, Search Engine and FTP (File Transfer Protocol) application. Whatever might be the case, it has rarely come to the notice that a designer might have only a single application open and might not be moving periodically all around. However, working with multiple applications is such a tedious, rapid and frequent occurrence for workaholic designers, having another application opened on a separated screen from the other can make this juggling and switching act of designers much less stressful and more productive.
3. Keep email or twitter up on one screen
If your profession includes being connected to the customers so as to have an access to clients or to other professionals in your network, service and support, or managing and replying to the constructive feedbacks you will find that a second screen can actually make a difference while working at your office. It can make everything you work with much more feasible and effortless.
Using the primary screen while working and meeting the deadline, drowned in the ocean of work, you could have afford to check your email or open Twitter in a second browser for the rest of the hours. While this practice is usually associated along with productivity being reduced but you cannot also deny the fact that using another screen for other purpose can aid you with productivity and still be focused on your own work while enabling you to make a rapid scan of what is going on and respond to it promptly with a minor or negligible effect on your work.
4. Works efficiently with laptops/ pc and enables flexibility
There are so many designers out there those are working using laptops and aren't settled or glued at one place or work desk for the whole day each day. Thus, setting up an additional monitor is convenient with most of the laptops by now. This enables the designer with a benefit to work from a home office along with a second screen set up, but with more flexible work hours. Because it is convenient to connect/ disconnect the second screen and move the laptop anywhere anytime. Making a setting up while working is simple, and moving the laptop to another position which only takes few minutes.
5. Sharing of data with various applications is easy
Most designers do not work along with multiple screens simultaneously. For instance, you can edit a picture in Adobe Photoshop that got fixed with lighting issues from Adobe Lightroom or you can go through your excel sheets to complete your work. Everything in this can be streamlined to a focused place with the aid of another screen. Making a move from one screen to another is quite convenient than using multiple programs in one screen.
6. You can use skype as well as access the other data at the same time
Some designers make the use of Skype For video calling, video conferencing and to stay in touch with customers most of the designers use Skype. If your profession also demands for the same, then you should surely opt for a second screen to aid you with your work and still have an access to your screen. Most of the video conferences which involves providing help and support to the clients, looking at the official websites, mockups, or something else that will need to be checked at any point of time during the conference.
7. For easier comparison
First of all, in case of designers, there are a lot of aspects of a designer's job which you never know that it involves prior attention to each and every detail. There are some of these areas which require comparison, for instance, comparing and distinguishing different versions of a design, approving the design, testing in multiple search engines, and working over from one picture or design to another. In these circumstances it is convenient, simple, quick, and usually more simple and effective to compare and distinguish side-by-side using two screens instead of swinging back and forth from one application to another simultaneously.
Cons
1. More potential for distractions
This is the biggest cons of splitting the screen for working with more than one screen is that it adds up the risk of distractions from the real work. Undoubtedly, it is simple enough to get distracted when you are working on a single screen with just one blink of notification on the screen, and even much more when you add another screen to your work desk. The prior possibility of handling and using the second screen or you can say split screen to check your email or keeping Twitter open all the time. From the work perspective, it is evidently the only best thing for the communication purpose, without any distractions so that it could also be a killer of productivity. Overall, it is totally dependent on personal choices and workflow
2. Potential lack of resources
From the technical point of view, it includes another disadvantage which is that the sources of the video card are divided along with each display screen. Depending on your operating system OS and whatever applications and programs you are currently using, you will definitely notice a difference in performance.
3. Lack of desk space
Unfortunately, the amount of space of a desk available can conveniently and possibly be an obstacle when you can get a set up in order to maximize proficiency and efficiency. Fortunately, a panel of flat type including a LCD monitor can conquer only a fraction of the space as it is required by vintage monitors. If your utmost concern is space then you need to look for a backup plan so as to rearrange the items placed on your desk to make it convenient for you to work, or you can just go for plan B which is by buying a larger work desk than your previous work desk if it does not burns a hole in your pocket.
4. Cost
If you are currently having a traditional set up for your work place on your desk, you will have to get an additional monitor for that purpose. In the present scenario the cost of another monitor has come down considerably however we cannot ignore the fact that it is still a hindrance in some circumstances. This is a prior concern especially for those professionals who are not sure if they prefer for working with a second screen.
5. Too much space
The man with a famous personality Mr. Jeff Atwood of Coding Horror exclaimed that it is The Large Display Paradox. While you are working with multiple monitors, arranging and adjusting the windows is often time consuming. This is the biggest prevailing issue that once you start working along with multiple windows on multiple screens at once, you do not have to struggle over a small screen again.
Conclusion
As you have read the above heading then you realize that you have reached the final verdict of the article. There are so many pros and cons of split screen but you need to decide what is more beneficial for you. However, it may take a few days to practice by using split screen so that you can to work with the various sweet spots. But if you are adding this functionality to your MacOS,  it is definitely going to boost your workability to the maximum for Mac users, who have been deprived of this beneficial function for a longer period of time.
If you have those micro worms to know more about such tech buzz articles then you certainly need to download our app gossipfunda available on playstore. Make sure you do show some love by giving it a thumbs up and sharing it on other platforms. We will be back with another such article very soon. Till then keep supporting and loving us in our social platforms lie facebook, twitter and instagram. Thank you.