Hey guys, today we are going to discuss Affinity Photo Vs Photoshop: the difference between affinity photo and Photoshop in the article. If you want to edit your photographs with beautiful themes on how to edit them and which software is much flexible for it because everyone wants their photographs to be the best of all. If you want to know how and through which software your photographs can be edited can read the article which makes you crazy for editing our photographs. And make you the best.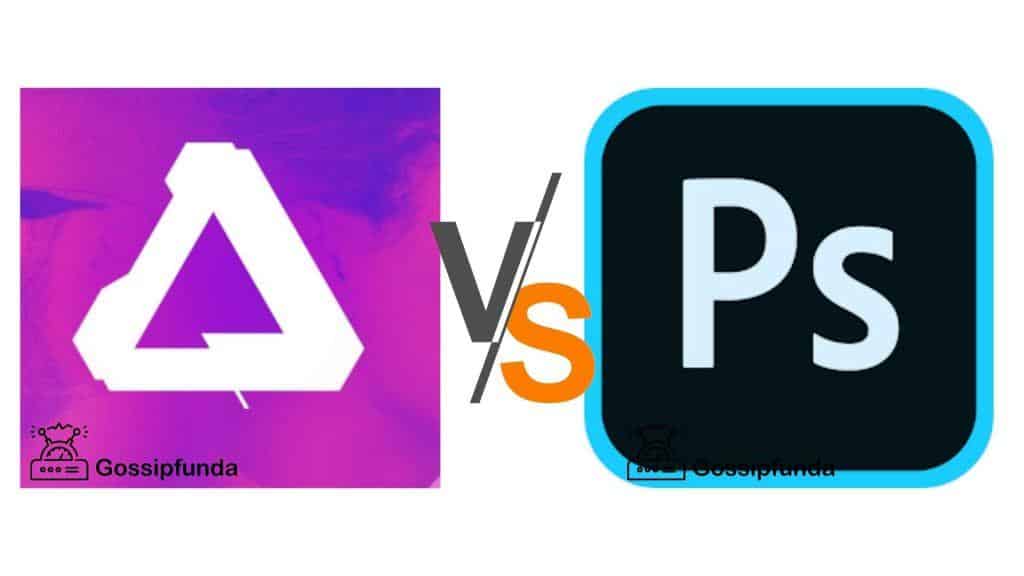 Affinity Photo Vs Photoshop
As we all know today's generation from child to old is fond of photographs. Photography through smartphones, the camera has a great effect on today's generation. As most of them have to post it on social media so that they should look good between everyone. Photography basically and addiction and art. People want their photograph should have the best theme, background; it should not be a blur, edited in the best way.
So Photoshop and affinity photo both the software are the best software to make your photographs best. You can edit your pictures as you want with the help of this software. Many professional photographers use this software for editing the pictures which they have clicked. Photography comes under the best field and in today's generation as very much interest in this field. Now the question arises that if both software is best then what is the difference between both of them? We get to know about the difference between both of them first we will discuss what both are and how to use both of them individually.
Affinity photo
Affinity photo is a graphic editor that was developed by serif. It is an alternative for Adobe Photoshop. Affinity photo is available in Mac's, IOS, windows, etc.  Affinity photo is the affinity suit which is the combination of three software that is affinity photo, affinity designer, affinity publisher. Firstly affinity designer was launched in 2014. Affinity photo was launched in 2015 than in the 2018 affinity publisher was launched.
Affinity photo is the most used software by photographers and users as the performance is very best and the cost of the software is very low. It is also used for business purposes by many users. The size of the software is also small that is only 344 MB it will acquire in your window. It is available in nine different languages. Beginners and freelancers also use affinity photos. The cost of this software is very low there is only one-time payment without any subscription charges. The cost of this affinity photo software is $49.99. the main aim of the affinity photo is accuracy.
Features of affinity photo
Breathtaking composition
Affinity photo is a library of effects, live filters, and adjustments which is clipped and blends to make unique images.
It has different kinds of layers
Affinity also contains live modes which make the image to much attractive
It has a vector tool which creates a polygon and other shapes with the help of lines and curves
 These all come under breathtaking composition in affinity photos.
Don't Miss: Skribbl.io
Beautiful brushwork
Affinity photo has the feature of advanced brushwork. It has a kind of brushes which are used for different purposes.
With the use of brushes we can do many effects on the image. It can combine multiple brushes.
It has an IPAD version brush system.
Focus merge
We can easily merge many images clicked with different focal lengths. With the help of affinity photos we can do the best alignment of the picture. And determine the best areas left in the picture into use.
Stunning HDR
With the help of we can give a natural look to the image. You can work easily on a 32-bit image. It has full tone mapping control. We can easily combine images directly from raw. We can also do correction in alignments.
Powerful layer management
Affinity photo has a high-quality layer effect. In this, we can apply blend modes in the image. We can easily do clipping within the layers. Through powerful layer management, mask editing can be improved.
Adobe Photoshop
Photoshop is the most popular and dominating image editing software in the market. It allows users to create and edit the image. It is developed to use on Windows or macOS computers. We can edit a single small image as well as a large combination of images. There are different kinds of tools in Photoshop which are unique and designer love to use these tools for editing the image in the best way.
Adobe Photoshop has different kinds of versions such as Photoshop CC, Photoshop Elements, and Photoshop lightroom these are the different versions. Photoshop has its subscription as per the user's needs. By using Photoshop we can also create website layouts. We can also edit scanned and digital images that are used online.
It has different kinds of plans that are monthly, annually, yearly. Monthly it cost $29.99. Annually it cost $19.99 per month. Yearly it cost $239.88 for a full year. It is available in 26 different languages and the side of the Adobe Photoshop software is 881 MB.
Powerful editing tools in Adobe Photoshop
Selection tool
The life of designers, photographers, etc has become easy with the help of selection tools. As it is one of the fabulous tools in adobe Photoshop. Through this we can select any portion of the image and make changes in it. For example it is difficult to edit hairs on the image. Now it is easy first select then do editing. This tool helps in doing the editing faster.
Pen tool
Earlier there are not many features in adobe Photoshop there were only color palettes but an increase in advanced multimedia. Adobe Photoshop is also updated and many new tools were introduced pen tool is one of them now adobe Photoshop is not imagined without pen tool.
With the help of a pen tool we can give magical effects in the image. We can easily draw any shape or any creative image using a pen tool it is a very flexible tool.
Slice tool
During the development of web technology. Photoshop quickly introduced a tool that is a slice tool which helps in the development of web technology.
When there was no internet or wifi. It takes 10 to 12 minutes to load a homepage. Then slice was a tool developed to snip the image into slices so the time of loading a website gets reduced. This tool helps the designer to a great extent for uploading an image into the web page.
These are some tools but the list of tools is not ended there are many others like retouching tools, layers, vector masks, etc.
See also: procreate alternatives for android
Comparison between Affinity Photo Vs Photoshop
Conclusion
So, in the conclusion of Affinity Photo Vs Photoshop, I want to conclude that both the software for editing an image is excellent in their way. And both are favorite software for designers and photographers. Adobe Photoshop has the best reputation in the market of multimedia. Affinity photo also becomes the best alternate of adobe Photoshop which cost less and have the latest feature so now a day's designers and photographers much prefer affordable affinity photo and do the almost same function as of the adobe Photoshop. And taking place of adobe Photoshop day by day. You guys don't have to confuse between both of them as both are excellent. Features and differences are mentions above which help you to choose the best as per your need.