How to block websites on android?
How to block websites on android? You are viewing this post means that you want to block some website, whatever the reason is. Maybe your exams are coming on and you don't want to get distracted by those social media websites, or maybe you are working professional and don't want to waste your time on the websites that are addictive and time-consuming.
Some of you want parental control that what website your child should visit. It is very simple and easy to block websites on your android. To learn how to do it, let's dig into it.
There are several ways to do it. Let's see them one by one.
Don't Miss:
How to block from the browser.
The browsers do not allow the user to block websites on android but there are certain extensions(add-ons) to do it. If you are using a firefox browser this is for you. You will need a BlockSite Add-on.
Fire up the firefox browser and head to the menu the there dots on the right upper corner.
Click on add-on and then select Browse firefox Recommended extensions on the bottom of the page.
In the search bar type" BlockSite" and hit search.
Click on the first result and then "Add to firefox".
The app will ask for permission, give the necessary permission and you are ready to go.
Now after the installation you need to grant permission to the add-on to access the URL's of the website. Grant that permission.
After you give all the permission the add-on menu will popup, enter the websites and 1,2,3 that website is blocked.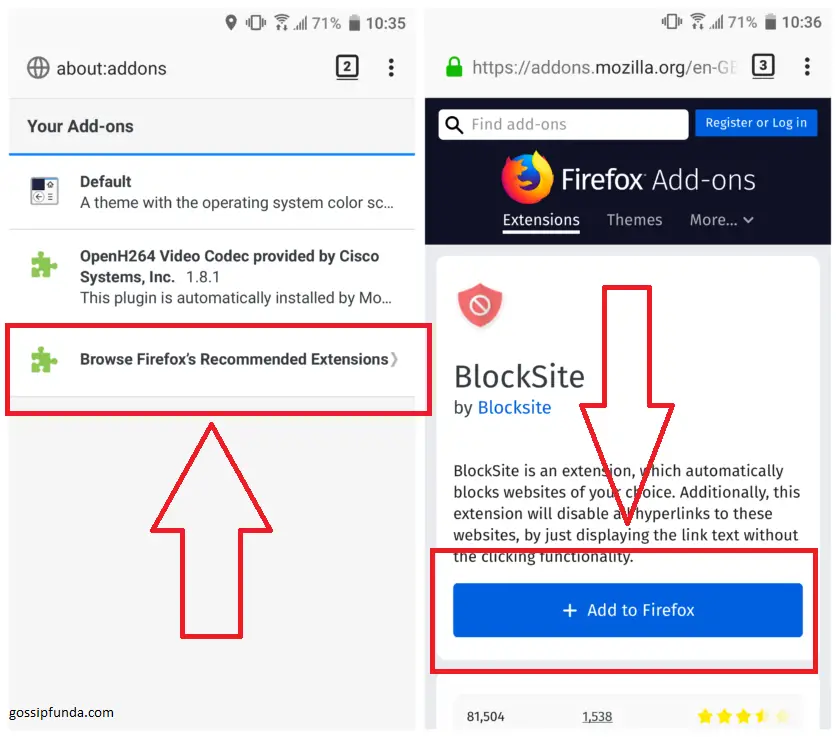 How to block from Samsung Internet Browser.
If you use the Samsung Internet Browser then, the Trend Micro Mobile Security app is for you. To use this step follow the steps.
Download and install the app.
Go to the "Network Protection" on the bottom of the page.
Turn on safe surfing.
Then click on Blocked List.
Click on the Add button.
Enter the URL/IP of the site.
Now that website is brocked.
To test it go to the Samsung browser and try to open that website.
NOTE: This app will not work on Chrome/Firefox.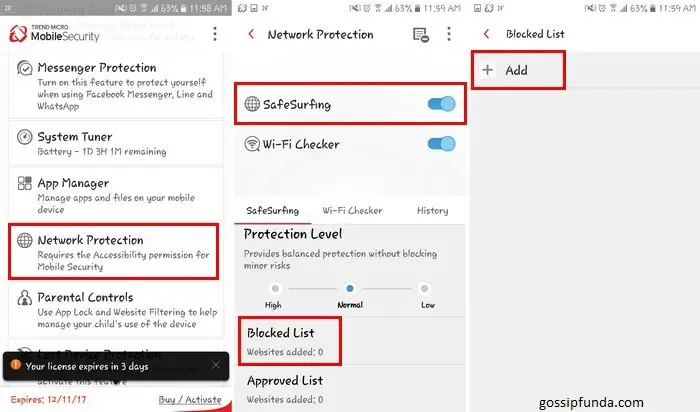 How to block from Chrome.
If you want to block any website on chrome then there is an app for that. Block site – Block apps to Increase Productivity helps block websites from chrome. Let us know how to block the website using this app.
Download and install the app.
Launch the app. On the homepage of the app, you will see a green button, click on that.
Now enter the URL/IP of the website and done.
Now head to chrome and try to open the website.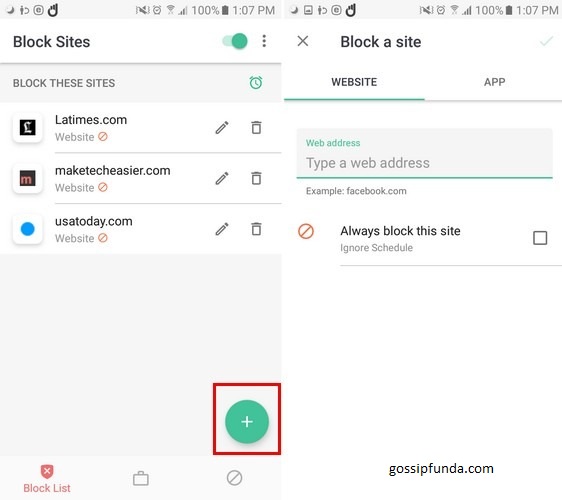 Now this app will also allow you to schedule the time to block the websites. If you want to schedule the timings to block and unblock the website go thorough that or else leave that.
How to block using Antivirus & Mobile Security apps.
Blocking websites on android using antiviruses.
Download and install the app.
Launch the app. Give permission.
On the home page click on parental controls.
Turn on the website filter.
Select the level of Protection.
Hit on the Blocked list and add a new website.
If you want mobile security and parental control there is an app for you. Mobile Security & Antivirus app provided by Trend Micro is good to go. this app provides the utmost security for your device and helps you to get protected from ransomware, malware, viruses, etc and also helps in parenteral control. But parental control is a premium feature. You can test its features for a 14 days trial period. To use this app, go through these steps.
How to block using firewalls.
There is also a way to block the websites by firewall settings. Most of the applications in the market required rooted phones, but some applications don't need rooted devices. There is such an application that provides this functionality is "NoRoot Firewall".
It helps to make filters from domain names, IP addresses, and hostnames.
Let's find out how we can do that.
Download and Install the app.
Fire Up the application.
On the homepage go to "global settings".
Open the "New-Filter" function.
Select your preferences on which network you want to block websites. If you want to block on both Wi-Fi and data select both.
Enter the URL/IP of the site you want to block from your device.
Go to the "Port" tab and select "*".
Now get back to the home page and click on start.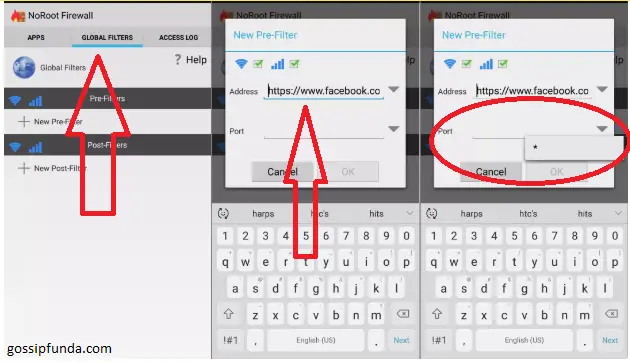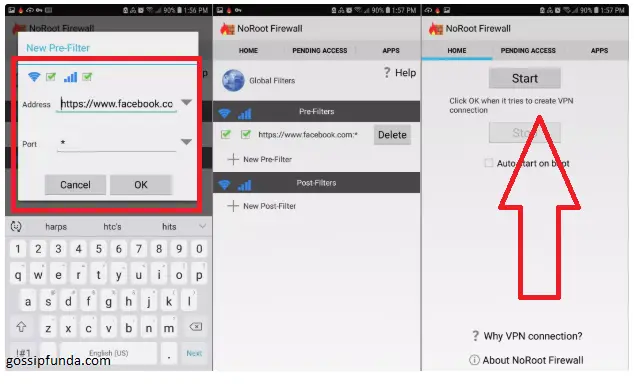 Now all of your listed websites are been blocked.
NOTE: This application does not work on IPV6.
Blocking websites using OpenDNS.
The first question that will be coming in your mind is "What is OpenDNS? Is software? ". Let"s make this easy for you.
First of all lets know what is DNS.
A DNS is a directory which holds all the IP address and their respective name as like telephone directory. When you search for any website the request goes to DNS and then DNS fetches the IP of the website and views the website to you. Mostly the DNS is handled by the ISP(Internet Service Provider).
Here the thing is OpenDNS does the same same thing but is not handled by any of the ISP. It is a privately run company. Now to set up OpenDNS lets go through the steps. This will work in only a Wi-Fi connection.
Most of the android devices in the market did not need any additional software to set up DNS configuration. But if your phone does not support wifi settings download the "Wi-Fi settings" app.
If your device supports inbuilt Wi-Fi settings. Go to Phone Settings.
Click On Wi-Fi.
Select Advanced options.
Head to "Change DNS Settings".
Enter the two given values in the DNS1 & DNS2 column and hit on the apply button.
DNS 1: 208.67.222.123 
DNS 2: 208.67.220.123 
Now if you are using the application go through step numbers 2 to 6.
See also: How to Remove SIM card from iPhone
Blocking websites using Rooting your device.
Well we don't advise you to root your device because it will temper the warranty of your device. But you want to do this way then let's dig into it.
Rooting your device will allow gaining complete access to your cell phone. You can do whatever you want to do with your device. It will also help you in blocking websites. But again I want to warn you that rooting may cause some problems with your device and can temper your device security as well as warranty.
To know how to root android see this post: how to root android 7.0
Now you know how to root device lets move further in blocking the website.
There is a theory that if you root your device you can access your device codes to block some websites.
There are also many apps available on the play store that are specially designed for blocking websites but those apps are only available for rooted devices.
While some countries have their laws against rooting. Rooting can make your phone valuable for viruses and other cyber attacks.
Blocking websites using host files.
Blocking websites on android using host files are also used to block websites. So a question is coming in your mind is "What is the host file?". Let's find an answer to it.
It is a plain text file that holds the information of hostnames and IP addresses. It can be found in the operating system files.
To use this method, do these steps.
Go to your File Manager.
Click on the menu button.
Find "show hidden files and folders" and turn it on.
Now go to the android folder. Open it.
Search for "host.txt".
Open that file using any text editor.
Enter the IP or the URL of the website and save that file. That website is now blocked.
View my other post: How to Block text messages on android?
Conclusion
I hope now you know how to block websites on Android devices. Blocking websites on android is very easy to block websites from a rooted phone, but if you don't want to root your phone these ways might help you. I will say use the BlockSite applicant. It is easy, fluent, and fast. It would be great to see if Google launches its website blocking tools. It also works on all the platforms. Let us know which one of the methods you liked. I hope you liked the post.