In the world that we live in today, everyone carries their phones along with them wherever they go. They always carry it around. Not going to lie though its a necessity in today's world as well. Unfortunately, this also means that wherever you might go, you cannot escape from the unwanted calls, constantly pestering and for sure something that we all can live without. Personally, I find these no caller id calls to be a nuisance.
I'm sure everyone reading can relate to this feeling.  It is highly distracting and irritating when you are trying to do something important only to be disturbed by these pesky little no caller id calls. But not to worry, in this article, we are gonna break down and help you figure out how to get rid of them. 
Calls from anonymous numbers are just as annoying when the time isn't right. The calls from these 'no caller IDs' are possible because the FCC allows the right of every user to block their caller ids. This is to ensure maximum safety plus the privacy of the user. Blocking caller id means that their number will not appear on the screen of the person that they are trying to reach, which is done for privacy reasons. 
But obviously, some people tend to get sidetracked and end up using this privilege as a means to accomplish their not-so-nice intentions in most cases.  These no caller ids are also known as blocked, anonymous, or private numbers. 
Now without further ado, let's get to know how to get rid of these anonymous calls for good.  There are three most popular ways in which you can get rid of these calls which will be explained in the further paragraphs, but I will also be explaining some other ways that will help your situation. So bear with me and let's get to it straight away. 
The do not disturb mode.
Block calls from contact. 
Block calls from the cellphone service providers.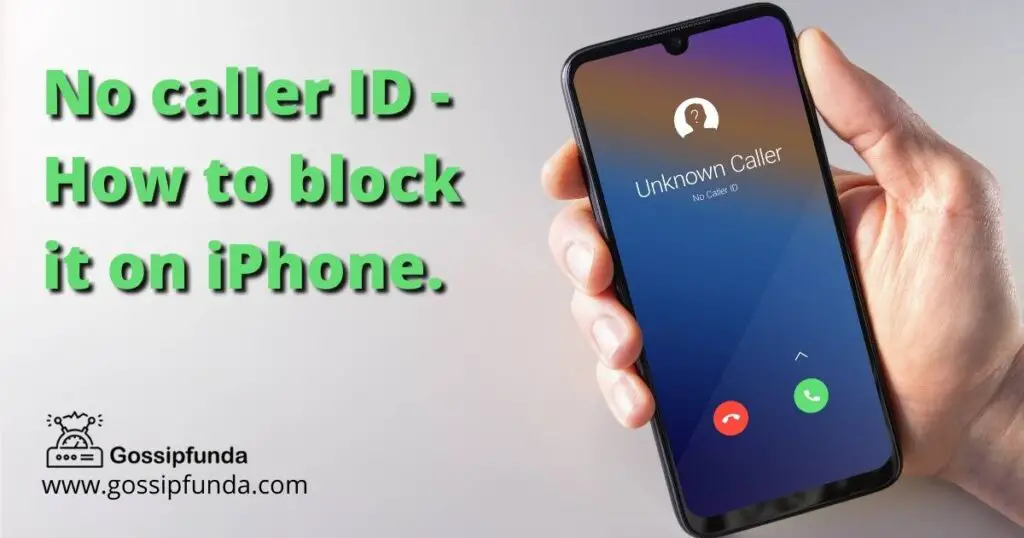 The do not disturb mode for no caller ID
The do not disturb mode enables your iPhone to silence the calls from anonymous numbers as well as also silence the 'no caller id'. This mode will only silence the calls so you will still be able to tell that you have received calls from certain numbers without it constantly bothering you.  Let's get to know how to set it up on your iPhone in the following steps. 
Step 1: Open your home screen and look for the settings icon on your screen.
Step 2: Launch the Settings app. 
Step 3: Scroll until you find the Do Not Disturb option and click on it. 
Step 4: When you see the toggle click on it and make sure that it turns green in color. 
Step 5: When you are done with that, scroll and you will find an 'allow calls from' option, you will have to click on it. 
Step 6: You will see a list automatically appear on your screen, scroll and click on the 'all contacts' options. And you are done. 
To absolutely make sure that the Do Not Disturb mode is turned on, a moon-shaped symbol will appear on the status bar of your iPhone. 
Block no caller ID calls via contacts
This is a hack that can be easily used if you are too lazy to create a blocklist of the unknown caller ids as well as the no caller ids.  The theory behind this method is that if we block this newly added contact, and block it, it will also block the no caller ids that will call in the future.  In the following steps, it is explained, what you are supposed to do step by step. 
Step 1: Open the home screen and search for the contacts application. 
Step 2: There must be a '+' symbol on the top right corner of your screen, look for that and click on it to generate a new contact. 
Step 3: On the new screen that has appeared to create a new contact, on the number field, enter 000-000-0000. Save the number with the name 'no caller ID' or anything that you might prefer. 
Step 4: Click on the done and save the contact to your contact list. 
Step 5: Now all you have to do is to block the newly added contact from your contact list. To do this you will have to scroll down to click on the 'block this caller' option.
This will add the contact to your blocklist. 
Block no caller id calls via the cellphone service provider
The previous two methods are not really that effective in the long run. The caller that had been trying to reach you, might just change their number and still try to contact you.  They might try to get a number that might seem legitimate and the call might not get muted or blocked for that matter. So the solution that we are left with is to avail of the services that your service provider has available for you. 
Almost all the big American service providers have call filtering services that you can easily avail of to avoid these 'no caller id' calls for good. Some of the most popular service providers and how to avail of them have been explained below;
AT&T Mobile:
This company offers the service to filter out the no caller id calls out for you. There are many options that this company has to offer, you can choose whatever you see is fit for you.
To block calls if you are a user of AT&T, you can press the following combination of numbers and special characters. You can choose whatever fits the best to your predicament;
*60; follow along to the automated voice to continue with the call blocking procedure. 
*61; block the latest caller, and add them to your blocklist. 
*80; turn off call blocking service.  
*77; block the no caller ID calls, callers will receive a message that you will not accept calls who withhold their caller IDs.  
*87; turn off call blocking service with the calls with no caller ID.
This company also allows you to block a call online. You will have to open your profile and select the account that you want to use if you have multiple accounts. You can find the call filtering option and under that, you can select the call blocking option. Select the on option. Also, remember that you can easily turn the call blocking feature off at any point in time. 
Verizon wireless
Verizon Wireless also has the feature of blocking unwanted calls or calls with no caller IDs. There are two plans that you can avail yourself of according to your needs. The following are the two paid plans that you can avail of along with what privileges they will provide you;
Call filter plus 
Cost ; $2.99 per month. 
Privileges; 
Caller ID
Spam lookup
Personal blocklist
Spam risk meter.
Call filter plus(multi line)
Cost; $7.99  per month. Privileges; this plan allows 3 or more lines at a time. There is also a free version of the call filter that Verizon Wireless offers its users. It can be used in any call filter compatible device. Have in mind that if you use a device that is incompatible with the call filter app then you will not be able to use this feature. 
Apple users can get the call filter app easily on the Apple app store whereas, the Android users can install the app on the Google Play Store. 
Sprint mobile
 Sprint mobile offers its users a basic free-of-cost plan to block all unwanted calls. You can avail of it with no charges whatsoever. 
 Bright house
This company offers a no caller ID rejection filter.  This is a really good deal to get rid of the unrelenting calls. The best thing about it is that it is free of cost. You can activate the no caller ID rejection filter by calling *77. When you make the call and you hear three beeps that means the filter has been activated. This will filter will automatically reject any incoming no caller ID calls. 
To deactivate the filter you have to dial *87 instead of *77. The rest of the procedure is the same as activating the filter. 
If none of the methods do any good for you, then there are a few hacks that I'm going to be explaining in the following paragraphs that you might want to try to get out of this predicament. 
Call blocking apps to block no caller id calls
You can always try third-party call-blocking apps. You can install the apps online easily. There are many apps available online but we always have to keep in mind that not all apps are legitimate. So we have to be mindful of what apps we install on our smartphones. Some of the most popular third-party call-blocking apps are listed below;
For Android
Truecaller
Call blacklist- call blocker 
Call control
CallApp
Hiya- caller ID and blocker
All these applications can be found on the Google Play Store and be downloaded on your smartphone.
For IOS
Robo shield
Truecaller
RoboKiller
Hiya- caller ID and blocker
YouMail Voicemail and spam blocker. 
All the above-mentioned apps are available to be downloaded on your iPhones. These apps will help you block the calls with no caller IDs or just spam calls in general. 
One other method that you can try to get rid of these pesky calls has been explained below to you. You can try the one below and see what works best for you. 
Read Also: Why is my phone not allowing me to make calls.
National do not call registry
The national do not call register is free of cost to register for the citizens of America. You can register for your home phone as well as your mobile phone for free. This registry was established for terminating and ending unwanted calls from sales (which can be no caller IDs). you can use this as a way to get rid of the unwanted calls if none of the above ways help you out, or even if they do, and you just want to try this method. Go ahead. 
If you have registered already and the calls still don't cease, then it can be possible that the calls that you have been receiving are scams. 
It is possible that by accident at some point or another you might have answered one of these calls. If you have done such a thing by accident or on purpose(which you shouldn't), you should immediately hang up and report the call to FTC. Their priority is consumer protection, so make sure that you report the call immediately. 
There is no way that you can find out who a no caller ID is. There is no way yet, to figure out who called you if they have blocked their caller ID. You can also easily block every single unwanted call individually, but since it's a lot of work and also anyone who had been calling you can easily change their numbers and still call you. So blocking a number can only be considered a temporary solution. It does have loopholes, but you can still block and see if the calls cease to come. 
Conclusion
After understanding what a no caller ID is and how you can get rid of these calls, it is pretty clear that these calls are not good in terms of your data safety. These calls are generally scams and from telemarketers, but we also have to keep in mind that these calls can easily be frauds and steal our data. All in all, it is a given that these calls are not good and harmful for us. 
Answering a call can easily be the worst decision you've made. So it is essential that we block or find a way to get rid of these calls, which have already been explained previously in the article. Hope these methods help you in your journey of getting rid of these unrelenting calls.  Thank you reading our article, for more tips and tricks about iPhone and android visit gossipfunda.com.