If you have arrived here, you may have had the terrifying ordeal of misplacing an Android smartphone. Luckily, today's modern Global positioning and tracking technologies make it simpler than ever before to locate your device, as long as the appropriate configurations are in place ahead. In this article, you will learn different solutions with the help of multiple methods and easy-to-follow steps to your query of "How to find my android phone".
Always keep in mind the importance of time. There will be a lot of individuals who would like to have that missing cell phone, and you will need to move swiftly to get it back. We will talk about how to monitor the device's position, how to remotely lock this to protect your personal information, and how to make things easier for anyone to bring it to you.
There are numerous ways you can opt to find your device. So, go on and find the one that suits you best.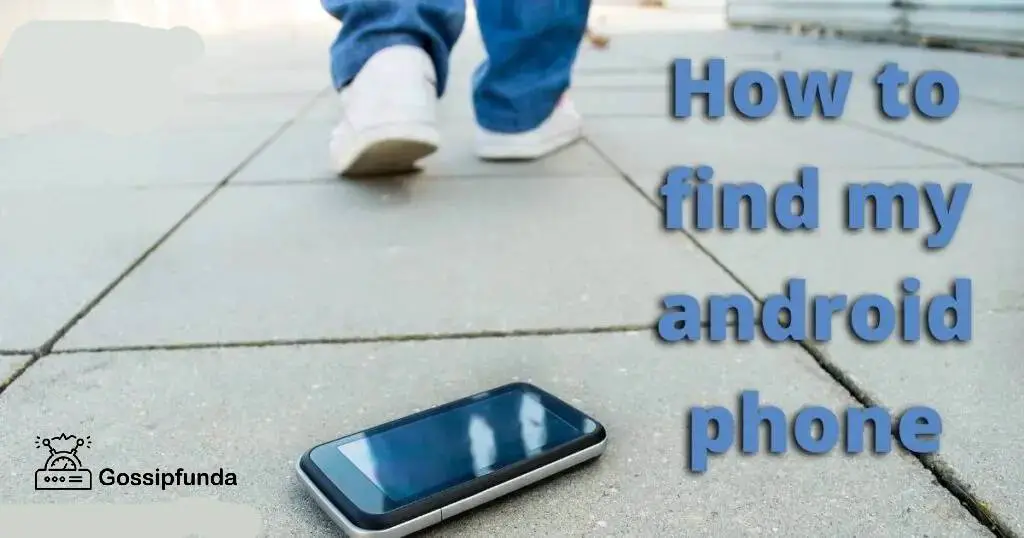 Solution 1: Built-in Find my device feature to find your android phone
Find My Device is currently incorporated into the majority of Android cell phones. This Google service monitors the cell phone's position remotely, so if it gets loose, anyone can use a computer or a mate's cellphone to figure out where it last transmitted a signal. If you're looking for a cellphone, Google is the best bet.
If you have gone through the trouble of putting everything up in advance, Google's location data capabilities are the best option for recovering your misplaced cell phone. This should really be anything one set up on any gadget that cares about it or that has critical information on it, particularly now that Google has made it so much easier to find the cell phone if you misplace it.
Step 1: To access the Find My Device map, simply put "Where is my phone" into Google Chrome when connected to the Google account.
Step 2: On the map, a green icon indicates the precise or estimated position of the device's previous reception.
Step 3: Based on the position and network connectivity, Find My Device would only be able to locate the cellphone in a general area instead of a precise position. 
Step 4: It could only be responsible for notifying users that the cellphone is within a 50-mile range, for instance. However, this could still assist us in getting near.
Step 5: If Find My Device is unable to locate the device, it is indeed possible that the device is experiencing a signal problem. 
Step 6: Continue to contact them to check if you could obtain a reply. Find My Device also shows users which cell phone it is linked to, how strong the connection is, as well as how much battery capacity is remaining. Users would not be allowed to acquire fresh cellphone positions once the battery runs out, therefore you will have to move immediately.
Discovering the position of the cell phone is really not always enough, and that is why Find My Device includes three extra capabilities to assist users in locating the cellphone and keeping the information secure.
Play Sound: If users select this, the cellphone will sound continuously for five min, regardless if this was on mute or vibrating the last time users used it. When you go near enough to the lost device's position, one will be able to listen to it, even though it is hidden beneath a shrub you stopped close to on a trip. However, this ringtone could notify somebody else in the neighborhood of the position of the missing cell phone, prompting them to report it as lost and recovered.
Secure Device: Selecting this option not just to secure the cellphone and prevent others from using it, but also enables users to put a quick note that will show on the device if someone turns that one on. Because there is a restricted amount of room, be concise. One can also include contact information for somebody to contact you, such as the guest house you are vacationing at, a mate's contact, or professional contact information. This way, despite actually touching the smartphone, somebody can read your words and contact the address you provide.
Following encrypting the smartphone and entering a note, I absolutely suggest using the Play Sound option so that anyone else who is notified of the device's existence can read the message and contact.
Erase Device: It is indeed a bit like going nuclear, and it must definitely be used if the lost Android cell phone has extremely confidential material. When users select Erase Device, all information on the cellphone is completely wiped, along with the Find My Device information connected with the Google account, thus users would not be able to trace the device's position. If the Erase Device signal is sent while the cellphone is turned off, the information will be deleted when users turn it back again.
Solution 2: Google Assistant to find your android phone
It is just too simple to misplace the cell phone simply leaving it anywhere in the residence and wondering where we placed it. It could be aggravating if you need to head to work or another meeting and are desperately searching the house for that. When users possess a Google Assistant home, simply say, "OK Google, find my phone," and Google Assistant will activate the ringing, even if this was previously turned off.
To make that happen, the Android smartphone should always be enrolled into the very same Google account as the voice assistant, the Google account and microphone must be associated through the Home application, and the cellphone must be switched on and accessible to the network by cellular data or Area network. You will also require to have Find My Device enabled, which we should be doing for every Android smartphone we own.
Everybody in the house can utilize Google Home to discover their cell phones if they have been missing thanks to Google Home's multi-user compatibility, as provided as they have connected respective Google Accounts via Voice Match.
Solution 3: IMEI number
If the cellphone is lost or discovered and afterward factory reset, users won't be able to use any applications or companies to locate it; a factory reset will take off whatever actual information, identities, or credentials are required to locate the Android cellphone distantly. Next users really will need to go nuclear and block this using its IMEI number. One can find the IMEI code by calling it from the device's keypad, so one will have to learn it before the cellphone slips up. At the very minimum, banning the IMEI number ensures that no one really may enroll the cellphone with a mobile phone network.
If the cellphone goes stolen, one should inform the authorities as quickly as feasible and provide the IMEI number. The operator or mobile operator will be placed on a blacklist if users do that with them. Lost Phone Analyzer in the United States and Gadget Verify in Canada are two programs that enable users to enter an IMEI and see whether the device has indeed been recorded as misplaced or missing. IMEI24, which offers global information, is another option.
While recovering a lost or stolen cell phone, proceed with prudence. If you are concerned about the cell phone being taken or abandoned, users should set up and verify the chosen monitoring software as quickly as possible after purchasing it, as well as notify the authorities. It may take a little additional effort on the forward end to enroll some applications, but it will take even greater effort to find a lost item if no support systems are in existence.
Solution 4: With help of third-party applications
Although Google's constructed choice is unquestionably the finest, there are a few third-party alternatives to explore. The greatest third-party applications for locating lost cell phones are listed under.
Application 1: Life360's Family Locator
Life360's Family Locator software is just a cell phone Global positioning system monitor, but it really is extremely advantageous for households with numerous cell phones. All members of the family join a "Circle," a private group of individuals who agree to have their cell phones monitored in real-time by the application. The members of the family will display as small icons on live map data within the application, allowing users to see where everything is at any particular time.
Application 2: Anti-Theft Prey
The Prey Anti Theft application is unique in that it will cover three different gadgets with just one installation. You will be able to use the missing cell phone to raise an alarm, capture screenshots if this is in deployment, and shut it down the minute users realize it is gone. The greatest feature is that you could use it for free.
Application 3: Where's My Droid
This Where's My Droid application's basic capabilities include the ability to sound the cell phone if users lost it, find it using the Global positioning system on Google Maps, and utilize a password to detect illegal modifications to the Android cell phone's programs. Stealth Mode also hides any incoming text chats from anybody who discovers the cell phone, replacing them with a customized notice phrase that informs them of the cell phone's lost or stolen condition.
Quick tips for future security
Here are some quick tips for you to have your phone secured for any future issues.
Create a two-factor authentication system.
On applications with confidential material, such as personally identifiable information, bank account information, or indeed any application that allows users to make purchases, two-factor verification (2FA) must be enabled. The two-step sign-in procedure safeguards any identities on the smartphone from being exploited by a bad guy who found the cell phone after it has been set up.
Make a list of the IMEI and serial codes.
It is worth noting that users should constantly keep the device's IMEI and serial information available. By dialing from the device's dialer, users may quickly get the device's IMEI number. The device's IMEI code is a distinctive identification it needs to connect with mobile networks. The serial number of the cell phone can be found in the configuration. The serial number ought to be visible in Settings -> About phone. When the cellphone is taken and users have to file a police report, knowing this data is really helpful.
Create a mechanism for monitoring your progress.
First, before the cell phone is stolen, the most crucial action one could do would be to make damn sure it is indeed set up to be recovered. You are through your own the rest of the time. So, when you are there since you are afraid about the cellphone becoming stolen or lost in the long term, calm down and set up a monitoring system now, while the worst-case situation happens.
If the cellphone is linked to a Wi-Fi connection, you will have the greatest outcome, although the Global positioning system and cellular services will still be able to determine a relatively precise position. Almost all of the monitoring services accessible, either built-in or downloadable, need users to have a Google account. We have provided a selection of mobile applications if users need additional tracking alternatives than Google Find My Device.
Conclusion
So we have come across different methods to find your lost android cell phone. One of the advantages of Android cell phones is the ability to customize the interface whatever you see as appropriate. If Google's service isn't cutting it for one, users should look into the third-party choices we mentioned earlier, as they provide some beneficial properties that could give users further peace of mind if the smartphone goes lost.
If you have misplaced your cell phone, we hope you can find it promptly and smoothly.
FAQ
If the cell phone is switched off, in airplane mode, or the battery is dead, can I possibly track it down?
This is an all-too-familiar situation. The cell phone is gone, and the power won't last much longer, or it may have been turned off by a possible robber. To transmit its estimated position, it requires an active connection to the internet. One may, however, look up the device's location information to discover where that was before the network connection was lost. Location information must be turned on on the phone in order for this to operate. Users have no option except to wait and pray that somebody switches it on if they did not do so.