Procreate alternatives for android
Procreate android: Arts and Illustrators aren't limited to only drawing on pen and paper. In today's world, many artists are switching from pen & paper to a digital environment and hugely benefitting from them. Procreate is an app for iOS that offers that works very well with Apple pencil giving the creators an edge to draw beautifully. In this article, we are going to look at some Drawing Apps for Android that can be a replacement for Procreate, which are used by professionals for drawing.
Procreate | The raster Graphics editor App for iOS
Procreate is an award-winning app for iOS and iPadOS for digital painting that is used by beginners as well as professionals. Launched in 2011, it is specifically designed for the iPad and Apple Pencil. It offers easy usability similar to Adobe Photoshop, where you can import files from other devices and locations and work upon them.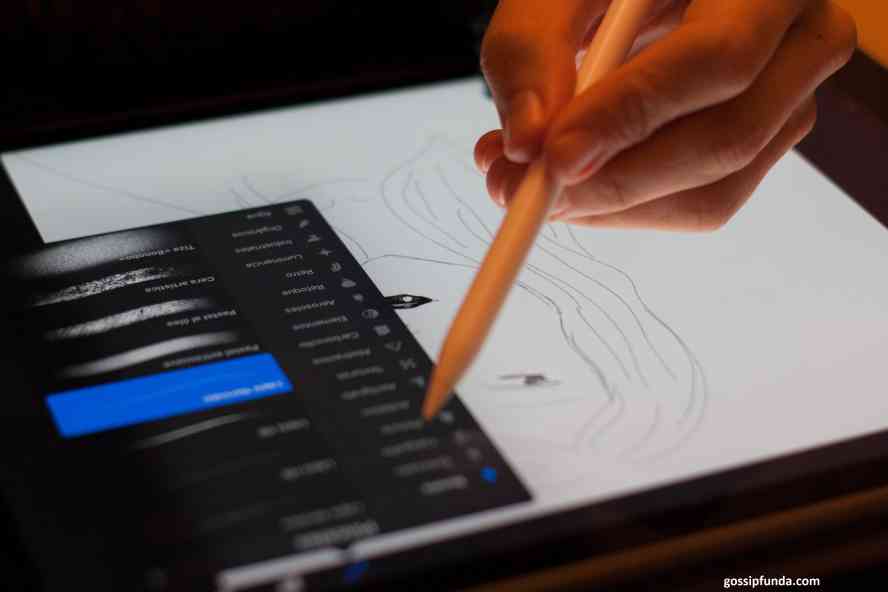 While using procreate, you can actually tweak & create your own custom brushes. The app also has text and animation features, especially the text changing feature which allows you to keep all your files in the app itself. Earlier, one had to switch between apps to add their text but with the new update that has changed and made it much easier to work with.
It costs $9.99 and has a lifetime license
Although the App is rather cheap considering what it has to offer, one needs to own an iPad & Apple pencil to work with it. Besides, considering the rising prices of the Apple devices it's not surprising for people to look for drawing apps for android
Procreate android
See the best alternatives for Procreate android:
Digital Art | Android Apps for 2020
There are numerous numbers of apps available for Android that can be used for drawing, sketching & painting. Let's take a look at some of them that one may consider downloading
Adobe Creative Suite | Android Edition
Literally, one can't start the illustration without one of Adobe's products. It has been on the lead for decades and is the first choice a designer thinks of using. Let's look at some of it's outstandingly tailored applications that are completely free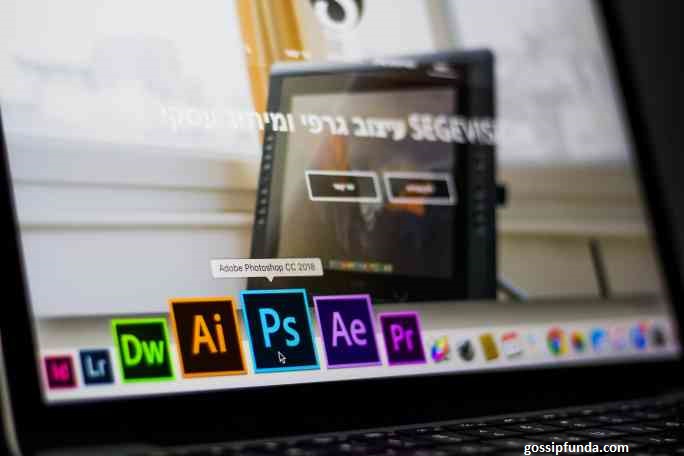 Photoshop Sketch
This app lets you create eloquent drawings, sketches anywhere using the inbuilt tools and is an excellent choice for professional designers and creators.
You can use the app to emulate the effects of pencils, pens, brushes, and spray paint. The app can be used to draw your designs from the available tools and send those designs to Photoshop or Illustrator or creating a layered PSD file which can be used to print
Obviously, the app isn't the complete Photoshop hence you might face the problem of limited layers and limited features that you would find in the Desktop version. It's available for free in both Android & iOS
Illustrator Draw
This app is a mini version of the Desktop Illustrator and is one of the best drawing apps for android that is a vector drawing app, unlike the raster drawing of Photoshop Sketch. It has a sleek and simple user interface that is really helpful for new users as well as professionals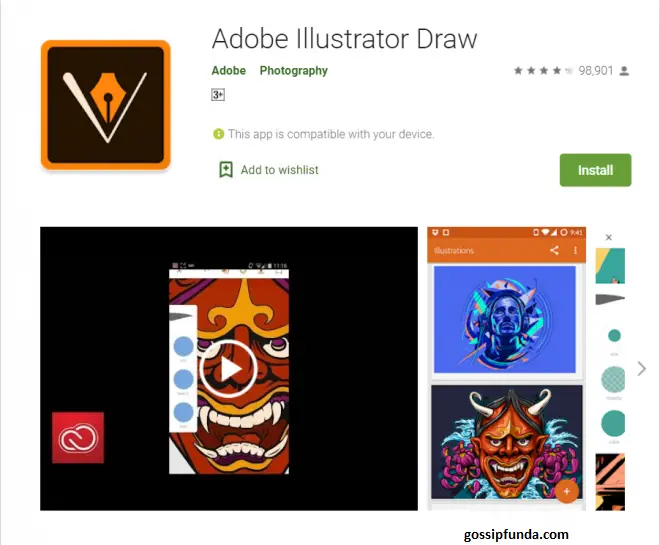 There are many brushes available, each of which can be re-sized to one's need. You can even draw over a photo that you've just taken. You can create simple shapes to interactive illustrations and export or share them with the world. Illustrator is a really powerful app that one can use to generate professional images even through your phone
You can download it for free in Android as well as iOS devices
Capture
If you are a content creator, designer or illustrator this is a must-have application!
Why so?
It has many super-cool features rolled into one and this is what makes it so useful to have on your android device.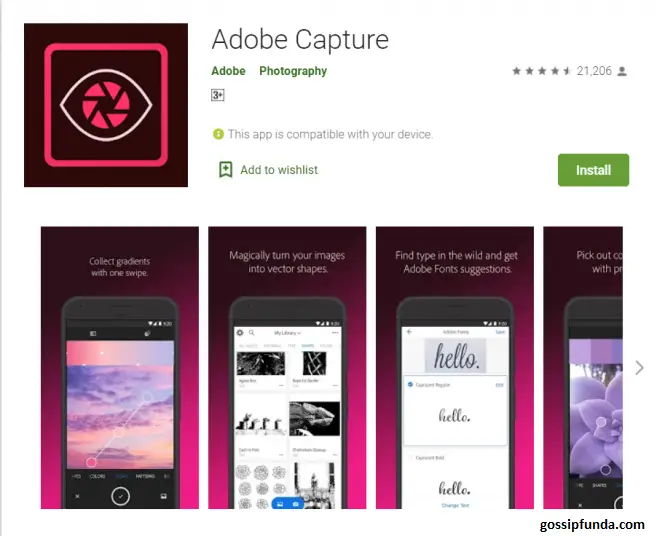 You can get the colors from any photograph or an image to use them in Adobe Illustrator or Photoshop
You can convert the image into smooth vectors that can be used in your Photoshop
You can take a photo of any writing that you like to magically find the types of the font used appearing on your screen
You can even generate 3D textures straight from the phone's camera
This app is a must-have for all content creators because first of all, it's free and available for all platforms
Lightroom
Lightroom for Android can easily compete between desktop software for editing because of its versatility. It works very well on almost every Android phone due to its excellent UI and less requirement of processing power.
This does not mean that they've slacked off the performance, on the contrary, the app opens faster than the Desktop application. You are offered the feature to batch-edit the photos easily without any problem.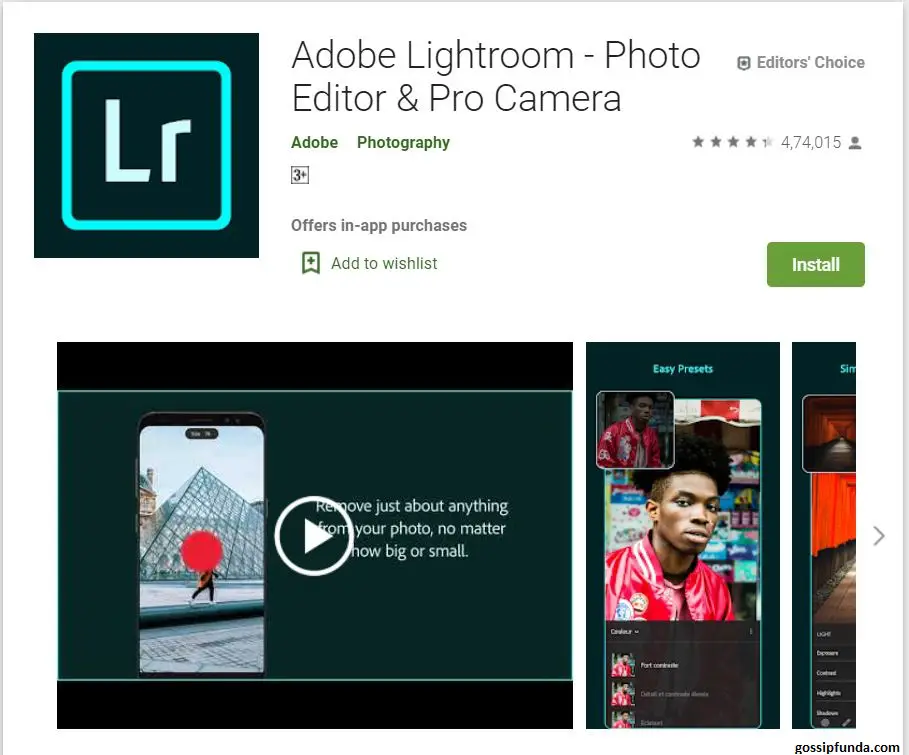 To top off, Lightroom even has a camera app built inside of it that works like a charm and you wouldn't need to switch between multiple apps to interrupt your work. It is available for free in the Playstore as well as iOS devices
Although these above-mentioned apps are free to use and offer great options to content-creators, many features are actually paid through the Adobe Creative Cloud Subscription that exactly isn't cheap but has many extra features such as cloud-storage and much more
ibis Paint X
This cool Photoshop alternative is a must for manga creators. It offers the essentials for photo editing, illustration & Sketches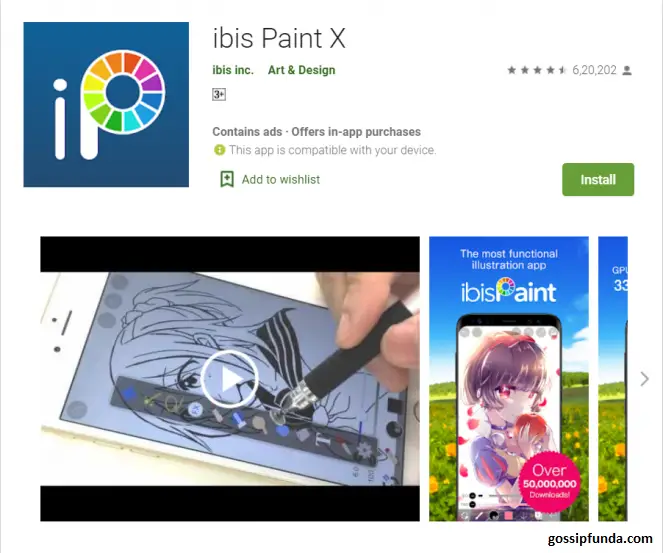 It has 325 brushes, 63 filters, and 46 screen tones with a stroke stabilization feature that adds a high-value and ease to content creators. It has the option to add layers parameters such as layer opacity and much more
This drawing app is available for free in Android but the ad-free version costs $4.99
Don't Miss: Manga App: Best Manga App For Android/iOS
SketchBook – draw and paint
Autodesk's SketchBook is another platform that offers a very good alternative to procreate android the top designer apps that are available on android. It is a fairly complete platform for an illustrator to create his designs and is very user-friendly used by many creators
This application doesn't let you open your previously created PSD files and has in-app purchases for locked some features but overall gives you a good platform to work with
ArtFlow: Paint Draw Sketchbook
With 80 paint brushes, smudge, fill and an eraser tool this Android application offers a very good platform for anyone to start working with ease.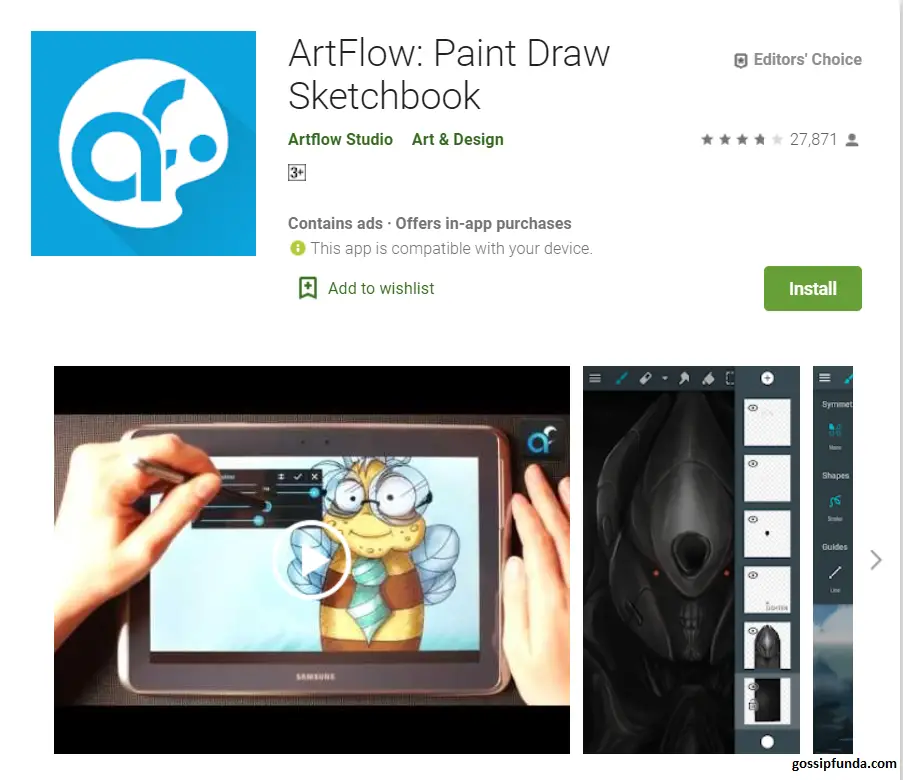 If you've been ignoring your burning desire to paint, just due to a lack of an app where tools are easily available then ArtFlow is just for you. This app has everything to care for you, even at a beginner level. It has a palm rejection feature that prevents any accidental zooming while drawing
It supports PNG & JPG for the unlicensed version but also supports the PSD format for the licensed version
MediBang Paint
This is a very useful app for Manga & doujinshi creators and offers templates to work where you can use the tool to cut the pages accordingly to fit your drawing scale.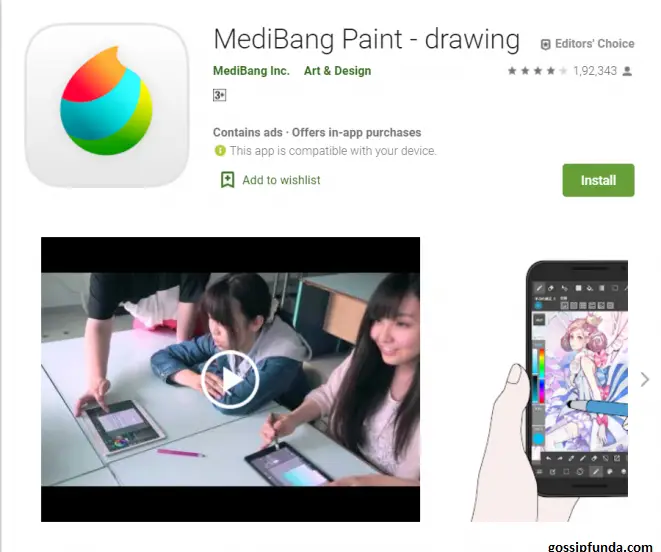 It's a very cool app that you should definitely check on because it offers the option to import photos, add layers and work upon the interface. it does not offer to support PSD formats
ArtRage: Draw, Paint, Create
               If you want to try an app that offers realistic painting and drawing experience then you should definitely check this one out. You can draw on canvas paper, use oil pastels and blend watercolors to get delicate gradients. From kids to professionals, ArtRage really gives you an edge with its unique and immersive painting experience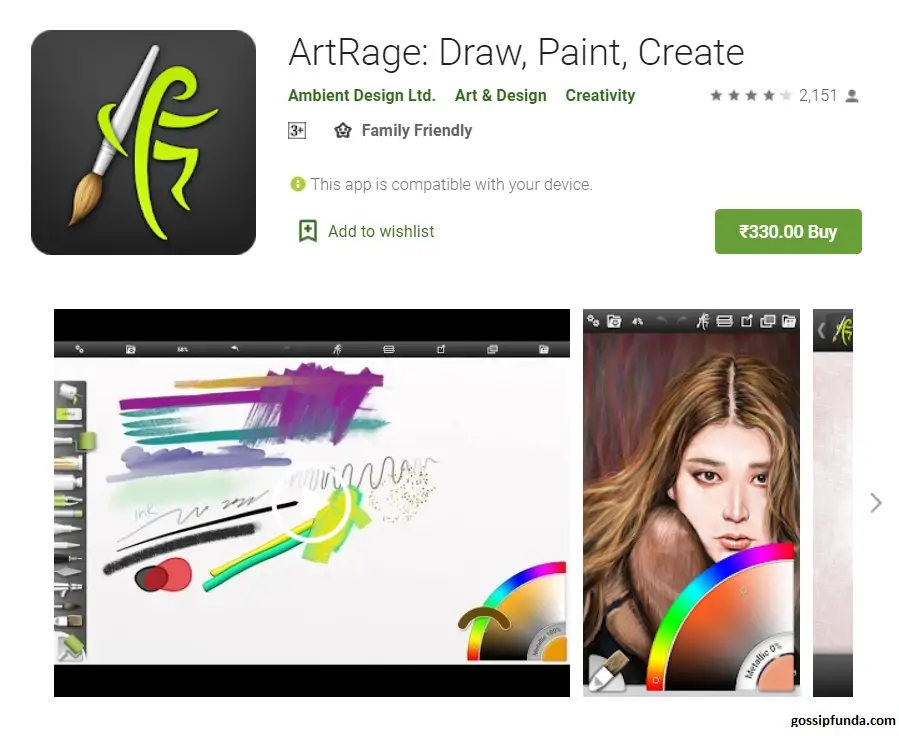 You have the options of adding a transparent layer for opacity control, importing images and maximize the creative space without compromising the critical functions
You can save the mages created by ArtRage in PNG or JPG format but there is no support for PSD format
This drawing app is available on android for INR 330
Conclusion
               So as we've seen there are actually plenty of drawing apps that are available on Android that can be equipped to draw, paint or illustrate and are very good competitors to Procreate that is available only on iOS
               If you're a beginner who has entered the field of Digital Art or even a professional and want to save some money, then you should definitely try the free and powerful tools that can aid your drawing. There are multiple apps as seen above each different from the previous, that have unique functionality and different usage for creators who draw sketches, manga or posters. The Playstore in Android offers so many apps for free that can easily help you out and get the job done