Have you ever wondered if you could get Siri for android? I'm sure you have. Siri was the first virtual assistant available on phones, and ever since then, its popularity has only increased. Many Android fans love using Siri too, and that got me wondering, is it possible to get Siri on Android? What are the Best Alternatives for Siri?
Where it all started
Siri was released on the app-store in 2010. It was a standalone app back then, not integrated into the iOS operating system, and it wasn't even created by apple. Two months into the game, in April 2010, Apple acquired Siri. It then integrated the beta into the iPhone 4S, which was launched on the 4th of October, 2011. Siri was later removed from the app store in a move to make Siri fans upgrade to the new iPhone 4S. The support for Siri was removed for older devices. It was introduced for iPads in June 2012 and iPod touch in September 2012.
So, this is how the virtual assistant-in-phones movement started. After apple, others like Microsoft, Google, and Amazon soon followed to take on Siri.
Is it possible to get Siri on Android?
Let me save you the trouble by answering the question upfront. No. You cannot get Siri on Android. There is no known way to get it on Android right now, and there might not be one in the future too. But that doesn't stop you from exploring some of the few other virtual assistants available for android.
We stay with our phones almost all the time, even when we're sleeping. They are an integral part of our lives, and it is quite handy if you have someone to assist you while you use your daily driver. Virtual assistants do just that. Instead of doing all the work yourself, a simple "Hey Google," "Hey Siri," "Alexa" or "Cortana" shall help you do all your work, handsfree. Whether you're cooking, taking a bath, or in deep space with internet connectivity(The Rock 😉).
These assistants can open apps for you, send messages, call someone on speakerphone, play songs, add an event to your calendar, tell you stories, sing songs for you, crack jokes, or simply be your companion through loneliness.
The big difference between Siri and Google Assistant, Alexa and Cortana
Siri
Siri was launched for iOS in 2012 and continues to be so. It is integrated deeply into the Apple ecosystem, and Apple refuses to budge. There is no workaround to get Siri on any other device of any Operating System. It would help if you had either macOS, iOS, iPadOS, or an Apple TV to use Siri.
Google Assistant
Google Assistant went from being Pixel exclusive to being available on every phone. You can get the Google Assistant on all Android devices now either through the play store or it is built into your device. It is even available for Apple Devices in the app store. Obviously, it can't beat Siri on Apple devices due to restrictions on the things an App can control, but Google Assistant on an Android device is much better than Siri.
Alexa
Amazon took things a step further and integrated Alexa into literally everything. It is available on the Play Store, App Store, all the Echo devices, the Kindle app, Fire tablet, Fire TV stick, the Kindle itself, and all Microsoft computers. On Android 10, you can also make Alexa, your default assistant, so every time you long-press the home button, Alexa pops up instead of the Google Assistant.
Cortana
And then there's Cortana. It started well when it was integrated into all Microsoft devices. Microsoft tried hard to push Cortana into the game by introducing an Android app, an iOS app. It was supposed to be Microsoft's answer to the big assistants, Siri and the Google Assistant.
Microsoft basically surrendered in the assistants' war when it introduced Alexa's support for all its devices. Saying "Hey Cortana" does nothing now, most people like me have even removed the Cortana bar from the taskbar, and it is no longer available on either of the app stores.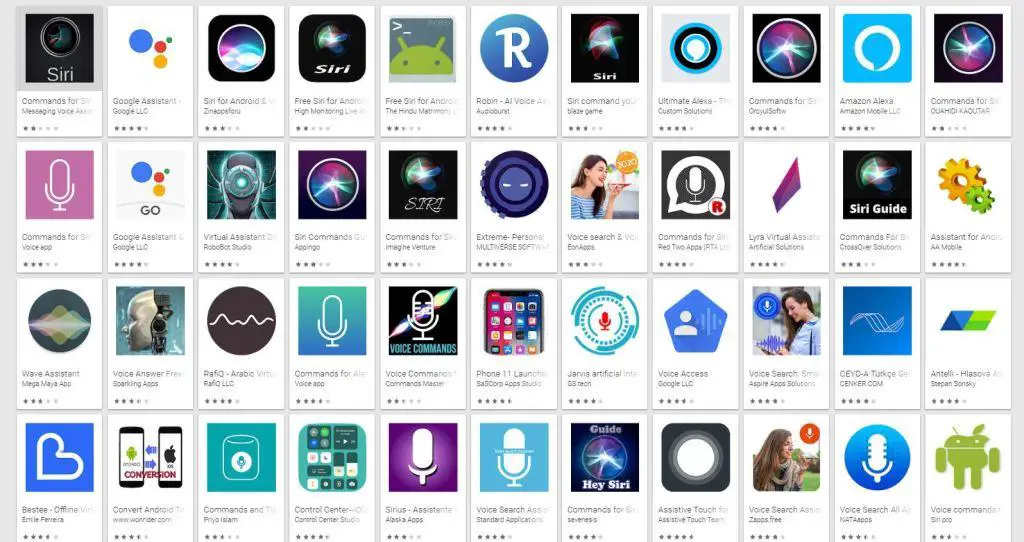 It has all these abilities July 2020, Siri for android free, but the best alternatives is below.
Siri Alternatives on Android:
The OK, Google Assistant
It started as Google Now on the Google app, where you could ask certain questions. This was back in 2012. Then came its big brother in 2016, the Google Assistant.
When launched for Pixel devices, the google assistant was already better than Siri. It was smart, it could understand you better, and it was the best for non-native speakers as it recognizes their accent better than the other assistants. The google assistant has ranked #1 in understanding the Chinese accent by quite a big margin, and it understands the Indian and African accents better too.
Another advantage the google assistant has is the number of languages you can converse with it in. Alexa can input only that accent that has been selected for output, so let us say you were an Indian who wants Alexa's output to be in the British accent. You can't do that for Alexa, but google assistant has that option. You can talk to the google assistant in Chinese as well as English at the same time or Spanish, and it will reply in the language selected by you.
The google assistant also has a number of services integrated into it no matter what country you are living in. The list continues to grow day by day as google partners with more companies.
One of the main advantages the google assistant has over the others is, well, google itself. Google has become more than just a search engine over all these years. Its gargantuan database is what makes google be on the top of its game at all times.
Alexa
Ever since its release in 2014, Alexa has only grown over the years. It was inspired by the system on the Starship Enterprise in Star Trek (and not by Siri).
Amazon introduced a range of products with Alexa, such as the eco, the echo dot, the echo show. Alexa has over 100,000 skills for users to download. It can do almost all the things that google assistant and Siri do, such as home automation,  control your phone, devices, calendars, and make calls. Amazon also added other major languages to the Alexa system, including French, Italian, German, Portuguese, Hindi, and Japanese.
In my experience of using the google home mini and the Echo show daily, I have realized that Alexa can give more precise answers which are useful and can understand queries better than the google assistant. That and Alexa's availability on Microsoft devices now have made me switch from the google assistant to Alexa on my android smartphone. And this is how you gain users folks. Alexa's availability of such a wide range of devices makes consumers choose it over the assistant.
Alexa's most significant advantage over the others is its streaming services, Amazon Music, and Prime Video. Alexa works seamlessly with both the services. It supports Apple Music, unlike the Assistant.
Overall, I would say, although Alexa is not as advanced in terms of search than the google assistant, It has a faster improvement rate than the assistant. You can notice the changed in Alexa every few days, whereas google's assistant was a few months ago.
Bixby
And then there is yes, of course, Bixby. Samsung's failed answer to the Google Assistant, Alexa, and Siri. It is available only on Samsung Devices right now, and there isn't an iOS version or Play Store version for all Androids in the near future. Bixby has a dedicated button on the newer Samsung devices, which generated a lot of hate among Samsung users.
One thing Bixby is good at is its ability to control your phone. You can literally keep your phone on the table, and use it as you would with your hands without touching it. The good thing about it is, you can use that as well as the google assistant. On Samsung phones, pressing the Bixby button activates it whereas long-pressing the home button gets you the Assistant. So it is quite handy to have a 2-in-1 package. You can get the best out of both.
Conclusion
Lastly, these were the top 3 assistants on Android, which are alternatives for Siri. In most cases, they outperform Siri by quite a margin, so once you start using them, you won't feel jealous of your iPhone buddies. The google assistant is much wittier when it comes to general talking, and Alexa has tons of skills Siri lacks. Although these guys came late in the game, they are far ahead of Siri in terms of skills and features. If you want to get into the ecosystem, you might want to consider downloading Alexa onto your Android phones as that is the assistant, I have had the best experience with.