To quote Hideo Kojima at E3 2016, "I'm Back" and this time I'm here to talk about your emails. More precisely the very popular email client Thunderbird for android. It has been one of the if not the most popular email client among Windows, PC, or Mac users. We'll be discussing everything about this software, its usage, alternatives, android apps, and several other topics. I will also tackle questions like Is Thunderbird secure? Is it worth getting it now? Is Thunderbird available for Android? and such. So let's begin.
Don't Miss: com.samsung.android.messaging Where it is used for and Fix error its error.
Thunderbird | Email Clients for your Android Smartphone
Thunderbird is one of the most popular email clients used by literally millions of people worldwide. The software is free and open-source which is one of the best things about it. Mozilla Foundation is the one responsible for its development. Currently, the project has been shifted to MZLA Corporation Technologies. One of the most praised features of Thunderbird is its support for multiple emails. We'll be taking a look inside the most important features of Thunderbird in this article. We'll be taking a look at the platforms you can use Thunderbird on and will be talking about its alternatives. Hopefully, this article will come of great use to you. So share this article with your friends and families and let's dive in deep.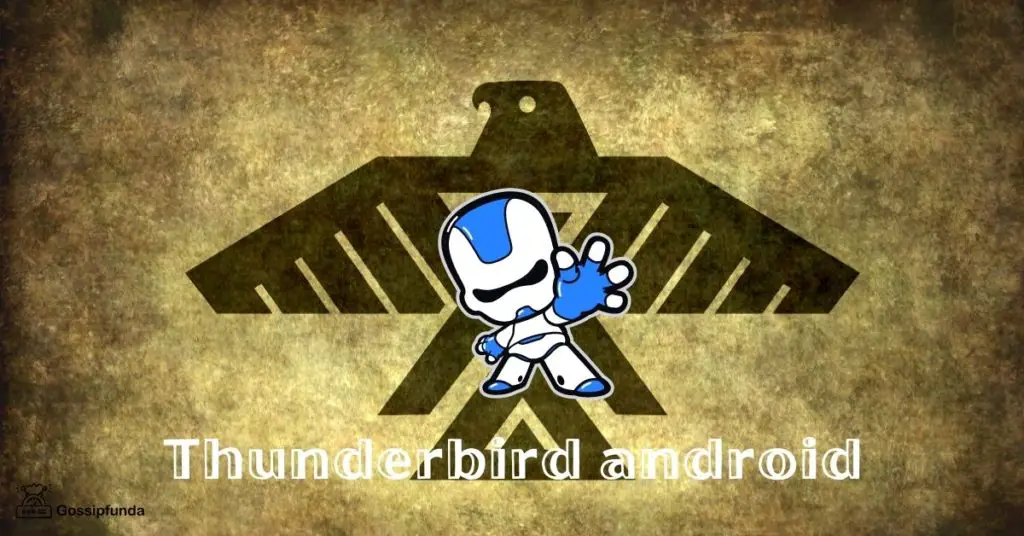 Mozilla Foundation
The Mozilla Foundation is a non-profit organization that exists to support the open-source development of Mozilla products. These include Firefox, Thunderbird, and Gecko Engine. Firefox is the beloved web browser that ranks second in the most used web browser after Chrome. Thunderbird is an open-source email client use by millions of people.
Gecko Engine is the web browser engine that has been developed by Mozilla. Both the Firefox browser and Thunderbird client use the Gecko engine. There have been several other software and engines developed by Mozilla but these are the most successful ones. The Mozilla Foundation is mainly financed by donations and 2% of the yearly revenue of its subsidiary Mozilla Corporation. And, the Mozilla Corporation is the main company responsible for the development, marketing, and distribution of Mozilla products. The Mozilla Foundation was formed in 2003, while The Mozilla Corporation was announced in 2005.
The main source of revenue for the Mozilla Corporation for a long time was Google. The company funded a large percent of the Corporation for making Google the default search engine in its web browser. After 2014, Mozilla made a deal with Yahoo, making it the default search engine on Firefox. Mozilla, in 2017 terminated this contract and Google was back to being the default search engine.
Mozilla Corporation is currently being led by Mitchell Baker, who is the Executive Chairwoman and CEO of the company. In 2018 Mozilla was expected to have earned a yearly revenue of approximately US$436 Million. This revenue is the total sum of both Mozilla Corporation and Foundation.
Thunderbird
Let's move on to the topic of discussion for this article, Thunderbird. It was developed and released by Mozilla Foundation/ Corporation in 2004. Within 3 days the software saw a total download of 500 thousand users making it an instant success. Within 10 days, the total number of downloads had crossed a million. The email client is open source and allows its user-base to contribute to the development of the software. You can check how to contribute your code to Thunderbird here. In 2012 Mozilla halted the development of Thunderbird since many attempts to add new features to the software were unsuccessful. This meant Mozilla would only provide security and maintenance updates.
In 2017, Mozilla started to continue its development for Thunderbird again. In 2020, it was announced the project would be shifted to a new subsidiary MZLA Technologies Corporation.
Thunderbird For Android?
Thunderbird unlike Mozilla's Firefox browser never saw an official Android or iOS release. This was a huge disappointment to me as I had already fallen in love with the software after using it on my Ubuntu system. However, there are some good alternatives that you can use in place of Thunderbird.
Microsoft Outlook: This would be my go-to app. The client has a great easy to access and friendly UI. It also supports sync multiple email accounts at the same time.
Spike: Another email application that holds up pretty well. It was released in 2013 after being crowdfunded for US$5 Million. The service is available on Windows, MacOSX, iOS, and Android.
Missive: This app is different from the others as it mainly focuses on group projects and team collaborations.
As soon as Thunderbird available for Android, gossipfunda will update this article for you all. There are many other alternatives but these three stand out on their own among all. So you can give one of these a try since an Android app is not even on Mozilla's roadmap for the near future. This is because Mozilla had halted its development aside from regular Security and Maintainance updates.
Learn more: content://com.android.browser.home
Great features:
Thunderbird contains several great features. Let's have a look at them.
One of the best features of Thunderbird is its support for multiple accounts.
Features such as Quick Search, Advanced Filtering, Message groupings, and several others help in locating a specific email.
Thunderbird uses the Bayesian spam filter for classifying Junk emails.
Being open-sourced Thunderbird supports a huge number of extensions that add several other features to the client. You can download or update extensions for Thunderbird here. You can even install themes that alter the whole look and feel of the software.
Thunderbird runs on multiple platforms with its official ports released on Windows, MacOSX, and Linux. Unofficial ports for Thunderbird are available for FreeBSD and OpenBSD operating systems.
The software has been translated into more than 50 languages due to the diverse user-base from all over the globe.
Thunderbird by default is installed in Ubuntu and many other popular Linux Distros.
This should give you a good outline of its features and what drives millions of users to use it.
Installing and Using Thunderbird on PC
I do recommend giving Thunderbird a fair trial as it's free and open-source. To install Thunderbird follow these steps:
Download the .exe setup file from this link.
Open the setup and click Next. You can set a custom path for your installation if you want. You can also select the components you want to be installed.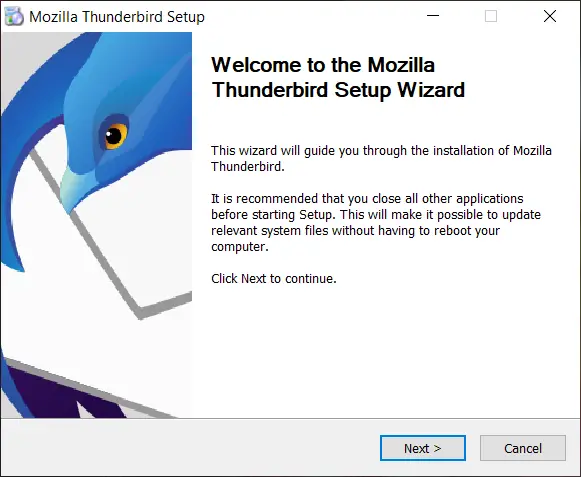 The Installation should be fairly quick and in the Finishing window, it should give you an option to launch Thunderbird from there. A Desktop icon should also have been created.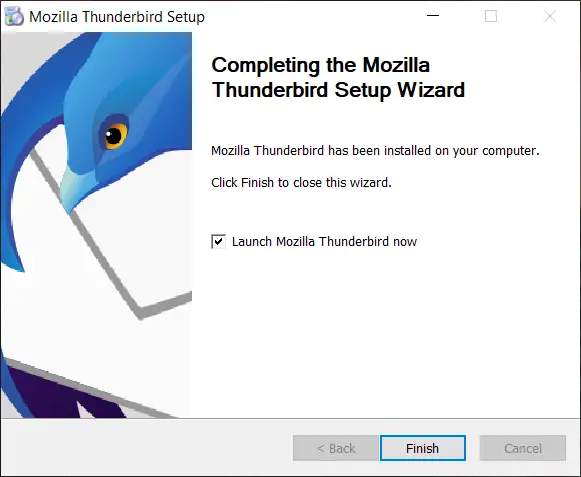 On the first time launch, Thunderbird will ask you to login with your email id and password. Enter this information along with your name. Press on Continue.
Next, you will have to confirm the incoming mail protocol you want Thunderbird to use. As mentioned IMAP protocol keeps your incoming mail in a remote server. While POP3 saves it in your hard drive. This means using POP3 you can access your previous emails even without a network connection. With IMAP you will need an internet connection at all times.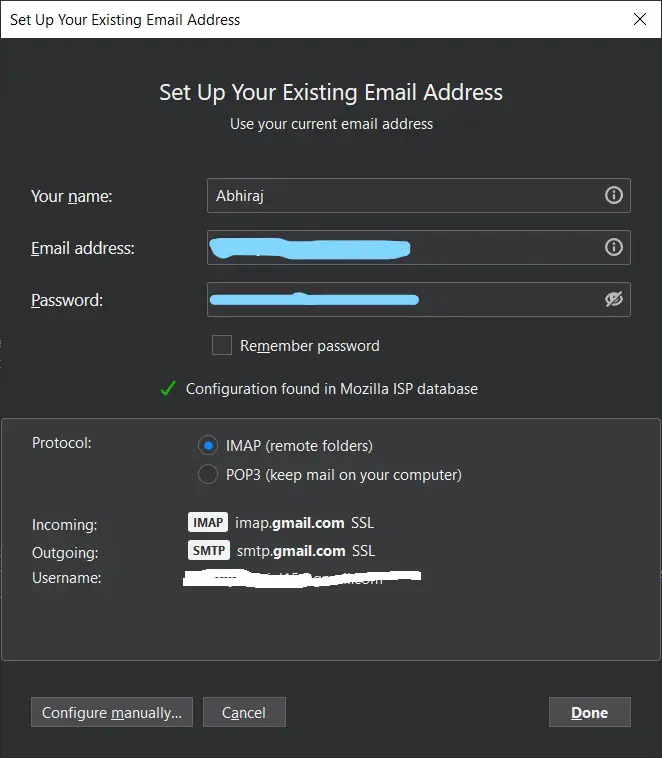 Press the Done button after selecting the desired protocol.
That's it you now have Thunderbird set up with your email. You can sort your emails with different filters like Subject Name, Date, etc. You can also use the search bar to search for an email. Always remember to not add any extension or plugins from a third party except the official site.
Is Thunderbird Safe?
One of the biggest traits or properties that an email client should have is tight security. Thunderbird in this aspect too doesn't fall behind any of its competitors. It provides TSL/SSL connections to the IMAP and SMTP protocols that are used for sending and fetching emails. In early 2020, with version 68.0 OpenPGP was also integrated into the software. Earlier this feature required an extension. The French Military itself uses Thunderbird for its services and contributes to its Security features. So it's very safe to say that Thunderbird is one of the safest email clients out there.
Read about: com.samsung.android.incallui
Removing Thunderbird
If you've tried out Thunderbird and didn't like it, then follow the steps below to uninstall Thunderbird from your operating system.
Go to the Search Bar and search for Mozilla Thunderbird.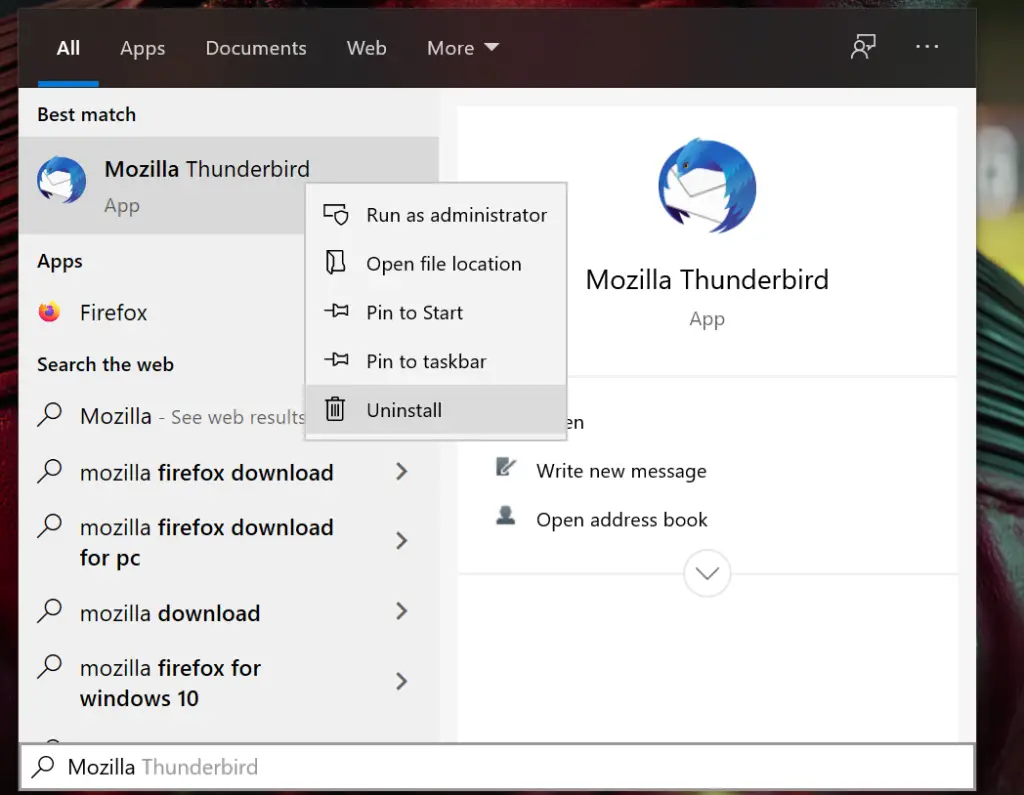 Right-Click and select the Uninstall button.
This will open the Programs and Features in Control Panel. Scroll down to find Mozilla Thunderbird in the list and double click on it.

This will open the Uninstallation wizard.
Select Next and press Uninstall.
This will remove Thunderbird completely.
Conclusion
We've reached the end of this article. Thunderbird is one of the best email clients out there and more to its benefit, it's open-source. It's a shame that the application Thunderbird is not available for the mobile operating system Android or iOS. There are some alternatives like Microsoft Outlook, Missive, Spike, and several others that you can try out. Thunderbird along with its great features is also one of the most secure email clients. So I do recommend installing Thunderbird on your Windows/ Mac/ Linux OS and giving it a fair trial since it is free of cost.
If you like this article do share it with your friends and family. I'll see you in the next one.