Hello and welcome back to Gossipfunda. Our topic for today is com.facebook.orca. We will be discussing every small detail related to it, what it is, what's its purpose, and used for. We will look into how you can recover deleted Facebook Messenger messages from this folder. Finally, we will end up looking at how to fix the error the application manager process com.facebook.orca has stopped unexpectedly. Please try again, or "com.facebook.orca is not responding." Make sure you go through this entire ten minute-read to know all about com.facebook.orca.
Facebook
Although com.facebook.katana is known to you, let's discuss some facts about Facebook first. So, Facebook is an Americal online social media and social networking service headquartered in California. It was founded by Mark Zuckerberg, along with his fellow Harvard mates. Initially, Facebook membership was limited to Harvard students only. Later, the membership was expanded to Stanford, Yale, and the rest of the Ivy League. Since 2006, anyone can be a Facebook member provided that s/he is 13 years old (this varies as it depends upon local laws).
Facebook is not new to you, and even you may be a Facebook user. Facebook can be accessed from devices that have access to the Internet. You can access Facebook via the mobile application or even from a browser. It can also be accessed from the desktop, either from the browser (facebook.com) or the Desktop application. Before being able to use Facebook, you ought to register and make an account. By making an account, you create a profile with your name, profile picture, etc. In this process, you share some personal data with Facebook (if you wish to, you may read their Privacy policy). Facebook is used worldwide for posting kinds of stuff and multimedia and connecting with other profiles and users as "Friends." [ref]
Facebook has been the subject of many controversies. These involved user privacy infringement, political manipulation. As far as psychological effects are concerned, it is reported that many users suffer from addiction and low self-esteem. There are also contents such as fake news, hoaxes, copyright infringement, hate speeches, etc. Inspite of these, Facebook is one of the most popular social media networking sites. It is also the site preferred the most for social media marketing (according to some surveys).
What is com.facebook.orca?
Now that we know some details about Facebook, let's get back to our topic. com.facebook.orca is a folder in your Android device that is related to the Facebook Messenger app. This folder is automatically created when you download the Facebook Messenger app from the Play Store and launch it. Facebook uses this folder to store some data files. These data files include all the images, videos, audios, cookies and cache data, plug-ins, and various other data files. This folder is very crucial for Facebook to run on your device. Now since this folder stores all of the data that Facebook needs, it is obvious that it consumes a lot of Storage. Also, there is nothing you can do about it because clearing this data is not possible. The data would be regenerated again after you launch the Messenger app the next time.
Is com.facebook.orca important?
Yes, it is a virtual folder for Facebook Messenger to operate. When you open the Facebook messenger app, it is this folder that it scans through. Facebook stores its data files in different formats inside this folder. Also, as said, it is not possible to delete this folder permanently. When you open the Facebook Messenger app again, this folder regenerates as it gets new data to store in. This folder has explicitly to do when you use the Facebook Messenger app on your Android device. If you're using it from the browser on your desktop or even in your smartphone, no instance of such folder is created.
The best part is that, using this folder, you can recover a previously deleted message. If this is what you are here for, then read along.
How to recover deleted Facebook messages on mobile?
As we already know by now, the com.facebook.orca folder stores data from Facebook Messenger. This data includes the messages too, in an encrypted format though (for increasing security). Hence, it is possible to use this folder to recover previously deleted or accidentally deleted messages. There can be many situations where you will need to recover your deleted messages. Be it to remember something important that someone has told you, finding old chat of some colleague to derive a conclusion, or finding some proof message that has been deleted without your notice. The recovery solution is the same, whatever be the needs.
Go through the following steps, and you will be able to recover deleted Facebook messages in no time.
Go to the File Explorer app. You can use the default File manager of your device or download a third-party file explorer app. To know more about File explorer and stuff, make sure you go through the article com.android.documentsui.
Go to Storage (or SD card, if you have one installed).
Click on the Android folder. Then, tap on data.
Locate and click on the Applications folder. Find and tap on com.facebook.orca.
Inside this folder, you navigate to the Cache folder. Search for fb_temp. Copy this folder (tap and hold, then click 'Copy folder').
Next, uninstall the Facebook Messenger app from your device. Re-install it again from the play store, but do not log in to your account right away.
Follow the same directory again, that is Android > Data > Applications > com.facebook.orca > Cache Folder. Now, paste the fb_temp folder that you previously copied into the clipboard, into this Cache folder.
Now you can go back to the Messenger app that you just installed and log in using your Facebook account.
And there you go – you have all the deleted messages back. Cheers!
How to recover deleted Facebook messages from a computer?
If you have a laptop, you can use it to recover the deleted messages. This process is easier as moving, copying, and pasting files is easier to do on a computer than in a mobile (that's my personal experience, of course). So, here are the steps to recover your deleted Facebook messages from the computer.
Firstly, you need to connect your android device with your PC. Use a USB cable for this. In case you are having problems such as Computer Doesn't Recognize Phone, go through this article to fix the issue.
After you are connected in File transfer mode, go to "My Computer" or "This PC."
Double click on your device, and then head on to Internal Storage. This is how you access the files on your mobile through the computer.
Then, double click on Android and head on to the Data folder.
 (You may have a different directory, this varies). The ultimate destination is the com.facebook.orca folder.
Locate the com.facebook.orca folder and double click it.
Next, go to the Cache folder, and then you'll see the fb_temp folder inside it. Copy that file by pressing Ctrl + C (on Windows) or Cmd + C (on Mac).
Now, uninstall the Facebook Messenger app from your smartphone or tablet device and re-install it from the Play Store. Do not log in to your account right away.
Again, on your computer, go to the same folder com.facebook.orca > Cache, which should now be empty. Paste the fb_temp folder there.
Finally, go to the Messenger app on your mobile and log in using your Facebook account. Congratulations, you now have successfully recovered the Facebook deleted messages!
How to fix "The process com.facebook.orca has stopped?"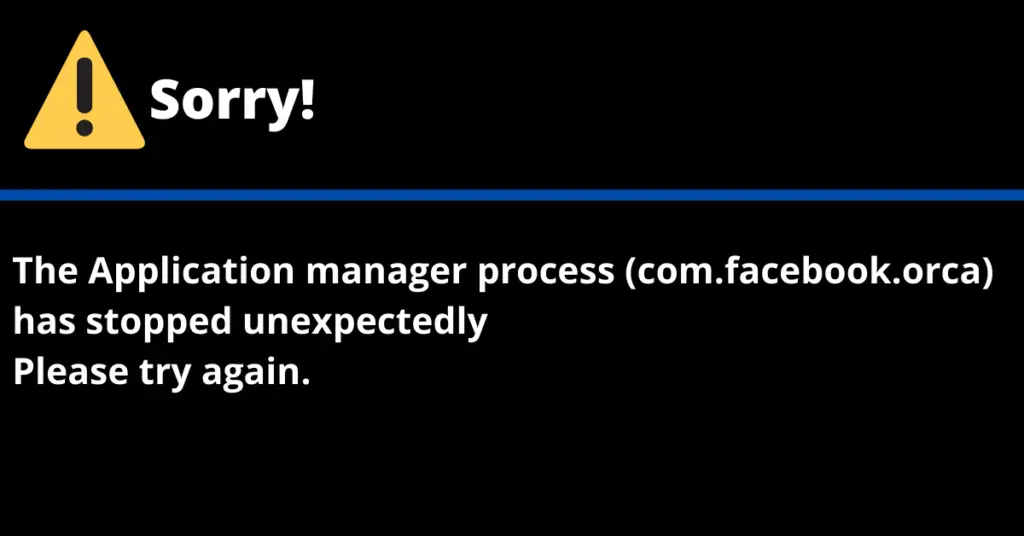 This annoying error keeps on popping up and makes you unable to use the Facebook Messenger app. It is probably due to some bug, and here's a method of fixing this error.
Tap on Settings of your device, and head on to Applications, Go to the list of Installed Apps and locate and click on Messenger.
Then, click on "Force stop" to stop the app. On the warning that says, "if you force to stop this app, it may misbehave," click OK.
You may also click on "Clear all data" for both Messenger and Facebook apps. This clears all the data stored, including the cache. This should fix the issue.
If not, try uninstalling and then re-installing Messenger, because this is the ultimate fix to this annoying pop-up error.
Conclusion
Now you know all about com.facebook.orca, its purpose and uses. Here, please take note that it is not a virus or malware. It is a generic folder from Facebook that the Messenger app uses to store all the necessary data. The best thing about it is you can recover previously deleted Facebook messages with it. We have discussed how to do so from both your smartphone/tablet and computer. The folder directories would be the same in both cases. Go for the one you're most comfortable with. Finally, we end our article discussing how to fix the error "com.facebook.orca has stopped". Force stopping the app and then clearing the data does the job. If not, try uninstalling and then re-installing. In this case, a factory reset is not needed because there's a 99.99% guarantee that the problem is fixed on re-installing the Messenger app. Cheers.