Hello everyone, welcome back to Gossipfunda. Stumbled upon the unknown app com.hancom.office.editor.hidden in your device and made a Google search? No worries, Gossipfunda has it all covered. So, in this article, we are going to discuss everything about com.hancom.office.editor.hidden. Since, it is a package, it is prone to stopping. At the end, we will cover some of the well known ways of fixing "com.hancom.office.editor.hidden has stopped". So, make sure you go through this entire 8 minutes read!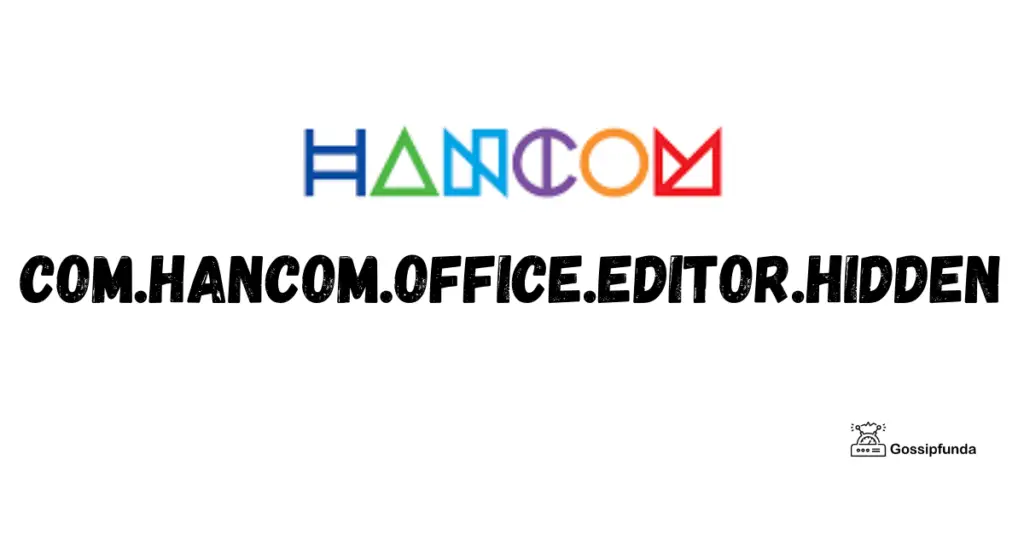 From its name, you are well aware of the fact that it is a package name that deals with the Hancom Office suite. The office suite products provided by well known tech giants like Google, Microsoft are mostly used. Even WPS Office products are popular among Android users. Frankly speaking, these products are more widely used than Hancom office products.
As a result, this package is found pre-built in almost all of the android devices manufactured in South Korea. Some of the companies include Samsung and LG. Hence, if you are using a Samsung or an LG device, chances are that this package is pre installed in your phone. Read also about com.lge.qmemoplus.
Moreover, first things first, to understand the term, let's break it into its constituents. It comprises "Hancom Office Editor". Now, what is Hancom?
Hancom
Hancom is an office suite software developer in South Korea. This was established in the year 1990. That is to say, The first software that this company created was Hangul, which was native word processing software for the Korean language. The history of Hancom is very remarkable. At that time, the company was facing bankruptcy because of various reasons. Software piracy, the Asian financial crisis, and bad company management had almost got it bankrupt. To add to this, Microsoft (the company that had 15% market penetration in office suite software) offered $20 million USD to Hancom.
This was because Microsoft wanted to stop Hancom from producing Hangul. They wanted them to resell the Microsoft Word software. However, the company fought back with a little support from the government and its people. Koreans started paying for the premium softwares they used. To save the company, they raised about $10 million, and all of this was done through a national campaign. This signifies that it became a national issue. It was on 27th May, 2020 that Hancom brought into notice, the arrival of the latest version of Hancom Office.[ref]
The Hancom Office Productivity Suite saves up to 60% the cost compared to Microsoft Office, as claimed by the Hancom Group. As a special bonus, Hancom is also offering a 30-day free trial. This is done for the users to experience the product delivering all of Hancom Office Word, Hancom spreadsheet shell, presentation software, Hancom Space, and web office.
Hancom's main product
The major international partner of Hancom includes Samsung, Google, AWS (Amazon Web Services), Polycom, iFLYTEK and Fibercorp. The Office Suite is made available in two main languages, English and Korean. It still remains Hancom's main product. The product list comprises:
HanCell – which is a spreadsheet program, just like Microsoft Excel
HanShow – which is a presentation program, similar to Microsoft PowerPoint
Hancom Office 2020 International Version
Hancom–Office Hanword
HanWord – which is a word program, similar to Microsoft Word
Hancom Office Hanword Viewer (the software that serves for viewing)
Hancom–Space
Documen
Docs Converter
Here's a list of some products that are discontinued by Hancom.
NetHangul
HanTex, or Hangul TeX program
Hangul Print, which is a printing program
HanMaek, which is a Hangul I/O program
HanGrim, which is a vector drawing program
HanArum, that includes Office products
Samsung and LGE devices
They are some popular companies headquartered at South Korea. Hence, the Hancom package is mainly pre installed in android devices manufactured by these companies. In one of our previous articles, we have already covered LGE devices, so make sure you check them out. In this article, let us see some interesting facts about Samsung.
The Samsung Group is the largest South Korean multinational conglomerate.
Lee Byung-chul founded Samsung as a trading company in 1938, by . As far as global brand value is concerned, Samsung has an amazing rank of 8 in it! (as of 2020)
Samsung has globalized its activities in manufacturing electronics products. Mobile phones and semiconductors are Samsung's main source of income.
Back in 2008 or so, when Samsung shares fell, Apple sought to ban sales of seven-eight smartphones. These included Galaxy S 4G, Galaxy S2 AT&T, Galaxy S2 Skyrocket, Galaxy S2 TMobile, Galaxy S2 Epic 4G, Galaxy S Showcase, Droid Charge and Galaxy Prevail in the US. In 2015, Samsung has been granted more US patents than some tech giants including IBM, Microsoft, Apple, Sony, and even Google.
The Galaxy series of Samsung is its most popular smartphone series.
Hancom Office
Hancom Office is an office application, similar to Microsoft Office. It allows its users to view and edit documents (you do it often in MS Word). Documents created in Hancom Office as well as Microsoft Office are supported, and this can be done on multiple mobile devices. This makes Hancom Office highly portable and easy to use.
It delivers a complete PC-like experience. It's similar to that of Hancom Office for Windows.
It is possible to view all kinds of documents (HWP and PDF) without even signing up on Hancom space.
However, if you want to access the editing features and functionality, you need to subscribe the Hancom service. Subscription of Hancom Space can be taken either on monthly basis or on yearly basis. If you are willing to go for a subscription plan, check out the rates that they offer in their official website.
You can take the subscription from within the Hancom Office app. Installing Hancom Space is not necessary. You can then experience the fully featured Hancom Office.
However, please take a note that if you are not signed in to Hancom Space, the Hancom Office would work as a viewer only. You won't e able to use their other cloud services either.
When you're signed in to Hancom Space, other cloud services would be made available.
Finally, after premium subscription to Hancom Space, Hancom Office works as an editor.
The "hidden" in its name may give rise to the question in your mind that it's a virus. However, it is not.
It is an official package of Hancom made pre-built into various devices manufactured by companies headquartered at South Korea.
So, even if you haven't installed the Hancom office app from the Google Play store, this package is likely to remain in your device.
This problem won't really arise if you do not use the Hancom Office app in your android device frequently. However, if you are a regular user and take advantage of the app, this may be a problem for you. Repeated popping up of such system package errors is really annoying and deserves a Google search to be fixed. Here are some of the well known methods to fix 'com.hancom.office.editor.hidden' has stopped working.
Head on to Settings > Apps.
Then, locate and click on All Applications / Running Applications (the page where you get to see all system and installed apps).
Find "com.hancom.office.editor.hidden" and click on it.
Then, click on "Force stop" to force stop the application. On the warning message "if you force stop this app, it may misbehave", click OK.
This force stops the app and the error is likely to get fixed after this.
Unfortunately if the error persists, click on "Clear Data". This clears all data for the app including its Cache memory.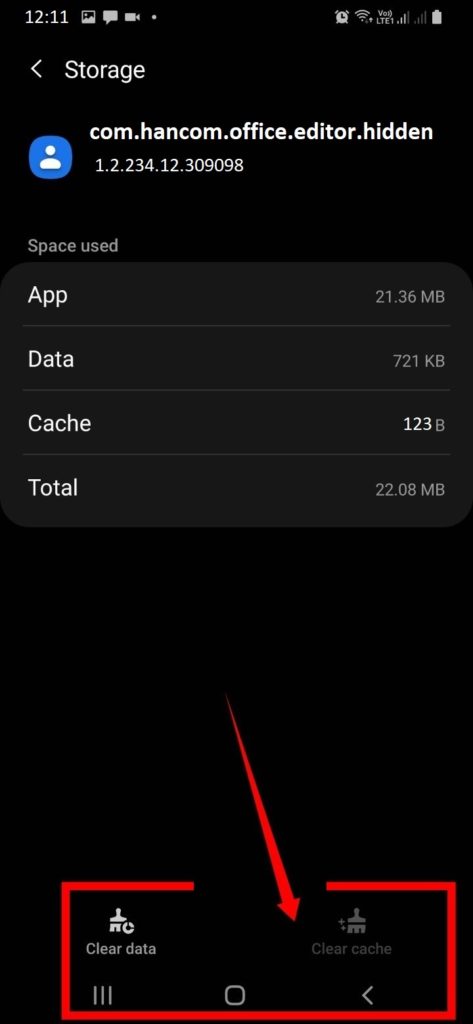 Factory resetting is the ultimate option if this error keeps on disturbing you still. Factory reset deletes all of the important data in your device. Hence, take a backup of your data before performing a factory reset if you do not want to lose your data.
Conclusion
Amidst this pandemic, where many of the corporate sectors are offering work from home, using Office Suite has become necessary. Microsoft and Google Office products are more widely used because of their awesome features and brand value. However, now that you know all about Hancom Office suite, you may view their plans and offerings and give it a try.
To conclude on this article, we have seen that com.hancom.office.editor.hidden is an in-built package that has to do with the Hancom Office app. If you're using Samsung or LG device (companies headquartered at South Korea), this package is likely to be pre installed. The Hancom Office app or Hancom Space is also available in the Google Play store for download. Hancom also offers Office suite software for Windows. As they claim, the android app gives you a complete PC-like experience.That is to say, do not bother about the "hidden" in the package name, it has nothing to do with the package being a virus. There is no report saying that some antivirus has reported that it's a virus. Nonetheless, do not try to mess with it or uninstall it if you have root access. This may cause other strange problems as consequences.