How to upload a video to Instagram? One of the many definitions of social media can also be called computer-based entertainment. Social media is used for various activities like reaching a bulk of the audience from the comfort of your home. It is also useful to share your ideas, nurture them, and gain popularity among your friends and family.
Hello guys..!! Instagram is the most trending social media platform these days. However, do you know how it has gained this name? It is 'instant camera' and 'telegram'. Prominently this app is used in android and iOS phones. You can also use this app on PC if you wish. The nickname of Instagram is 'Insta' or 'Gram'.
The whole and sole purpose behind forming this app were to share photos with a friend circle. Eventually, the various features like video, direct messaging, and advertisement were introduced here. And with improving technology new features are being added to this app. And I am sure, Those features will serve the purpose of full entertainment.
You can upload videos on Instagram using Android Phone, iPhone, even your desktop PC too. You can even upload a video on Instagram using of forms:
Recording video and posting it right then.
Posting a video that is present in the device.
Don't Miss: Instagram unknown network error
Types of social media
There are some important types of social media:
Social networking: Applications like Facebook, Linked In, Google+ come under social networking.
Microblogging: Twitter and Tumbler come under this type of Social media.
Photo sharing: Instagram, Snapchat, Pinterest comes under this category.
Video-Sharing: YouTube, Facebook live, Reels on Instagram, IGTV videos on Instagram, Instagram live and many more comes under this category.
Types of videos on Instagram
Photos are fine and all but a video attracts public attention. A video gives a personalized and customized feeling. Feelings and ideas can be shared more freely through a video. Since our topic of interest is Instagram, let us focus on the types of videos on Instagram. There are mainly 10 types of videos on Instagram.
Instagram Stories: Pictures as well as videos can be uploaded as a story on Instagram.
15 Seconds Influencer videos: In small-time, large content can be delivered using this feature.
Animated text and graphical video: These are mostly preferred by graphic designers.
Instagram live: These can be a sit and chat video or handheld self-video.
Short Clip videos: These types of videos can a fast-played version of long videos.
30 – 60 seconds tutorial videos: These types of videos are mostly used by influencers.
Meme Videos: Meme videos are a hot topic these days.
Reels: This is where you can consider yourself a superstar and it is fun.
IGTV Videos: These are long length videos present on the feed.
Boomerang video: Fun in seconds is what a boomerang video is.
Now let us learn how each type of the above videos can be created and uploaded to Instagram.
How to upload a video to Instagram Stories
Posting a story on Instagram may seem like a cakewalk when we see someone else's story. But creating a story can be a little tricky if you are new to this application. Instagram stories can be a short glimpse of a part of your day like your seating arrangement, a tour of your office, Instagram stories disappear after 24 hours of the story is posted.
Tip1: Normal Way
You can upload a video saved in your phone as an Instagram story or you can record and upload as a story at the moment.
To create a new story, tap on your story in the top left corner of your feed screen.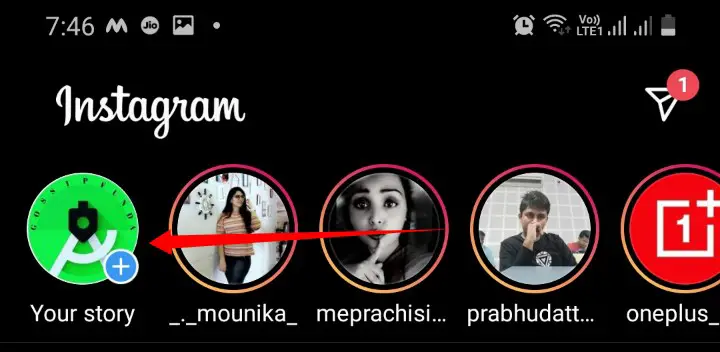 If the video is already present on your cell phone, then click on 'Galary-> ⬜' and select the desired video.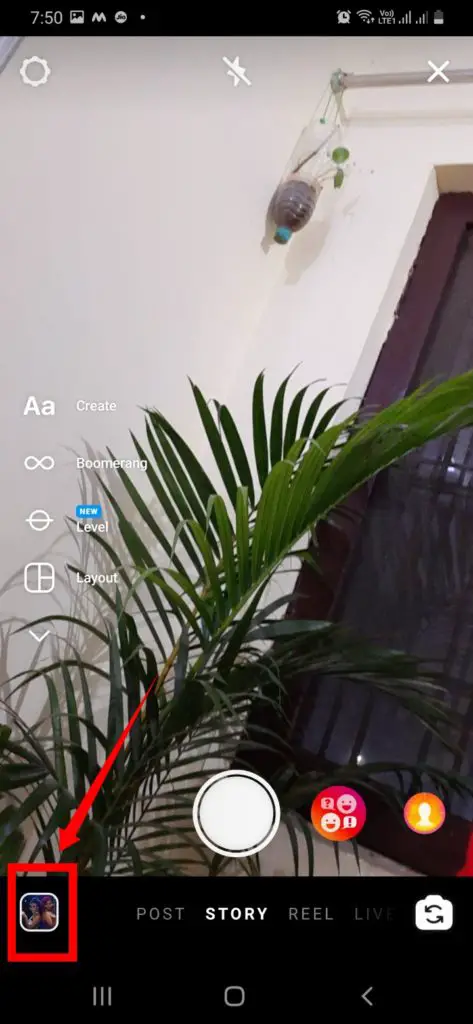 To create a video hold on your thumb on the record button.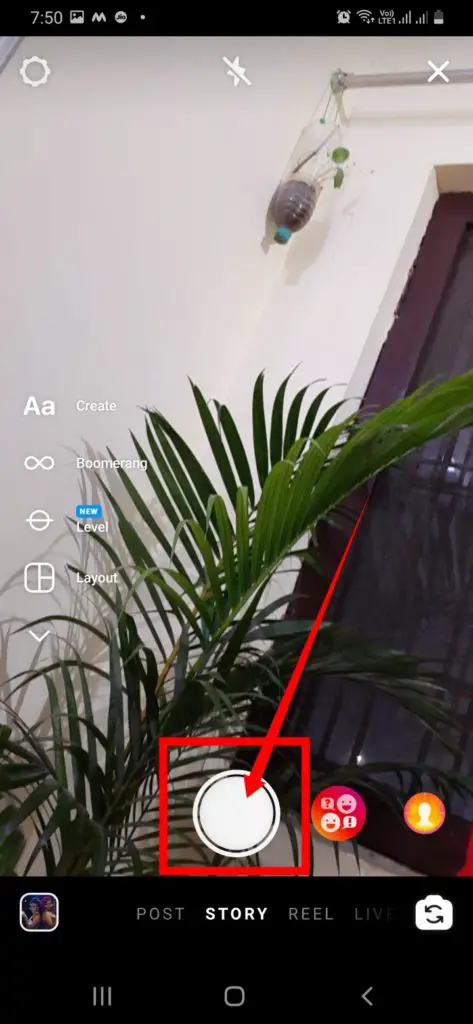 You can add stickers, poll, music, emojis, etc. to your video.
If you want to shoot a video for the story, then swipe left from the feed screen. If this button is pressed and released, then it will capture a photo. But if the button is pressed for a long video is recorded. Once you let go of the button, the video is ready to be uploaded as a story. You can apply the filter you desire to this video. You can also create a boomerang video if the boomerang option is selected.
See also: How to Block Someone on Instagram
Tip 2: Cutstory for Instagram
Instagram stories are visible for 24 hours from the time of upload. There exists a 15 seconds limit for any story, may it be a picture or a video. You can save your story on your profile in the 'highlights' section.  Also, You can take the help of apps like 'Cutstory for Instagram' or 'Inshot' for chopping and trimming videos for you as per Instagram specifications. And, you can set your video as a story that is already saved in your device. The other way around is to record the video. To record a video and upload it is:
Swipe right from the feed window of your Instagram.
There is an 'O' at the bottom of the screen. Tap and hold the 'O' to record a video.
You can insert text, emoticons, or even GIF's on your screen.
Apply the most suitable filter.
Now, when all is done tap on 'share story'.
You can even send this story as DM to any friend.
Technical specifications
Each video of the story can have a maximum length of 15 seconds. If the video to be uploaded is more than 15 seconds, two or more stories are created. With each story of 15 seconds. The aspect ratio of the stories must be in vertical rectangular form. The recommended aspect ratio for a video must be 1080 * 1920 pixels. The minimum aspect ratio can be 600 * 1067 pixels. Any aspect ratio between these two is acceptable.
If your video aspect ratio does not match this range, do not worry pals. We have a solution, an app called Animoto on Instagram. This app converts the available video to the required aspect ratio. If the video is recorded in the Instagram app then the video is formed in the recommended format. But if the video from the internal storage of the phone is to be uploaded as a story, make sure that the video is in .mp4 or .mov format.
Read too: Instagram Message Recovery
How to upload a video to Instagram feed
The feed of your Instagram account is your profile on this app. The content uploaded on feed remains there permanently till not archived or deleted. The time limit to upload a video on Instagram is of 3 seconds to 60seconds. If your video is longer than 60 seconds, you can trim and upload the best part of the video up to 60 seconds.
         If you wish to upload a video longer than the time limit, create a carousel post. A carousel post has a limit of 10 photos or videos. Each part of this post must be less than 60 seconds. A little bit of trimming is required but the end result is fab. The whole video is permanently stored on your feed.
Method1: Normal option
To upload a feed video on Instagram, select the '+' on the lower middle of the screen.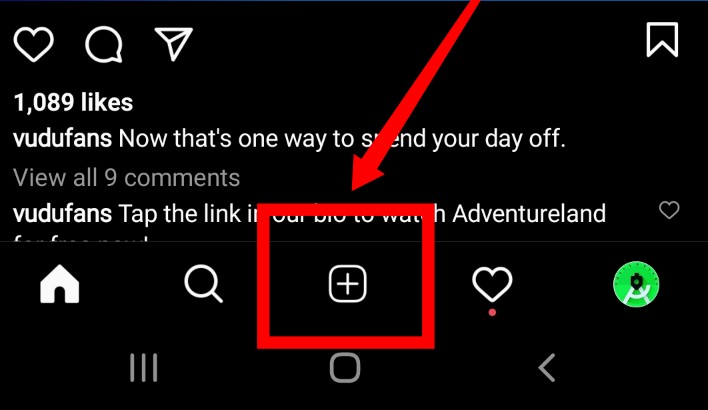 Further, select the Library/Gallary option[fig.1], then choose video[fig.2]. This is done for uploading a pre-recorded video on the feed.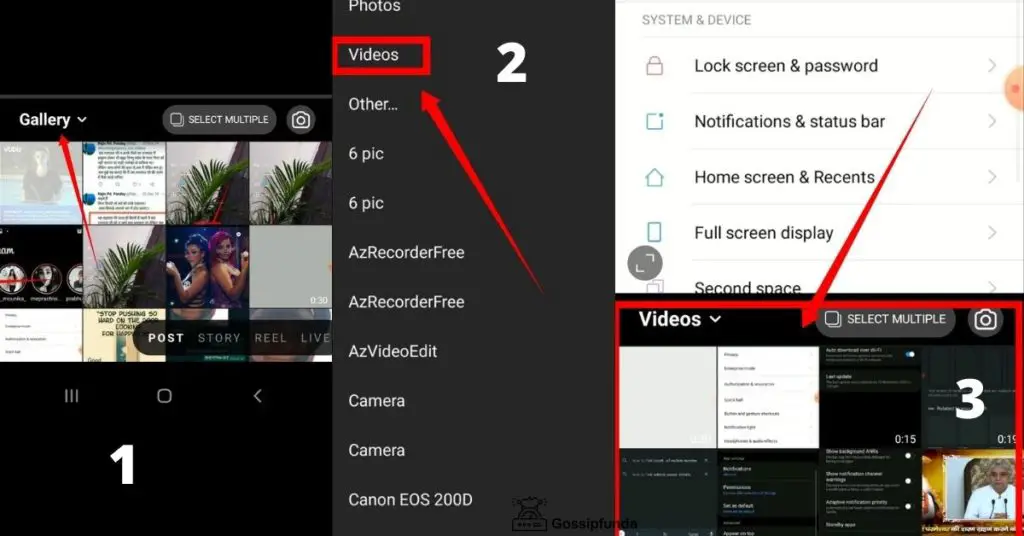 In the library, you can scroll through the internal memory of your cell phone[fig.3].
Once you select the desired video, now select the aspect ratio.
There is a dimensions button on the left-hand side. You can select the required dimensions for your video.
When you navigate to the next button, there are a lot of options for adjusting the brightness, applying filters, and many more.
You can upload multiple videos for a single post. This is called 'creating an album' for videos. This can be done by navigating to the album option on the lower right bottom. You can share up to 10 photos or videos in a single post or it can also be called a single album. An album on the Instagram feed can have a combination of photos and videos but only with a limit of 10 number.
Method 2: Trim option
There is a second option to upload multiple videos on Instagram feed.
To do this, select the single video you want o upload.
When you select the Next option(➜), there is an option present Trim.
When you select the Trim option, that is present at the bottom of the screen. Now you have two options.

Either trim the video.
Or, there is a '+' button. By selecting this button, you can again start to create an album with multiple videos. If you select multiple videos, you can trim all of the selected multiple videos.
But remember a thing, each video clip has a length limit of up to 60 seconds. That is the length of an individual video can be less than or equal to 60 seconds.
To post a video using a carousel post, you need to trim the video in clips. And then sequentially post the clips. You can select the '+' icon to choose aditional clips to be uploaded to your Instagram video. These clips can be arranged in different patterns and can be edited individually as required. The video can be recorded by tapping on the circle that is at the bottom of the page when you swipe right from the feed. Once satisfied with all details, edits, caption, and filters for the video. You are now ready to share this piece of your feelings with your friend's circle on Instagram.
Technicalities for Feed
Yes, there are some technical details you need to give attention to even while uploading a video on Instagram feed. As we already know that a single video length limit is 60 seconds or 1 minute.4GB is the maximum file size supported by the Instagram feed. The videos must be in .mp4 or .mov format. Since the feed of Instagram is inclined towards horizontal alignment, at least 500 pixels must be the minimum width of the video. A width greater than 500 pixels is acceptable. If the video to be uploaded is in square format i.e. the aspect ratio of a square is 1:1. Then recommended size of the video must be 600 * 600 pixels.
If the video is in horizontal format, the recommended format is 600 * 315 pixels. Whereas the aspect ratio of the video for horizontal format must be 1.9:1. The vertical video ratio for in-feed videos must be in the aspect ratio of 4 * 5. And the recommended pixel size is 600 * 750 pixels. The aspect ratios or the pixel sizes don't need to lie in the same format as mentioned above. But if they lie in those formats or near the recommended formats those Instagram videos turn out to be visually pleasing.
Story to feed:
You can share your story video as your feed. These are the steps one must follow:
Open your story.
Tap on 'More' on the bottom right of your video.
Tap 'Share as a post'.
Apply filters, captions, or location.
Share the videos.
IGTV video:
The maximum video length of an IGTV video is '15 minutes when uploaded from a mobile device'. And when uploaded from the web, IGTV video can be '60 minutes' at max. A 60 minutes long IGTV video can only be uploaded by a verified account. Remember IGTV must be a vertical video The video type must be an MP4 type format. We can upload a vertical video of aspect ratio of 9:16 or a horizontal video of aspect ratio of 16:9.  The cover photo of an IGTV video can be only in png or jpg format.
Step1: Tap on your profile [shown by 1], then select "+" icon [shown by 2].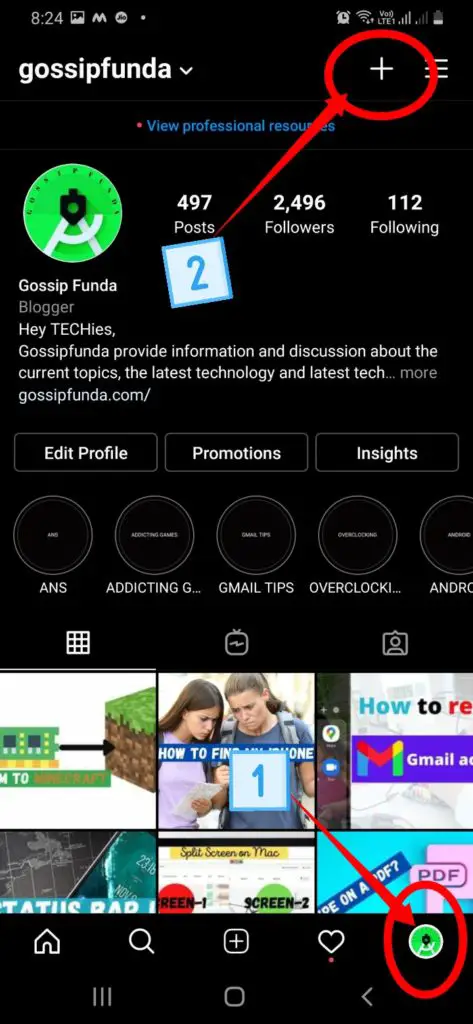 Step2: The pop-up screen will show IGTV video upload option, select your video from memory.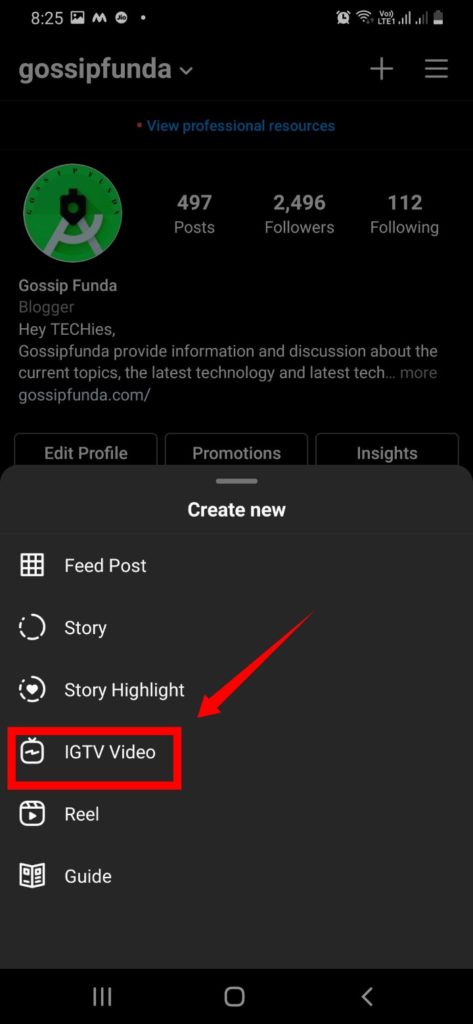 Scheduled Videos on Instagram
Now that we have understood how to upload a video on Instagram feed as well as Instagram stories. Let us learn how to schedule a video for uploading. As we have already seen how to upload the videos, scheduling is done similarly. Here we go one step extra by just adding the date and time for the upload of the video. At the selected date and time, the video will be uploaded successfully. To do this, we need to drag and drop the selected video on the calendar. You can also add a caption to this kind of scheduled video along with the date and time. Select the desired thumbnail for this video. And when all things are ready to be published, select the option Auto-publish from the dropdown menu. And finally, click on save. Your video is ready to be published at the scheduled date and time.
Scheduled Story
As we have seen how to schedule videos for feed. And we also have seen how to create a video for an Instagram story. Now let us combine the above two. Yes, you guessed it right. Scheduled videos for Instagram stories can be done similarly. Just add the date and time and your scheduled video for the Instagram story is ready.
Technical aspects for Scheduled videos
There are some technical aspects to a scheduled video. The selected video must lie in the time range of 3 seconds to 60 seconds. The aspect ratio for photos or videos is the same i.e. 1.91:1 to 4:5. There is also a size limit of 51 2MB for this video. Instagram fails to upload video sizes greater than 512 MB. Currently, this type of video scheduling is limited only to business accounts. We hope that soon it must be available for all accounts.
How to upload a video to Instagram Live
Live feature is mostly used by influencers to have a chat with a mob of people comfortably. Although anyone can go for this feature as if you are into a concert you can go live on Instagram to share the live performance of the rock band. Once you go live all your followers will go a notification that you are live. These Live video clips can be uploaded as the Instagram story or Instagram feed videos. It is up to you.
The live feature is to connect with your friends and followers in real-time. To start a live video on Instagram, follow these steps:
Swipe right in the feed.
Scroll to 'live' at the bottom of the screen[1]. Tap [fig 2] to record, you can switch camera 📸 using [fig 3]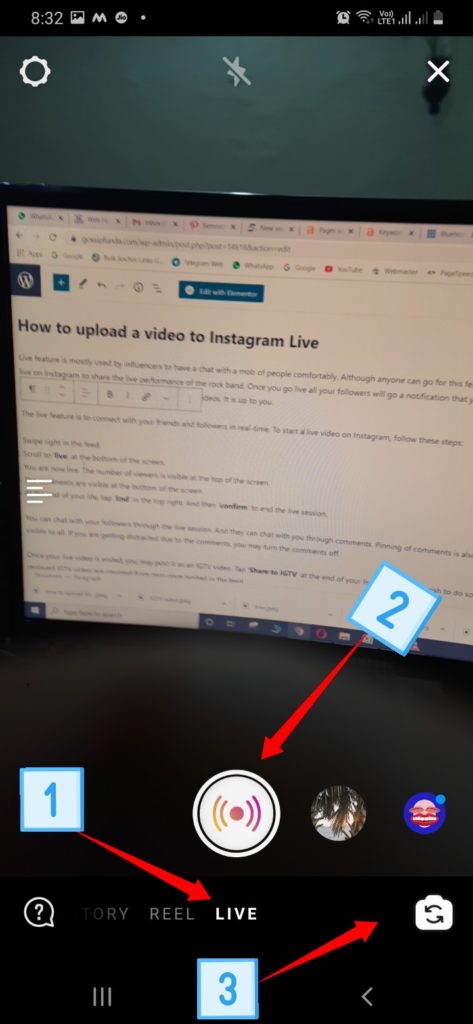 You are now live. The number of viewers is visible at the top of the screen.
The comments are visible at the bottom of the screen.
At the end of your life, tap 'End' in the top right. And then 'confirm' to end the live session.
You can chat with your followers through the live session. And they can chat with you through comments. Pinning of comments is also possible if you want a comment to be visible to all. If you are getting distracted due to the comments, you may turn the comments off.
Once your live video is ended, you may post it as an IGTV video. Tap 'Share to IGTV' at the end of your live session if you wish to do so. The likes and comments this replayed IGTV video are counted from zero once posted in the feed.
You can even start a live video with a friend. For this, you need to invite your friend to join your broadcast.
Instagram feed video ad:
Currently, there exist seven different ad types on Instagram. Each having a different layout. Out of these seven one is an Instagram feed video ad. The easiest way to show the functionality of a product is through videos. The caption for these video ads can be up to 125 words. The video can be of square orientation or landscape orientation. The minimum resolution can be 600*600pixels while the maximum resolution can be 1080*080 pixels. The length can vary from 3 seconds to 60 seconds. And the maximum file size can be 4GB. This video ad can be added to your feed as normal feed is uploaded. Instagram feed video ad enhances the promotion of products and building brand trust.
Instagram story video ad:
Going through the stories at the end of the day is everyone's favorite task to end a tiring and busy day. This is a perfect platform to gain attention to your product through the Instagram story video. Instagram story video ad allows a video of up to 15 seconds. The link to the website can be opened by swiping the ad up. The caption option is not available for the Instagram story video ad. The format of the video must be a full vertical screen. The aspect ratio of this format is 9:16. The minimum resolution is 600*1067 pixels while the maximum resolution can be 1080*1920 pixels.  Well, let's talk hypothetically. No one can post more than 100 stories every day.
How to upload a video to Instagram using desktop
Up till now, we have seen all the features of the app Instagram which is operated through a smartphone. May it be android or iOS. Now let us get into PC or desktop. You can download 'Desktop for Instagram' from google chrome. This is an application. And can perform all those functions you perform in mobile here.
Open instagram on your PC. Login to your account. You will not get any option to upload photo, video on it. So, use this trick.
Right click on blank space on the browser. Click on inspect.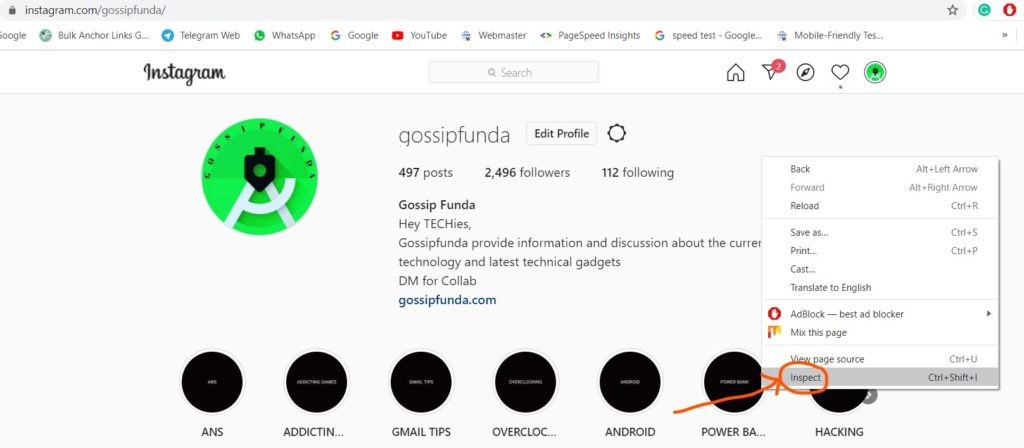 Toggle to mobile view from right side option shown in figure or click Ctrl+Shift+M.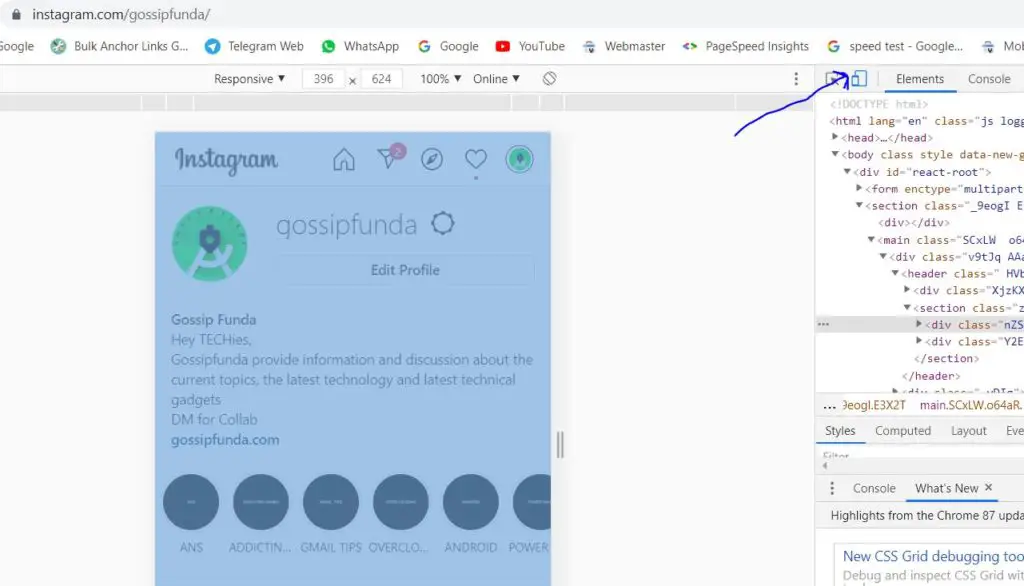 The last way to get "+"icon is to refresh the browser, simply press F5 key.
Now, you will get all the Instagram's options of mobile on your PC.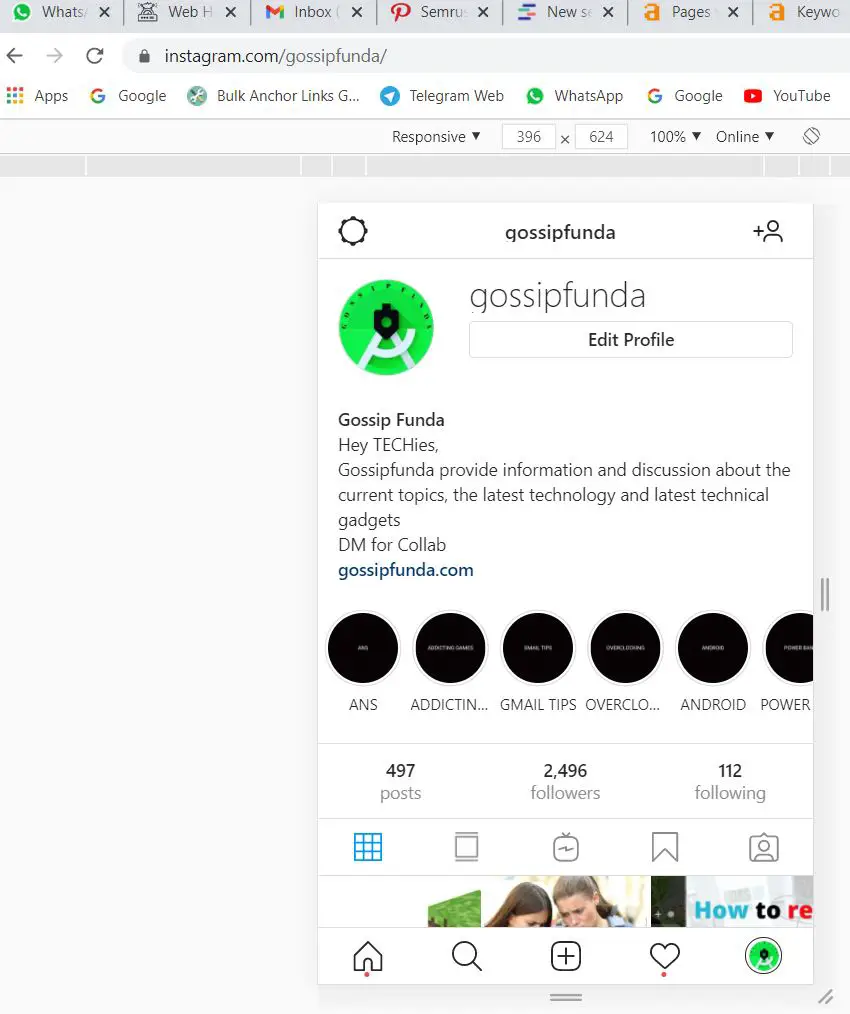 Click '+' icon and start uploading you videos and images in the same way we mentioned for mobile.
Note that most of the time mp4 is not supported by this method. So you can use third party apps to upload videos. The other method is to surf Instagram through the official website of Instagram. You can perform all those functions there as well.
How to upload a video/image to Instagram using Facebook
Open Facebook creator studio.
Switch from fb to Instagram

Select your page connected to Instagram
Click on create post, select Instagram feed or IGTV.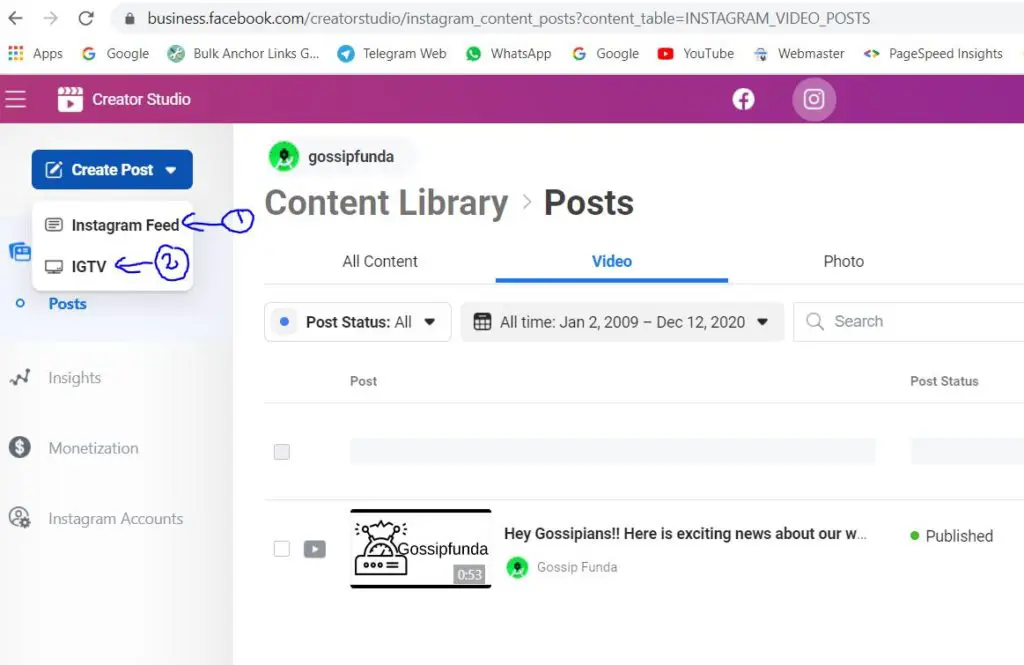 Upload your video and click on publish.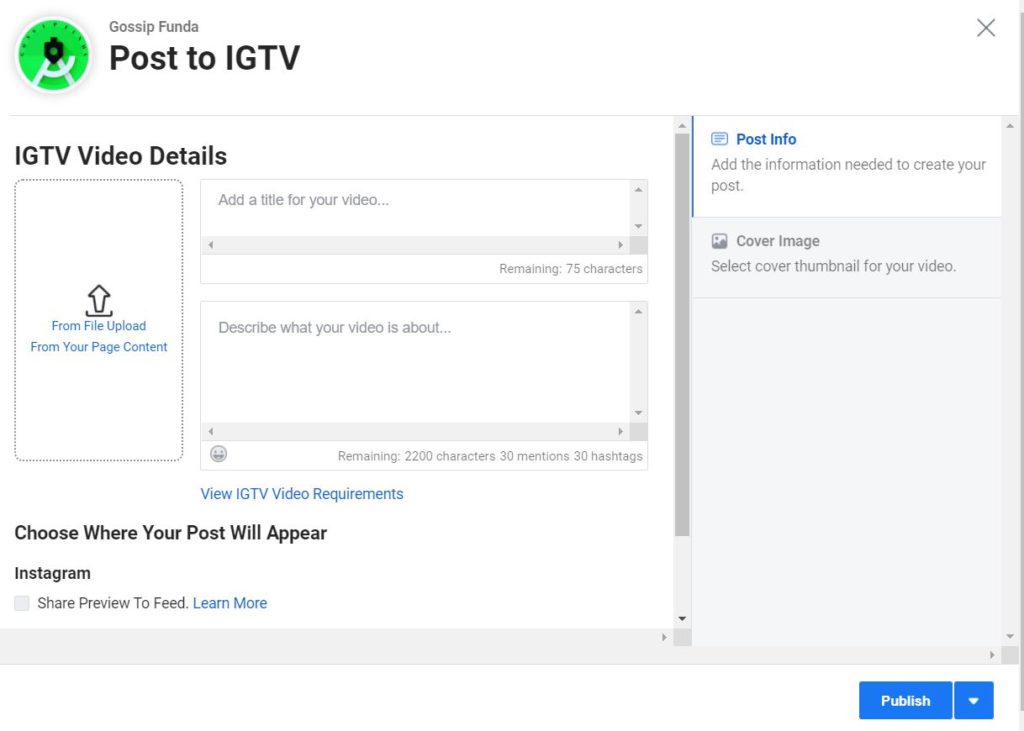 Technical details:
Now let us get into technicalities. Instagram doesn't include any major technicalities as it is a fun app. Instagram have not mentioned any official file size limit as far now. But for better functionality of this app, it is recommended that the video file size must be in limits. The video size may vary between 50MB to 150MB. Or even less than 50 MB. The preferred video format is expected to be MP4. (H.264 Codec & AAC audio) The maximum frame rate supported by this app is FPS. The video bitrate may vary from device to device. But once you post the video on Instagram, this app reduces the bitrate to 3.5Mbps.
Instagram video resolution and quality:
The dimension of an Instagram Feed post is 1080 x 1080 pixels. The Instagram Story length proportions in 1080 x 1920 pixels. Some of the Instagram users may upload videos on this app in 4k resolution with compression. This is the highest quality of video available on Instagram.
Videos uploaded on Instagram can vary in a wide range of aspects ratio as given below:
1:1 Aspect ratio: Standard squared format.
16:9 Aspect ratio: Landscape format used for widescreen.
4:5 Aspect ratio: Portrait aspect ratio. This is slightly taller as compared to the standard square aspect ratio.
Conclusion
In conclusion, most of the basics of uploading a video on Instagram has been discussed. We have seen different ways in which videos can be uploaded to Instagram. Ways like Going live, boomerangs, Stories, feeds, etc. And it is not such a tedious task.