Heard about the update by google on people cards or Public Card? Explore its features here.  Check other few apps that offer you different features that google people cards don't.  Create your card and show your uniqueness to people by writing your review.  Expand your community to popularize your business. 
Google people cards
People cards:  People cards are virtual visiting/business card services offered by Google.  This card consists of websites and social media account links in it that can help people to access them easily.  Its widespread accessibility is an added merit of using google people cards.  Whoever owns a mobile phone can access and create it.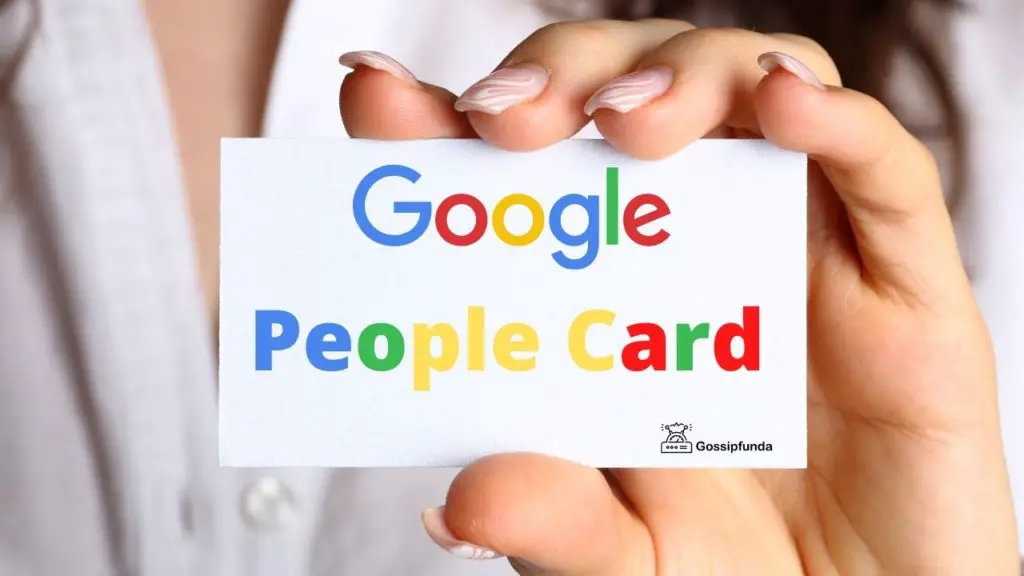 Virtual visiting/business cards:  These cards are used to share people's contact links in all forms of media so that there is no need to mention one by one to others.  Usually, people who are active in their business or service providers can use it so that their webpage can get many views.
Businessmen:  people who are involved in different types of businesses can use it to share their contact and develop in their industry.  They need to be in contact with a wide variety of people like suppliers, distributors, mentors, event management firms, and other competitors in the industry.  Using such cards can help them to expand their contact and be in touch with everyone.  It ensures everyone is in contact.  Segregating people cards with topics are also needed and available in certain apps.
Artists and content writers:  These people use cards not just to provide their contact.  In a few virtual cards, you can see links to access their artforms/articles and webpages too.  It is considered as a form of marketing and expansion of their customer circle.
Other apps that offer business card service
Haystack:  By providing your contact details in this app, your e-card will be ready within minutes.  What's special in this app is it shows you a database that shows you whoever views your card.  Several viewers can help you to analyze whether distributing e-cards gives you an effect.  
Switchit:  This app helps you to create cards with templates and designs, that are free.  With simple presentations, it acquires customers by providing links to their users.  They can share the link with everyone and the app is not required to view such a card.
Inigo:  More than other business cards, a feature called "back office" shows its uniqueness.  You can create a card for all your employees and can be shown through a link in the card.
L-card:  L-card supports Android and iOS to offer an updated service.  It has a library to save many cards.  Allocation of cards by naming it in different groups or events can help to select cards easily when needed.  Scanning facility.
About.me:  In about.me, you can create a card and can even use it as a domain page.  As, you'll be mentioning your name in it followed by .com (for example, Jessy.com), it can be accessed and viewed as a webpage.  So that you don't need to spend time creating a website and maintaining it.  It becomes very simple via this app.
How to create a Google People Card?
Sign in to your Google account on your mobile devices or/and Search for "Google search bar."
Type "add me to search/add me to google / edit my people card" in the search bar of google.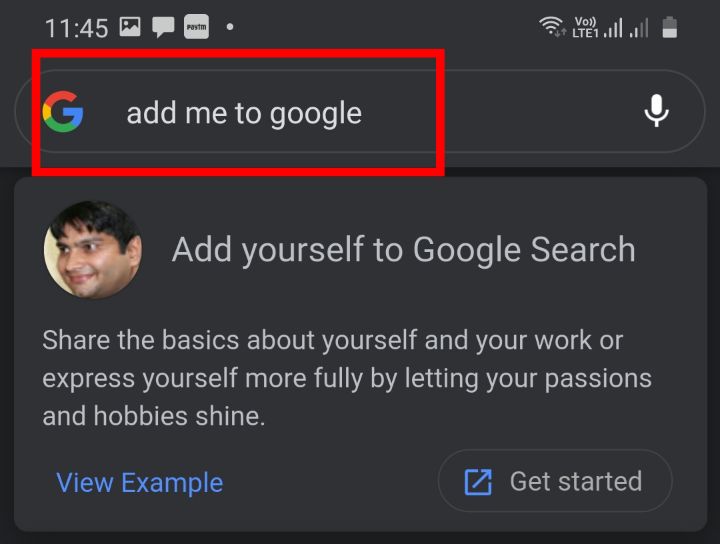 A module appears which guides you to edit your information in the card.  Click on "Get started." You can also see for example.
Choose your account or add a new account.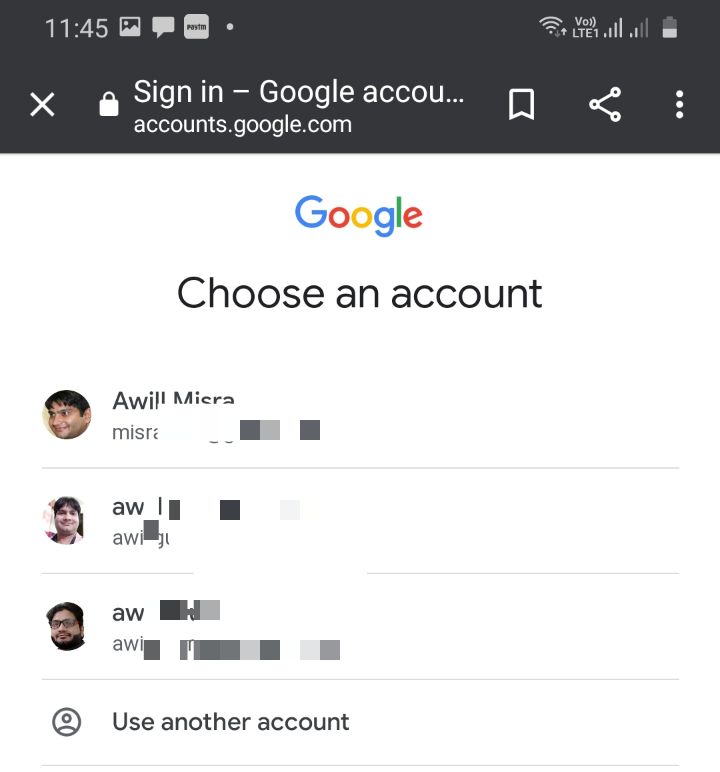 Now create your public card. In the description field, present the links for your social media business accounts (Facebook, Instagram, LinkedIn).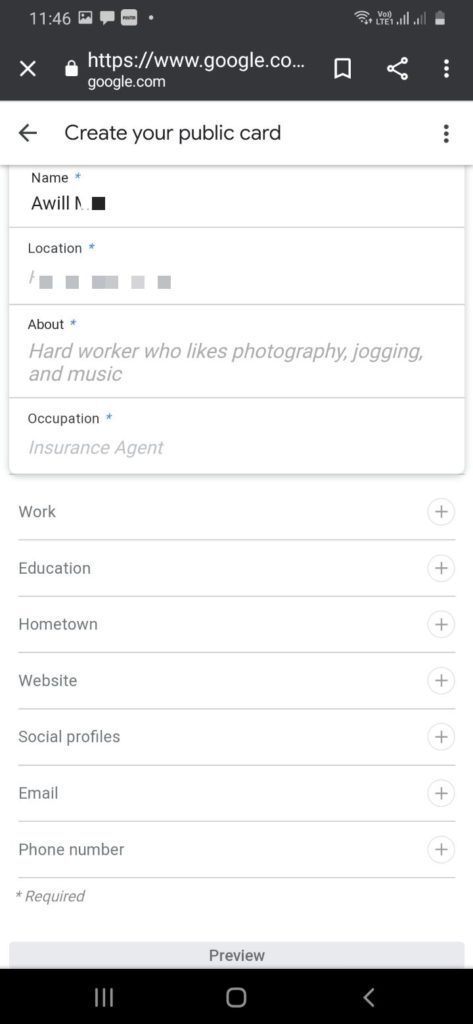 Next, you'll have a field to provide your mobile number and e-mail address for others to contact you.  Providing it is your own choice and it is considered optional.  The more information you provide, the higher the chances of appearing in google search. Click on the preview.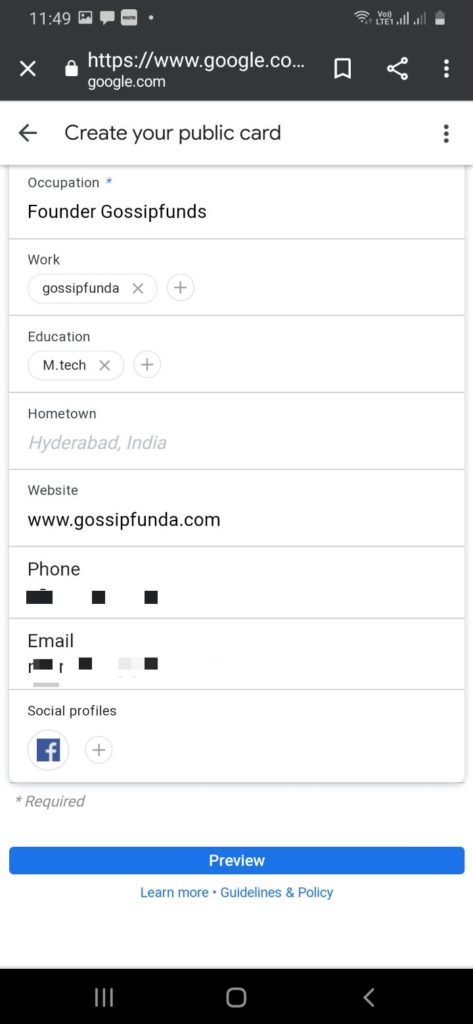 Click to save, Your Google people card created.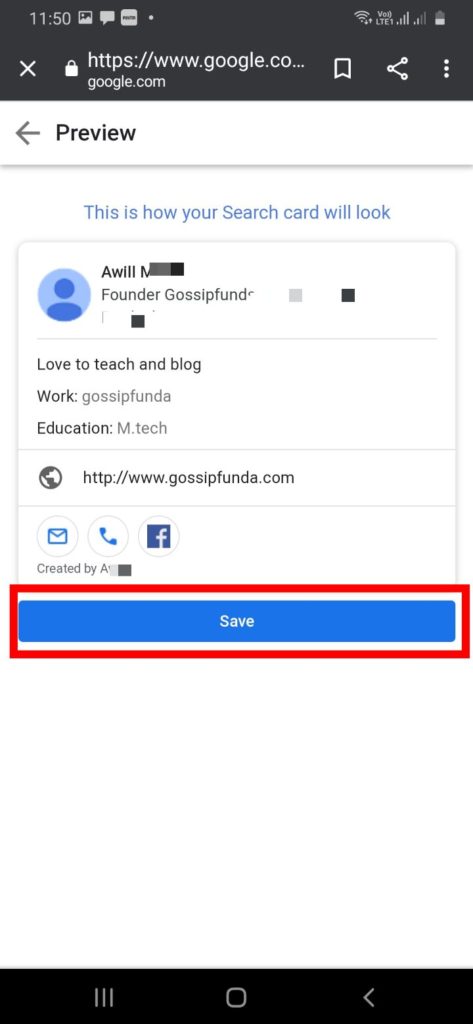 How to edit your Google people card?
Type "edit my people card" in the search bar.
Fill the information that you need to edit. 
Then, tap preview which helps you to have a demo view and again edit the card.
How to delete a Google People Card?
Open "Google search bar."
Type " delete my people card" in the search bar of google or open your Card.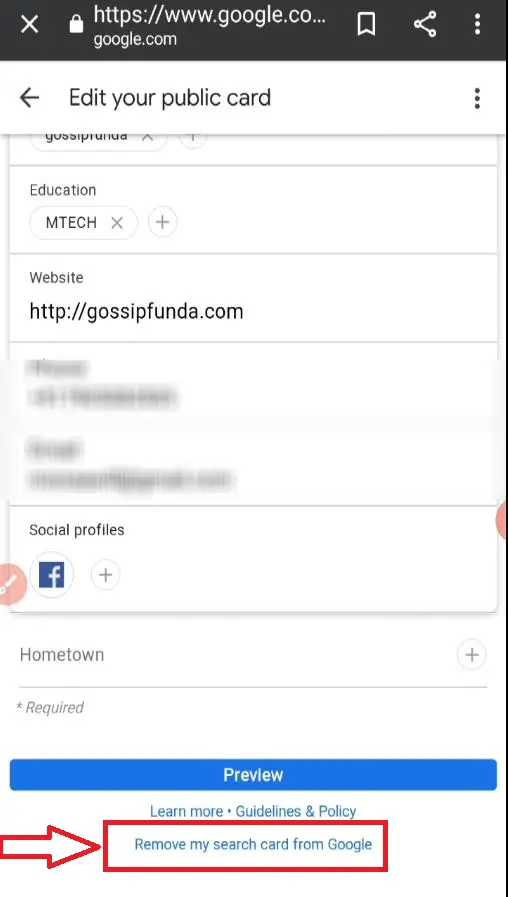 Click on "Remove my search card from google"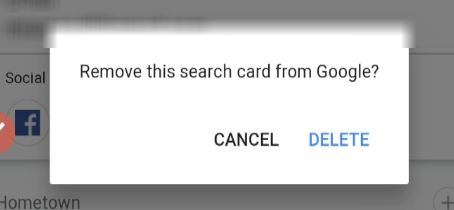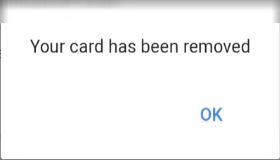 Finally, your card has been removed.
How to change public image
Open your card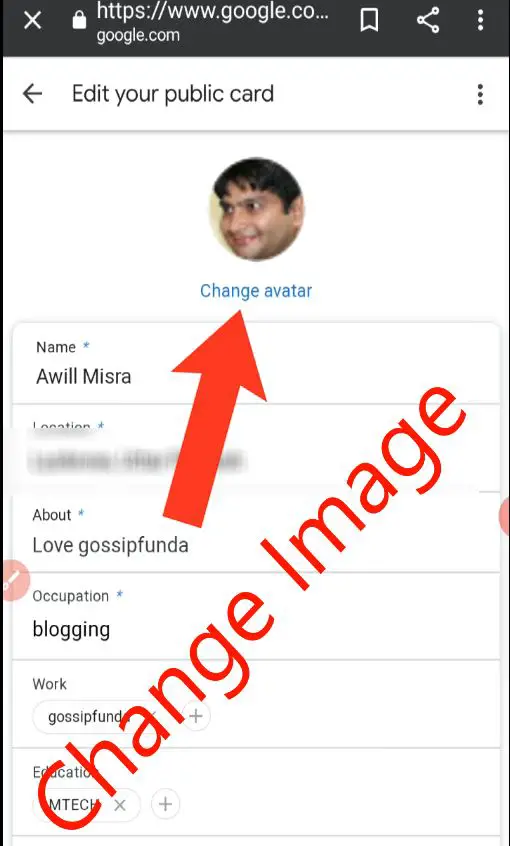 Click on "change avatar" and change the public card photo/image.
How to make your Google People Card unique?
When you create a card or edit your card, it may take a few hours to update it.  So, wait for few times to show up in the google search.
Add your profession or any other term to differentiate yourself from other people with similar names.
For example, if you are a writer enter "Katrina writer"
Or "Aishwarya musician".
Updates that should be done to your people card will be intimated regularly via messages.  Acknowledging it and working accordingly is your role. 
In case, your card needs any corrections too intimations will be made. 
Content policy
It is firmly said that cards should never be used for advertising.  So, words that try to advertise a product or service should be avoided.
There are strict restrictions on the statements you make against any organization.  Cheap and negative talks about your firm should be excluded. 
Statements that stimulate local riots are prohibited.
Images that you don't have rights shouldn't be published.
Removal requests are taken into serious considerations and will be acted upon soon.  
How to look at the information about your Google People Card?
All the information will be shown in google search.  Or you can see it your google account, in about me page.  It's preferable to use google search to find your details.
How to search for a person's card?
Just start typing the name of the person of whom you're searching card.  All the cards with that particular name appear.  From that select your option.  You can use filters to find any person with similar names. 
How to report a problem?
Search for the people card through google.
Enter the card and tap on "feedback".
Choose "what do you think".
Select your opinion.
Finally, tap send.
Also, you have an option to do your comment or suggestion beyond the problem report.
How to report abusive content?
Search for the card.
Enter the feedback session.
Select report abuse.
Choose yes.
Safety measures to avoid fake accounts (taken by google)
Only one card is allowed to one google account.  This act reduces fake cards and can help to increase the genuinely.  When you create your people's card, authentication of the phone is mandatory.  But it is purely optional to offer it to everyone's view.
To have a check on the protection and quality control of the information provided in the cards feature, secret mechanisms are used. 
Google people cards encourage their users to give feedback and ready to accept and terminate fake accounts.
Usage of algorithmic signals and knowledge graph fake accounts are detected and removed.
Users
The feature is first introduced in India only, for those who set their language as English.  As India is the second-largest internet market, in which the users search for their names it is first introduced in India.  Even though, using VPN many people can access it and create cards.
Users of this facility will be common individuals, social media influencers, entrepreneurs, self-employed people, freelancers.
Devices in which this facility is available
Android phone, tablet, iPhone, or iPad and not even in desktops.  This is because it is just a beginning and will be a testing field to implement all-over the world.    
Policies for content posted by users
To stop your card from termination or any reports, aware of the policy content and act according to it. 
Adult themed content:  Sexually explicit images, videos or any other format of media is purely objectional.
Advertisement: Advertising products and services on the website is not allowed.  Marketing strategies with such motivations should be avoided.  Sponsored content which promotes a particular firm, without explicitly mentioned so and indirect promotion is not allowed.
CSAI & Paedophilia: Any form of digital tools such as pictures or videos which have child-abusing content and which may have a great effect on a child's mind and body is restricted. Such reports are acted soon and sudden removal is done.
Copyrighted content:  Instant responses are given to copyright claims.  Such illegal activities of copyright exploitation will lead to account termination.
Dangerous content:  Any general information with an aim of awareness or education is in no way restricted.  But, content which can end up with serious harm to animals and human being is not allowed.  
Fake engagement:  In google, human interaction has no issues.  But, artificially intelligent robots or some devices acting as if human and doing human activities aren't allowed.
Harassment:  Cyberbullying acts like teasing and separating anyone isn't allowed.  As online harassment is illegal, it will face sudden removals.  Also, doing so will have serious consequences in real life for the victim as well as the harasser.  
Hate speech:  Google is only a platform for expression and not to any actions to disturb peace in the society.  Promoting violative content or inciting mutinies on the basis of race, ethnic origin, religion disability, age, nationality, veteran status, sexual orientation, gender identity, or any acts leading to discrimination.
Irrelevant content:  Google has the right to remove such content from the website.
Malware and phishing:  Any links to malware or any type of viruses aren't allowed and published.  Also, phishing which may interrupt in the infrastructure of the network is not allowed. 
So, this is all about google people cards at the current phase.  There is a lot more to come.  After all, it is just an experiment to launch it in India.  Stay updated to acknowledge other features that will be updated by Google.