How to turn off restricted mode on YouTube?
YouTube is one of the largest social media video-sharing platforms in the world. It has 2 billion monthly active users who share their stories with this platform. Originally, YouTube was not under Google. It was purchased by Google for a whopping 1.6 billion dollars. In this article, we will learn what is the restricted mode in YouTube and how to turn it off
Undoubtedly, everyone loves to use YouTube. It is completely free to download if not pre-installed on your phone, plus it offers a variety of content. Therefore, people like to browse many videos on YouTube. You can have a free account created in a few steps and you are good to go.
Youtube also has the option to monetize your videos. This simply means that you can earn money for the content that you make. There is a huge comment section where your viewers can share their ideas, appreciation, and love.
Now, let us learn about how to control what kind of content you want YouTube to display on your browser or your mobile device by toggling the restricted mode.
What is the restricted mode on YouTube?
Undoubtedly, there is a HUGE amount of content that is available to watch on the YouTube platform. From music videos, gaming, movies, TV Series and much more you have tons of options to choose from. Moreover, there are multiple creators from where you can watch your videos from. Obviously, you can also subscribe to their content o access them faster.
The YouTube algorithms work in such a way that the algorithm tries to learn the user itself. For example, if you search for cat videos, then it starts to display cat-related videos on your feed for your ease.
Similarly, there is also a vast amount of content that is available on the platform which you might not want to watch. They may include profanity, drugs or alcohol content and much more.
You can easily control whether you want to watch the videos that include these genres in the videos that you search for. This is where the Restricted mode of Youtube comes into play. By a simple toggle of an option, you can filter out your video search and display content that does not have mature content.
Do not Miss: Google Chrome extensions Android
Is restricted mode the same as age-restriction?
Restricted mode is similar to age restriction but they are not the same thing. Restricted mode is set up by the end-user who watches or browses the YouTube platform. In contrast to the age-restriction which is set up by the uploader of the video.
If you are a content creator, then you have an option to make your videos age-restricted if it is intended for mature audiences. If the video is age-restricted, then firstly, you need a YouTube account to watch that video.
Generally, the videos do not require a YouTube account to be watched. Therefore, you can even surf YouTube without making an account. All of this changes when the uploader has set up age restriction.
The thing is that the uploader has the option to set up age restriction. He may feel that the video contains content not suitable for children so he may or may not turn it on
On the other hand, Restricted Mode is in your hand and you can turn it on to filter out mature content.
How to turn off Restricted Mode on YouTube using Desktop?
It is fairly simple to turn your Restricted mode on or off while using YouTube on your favorite browser
Firstly, visit YouTube and click on the account icon. The account icon is situated on the top right of the page that has your profile photo
Now a drop-down list appears on your screen.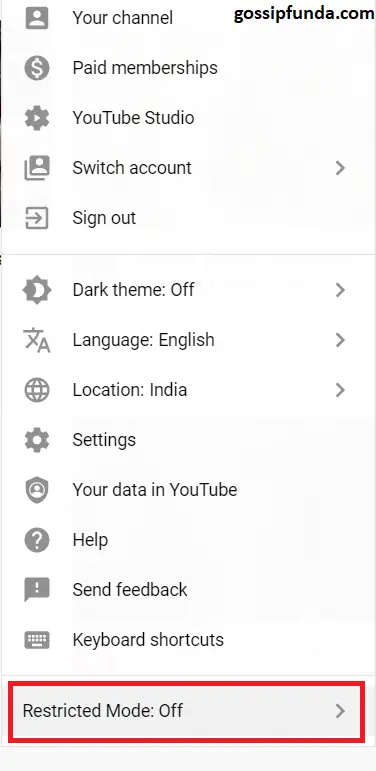 You can browse through these options and definitely review those privacy settings. I would be covering that in the later section, so please keep on reading. But for now, let's stick to restricted mode.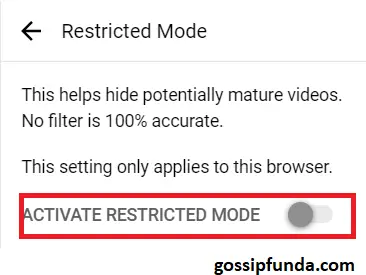 You can notice that restricted mode option at the end of the list. YouTube has kept things extra simple and there is no hassle to perform this step
Now choose the Restricted Mode option and toggle it to turn it off. That's all!!
You can give yourself a pat on the back for doing this. But wait!! There's more
How to turn off Restricted Mode on YouTube using your smartphone?
It is way easier for anybody to perform these steps on their smartphone itself.
Firstly, open your YouTube app
Now click on the account icon with your profile photo on the top right corner.
The app opens up completely top a different screen having multiple options.
You need to click on the settings option that is the second option from the bottom.
Now you would be greeted with another screen with multiple options in the settings option itself. You need to look for "general" that makes the number one on the list. Please select that.
Now you would be greeted with a new screen with multiple options to toggle.
Scroll down to find the Restricted Mode option, second from the bottom. You can turn it off and the search results won't be filtered.
Furthermore, if you are using a YouTube ID that has been provided by your network administrator, you should contact them if you are unable to turn the restricted mode off.
How good are the search results after turning the restricted mode on?
YouTube claims to filter out the search results from the tags, metadata, and language that appears on the video. Although this is an excellent feature provided by the company, it is an algorithm after all. It tries to provide you the result that you need but you cannot expect 100 percent perfect result
For example, I turned the restricted mode on but it still showed me games that have violent and mature content. So the question is, why use it?
Well for starters, something is better than nothing and the algorithm learns as the time passes. It learns about your habit of watching videos and starts recommending you new videos in the feed.
What is meant by Metadata?
Metadata is simply information about the data itself. For example, the timestamps in a photo or author of the video, all included in the metadata. It is very important in organizing the video that is uploaded on youtube. As claimed by Google and YouTube, the algorithm even gives the results after matching content by reading metadata
How to review your privacy settings on YouTube?
While browsing through the settings, you might find the tab of History and Privacy
You have the option:
Watch history
To pause the watch history

As a result of toggling this option, you would find that you can stop the data being collected on YouTube about the types of video you watch. The thing is that YouTube feed has a recommendation about other videos regarding what you watch. Suppose someone shares a video, and you open the app to watch it. What this would do is log your watch history and keep recommending you similar videos that you might not want to watch. You can update this setting easily to stop this from happening. What this also means that the videos watched by you would also not be recorded, which gives you complete privacy. Some people do not like that the app stores information regarding their liking of videos. This can help to turn it off
Search history
To pause the search history

Similarly, you can also choose to turn off the search history. After enabling this option you would find that the search bar does not have your recent searches. Youtube also recommends the videos that you watch by going through your search history.
Be warned, enabling both of these options gives you complete anonymity from the app, but you would, as a result, get random results in your feed. You would be greeted upon by trending topics that other people watch and the algorithm would recommend watching videos that you don't even like.
Therefore, you need to be careful while toggling the above option
Conclusion
To conclude, YouTube has a very good option ie. Restricted Mode that can filter out mature content to an extent. You can easily turn it off in the settings in the app or even by using a web browser.
Age restriction is different than Restricted mode because it is set up by the uploader himself if he feels that his videos are intended for mature audiences.
You should always review what kind of data the app collects, modify its settings by choosing accordingly. You should also have two-factor authentication turned on for extra security on your account because let's face it, "Prevention is a good thing".
Do not Miss: Android Jones