Suppose for a second that this world does not have internet for a while! I think your life will be stuck, right? In the same case, without the internet our smart TV functions exactly like an old TV set of the 1980s. Every app requires an active wireless network in order for its proper operation. I recall during this content writing, how my Samsung TV (AU8000 4K LCD) start disconnecting the internet connection. I've even tried a lot via changing the network settings, but the Samsung TV not connecting to wifi in any circumstances. If a Samsung Smart TV experiencing WiFi or internet problems, here are a few best solutions for the Samsung TV WiFi connection is not working properly.
I sold my Samsung LED TV (2018 model) just a few months ago because it was getting a little old-fashioned. After that, I purchase AU8000 4K LCD latest model. In the first few months, I did not experience any connectivity problems. While I switched my WiFi router yesterday, the TV would not connect to the internet. Because it wasn't connected wirelessly, I connected the Ethernet cable directly into it to check the possibility of an internet connection via LAN cable. This didn't work for me. It was a complete mess for me when my Samsung TV started functioning with the internet while connected to my smartphone's hotspot network without any issue. There may be a reason when I had manually updated the program of TV, the internet connectivity issues on my Samsung TV got fixed.
A lot of users are complaining about their Samsung Smart TVs with different issues. They also not being able to connect to the internet. The problem could stem from an app from a third-party provider, or from a wrong configuration on the television. The correct diagnosis will provide you with the necessary information to fix the problem and get your TV working flawlessly once more.
I previously wrote an article explaining some tips on how to Search apps on Samsung Smart Tv. One of our subscribers asked us to write about his issue related to Samsung TV not connecting to WiFi. Finally, I came up with the concept of creating a comprehensive guide that outlines the various solutions available to resolve WiFi network issues or internet connectivity troubles on a Samsung TV.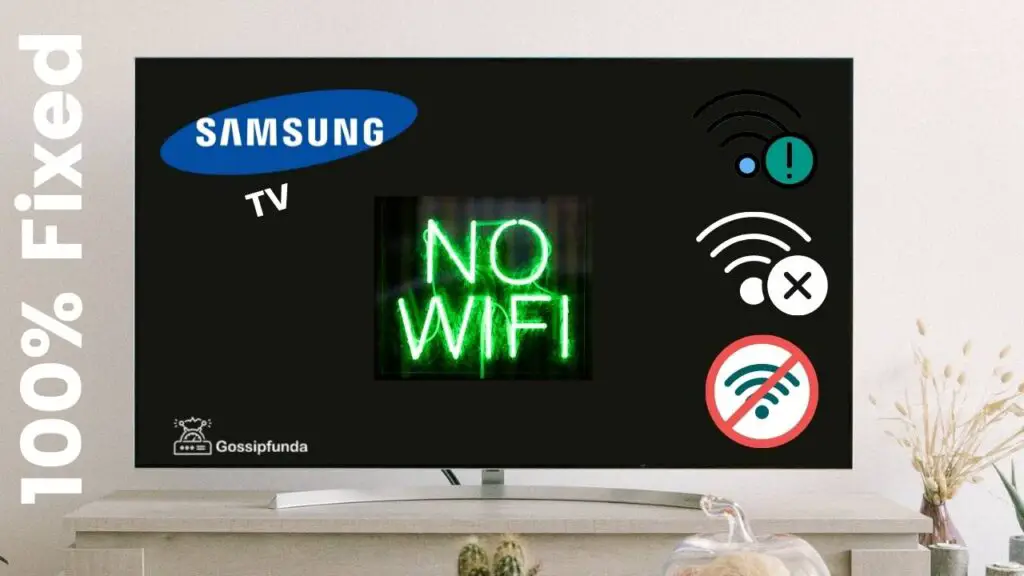 Reasons of WiFI Connection Issue on Samsung TV
When your Samsung Smart TV is not connected properly to the internet, it is essential to conduct effective troubleshooting in order to identify the exact root cause of the issue. It could be due to several possibilities that your Samsung TV is not detecting any wireless network(wifi) or constantly losing internet connectivity. In some instances, simply restarting the TV could work like a charm. In other situations, you might need to reset your Network Settings or upgrade the software for your TV to the most recent version. The resolution is dependent on the root cause of the issue. We are listing some possible reasons that could be causing you're Samsung Smart TV not to operate with WiFi networks or internet connection. There may be a reason for Samsung TV Error Code 107 which is a network error issue.
1. A tiny glitch:
We are quick to begin looking for solutions for minor issues at the exact moment. If your television is able to recognize wireless networks but cannot connect, this could occur due to an invalid password or a glitch(bug) in the software. In some instances, switching off the TV by using the remote for an extended period of time can cause a change in the network settings, leading to problems with the internet connectivity.
2. Domain Name System Server Settings:
DNS (Domain Name System) connectivity settings must be correctly configured to enable an internet connection of every appliance that comes with DNS inbuilt. By default, the Samsung Smart TV regains its DNS servers settings on its own. When the TV isn't able to connect to WiFi or wireless networks, it is essential to configure up the DNS servers by own efforts.
3. MAC address Blocked:
The MAC addresses of Ethernet(LAN), WiFi, Modem, Router, etc., of the same machine, are separate and distinct. The MAC address used by mobiles, PCs, or smart TVs is unique and can be restricted by your ISP (Internet Service Provider). This may be a reason that blocks your TV from connecting to the Wi-Fi router's internet. Furthermore, if your MAC address of Samsung TV has been blocked for any reason, it's not able to recognize any wireless network further. Recently we have written how to change MAC Address on android to tackle this situation.
4. Firmware issue or outdated OS:
Samsung continues to roll out updates to its OS or firmware for its Smart TVs on a regular basis. If you don't ensure that your TV is connected to an active Internet connection, then it may be a reason that you have not downloaded or installed the most recent firmware updates. If you've disabled your TV's automatic OS update option, the firmware gets outdated and can generate numerous issues, such as network connectivity issues. This is not only from the previous firmware version. Even though your TV received a bug recently in the latest OS update, it might yield network-related problems.
5. LAN Cable Issue
This is the very basic issue seen in the countryside area. Due to storms or heavy rainfall, the LAN cables get disconnected from your ISP. This may be a big reason for no internet connection issue or upload speed so slow on your TV.
6. Problem with Modem or Router:
If you have an issue with the WiFi router or modem, your television won't be able to locate or connect to a WiFi connection. The replacement of your modem/router may solve the connectivity problems of the TV.
How to fix Samsung TV not connecting to WiFi issue?
We've explained the reasons which are preventing your TV from connecting to a wireless( WI-FI) internet connection. Now we'll look to solve the issue, the reason for the issue may differ from TV to TV, in the same way, a solution will vary. Here is the list of possible solutions and fixes to resolve the WiFi connection problem on the Samsung TV.
Restart Main Power Supply
It sounds like someone kidding you, but the fact is that it really rest many devices of your home and sometimes fix the issue. Must try it.
Restart your Internet
This is the first step you should take when you are facing an internet issue with your TV. There are miscellaneous common problems encountered with the machine, so you need to restart the router/modem first. Observe the stages detailed below to restart your internet.
Switch off the power of the WiFi router/modem.
Stay for approximately1-2 minutes then turn ON the router.
Wait for a moment to configure the wifi settings again.
Turn ON your TV and boom, the issue is fixed.
Restart Your Samsung Smart TV
This is the most straightforward solution for the internet connectivity issue on the Samsung TV. It is likely to function if your TV has been experiencing wifi connectivity issues due to a temporary reason. There are two ways to get the TV to reconnect, and you ought to attempt both. If you find that the Samsung TV is not detecting any wireless wifi networks, Try the following:
Make sure that your television is turned on.
Hold the Power button of the remote.
Press it until you can see the Samsung logo appear on the screen of your TV.
The LED that is red on the television will begin blinking more quickly.
If the TV is ON, try reconnecting your WiFi network.
This will fix the issue of Samsung TV not connecting to WiFi on temporarily basis.
Try the next method if the above-mentioned does not work for you:
You can turn the TV ON, after a few minutes, switch off the TV power by plugging out the power cable from the supply board.
You should wait for around a few minutes and then replug the cable and switch on your television.
If the Samsung TV is still unable to recognize any wireless(WiFi) networks, it is likely to be something black in the bottom. Let's try more ways.
Check the WiFi Password
It's truly said by my friend that an incorrect password is the most common reason for the No internet connection. In many instances, people make a mistake when they type a password, either through error or due to hurry, even if they know the appropriate password. Be sure to possess the proper password, enter it correctly. The keyboard on TV isn't so easy to use as a computer or mobile phone's keyboard. If your Samsung TV is able to identify the WiFi network available but fails to connect, then you must reset the password. This tutorial: How to find wifi password on android will be helpful for you.
Hit the home button of your remote.
Follow the Settings > General > Network > Open Network Settings > Wireless.
Choose the wireless network you'd like to connect to and enter the password in a cautious manner. It is possible to enable the Show your password option to verify whether you've entered your correct password or not. 
If the password for your WiFi router isn't easy or is too lengthy, you can try to switch it to a more easy and memorable password.
Now you have connected to wifi on Samsung TV.
Check for Data Plan
Most of the time we recharge the data at the end of its month, due to this habit sometimes we forget to recharge the internet plan. And this may cause no internet problem in your Samsung TV. So, check the data plan first maybe this is a reason behind the issue. We have also covered a tutorial on mobile hotspot connected but no internet android, this may be useful for your TV, if you are using a mobile network to run your TV's internet.
Change the Network settings on your Samsung TV
When you're Samsung TV, you won't find WiFi or a wireless connection. This could result from an issue with the setting. In this situation, changing the network settings on your TV could assist in resolving the WiFi connectivity issue.
Click the  "Home" button located on the remote of your TV.
Proceed to Settings > General > Network.
Select the Reset Network option, and then select Yes.
Restart your TV and then reconfigure your network's settings.
This will help you to fix the issue immediately.
Test Via Connecting to an Additional Wireless Network
The issue with the internet connection in the Samsung TV may have two possibilities.
Your TV can identify available networks but cannot join any one of them.
Samsung TV is not showing any wireless(wifi) network.
Suppose you are looking to resolve all of the above, test via connecting your TV to various additional Wireless Networks. For instance, if you find that your TV isn't linked to the WiFi router, you could test a different network provider—the easiest option to connect to a mobile hotspot. If you've had a failure testing connection to the hotspot on the same mobile, test on a separate router or smartphone.
In any event, your Samsung TV can connect to any WiFI network via hotspot or router. It indicates that there's nothing wrong with your television. In this instance, you need to reach the internet service provider(ISP) you have been using before or the customer care of the router company.
Note1: If your router is linked to a large number of devices, it could not be able to handle all of them and cause problems with connectivity. It is recommended to reduce the number of machines connected to the WiFi network.
Note2: It is also important to determine if other devices are able to be connected to the router or not. If all of your devices, except your TV, aren't having connectivity issues, this means that there's something wrong with your TV. Immediately contact Samsung TV customer care.
Disconnect Few Devices Connected to Same Wi-Fi
Certain WiFi routers come with a specified limit on the number of devices they can link to. When you attempt to link a WiFi hotspot on your mobile, make sure to look under the hotspot settings of your device to determine the limit(means the number of devices to be connected). I encountered this issue with my Android phone at one point. I tried to connect to a fifth device that is the Samsung TV, while four other devices were already connected to my phone's data using wireless Tethering.
If I removed other devices that were connected and increased the number of connections to cross the limit, my Samsung TV immediately linked with the WiFi network easily. In the same way, If you want to link TV to a WiFi router, you should take the initiative of disconnecting all other devices before connecting your TV on its own. So, disconnecting a few devices connected to the Same Wi-Fi will fix the issue of Samsung TV not connecting to WiFi.
Scan Network Signal Strength
When you found that your Samsung Smart TV constantly failing internet connectivity, then visit the Settings Menu > General Network and then Open Network settings >Navigate to Wireless, and see the number of lines(〢) that your network is showing. If you notice just one-two line or swinging or oscillating, you might not be experiencing a consistent connection. In this scenario, your television is linked to the network, however, you will not be capable of streaming or loading anything on TV. There are two ways to fix this issue:
Move Towards router: usually, we place the router at a long distance, which causes low signal power. Also, if it is located behind a lot of walls or a thick wall, you will face network issues. It is recommended to relocate the router closer to the Samsung TV or use a WiFi booster to increase the signal.
Running Router For Longtime: Sometimes we forget to shutdown our router for a long period of time, this heats the device too much. You need to off your router to cool down for a few mins, usually when you are not using it. It works for me like a charm.
Configure the DNS Server and IP Adress Manually
DNS (also known as Domain Name System) is a directory network that resolves hostnames ( gossipfunda.com, for instance) that are linked with the IP address. By default, gadgets such as mobiles, PC, and Smart TVs automatically determine DNS employing the IP address to bind the Internet. But, if you find that your device isn't able to do this due to any reason, you can set up the DNS server by yourself to fix the issue with your internet connection.
Here's how you can Configure the DNS servers on the Samsung Smart TV by yourself.
Find Network Status through Settings > General > Network.
You can cancel the test on the network and then select your IP setting. 
Proceed to DNS Settings and choose Enter Manually.
Now type 8.8.8.8 and pick the Done option.
Then, attempt to reconnect it.
This will resolve the DNS issue if there, and you will find the WI-FI running perfectly on the Samsung TV.
Restart the Main Network Source
There are many ways to do this, we are presenting two different ways:
Way 1: If you are not a techy person then go and find the main power supply of your home. Just turn the main MCB off for a few min. But take care of your wife, she will start shouting at you because you have cut the whole electricity of the house. This is the time to turn it ON. But it really works. Just try it.
Way 2: This procedure will allow you to hook your television to the WiFi connection in case of problems on either on the hotspot or router device's side.
Remove the power cable(supply) of the WiFi router/modem.
Just wait for 2-minutes, then replug the power cable.
Take 2 minutes to ensure when the router is finished, load the required settings for the internet(Like DNS resolved, etc).
Then, go into the wireless option via Settings > General> Network Settings > then open Network settings. Choose the WiFi network that you would like to connect to see whether the issue has been fixed or not. In most of the cases, it will fix the issue of Samsung TV not connecting to WiFi.
Network Compatibility Issue
If you have purchased your Samsung TV after 2020, you can skip this part. You know very well that most of the Smart TVs released prior to the year 2017 can only support 2.4 GHz networks. In this case, if your WiFi router is more than 3.0 GHz or 4G or 5G network, your Samsung TV will not be capable of detecting your WiFi connection, and the older TV is might not support it. You must call your internet service provider customer care to change your network's settings in this scenario.
Recommendation: If you have a reasonable budget, then purchase a new smart TV or call Samsung care to upgrade the network card of the TV.
Fix MAC Address Issue
Most of the time, your child or you search a lot on your TV, and mistakenly you are trying to access some restricted content. At this moment, Your ISP will block your MAC address, and you will not be able to access your WiFi connection. It would help if you tried to unblock it to fix the issue.
Navigate to Settings > Support > About This Television to locate the MAC address of the TV.
Call your IPS and ask them whether they blocked this MAC address or not. If Yes, you can ask him to unlock the account or include it in the whitelisted category.
Update Your Samsung TV's Firmware
Install the most recent available firmware for your TV. This will surely resolve the WiFi connection issue with the Samsung TV you are facing right now. Because you are facing a wifi connectivity issue, you can use an ethernet cable (if available in your TV model) for updation. Otherwise, you'll require to install the Firmware manually.
Change Your Modem or Router
Now you are reaching this topic, it means your problem is not fixed yet, and you're still experiencing an internet connection or WiFi issue. It is recommended to ask an internet service provider to upgrade/change your WiFi router. After installing an upgraded/changed modem or router, your issue will be resolved. 
Note: Make sure to turn off your TV prior to trying to connect your television for the first time modem/router setup and installation.
Factory Reset Your Samsung TV
If none of our methods work for you, then there is some unknown system issue with your TV. Either you have a MAC address error or something missing in the firmware. Factory Reset settings on your TV can resolve these problems.
Go to Settings > General.
Select Reset.
Input the PIN to begin the system's reset. It is the default password 0000 or 1234, Or enter the password you made before.
Caution: Factory Reset will delete the entire data of your TV, So keep a backup if required for you.
Contact Samsung Customer Care
This is one of the most easiest ways to fix the issue of Samsung TV not connecting to WiFi. If your TV is under warranty then good to go with this option. Otherwise, you may be charged for any change or updating made by the Samsung Customer Care Engineer. You can also opt to visit the nearest TV repair shop.
Time to buy a new Samsunsung TV
If you have been fed up with changing the router, upgrading your internet plan, resetting your TV, Turning ON-OFF TV or router many times, Contacting Samsung Customer Care, .etc, then it is the most favorable time to buy a new Samsunsung Smart TV.