Hello everyone and welcome back at Gossipfunda.com. This is your favorite author and I'm back again with a very useful topic that you might just come in handy someday. This time the topic in our hands is Fastboot. More specifically the command fastboot OEM device-info. As our usual routine is on this site, I'll be going through every little detail about this tool. Journeying through the tutorials of how to install it and how to boot it up, we'll also learn about the different ways fastboot can be extremely useful for your Android device.
Along with fastboot, we'll also be taking a quick look at a similar tool that is used for Android devices, known as ADB. I'll also try to clear up the confusion between the fastboot mode and the fastboot tool that is used from your PC. We'll also be talking about the different ways you can use to boot up into fastboot mode depending on the make of your phone.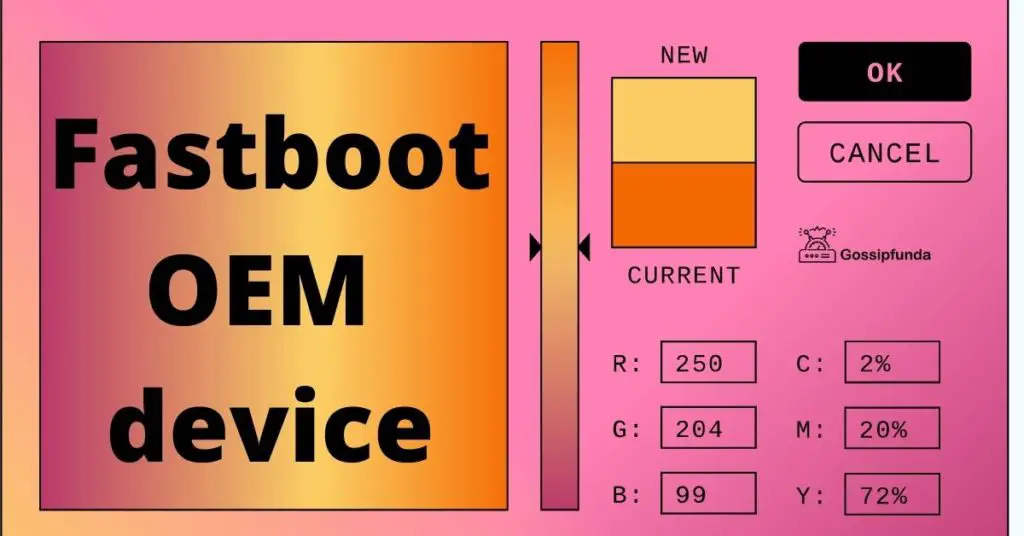 Introduction
Curiosity must have struck your mind moments before you decided to read this article. Maybe you became curious about the fastboot mode that is used in numerous different Android tutorials. Maybe you just wanted to learn about the PC tool developed by Google for use with the Android OS. Or maybe you wanted to learn more about the Fastboot protocol. If it was the third part, then you're out of luck as it is out of scope for this article, but if you're here for either of the other two reasons then you won't be disappointed.
We'll be taking a look at the corporation that built the Fastboot tool, the operating system that uses the tool, and finally the tool itself. Other than Fastboot, I'll also be talking about the widely used tool ADB and leaving you guys some small but nifty little tricks that are extremely useful as an Android user. So as always without wasting any time we should begin.
Google LLC
also known as just Google, is an American tech MNC. The company which started as a search engine site created by Larry Page and Sergey Brin now has expanded its services. The company now provides services such a cloud computing, software, and even hardware. The two Stanford Ph.D. students who co-founded the company now own about 14% of its shares. Since 2003, Google has had its headquarters in California which is also called Googleplex (the headquarters, not the state).
Since its rapid growth during the dot-com boom, Google has expanded the services it provides. Internet-based services provided by Google contain numerous tools for productivity and work management including Google Docs (Word, Excel, PowerPoint, etc. which can also export the documents in other formats), Google Drive (Cloud Storage service), G-Suite, or Google Workplace (Management portal for business owners), and many more. In the hardware industry, Google has experimented with Smartphones, Laptops (Chromebooks), Media Streaming Devices, and even Streaming based consoles, known as Google Stadia.
Alphabet Inc
After the 2015 restructuring of the company, Google became the subsidiary of Alphabet Inc. Sundar Pichai took over as the CEO of Google while Larry Page took over as the CEO of Alphabet Inc. Google and its related sites are among the top-visited websites in the whole world including Google.com, YouTube.com, Blogger.com, etc. As of 2021, the company employs more than 130 thousand employees and generates revenue of more than 180 billion US Dollars. In 2017 Sundar Pichai was also appointed to the Alphabet Board of Directors.
The world's most used operating system, Android is also owned and developed by Google. Apart from this, Google has also developed the Chome OS (an operating system based on Chrome), Wear OS (operating system based on Android for smartwatches), TV OS (for Smart TVs), and even an Android Auto (an operating system for automobiles)
Hardware manufactured by Google includes smartphone lines known as Google Nexus, Google Pixel. Apart from smartphones, Google also manufactures the Chromebook, Google WiFi (a set of routers that are used for extending wifi coverage), Google Home (a voice assistant), etc.
Google also has tried its hands at being an Internet Service Provider, Google Fiber provides a gigabit network connection in selected cities across the world.
Android
The world's most used operating system was developed by the Open Handset Alliance and was first disclosed in November 2007 and first released for smartphones in 2008. Most smartphones with Android OS ship with pre-installed software. More than 70% of the Android smartphones ship with Google's own GMS. Other than this there exist other forks of the Android repository such as the FireOS (developed by Amazon) or the LineageOS that are widely used in multiple devices. These make use of more open-sourced and free applications. Apart from the Google Play Store which is Google's default marketplace for Android apps, there exist third-party open-sourced marketplaces such as F-Droid, Aptoide, etc. Different variations of the operating system have been developed to use it on multiple different hardware such as smartwatches, media streaming devices, smart TVs, and even video game consoles.
Previous versions have been known by the names based on a dessert such as Donut, Eclair, JellyBeans, KitKat, etc.
Early prototypes of the Android OS included a version that resembled the BlackBerry OS with a QWERTY keyboard. The release of the Apple iPhone however forced the Android development team to push their design even further. This meant coming up with a touchscreen model and a more feature-rich operating system than the iOS. After more than 12 years of its release, it suffices to say that the Linux-based operating system was highly successful in accomplishing its goals.
read also: TWRP won't boot- How to Fix
Fastboot
As I said in the beginning of the article, there are three things by the name of Fastboot: the mode on your Android smartphone, the fastboot tool that is used by PC, and the communication protocol that is used to communicate between the PC and the Android hardware. Here though, the third part is out of scope for this article. The protocol is only used by the fastboot tool to communicate with the Android device while it is in fastboot mode, and you can know the device status by fastboot oem device-info.
To set up Fastboot on your PC, you need to follow these steps:
First of all, you will have to download a zip file from the official download link by Google.
Extract the file and place it somewhere specific.

If you want you can add the folder into your PATH variable. This would give you easy access to the ADB and Fastboot tool without needing to browse into the folder on the command line.
For ADB and Fastboot to work properly you need to download and install Universal ADB Driver ( https://adb.clockworkmod.com/ ).

After installing Universal ADB Driver, reboot.
Now in order to use Fastboot, your Android smartphone must be in Fastboot mode.
To get into Fastboot mode, you need to power off your device. Now press the appropriate keys that are required by your device to boot into Fastboot mode. You can get the correct key combination by simply googling it.
Most commonly the key combination is "Volume Down + Power Key" or "Home Button + Power Key"
When you've successfully booted into the Fastboot and connected the device to the PC using a data cable you can use the tool using a command-line tool like CMD, Powershell, etc.

If you have added the extracted folder into the PATH variable you can go ahead and launch CMD right from the Start Menu. Otherwise, you will have to browse into the extracted folder, press "Shift + Right-Click" and select "Open CMD Window here".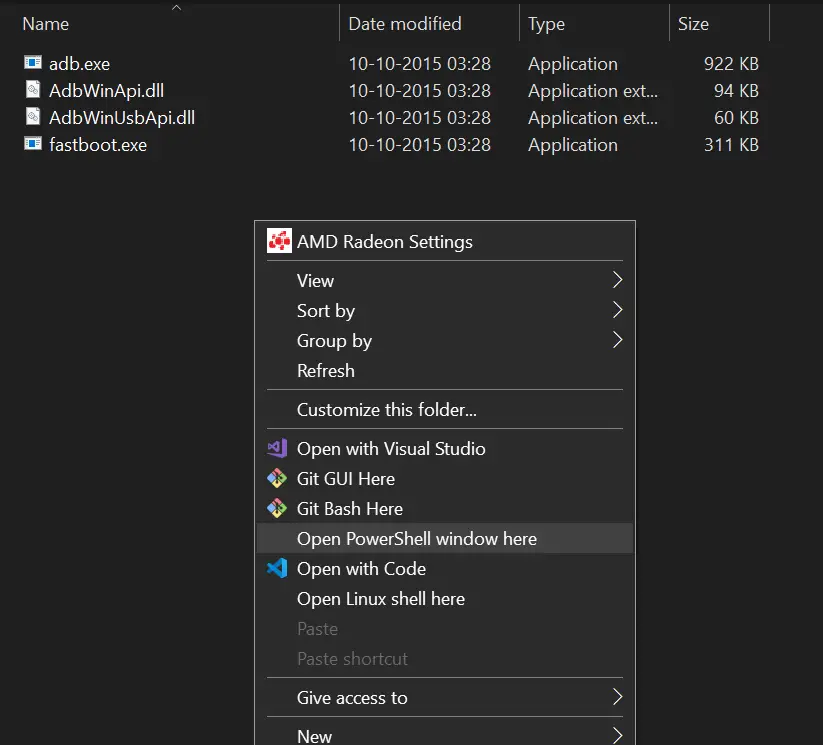 Now you can type in the command fastboot devices in order to verify that fastboot can discover your device.
Now you have got Fastboot perfectly working on your device.
FASTBOOT OEM DEVICE-INFO
Let's talk about the command that this article uses as its main title.
Entering this command in the command-line tool will give you results that provide information about your device. If you don't believe me, then go ahead and type the command fastboot oem device-info This will provide you details like the status of Verity Mode, Device Unlocked, Device critical unlocked, and Charger screen enabled. This information is generally used to identify if the bootloader is enabled or disabled on your Android smartphone. If Device unlocked is set to True, this means that the Bootloader is unlocked and vice-versa.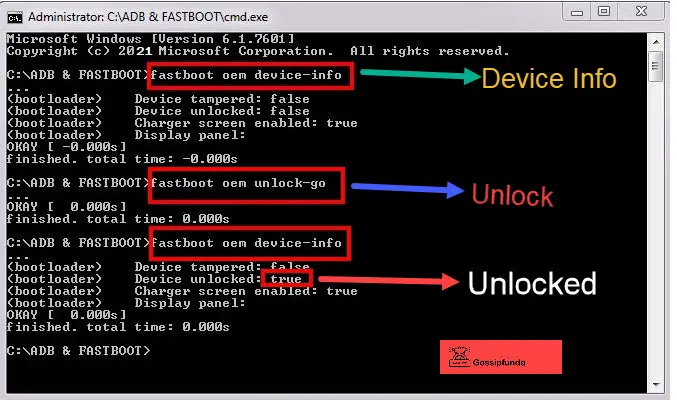 fastboot oem command:
fastboot oem ramdump_sahara
fastboot oem dump-chipid

fastboot oem set_config
fastboot oem rm_config

# In the same way add fastboot oem before the code mentioned below:
esim_erase
esim_atp
uart
HALT
sha1sum
ddrtest 
ramdump
dmesg
rma
factory-lock
continue-factory

check-hw-security
get_platform_info 
set_platform_info 
select-display-panel
setbrightness
get_config
off-mode-charge 
set_display_power_mode
enable-factory-lock

Some ADB Commands
ADB also known as Android Debug Bridge is used a very popular and useful tool used by thousands of people on a daily basis. Some important commands that you can use with Android Debug Bridge are as follows:
adb --help: This command displays all of the commands you can use along with ADB with some brief descriptions.
adb shell: The command opens up the shell on the device.
adb logcat: The command shows device logs in real-time.
adb install "file": Replacing file with the actual package name and running the command installs the desired package without any problems.
Conclusion
Once again we've come to the conclusion of fastboot oem device-info. This time we explored the world of Fastboot and the Android operating system in great detail. We first started the article with a brief history about the company that manufactured these tools like ADB and Fastboot and also owns the Android operating system, Google. We talked about the roots of Google, the company that started just as a Search Engine website, and how it has expanded over the years. Continuing on the topic of Google we also explored the numerous different services that Google provides to its millions of users. Following that, we jumped into the topic of the Android operating system and its different features and different ecosystems.
After that, we started the main topic of the article, the Fastboot tool, and the Android Debug Bridge tool. We learned how to properly download and install Fastboot and ADB along with the Universal ADB Driver. After that, we learned how to boot into the Fastboot mode in order to utilize the Fastboot tool. Finally, we talked about ADB. We talked about the different important commands that ADB uses to communicate with your Android smartphone.
If you liked this article, then do consider sharing it with your friends and family. Hope to see you again and Stay Safe.