Here in this article, we are dealing with Convert PDF to Google DOC to PDF Vice-Versa. Before diving deep into this article, I want to introduce the terms PDF and Google docs.
Further, we will understand why to convert pdf to google docs, what problems generate in this process and how to fix them. Though the process is painless, some changes that occur in the document at the end are very painful indeed. This article cum tutorial will make you aware of the fors and againsts of this conversion.
Do not miss:
What is a PDF?
PDF's complete form is "Portable Document Format". It was developed by Adobe in 1993 and made available free of charge. Also, it is standardized as ISO 32000. It is a combination of three technologies-
Subset of the PostScript page description programming language, for graphics and layout generation.
Font-embedding/replacement system
Structured storage system
 For the most part, this document format comes into operation when one needs to save files that cannot be modified and can be easily shared and printed. To read such files your system must have third-party software like Adobe reader, pdf reader, etc. or the pdf gets open in your system's browsers like google chrome, Microsoft edge etc. by default.
Note: Once a document saved as a pdf file cannot be converted back to a .txt or .docx file. To do so you have to again use a third-party software or you can do it online.
What is Google Docs?
As demystified by google – It is an online word processor that allows us to create and edit documents and work with others ."
This platform lets us to perform following functions on a word document:
Create new document
Edit and format any document
Share and collaborate with peers to work together
Google docs is a great alternative for MS- Word and Pages (MacOS) as it's available online and doesn't occupy any memory of our system. It is a part of Google Drive that can convert any JPG, PDF, GIF, or PNG file into a document with fully editable text. 
*To explore this further, you can refer the official documentation.
What is the need to convert a pdf to google doc?
First of all, as explained above, pdf format of any document is non-editable. Or you have to use third-party pdf editors that are available online to edit the pdf. But the most efficient way is to convert it in a word/doc file to edit the content.
The greatest advantage of obtaining a doc file of a pdf file is that many people can edit/manage the same document without generating copies and saving them on the system.
How to Convert PDF to Google Doc
Steps for Conversion:
Open Google Docs on browser -> Then My Drive -> Then drag the file to be converted.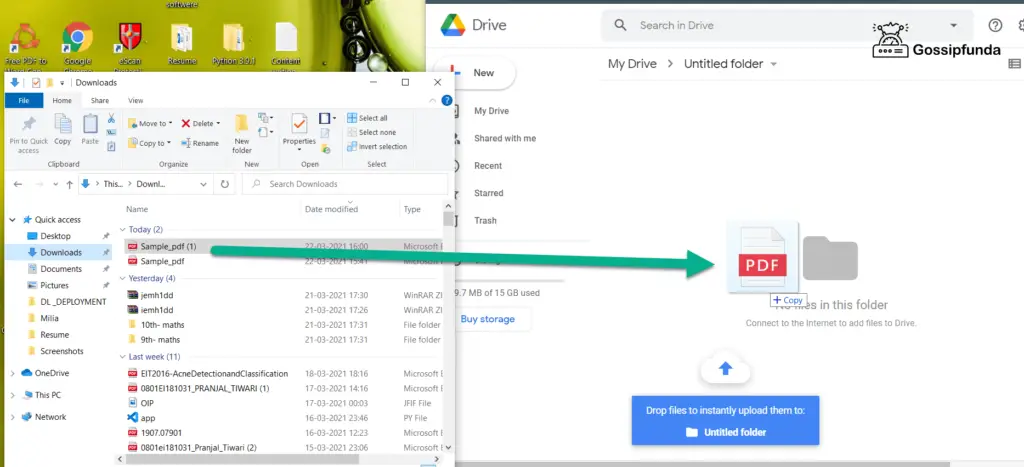 Right click on the Uploaded file -> From the dropdown click on "Open With" -> Then select "Google Docs".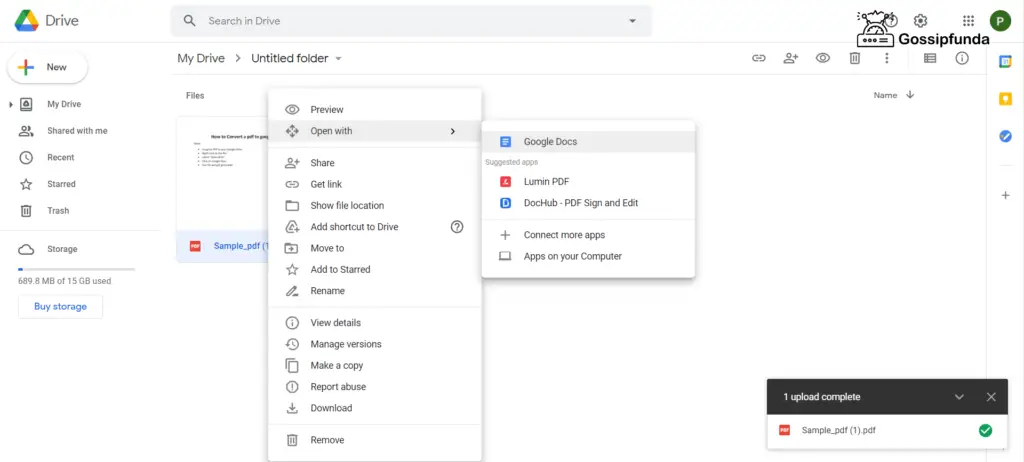 The file gets converted into an editable doc file.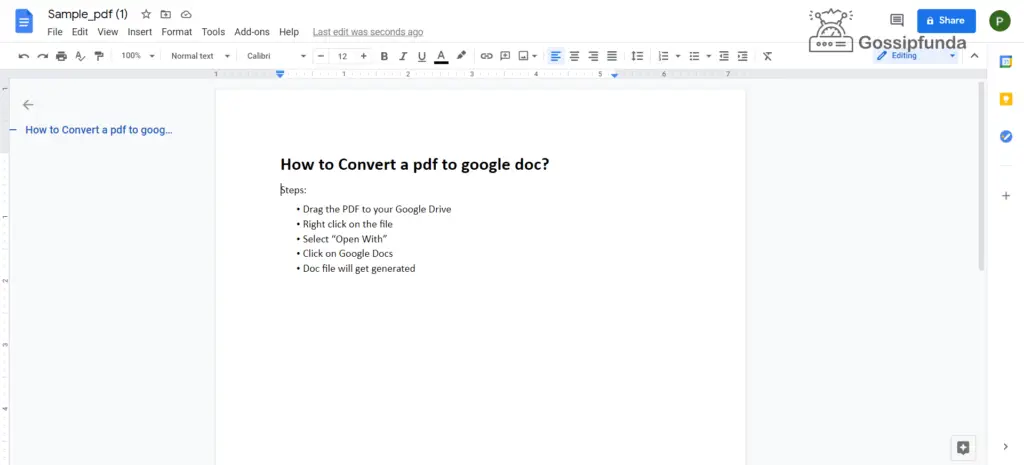 The new document will own the same name as the previous file but with .docx extension.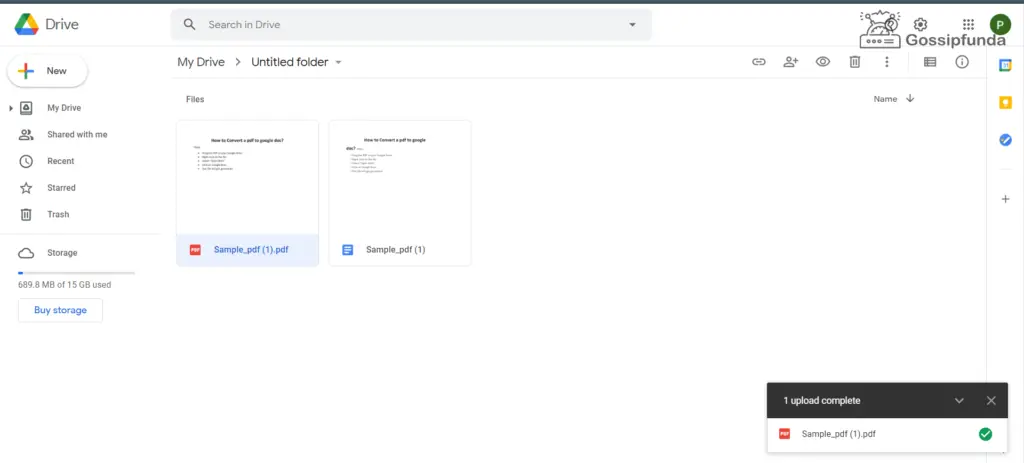 This Doc file can be shared with others to work upon or just to view. For this, click on the "Share" button in blue on the top right corner of the window. Then add people/their mails and click 'Done'. Your document will be accessed by the added people.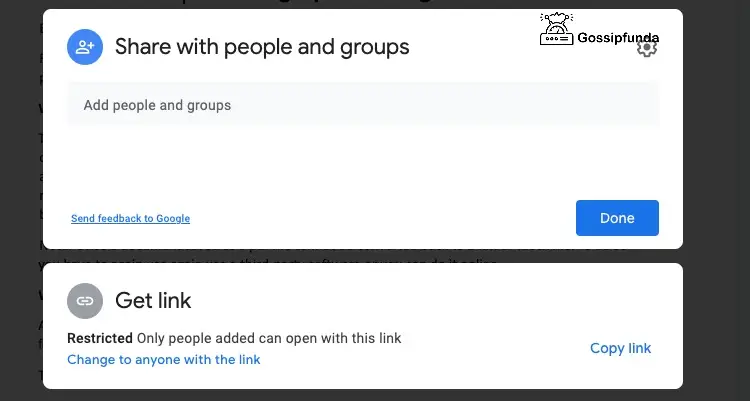 Issues and fixes while converting a pdf to Google doc
During the conversion the new document doesn't remain the same as the original one.
Issue: On conversion format gets distorted.
-> Some of the errors are as follows:
Double spaces become single spaces
Single spacing modifies to no spacing
Indentation eliminates
Numbered and bullet lists change into a single paragraph
Fields to be filled in fillable forms abolish
Fix:  If the pdf document is to be printed as well, so instead of using Google Docs to open + export/print/download, after uploading PDF, right click it and from the dropdown arrow select DocHub as an option. Everything remains the same on import and on export.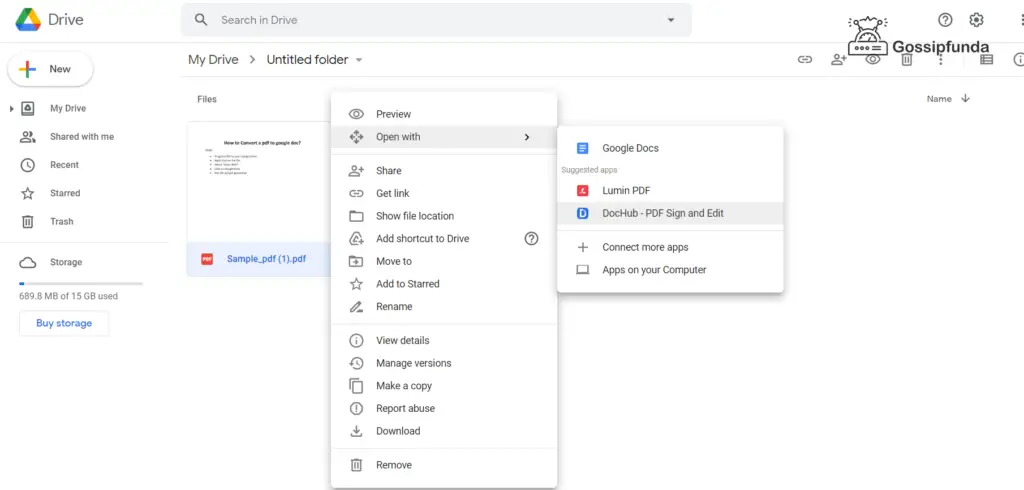 Issue – PDF file is not loading properly on Google Docs while opening it. It either doesn't open or takes too much time to open.
Fix – Firstly make sure that the file size does not exceed 2MBs. Secondly, clear your cache memory.
What is the Need of Converting a Google Doc to pdf
It is always recommended to convert the document into a pdf file before printing/exporting or using it commercially or for business purposes. Reasons/benefits that prove reliability on pdfs are:
Data Storage Security – PDFs put forward excellent security options that prove them an intrinsic alternative for long-term document storage. You can keep documents safely, securely, and password-protected with advanced encryption. This file format lets us decide which person can access the data.
Word/Doc/Pages file Don't keep their formatting – MS Word/Google Docs/OneDrive/Pages (MacOS) reformats documents every time when opened on a different system. Even if you change the printer on the same system, the original format will be lost. Therefore, converting a .docx file to a .pdf file is always advisable to preserve the format.
Mismatched References – For a long document page numbers may disturb on opening it on any other system. This can disturb the reports and eBooks. Such documents should always be converted into pdf without any second opinion.
Various Word Processors – Different systems have different word processors along with different versions. This usually leads to format distortion of the same document. So, it is better to first convert the document to pdf, then share it to another system, convert it again to .doc and work on it.
 Best file format for mobile phones – PDFs are the most comfortable file format to access through mobiles. PDF reader apps are freely available while Word processors are costly. Here PDFs justice with their names i.e., "Portable Document Format".
How to Convert a Google Doc to pdf
3 Methods for Converting a Google Doc to pdf
Method -I PDF Document Menu
Open the document which is to be converted into pdf on Google Docs
Click on the 'File' menu on the menu bar
From the pop-down menu click on 'Download'
From the pop-down menu click on 'PDF Document (.pdf)'.
Documents will be downloaded with .pdf extension.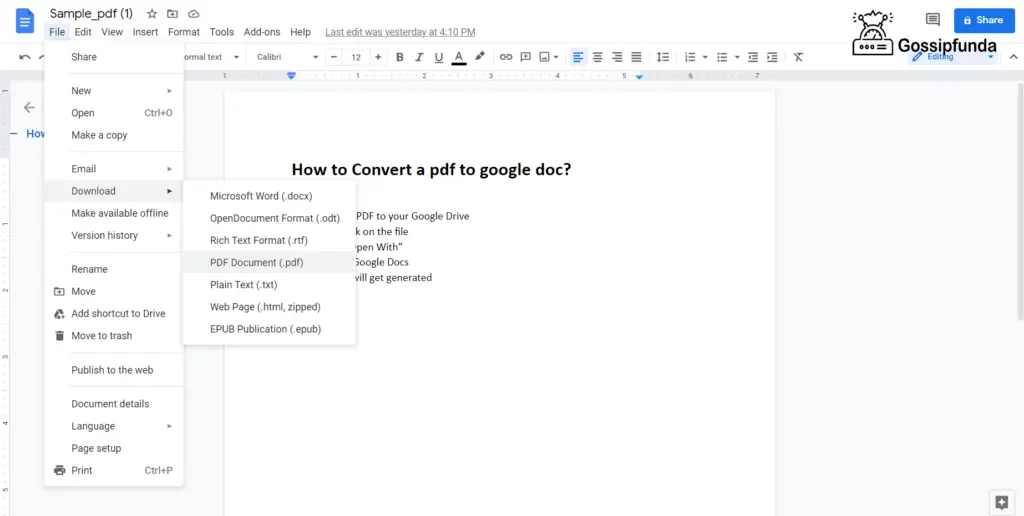 Method – II : 'Print' option
Open the document which is to be converted into pdf on Google Docs
Click on 'File' menu on menu bar
From the pop-down menu click on the 'Print' option. A window will open on your screen.
From the pop-down bar of Destination select 'Save as PDF'.
Click 'Save' and the document will be downloaded as pdf.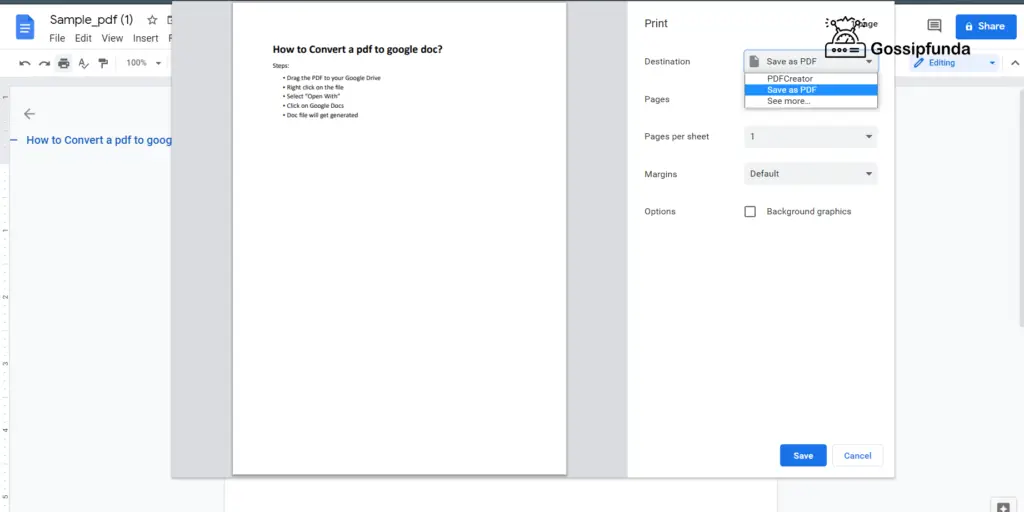 Method – III Save as PDF
Open the document which is to be converted into pdf on Google Docs
From the top left corner of the window click on the 'Print icon'. A window will open on your screen.
From the drop-down bar of Destination select 'Save as PDF'.
Click 'Save' and the document will be downloaded as pdf.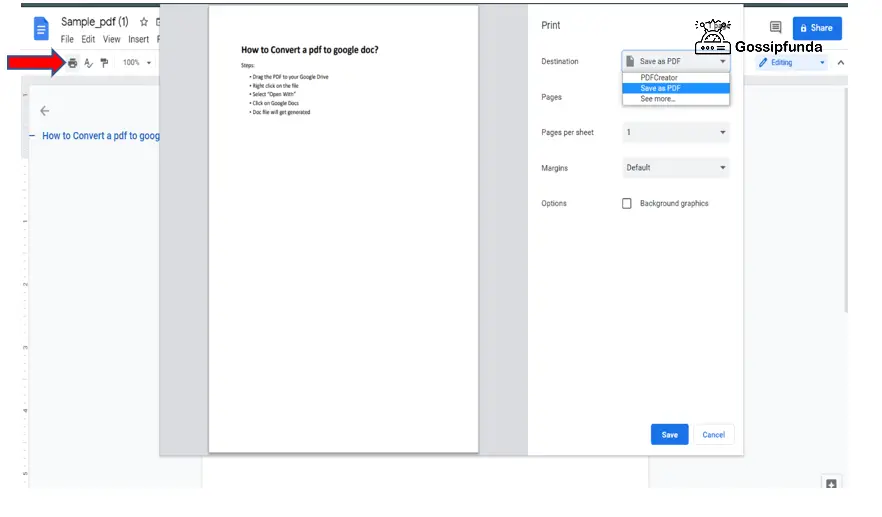 Issues and fixes for converting a Google doc to pdf
Issue – Large Google docs can't be downloaded as pdf. Although it can be downloaded in other formats like .docx, .odt, .rtf, .txt, .html. But the same problem of format and content distortion exists with other formats.
Fix – Choose the 'Print' icon from the top left corner or 'Print' option from the file menu. Then customize the pages selection i.e., divide the whole document into some sections and download the doc in parts. Then work on them according to you and then you have to merge those sub parts into a complete pdf. Be aware with the reality that this is a very hectic and annoying process indeed.
At present there is no official documentation related to the limits of the Google doc to PDF conversion. But some information regarding this is available in the Google Docs Help Forum.
Note: Google Docs limit to 1.02 million of characters. Text files which are to be converted to Google Doc format should not go beyond 50MB.
PDF or Doc?
This section is dedicated for briefing the most efficient usage of PDF and Doc according to the requirement.
PDF format is better when –
Printing/Exporting – PDF creates a "What You See Is What You Get" file which ensures that what is visible on the screen is exactly what you'll get in your print. When you want to produce a high-quality document in which precise page layout and high-resolution images are the necessities, then PDF is the best option. PDF files are usually accepted by all types of printers.
Soft copies instead of papers – When you want to convert your papers i.e., hard copy of the document into soft copy, PDF is the natural choice.
Archiving: On compressing PDF files get very compact, hence they are ideal for storage. Also, it is trouble-free to search PDF files. Hence it makes archived items easy to find, organize and categorize.
Multiple forms in one- PDFs can contain text, images of various formats (img, jpg, jfif etc.), spreadsheets, vector graphics, and more in a single document.
Doc format is better when-
The most important application of Doc file for which no other format suits is
Editing: While working on a document doc file is best format as word processors provide plenty of creating, formatting and editing tools.
Conclusion
Hope you find both of the solution to convert PDF to Google DOC to PDF Vice-Versa. Some online converters are also available for pdf to doc conversion. Put your comment below what you do for that. And do not forget to share.