The most common format of videos is MP4, but are you aware that not all video editors support it? So, if you are just starting your path in video editing and are looking for the right software, you should search for one that is able to edit MP4 files. And it would be great if it's free too, so you can have as much time as you want to try it and make your choice. Keep on reading this article and learn about the best top 4 free MP4 video editors.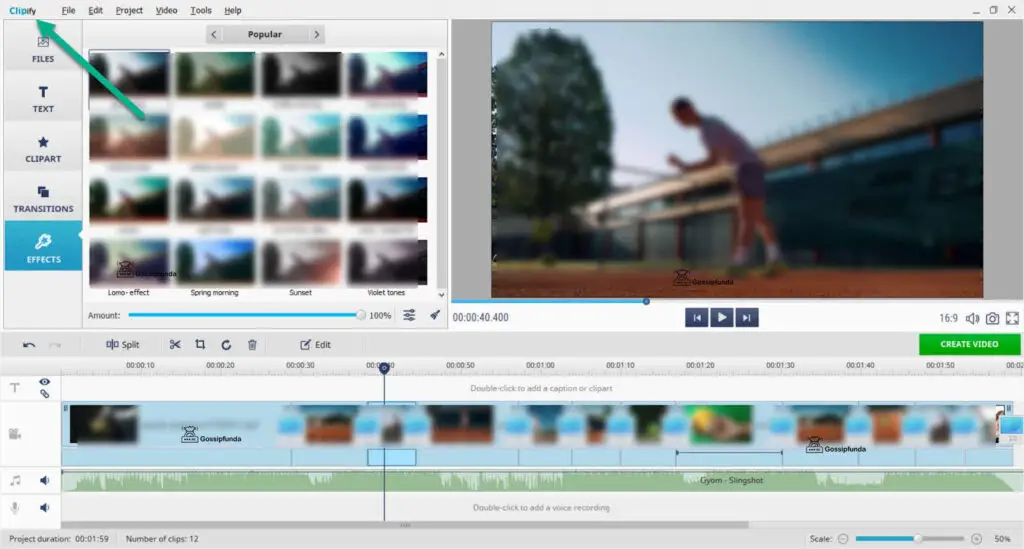 OpenShot
The first software on our list is OpenShot. It's a free and open-source MP4 video editor that runs on Windows, macOS, and Linux. This software allows you to carry out all the basic editing – rotate, trim and split your videos, change the video speed and apply transitions between clips. You can add effects or remove the background, adjust the colors, and much more. There are unlimited tracks for audio, video,  images, captions, etc. You can add titles of your own or use the software templates.  The software also allows you to create key-frame and 3D animations. And the program has a simple and friendly interface and supports over 70 languages. OpenShot is positioned as an easy-to-use software, but there is one significant disadvantage to it – according to user reviews it has unstable performance and tends to be slow with larger files. 
Clipify
Now let's move to the second software – Clipify and see how to edit MP4 video files in it. This easy-to-use video editor has all the essential tools you need for making a perfect movie. You can edit MP4 videos in a few clicks using the automatic Wizard mode or by starting a blank project. This free software offers basic tools like cropping, splitting, and changing the video speed. But there is also a vast variety of more complex tools. You can enhance the video quality automatically in a click,  by adjusting sliders or using the curves for more precise correction. Change the look of your video by applying one of the 160 special effects – vintage, romantic, artistic, or others. Spice up your movies with cliparts and texts, add titles and end screens. Insert different transitions between the clips for a smooth change of scene. 
This editor will be a great choice if you need basic and advanced tools combined with a user-friendly interface. 
Lightworks
Program number three in our review is Lightworks. It's a cross-platform video editor aimed at filmmakers and advanced users that supports MP4 editing alongside other video formats. It has four workspaces – for working with metadata, editing video and audio files, and for working with visual effects and texts. A lot of actions are performed using hotkeys. All your added videos are color-corrected by default, but you can make manual adjustments. There is a library of effects divided into categories and you can adjust the strength of the applied effect. You can add titles and text and fine-tune the caption settings. The software also offers advanced features like an audio mixer, equalizer, and audio effects.  Lightworks looks like a bit more complicated program compared to the first two on our list. It has a neat interface and various tools along with a steep learning curve. 
iMovie
And at last, let's find out how to edit an MP4 file in iMovie. This editor comes preinstalled on Apple devices. So if you are an Apple fan, feel free to try it first. The program supports a wide range of formats, including high-definition videos. There is a vast variety of tools including tools to adjust video colors, trim, crop and rotate clips, change the speed, etc. You can also stabilize shaky footage, replace the background or create a picture-in-picture effect. iMovie offers tools for audio editings, such as reducing noises and boosting volume. You can add titles, credits, and texts to your videos, and add transitions and filters. To sum it up, iMovie is a powerful and easy-to-use MP4 video editor, and the only drawback is that it's not available for Windows. 
So, this was our review of the top 4 free video editing programs that support MP4 files. We hope that it will help you choose the program that will meet your requirements, abilities and will be efficient for your current needs.