How to record audio on windows 10: If you want to record any sound or audio on your Windows 10 laptop or PC, then you are in the right place. Here, first, we discuss what an audio and technical detail about it is.  We will discuss what the audio recorder is and how to use it. After that, we discuss some software and its uses for recording as well as editing an audio file.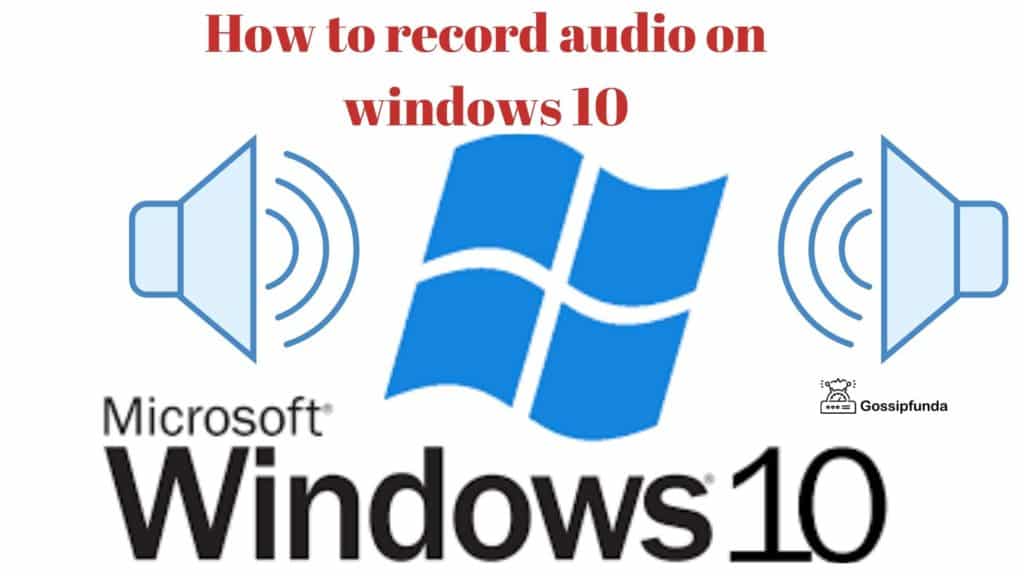 What is the audio
Audio refers to any sound which is measured in hertz and used for the purpose of some kind of noise or sound. First, let's talk about where this audio comes from. The audio we record is coming from the audio signal. Let's discuss the Audio signal.
Audio Signal
Basically, the audio signal is a way of representing the sound. The science that applies behind is within an electrical point of view. The audio signal uses some level of electrical voltages in the analog signals.  This signal comes from a series of binary numbers as well as digital signals. The range of frequencies of these audio signals is from 20 to 20,000 Hz.
Here 20 Hz is the lower limit of human hearing, and 20,000 Hz is the upper limit of human hearing. These audio signals originate as a transducer by using an input device for audio. For this purpose, we can use a microphone, musical instrument pickup, phonographic cartridge, and a tap-head.
After we enter these input signals, the process ends by obtaining the output sound. As an output device, we can use loudspeakers or headphones.
Note that this audio processing may need many other small components.
The process of Audio signals includes these processes in a theory basis.
Signal flow
Parameters
Digital equivalent
Audio recorder
An Audio recorder captures the sound and saves it as a file in the system. These files are transferable to any other compatible device. It plays an important role in a lot of sectors. Let's talk about some of the uses of audio recording.
We can record all the conversations and audible data with audio recording devices/software for saving relevant data and information
List of Audio File Extension
MP3
M4A
FLAC
WAV
AA3
How to record audio on windows 10?
Windows 10 contains a free Voice Recording App as a remedy to record audio on your computer while having interviews, lectures, listening to podcasts, and a lot of different things. Although there are many applications, Windows 10 lets us experience recording audio without using third-party software. The Voice Recorder app is so compatible that we can record audio even if we don't have a Stereo Mix option or a microphone in our system.
Let's go through the steps to record audio using Microsoft Voice Recorder.
Switch on your system.
Install the "Microsoft Voice Recorder" application using Microsoft Store.
Now, open the app, and you'll find a blue-color "Record button," move your cursor to the "Record Button" and tap on it to enable audio recording. You can also use "Ctrl + R" as a shortcut to start recording.
Press "Stop" or tap on a blue color "Record button" to stop recording.
A tab will appear on the left side, and you can find your file/recording on that tab.
Press the "Play" button to playback audio. You are independent of editing (export, trim or delete) your file. You can find these options on the bottom-right corner.
read also: How to Fix Windows 10 Randomly Freezing?
How to record audio using third-party software
You can record audio using multiple applications; we'll go through some of the best software.
Stereo Mix
Stereo Mix provides us a unique recording option through sound drivers. We can use Stereo Mix as an alternative of a microphone or audio line-in input and access audio recording on any third-party or in-built application. On the updated versions of Windows, we have to enable the Stereo Mix as it is disabled initially. Steps to be taken to use Stereo Mix on Windows:
Go to the toolbar located at the bottom-right corner. Tap on the icon of audio and then select the option of "Recording devices."
The whole setting pane will get opened.
Right-click anywhere on the setting pane and enable both "Show Disabled Devices" and "Show Disconnected Devices." You will be shown "Stereo Mix" with disabling by default.
Right-click on the column and select "Enable" to allow access to an audio recording.
Note: – In multiple cases, the chipsets are not able to access the audio recording. It might be due to the particular update that does not support the feature, or else if they are outdated. In such cases, you can go for software like Sound Tap Streaming Audio Recorder. Let's talk about Sound Tap in brief.
Sound Tap
Sound tap is a software developed by NCH Software that records and converts any audio by an audio driver to experience digital audio quality. It is supported on Windows 8, Windows 7, Windows Vista, and Windows XP. The developers assure that there will be no quality loss while converting ds2 files into mp3 using Sound Tap.
VideoSolo Screen Recorder
This software is multifunctional, you can use it for the different functions:
Capturing screen movements on your PC to High Definition video.
Record the audio from the PC output as well as your microphone together as per your need.
Catch screenshot of demanding screen sections on Windows and macOS both.
Here are the steps to record audio on windows 10 using VideoSolo Screen Recorder:
Step 1: Go and visit the site, toggle to Win for windows, click on the download button.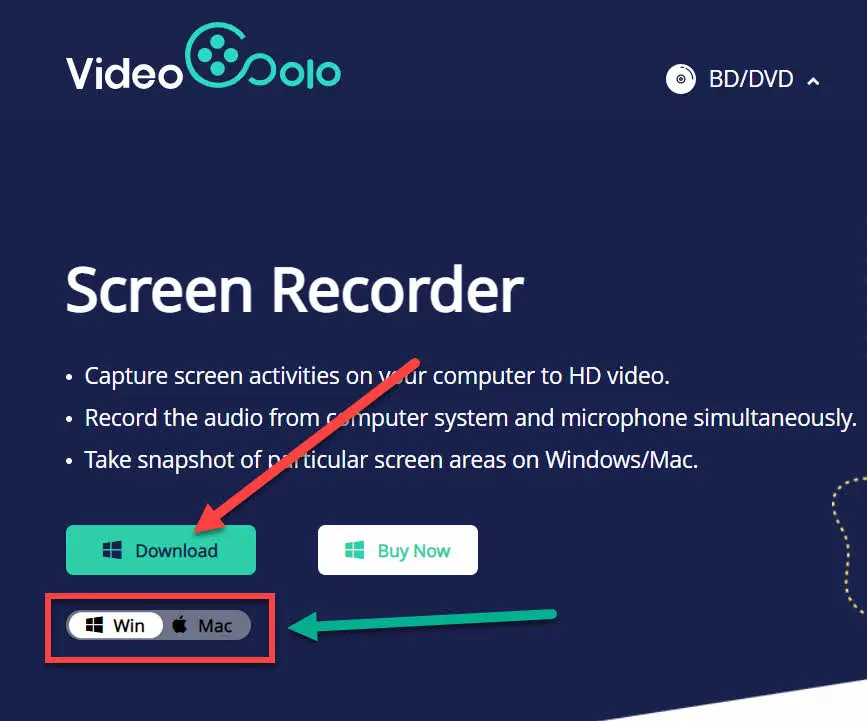 Step 2: Next step is to click VideoSolo Screen Recorder Installer.
Step 3: tap to Install button.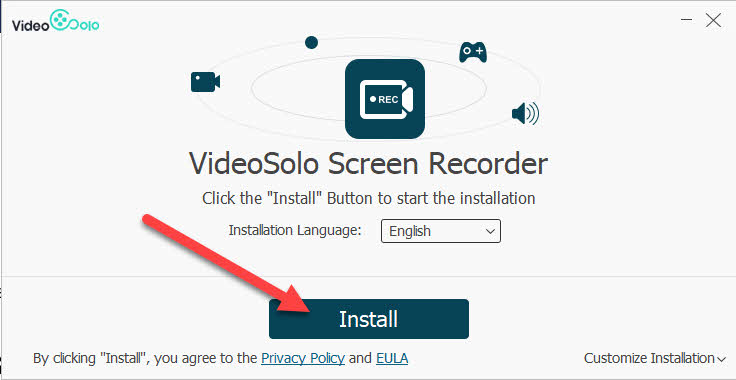 Step 4: It gets installed successfully, now click on start now.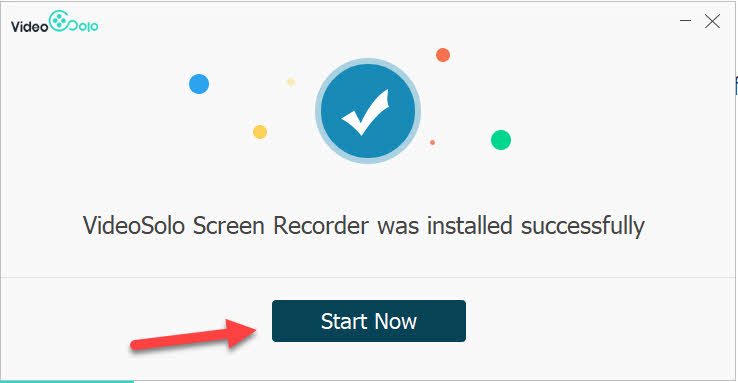 Step 5: Buy the license key to unlock more features. You can try the free trial version by clicking on it.
Step 6: Click on the recorder audio button, to record your audio on windows 10.
Step 7: You will find the PC audio & microphone audio, toggle them to ON, according to your need. Then click on record. You can pause in between as per your necessity.

Step 8: Once your recording is done click to stop. This will pop-up a window where you have more options to listen, clip audio, etc. After performing as per your requirement click on save. And you have finally recoded your audio on windows 10.
Where can we find Sound Tap
We can buy this item from Online Retails Shops like Amazon. It is available for US$ 29.99 at Amazon. Search for "Sound Tap Streaming Audio Recorder"
What to do when you want free audio recording software
There is nothing to worry about. We've got Audacity's WASAPI Loopback. Microsoft Vista has added this software. It is called a Windows Audio Session API i.e., WASAPI. Windows 7, 8, and 10 support this software and help to overcome if you are not able to access Stereo Mix. It is very to record audio. You just have to push the record button and stop it when you're done. Audacity has got many other options to edit the audio like trimming and other edit options.  We can record audio at a higher quality using WASAPI.
Use of Audio Cable
We can use Audio cable as an alternative to Stereo Mix or any other software. It's a kind of hack, or we can say a low-tech solution. We need to get any audio cable from a store with both ends having a 3.5mm connector. Join one hand into the line-out and another into line-in.
Record internal audios in Windows through Voice Recorder.
Voice recorder is an in-built application in Windows 10, which helps us to record audios from the system from the microphone too. All we have to do is,
Click "System Audio" to enable the internal recording sound in the "Record Audio" tab. 
Press the "Microphone" button to enable recording audio from the microphone.
Click on the "Recording" button to start the process of recording.
Again press the "Recording" button to stop the record, and don't forget to save the file.  
don't miss: Windows 20 the new concept
Specifications of an ideal Audio Recorder
If you are searching for the best audio recorder in the market, you can check these must-have specifications for your audio recorder.
The main specification that is most important is the audio quality. It should have good audio quality, and the quality of recording should be good.
The audio recorders are in different shapes and sizes. You have chosen that one which is easy to carry and light in weight.
Also, a point to be noted that you can store as much as you want. So, keep in check with memory storage.
You can easily share your files with that recorder to your device.
It should have the best editing. If you want to record audio o a daily basis, you can buy a recorder with basic editing options.
The battery life of your recorder must be a concern. So that you can use it for a more extended time.
The option of Voice activation should be there. It means that it will stop recording after there is no sound.
The recording time should be enough in your audio recorder.  Audio Recording Software for Windows
If you are using a Windows PC and if you want to record audio for any purpose, then you can use this software. Here is the best software available for this purpose.
Best software to record audio
1. Adobe Audition
As its name suggests, it is one of the services offered by Adobe platform. It is one of the most trusted as well as one of the most used audio recording software available in the market. It will definitely increase the user's experience as well as enhances it. This software is highly recommended by the technical experts, professionals as well as tech gurus. If you are looking for the best audio recording option, you can definitely go for it.
2. Filmora Scrn
If you want the best and trusted software for recording audio on your PC, you can use Filmora Scrn. Many people use this software if we talk about GUI. One of the most promising features of Filmora Scrn is that it has an excellent user interface.
You can use many advanced features in this software. If you are using Mac, there also you can use this software. By seeing all these features, you know now that why this software is so reliable in terms of the user base.
3. Ocenaudio
In comparison to other audio recording software, Ocenaudio provides us with many extra benefits. The user interface of Ocenaudio is technical in some sort, but we can use this software for recording out day to day audio. We can also edit these audio files with great advanced features.
4. Wave Pad
Wave Pad is one of the most used audio recording software. The main advantage you get with this software is the perfection in audio recording. Wave Pad is compatible with many audio formats available in the market. Many professionals use this program, and due to this, the value of this software increases.
see also: How to fix error 0x800706be in Windows 10
Pros and Cons of Recording an Analog Audio
Here, we discuss some pros as well as cons of recording analog audio.
Pros:
Once we record audio, it can be easily stored or archived.
Analog audio has a better output for the theoretical sound.
We can easily edit analog sounds by some simple splices.
Cons:
If we talk about a good analog recorder, then it can be expensive.
Analog recorders require proper maintenance.
Analog sounds are harder to synchronize.
Conclusion
How to record audio on windows 10: In this article, we have covered, what is audio, audio signal, as well as the need for it. At last, we discussed some of the sound recording and editing software available in the market. I hope you got your solution here. Your feedback is valuable to us.