How to refresh outlook using different ways? In this blog, we will get an idea of a refreshing outlook in many ways which would help you and your outlook to be more fluent and friendly. We all know about the Gmail service provided by Google to receive Documents, messages, etc. But do you all know about the Outlook service provided by Microsoft which has better features and functions than Gmail? Let's crack the code of Outlook and know about this software in a better way. But, before going through this article a wide vision is provided by Gossip funda to precisely understand the concept of Outlook and its application.
What is Outlook?
The outlook was created by Microsoft in the year 1997 and on Jan 31. Originally outlook was called Hotmail, but the company rebranded it as the outlook in the year 2012. The outlook is a software system used for personal organization. In simple words, you can define outlook as an e-mail software application that allows people to send and read emails on their devices. It is also known as personal information management because it manages different types of personal records, namely appointments, projects, communications and documents, and similar entries. It also has many applications like web browsing, calendar, time management ( task management ), etc. Outlook provides a free version, Using a comparable graphical interface. 
Read also: How to add a Signature, Calendar, Meeting, Customize Inbox in Outlook?
Applications of Outlook:-
There is a wide application available for Microsoft Outlook. Let's encounter them one by one.
You can transfer your private information to your smartphone, laptop, and other gadgets with the help of Microsoft Outlook.
A significant subject is being able to operate on email despite wondering whether they have been linked to the Network or the Internet. Outlook provides this amazing service of access without the internet which makes it more comfortable for users. The Outlook client can immediately log-in to the Windows account. For organizations where workers share computers, this is a valuable function.
Outlook offers different places to view the messages and mail that consumers are hunting for. You can either search in the folders, categorize the emails or even sort the mails in inbox. You can't find these functions in Gmail.
When we use Outlook Email, clients are created to minimize spam communications, enhancing a company's overall protection is one of the best advantages in terms of security. Received documents, files, messages are scanned by Microsoft Outlook and then is correlated with spam emails or malicious files intended to inflict harm.
Now let's discover different ways to refresh outlook.
Why should we refresh Outlook?
Sometimes the mail sent from the sender takes time to reach. By refreshing your Outlook, the process of receiving and sending mail will be much easier and convenient.
How to refresh outlook
Gossipfunda providing 4 different methods to refresh outlook. It will work for mac and windows both. Using these tricks you can refresh mail in outlook.
Method 1: Enable Auto-Refresh option
Unbolt outlook.
Open the Send/ Receive tab available on the top of the window.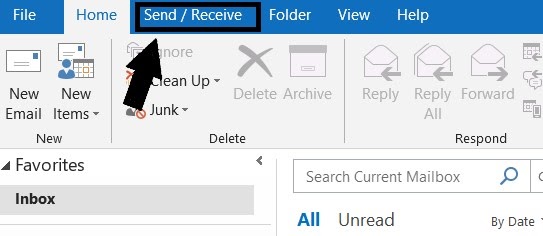 Then click on the "send/ Receive groups" option available.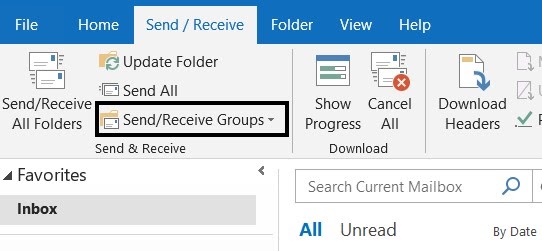 Click on "Define send and Receive Groups".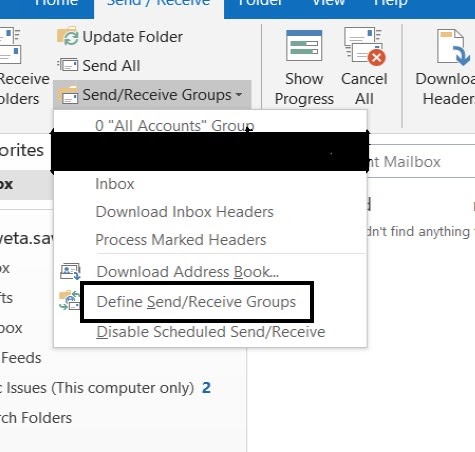 Under "Setting for group ->All Account", enable the schedule an automatic send receive option and set your own time.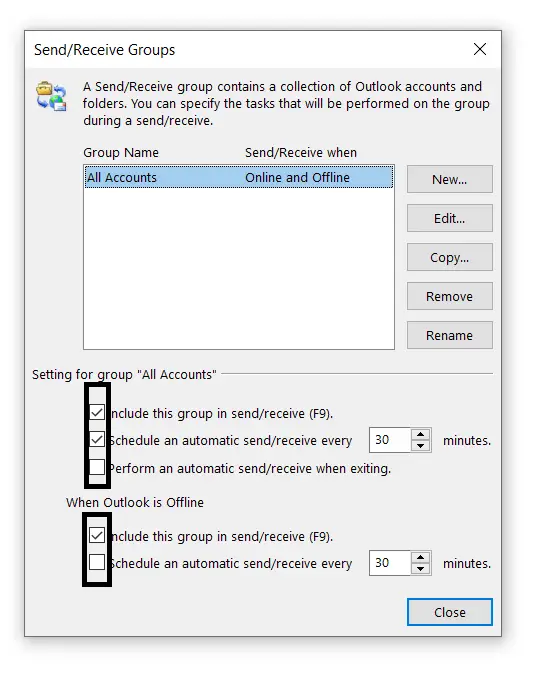 Right below that you will find "When the outlook is offline"
Enable both the option below that i.e

Include this group in send/ receive (F9)
 schedule an automatic send-receive (set your own time).
This is how you can go ahead and auto-refresh your outlook according to your time.
Method 2:- Send receive all the folders option
Open outlook.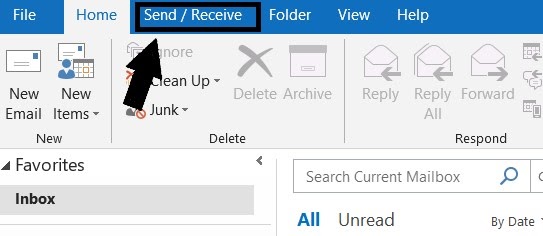 Open the Send/ Receive tab available on the top of the window.

Click on the "Send receive all the folders" option available.
It will automatically refresh the outlook mail window.
Method 3:- Advance option to refresh mail in Outlook
unlock/open outlook.
Click on the file option present at the top left corner.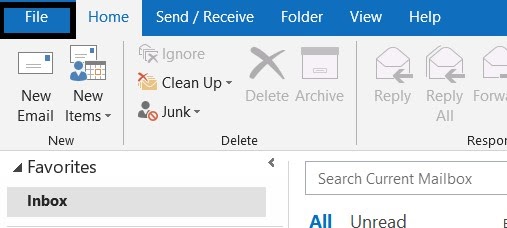 Click on the option.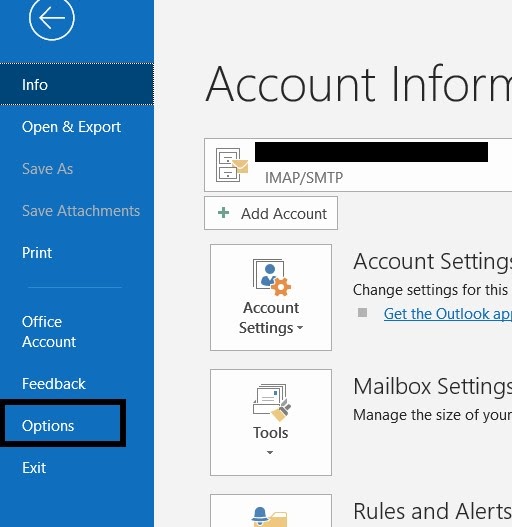 You will see a window opened on your screen, click on the "Advanced" option.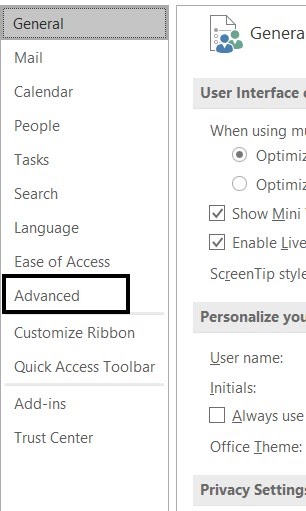 You can find the 'send/receive' option by scrolling down the page.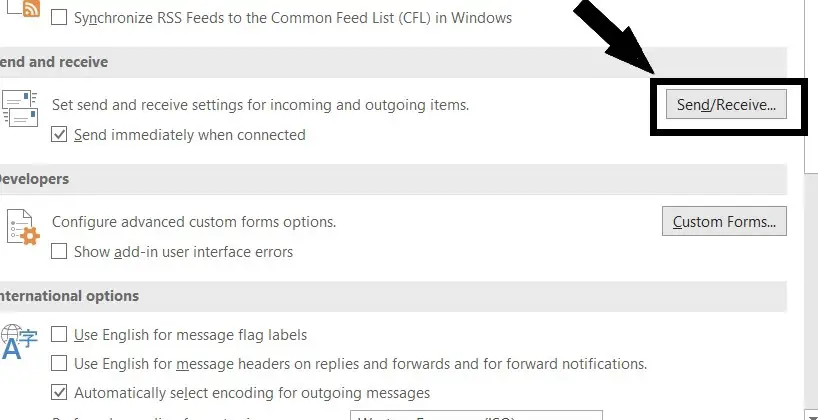 When you press it a window will open up. 
Under "Setting for group All Account", allow the Automatic Send Receive schedule option and set your own time." 
Right below that you will find "When outlook is offline"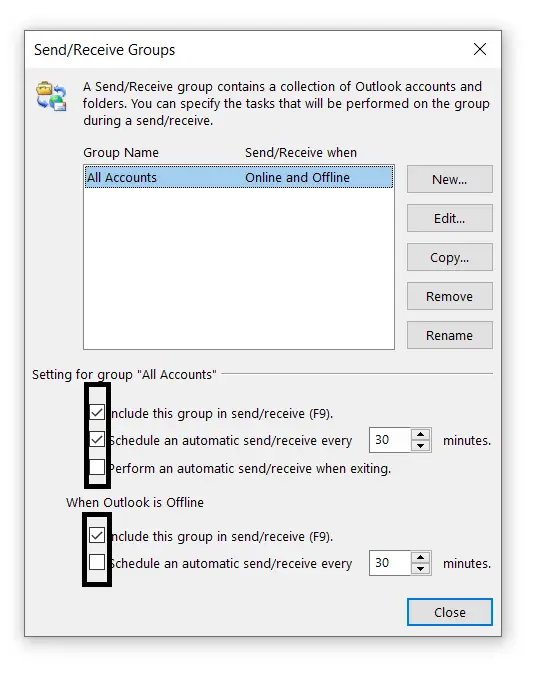 Enable both of the options below, i.e. 

Include in send/receive (F9) this group 
Schedule receipt of automated sending (set your own time).
Method 4:- Shortcut to refresh outlook
Open outlook.
Press F9 + FN tabs on your keyboard.
Now click on the Send/Receive tab available on the top of the window.
Press upon this option "Send receive all folders".
Conclusion:-
These are the four methods that will help you to refresh your outlook account. If you know any new or easy method, please let us know.