Welcome you all folks. Just wondering how many ways you know that you can restart your android smartphone because in this article I am going to cover how to restart android phone in different ways. I am going to show you several ways different ways that will teach you how to restart your android phone. All of the methods are only for android but some of them also work for an iPhone too. So, make sure to share those methods with your iPhone buddies. I am also gonna discuss why you should not always use the power button of your android phone to restart it so, make sure to read the article thoroughly. 
What happens when you restart your smartphone? 
We restart our phones so often but have you ever wondered what happens to your phone when you do it? We literally restart it at any minor inconvenience. Let me tell you. We all know the fact that whenever we restart our phone it starts to run fast and better. It has to do with your device's RAM. Many of you don't know that it is okay if your android phone's RAM is full since it is a Unix-based operating system. But when you restart it the RAM of your phone gets cleared out. Everything that was occupying the RAM is ended. That's why you experience a fresh experience after that since you are starting from a new phase.
But we don't always restart/reboot our phone for this, we mostly restart the phone so that the minor common issues are facing get solved. Sometimes it helps you and sometimes it does nothing more than a simple restart. Let's say that you are having trouble with one app and you close then open it again. But when you do it there are still parts of it left in the RAM therefore restarting is the optimal solution. Restarting the phone also ends those parts of the app left in RAM.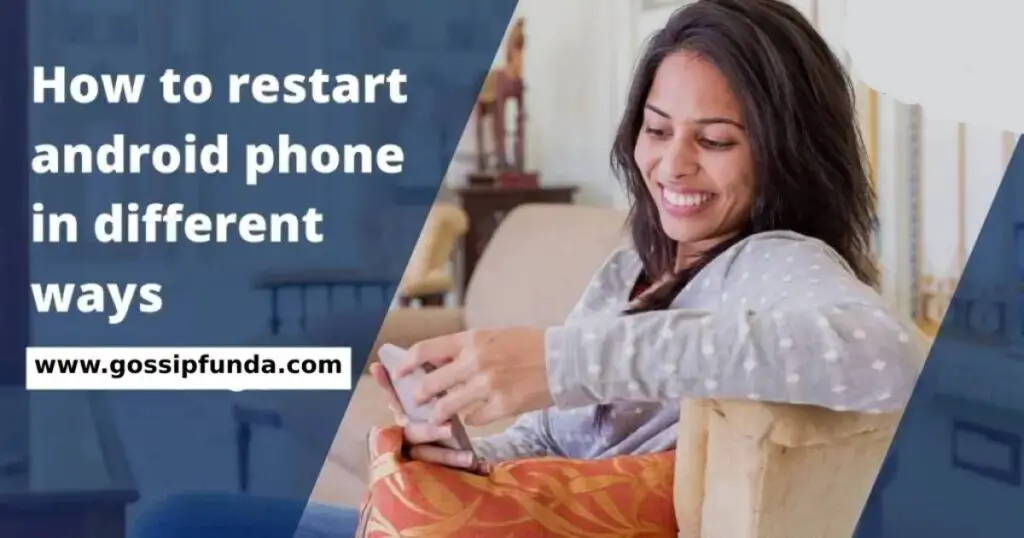 Why you shouldn't always use the power button to restart your android phone?   
It is not wrong to restart/reboot your android phone with the help of the power button. But if we consider your phone's life then it's another scenario. If you wish that your phone runs for a long time then it is necessary to take care of it. You should take care of your phone's hardware because it is hard to make them last longer. We get day-to-day updates on our phone's software unit but the hardware part pretty much stays there until the final moments of our phone. Using the power button vigorously can damage it resulting in not functioning.
Once the hardware part is broken it is hard to find a legit replacement for it and even if you did manage to find it. It may cost you hard money and not sure how long it is going to last (speaking of this from my personal experience.) so, that's why you should not always use the power button to switch off or on your smartphone, plus it is more easy and fast to reboot or switch off your smartphone from other ways. I mean this process really takes a hell of a time. We first hold the power button and then wait until the options appear on the screen. Then we can choose the desired options. On the other hand, we can do this with just one tap.  
Now let's move to how to restart android phone in different ways part.
Methods to restart your android phones in different ways
Here are some of the methods covered that you can follow to restart your phone.
Method 1: How to restart an android phone via the control center
My personal favorite method therefore I will keep it at the top. In this method, you have to access the control center first. The Control center is like a shortcut to access various options of our phone without having to go through the phone's settings. iPhone is famous for having a unique control center but android is not lacking either. In some android mobile, it is like a toolbar and in some, there is a button (known as easy touch) on the menu screen which opens it. To restart your phone via the control center you need to go through the following steps:
Through the easy touch button:
If you haven't enabled the easy touch on your android phone then you can enable it by doing. Open the Settings of your android device. Then click on the More Settings option from the menu. From there look for the Easy Touch option and tap on it. Then toggle it on by sliding it to the right side.
You can also customize it just there. You will get the Customize menu option there, click on it and customize it with your favorite options. 
Now access the Easy touch button from the screen then click on the Control Center option from its list. If the option is not there add it. 
Then from the control center click on the Power off option and then from the next screen select the Reboot/Restart option and you are done. 
Note- if the power-off button is not there then you will have to add it. I am gonna cover how to just in the next section.
Directly through the control center: 
You can also access the control access directly on your android phone. For this do these:
To access the control center you will have to swipe up from the bottom of your phone's screen, swipe towards the bottom from the top, or swipe from the right to the left of your screen. It depends on the android phone. 
Then once you opened the control center on your android phone look for the Power off option and click on it. Then it will show you two options Power off and Reboot/Restart. Click on the Reboot/Restart option and you are done. Your android phone will restart.
Note- if you don't find the Power off option on the control center. Then Click on the three horizontal dots button "…" from the control center options. Then drag the Power Off button to the top of the list there.    
Method 2: How to restart an android phone via plugging in
If your phone's screen is on sleep and you want to start it then you can do it by simply just connecting it to a USB cable. You can connect the USB cable to your pc or laptop and it will turn on your android phone screen. But if your phone's battery is dead then there is only one way to come out of it. The power button and anything won't work until your phone has a sufficient battery. To restart your android phone when it is dead you will have to connect it to the charger. This will charge your phone and then your phone will be capable of running a restart. 
Method 3: How to restart an android phone via ADB 
Before moving to the steps let me clarify what is ADB, you all must be wondering about it. ADB stands for Android Debug Bridge and it is a tool. A tool that provides you the privilege to communicate with your android phone. There are many kinds of stuff that you can do with this tool but here, I am only going to cover how to restart your phone. This is a lengthy process and before accessing the ADB you have to go through the developer option and USB debugging. You need to turn on the ADB first. Go through these steps below to perform the action.
Open the Settings of your android phone.
Then click on the More settings option. 
On the more settings menu find the About phone option. Your phone may have a similarly named option if not this. Your device may also have the About phone option in the Settings menu.
Then turn on the Developer mode. You either have to click multiple times on the Build number or the Software version of your phone. Depends on your android phone. The phone will show you when the developer mode is activated so you can stop clicking on the option.  
Then come back to the More settings menu and scroll down. You will get the Developer option down there. Click on it.
Then in its menu, find the USB debugging option. Turn it on (slide the toggle to right.) 
Now, you need to connect your phone to a laptop or a computer to proceed further. Connect via a USB cable. Once you connect you will receive a notification notifying you that USB debugging is connected.

Then on your computer or laptop (whatever you are using) download and install Android Debug Bridge.  
Find the directory C:\adb (depends on where you installed it.) once you have an idea of the location of the directory. open cmd. Enter the directory.
Then enter ADB devices and press the Enter button. Your phone's IMEI (serial number) number will be displayed on the screen
Then on the cmd write ADB/adb reboot and hit the enter button. Your phone will restart/reboot.   
Method 4: How to restart an android phone via recovery mode
You may be familiar with the recovery mode. Since many people use it to factory reset their phone when they have forgotten the password. If you don't, need not worry because accessing the recovery mode is pretty simple and fast. To access the recovery mode on your android you need to turn it off. In some devices connecting it to a USB also does the job. So do either of these. After switching off your phone you need to hold the power button plus the volume down button. In some phones, you need to hold the volume up button with the power button. Hold them until the menu shows up. And press exit and reboot the device. This process can be different depending on the android phone you are using.  
Method 5: How to restart an android phone via scheduled power on/off
This is an inbuilt feature in android phones, unlike iPhones. With this feature, you can set when you want your phone to switch off and restart. For example, you can set your phone to switch off when you go to sleep. And set it or restart/turn it on when you wake up. This helps you get quality sleep because your phone won't be interrupting you until you want it.
There is another way of doing this too. You can use the alarms. This method will also work on iPhones. For this, you need to set an alarm when you want your phone to restart. And once you have done that switch off your phone. The alarm will restart your phone to wake you up. 
Method 6: How to restart an android phone via third-party apps
On the google play store, you will find many applications suitable for this job. You just need to search for the app and install it on your device and use that to restart your phone. The working of the app may vary so, can share the exact steps for it. But if you want the name of some apps. Then you can look for Restart: Power Menu, Power Menu: Software Power Button, and Power Button Menu – Quick Reboot. These are some random names of apps I am dropping here that were highly rated. Some of the apps will also require a rooted phone while some do not so, install the app according to your conditions.   
So, these were all the methods on how to restart android phones in different ways. Except for the traditional power button method, fingerprints, and face IDs. Because you all already know about those.  
Final words
These were all the methods on how to restart android phones in different ways which you may probably not have heard of. You can also use your power button to restart your android phone but just don't do it so often. Also, the apps to restart the android phone I listed were just random. So, make sure if you install an app on your android phone it is a secure one. If you are just restarting your phone from sleep then I would recommend using a face lock or fingerprint lock to do this.
Because the fingerprint and face id lock way is fast as compared to other methods and easy also. You can also use features like tap to awake or raise to awake. They will also work if your phone is not locked with a password. If this article helped you and you know of any other way to restart the phone. Do let us know. If you liked the article please, consider it sharing it with your friends and family.
FAQs
Is reboot and restart the same thing?
Yes! Reboot and restart are the same things. Terms like reboot, power cycle, soft reset, and restart all have the same meaning.
What does hard reboot mean?
When we try to restart or switch off our phone through the power button and our phone stops responding. Then it will automatically go through a reboot and this is called a hard reboot. Your phone should respond within 20 seconds I guess after pressing and holding the power button. If not then it goes through a hard reboot. You can also hard reboot your android phone if you want. For that, you need to press and hold the power button plus the volume down button. (simultaneously.) In some devices instead of volume down, you have to press and hold the volume up button along the power button.
Will restarting affect any of my data?
Not at all. Restarting/rebooting process is completely safe. Think of it as refreshing your computer but it just takes a longer time than that. Only the phone's RAM gets cleaned nothing else. Running apps and anything which was running/open before the restart will be purged though.   
How long does it take to restart your android phone?
It actually depends on your phone but an android phone should restart within 10 to 20 seconds. If your phone does not restart within this period then proceed to hard restart/reboot it. I have discussed above how to do it.