Here you are going to get SEMrush: A Detailed Review. Are you into Digital Marketing, Blogger, or Content writer? Or do you wish to go for Digital Marketing in the future? Then you are at the right doorstep. Your quest ends here. I will be glad to address all our faithful readers, the digital marketing aspirants and also those are reading our article for the first time, Welcome! It is my privilege to introduce and make you all aware of 'SEMrush.' For those who don't have any idea, I would like to introduce you to SEMrush. To illustrate, SEMrush is a variant private business for Digital Marketing Intelligence headquartered in Boston in the United States.
SEMrush Review
In today's world, SEMrush stands as an international software as a service company (SaaS). The founders of this company Oleg Shchegolev and Dmitry Melnikov, worked as SEO enthusiasts to serve in the field of new technologies and industrial development. They launched started this company in the golden year 2008 online to trigger and identify best industry practices and marketing trends. SEMrush is widely defined as a product to optimize the website for search engines. Today it has 5 million users worldwide.
SEMrush is established on four pillars(FEPS). Let's get a closure look of it below.
Functionality– It acts as all in one digital marketing platform with diverse Toolkits for PPC, SEO, and deeper. 
Ease of Use– Their interface is convenient to navigate through all the tools which co-operate and works with one another.
Pricing– At $99.95 per month, it is quite expensive. Although it accommodates various toolsets in one platform.
Support– It includes loads of tutorials, free training courses, documentation, and a responsive, supportive team.
We have already discussed: How To Use SEMrush?
Functions of SEMrush
SEMrush provides you with lots of information about each and everything.
It creates new web content, which is most probably can attract traffic.
It inspects search building opportunities for you.
It tweaks technical information and aspects for your site so that your website can achieve a higher search ranking.
It provides you the rank at which your website has occupied in various search engines.
It allows your website to perform an SEO audit so that you can trace any technological advancement in your website.
It suggests websites for you that are worth approaching for backlinks.
It also provides you with keyword suggestions such as phrases, idioms, and quotes.
SEMrush Review for Functions : ✶✶✶✶✶
Features Involved in SEMrush
SEO, Competetive intelligence, Content, Social Network, Data Analysis rule all areas in Digital Marketing. It produces intelligence data including backlinks, keywords, traffic information, site audits, projected AdWords spend, topic, lead generation, research. SEMrush is a wholesome all in one package for Digital Marketing. Let's zoom into the features with more clarity. Thus the features involved are mentioned below.
Domain Analysis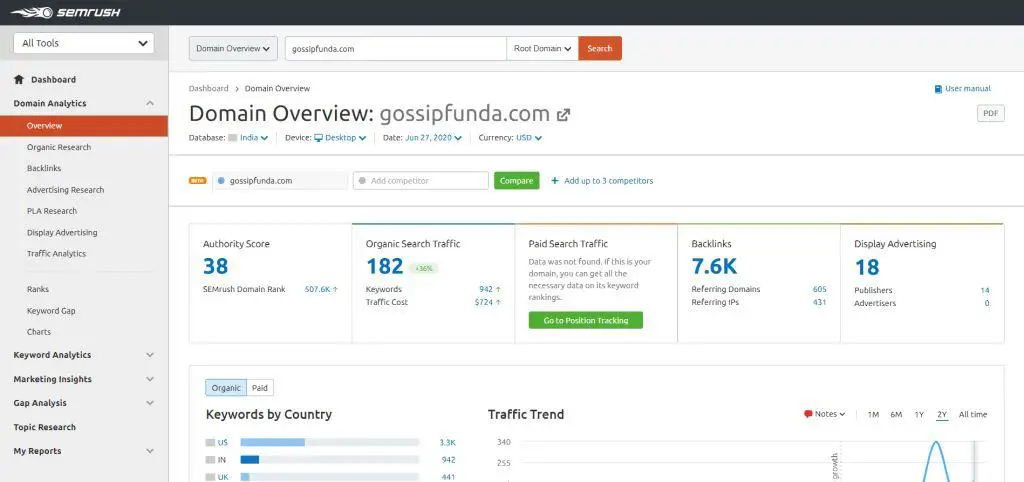 This has a basic overview of the quality of the domain of your website from the point of view of SEO. You can perform domain analysis on your website for SEO improvements that could be fixed and can see the competitor's improvement to know how difficult it is to be in the search history of a search engine or you can google some steps to achieve the same and see if the owner of the link is worth approaching. This is because backlinks or external links with high-quality websites to the content to which you can boost your performance in Digital Marketing. With this, you can perform domain analysis by entering the URL domain in its domain overview and can get the sense of performing the search results.
It also has the privilege to offer metrics which include-
The total number of visitors on the website per month
Top-performing Keywords
Total number of keywords the website ranks for
Display advertising stats
Anchor texts which are commonly used in links to the website
Competing Websites
Total number of external links such as backlinks which points towards the website
An authority score
 Overall, the domain analysis section of the SEMrush is absolutely awesome for Digital Marketing. It is best to give you site popularity in case of accurate traffic stats so that it can help you with the site into context against the competitors.  
SEMrush Review for Domain Analysis : ✶✶✶✶✶
Keyword Search
SEMrush makes it easy to find out the information mentioned below. It is usually about
Inspecting for the one who is already ranking for that specific keyword.
Finding how many people are searching that keyword
Establishing and inspecting how difficult it gets to rank for that specific keyword
Getting advice for the other ones.
You just have to enter the keyword in the keyword overview tool, and you can see the immediate results which are as follows-
The specified keyword difficulty score
A whole list of all the sites that are ranking for that specific keyword
The total number of searches for that specific keyword in Google Chrome per month.
The most important thing about this attribute is the keyword difficulty score. It uses a percentage to indicate the particular keyword. In other words, Harder the words, more accurate and specific, is the keyword. However, keyword suggestions are based on the type of phrase and idioms the user is using. One of the finest things about SEMrush is competing products that exactly tells you that it would be good for SEMrush. It provides you with different keywords with filters that you can use to sort them including-
Number of searches each month
Keyword's level of difficulty
The total cost per click if you use Google Ads for displaying results for each keyword.
SEMrush Review for Keyword Search : ✶✶✶✶
Rank Tracking
It is the procedure to monitor the website's performance with search engines with a particular keyword with due course of time. You can enter domain name and keyword, check and track the position, and you will get a report of showing how the website is currently ranking for those specific keywords. With due course of time, the data will flow into the SEMrush, and you can conveniently track the progress of your efforts to rank higher than usual for a chosen phrase. If you want to compare your website with another, you simply have to enter the website's data into the SEMrush position tracker tool to perform a comparison for chosen keywords against competitors. To be honest, tracking the rank facility and functionality of SEMrush is yet the best and worth each penny. You cannot find a single loophole here.
Backlink Analysis
There are two ways to check the performance of the website. The first one is the backlink analysis. In this, you have to enter the domain name, and a list of backlinks will appear. This information can be used for SEO efforts, or you can also use it to gain insights into the competitor's website. Through Backlink, you can view
Information in the IP address of the backlinks
The anchor texts used for backlinks
Top-level domain distribution links
             The other method for backlinks is to perform a backlink audit in SEMrush. The main objective of this audit is to establish the poison of the backlinks to determine whether your website is healthy for its visitors and users or not. It is the backbone of SEMrush, which can spot useful links so that it becomes easy for users to prepare and upload a file in Google.
SEMrush Review for Backlink Analysis : ✶✶✶✶✶
Link Building
This feature of SEMrush stands out of the crowd. The link building is the procedure of getting the links of other websites into your website. This process is an essential feature for the success of the SEO projects because search engines reward websites with the highest number of links that point towards more elevated positions in search results. All these features mentioned below goes well with the SEMrush competitors with its linking department. Probably, it is the checkmate weapon of SEMrush. It works by-
It determines the real competitors of yours and where they are currently ranking
It examines the content on your site
It asks you the keywords you want to rank for
It surfaces a list of prospect websites that think is worth approaching for the backlink or guest post opportunity.
It helps you to stay connected with the mailbox to SEMrush and reach emails from within the tools.
Site Auditing
This is another checkmate attribute of SEMrush, which is the best to inspect the functionality of website auditing. Semrush looks for issues during the auditing of a website that might affect the performance of the website such as-
Duplicate content
Crawl Errors
Overuse of keywords
Slow Loading content
SSL problems
Missing headers
            Not only that, but SEMrush also has on-page SEO checker to scan the whole website and give suggestions to take action against for improvement-
Steps that can be taken to make the website page appear on the Google search engine
Length of the content
How to improve the body copy and meta descriptions
Which keywords to add
Internal linking strategies
Which websites to approach for backlinks
SEMrush Review for Site Auditing : ✶✶✶✶✶
Projects
In Digital Marketing, Projects play a vital role in building website auditing and backlink building on domains that have been included in the SEMrush. The total number of projects each month is decided according to the entry-level plan. This can be the showstopper of your website and business plans.
Competitive Intelligence
There exists a feature of SEMrush for analyzing and inspecting competitors called competitive intelligence. These are as follows
Competitor benchmarking which is defined as the ability to cross-compare up to 5 competitor websites
Top pages which tackle website data traffic up to 200 prospects in just one click
Market Explorers for market shares, gender and behavior, market players, audience age and seasonal peaks
Comprehensive traffic analytics includes traffic sources, audience overlap, geographical information, visitor engagement, historical data, and desktop and mobile.
Bulk traffic analysis for managing website data traffic for up to 200 prospects in just one click.
SEMrush Review for Competitive Intelligence : ✶✶✶✶
PPC Data
This attribute of SEMrush is a combination of PPC projects and SEO, representing better value for its competitors. This is only because PPC gives you detailed CPC competition and distribution of live ads, information, and PPC campaign planning tools.
SEMrush Toolkits
SEMrush also has practical application Toolkits to boost your business. Let's have a quick overview of them.
Competitor Research Toolkit
With the Competitor research, you can get transparent look, crystal clear scenes at the competitor's SEO, PPC, and online traffic strategy without filters. By using these insights, you can perform campaigns with escalating success.
SEO Toolkit
This Toolkit will analyze and perform an in-depth search of competitive link profiles for keywords, identifying on-page issues, track rankings, and run technical site audits from one central dashboard of SEO projects.
Advertising Toolkit
This Toolkit will boost your research competitor for PPC Campaigns like display, text, and PLAs such as ad copy, keyword, and landing page levels. You can use those insights to build profitable campaigns and reduce wasted ad spend.
Content Marketing Toolkit
It will build content templates, find new topic ideas, perform content audits, and use the content analyzer to order articles from a marketplace of expert writers and uncover on-page opportunities.
Management Toolkit
Every Digital Marketing Company needs a Manager to handle everything around and beyond agencies and clients.  This Toolkit does the same for you. It manages all the projects and campaigns such as brand monitoring, site audits, and social media from a single dashboard. You will be able to build elite class labeled reports and get real-time notifications.
Traffic Analytics
This is the beautiful combination of Google Analytics and Similar Web. This helps you to find out the channels such as paid, organic, social, and referral for analyzing engagement across matrices for each and driving traffic to a different site.
Overall SEMrush Review: ★★★★☆
Pricing and Value for Money
If we compare SEMRush with others as a service software, then SEMrush is quite costly. But it is worth each penny for the accessibility to large quantities of data, advanced technologies including competitive intelligence. So, SEMrush has 3 tier pricing plans to offer. These are as follows-
PRO Plan for $99.85 per month. If you are working as an individual blogger or owning a small agency, then the PRO account will be enough for you. With the PRO Plan, you can schedule for five reports per month.
GURU Plan for $199.95 per month. This is designed for large marketing agencies. With GURU Plan, you are capable of making 20 reports per month and running three sessions simultaneously. Multiple people can log into the same account and can work efficiently with the same account. Moreover, you can reserve historical data, create and run more branded PDF reports for the clients.
BUSINESS Plan for $399.95 per month. This Plan is best suited for Companies and agencies with worldwide popularity and reach. With BUSINESS Plan, you can reach, communicate, and work with numerous clients all over the world with multiple people working with the same account. With this Plan, you are capable of making 50 reports per month. Besides that, you will be able to access data with increased speed and data access to create elite class PDF reports and can get access to the SEMrush API.
The prime differences between these plans are as follows-
Assessment of historical data
The total number of reports that can be run each day
The total number of keywords that will be tracked each month.
SEMrush Review Value for Money : ✶✶✶✶
Free Trial of SEMrush
If you are one of those who are still not convinced of SEMrush, then you can try our free trial. The standard free trial is for seven days. In addition, you can extend it up to another 7 days for a limited period of time, unlike other SEO tools, where you have to provide credit card details before using it. Moreover, it will not ask you for payment for the trial period. And that is why it is called a free trial. Let's zoom into the figure with clarity. The three-tier free trial is mentioned below.
30 Days free trial for SEMrush PRO
14 Days free trial for SEMrush GURU
14 Day free trial for Traffic Analytics + PRO
Pros of SEMrush
You can easily perform Domain Analysis with all the information summed up together with crystal clarity.
SEMrush benefits you with a bunch of PPC data for organic search data.
The site auditing features are always there to help you with conceptual instruction on strengthening improvements for the technical SEO and on-page SEO aspects of the website.
In addition, the link building facilitates CRM style features to pitch in outreach.
The interface of SEMrush is portrayed logically even if a bunch of information is collected displayed, which makes it convenient to use. 
A 14-day standard free trial is also available on it.
The comprehensive supportive team of SEMrush helps you with each step on phone, email, or chat.  
Apart from its other competitors, SEMrush is exceptionally generous in case of numerous reports each day. 
Cons of SEMrush
The key features which are available on the sites such as projects to crawl upon and SEMrush have a limit on how many tasks can be run in a month.
The traffic on the website of SEMrush is not proved to be accurate enough.
The bitter truth is that the free trial helps explore, but it will ask you for your credit card details before the free trial gets started.
Some competitive analyses also cost about $200 each month.
In case you are using this website on the smartphone, it might be difficult for the user too because of the compatibility of the tools.
The interface of the SEMrush is not responsive in the case of smartphone users.
It provides data from only one search engine that is Google.
Final Words on SEMrush Review
Let's get some clear fresh air. SEMrush is neither an SEO tool nor a competitive analysis tool. Instead, it is a Digital Marketing tool which includes SEO tool and competitive analysis tool. Honestly, it is all in one package of all the digital marketing props that you will ever get. It has numerous Toolkits designed to help you with different fields of your business with SEO, Advertising, Competitive Research, Content Marketing, and Campaign Management. It has a three-tier free trial. It is the best go-to tool for traffic analysis. If you are a severe Digital Marketer or SEO, then SEMrush is going to be the smartest investment of your life, forever and together.    
Overall SEMrush Review: ★★★★☆
Conclusion
Now, as we have concluded after reading all our SEMrush Review, we really hope that the data and information mentioned above will certainly be worth reading. We have tried our best to elaborate on the main issue, causes, and effects. Last but not least, in the overview, SEMrush acts as an SEO tool for everything you will ever require for SEO projects in the field of Digital Marketing. Moreover, it provides you with a bunch of information for everything you will ever need. The attributes, such as a link building tool and site auditing tool, offer you an outstanding CRM style method for fabricating backlinks.
The convenient checklist improves your technical SEO tools and on-page SEO tools. The best advantage of SEMrush is that all the accounts have their user account called SEAT. The fabricating link and the site auditing tool can chalk out with your project. The Darkside of this SEMrush is the competitive intelligence of features that can be unlocked through $200 each month. But overcall, this website provides the right solution. We would like to hear your feedback and FAQs on our site. Stay tuned for more such content. We will be right back very soon with another informative yet exciting article. Till then, keep supporting us on our social platforms.