Asus ROG Gaming PC
Republic of Gamers has been a legendary series of Asus where they sell many computer parts, including GPUs, monitors & a lot more. Today's blog is not your regular PC Build guide. It is to help you choose the best premade Asus ROG gaming PC.
As usual, we would be going over the price making it worth the money to buy. I always like to build my own computers from the beginning. It helps me choose the parts and let me have complete control over them. This does not mean that you cannot have control over prebuilt Gaming PCs. Therefore, today we will be looking at the best ROG Gaming PCs and decide while one is worth the spend.
Furthermore, I strictly recommend buying these online or after the quarantine period ends. The world is facing difficult times due to the coronavirus pandemic. Therefore, you are suggested to maintain the self-quarantine and take care of your self.
Being said that, let us jump straight to why prebuilt PCs have quite the advantages over building them.
Don't Miss: OnePLus 8 and OnePlus 8 Pro
Why should you go for prebuilt PCs?
To make this short, prebuilt PCs offer everyone two most important things. Firstly, there is no hassle off choosing parts. You do not need to search for multiple parts and wait if any are out of stock. Secondly, you have a complete warranty for the product. This means that even if any part is compromised in the warranty period they would replace it.
Therefore, buying prebuilt PCs makes sense. Warranty on the complete build is always better than the warranty on multiple parts. For example, if suppose you GPU breaks down after a year of usage ( has happened with me ), you need to contact the manufacturer.
If you have the prebuilt PC made then you can contact the people who built it. It saves a huge amount of time. Most importantly, you need to remember that a prebuilt PC might be slightly costlier than making yourself one.
Now let us dig into some of the best ROG machines from Asus.
Do not Miss: Odin mode
Asus Republic of Gamers Series Desktops
Asus is well known for manufacturing the best GPU units and Motherboard. Similarly, let us find out if they do the same on Gaming PCs. The following are some of the best Gaming PCs from Asus.
Asus – GL10DH-PH772 Gaming Desktop PC
Let's keep things simple. 2020 without RTX is literally the GPU without a soul. Therefore, all of the computer builds are going to have RTX on them. This model features a superb RTX 2070 Super that can tackle every game you throw at it.
The computer has a Ryzen 3700X which has superb performance in editing, compression and overclocking. The Ryzen CPUs are literally made to overclock and juice out every ounce of performance. Therefore the pair should not disappoint on any bottleneck.
If you are worried about the multitasking performance, don't be. This baby is equipped with 16 GB of RAM that is enough to run all games. Besides, it depends on the VRAM of the GPU to increase the Game performance. More importantly, if you are worried that the RAM is not enough you can always buy the 32 GB variant which is an overkill.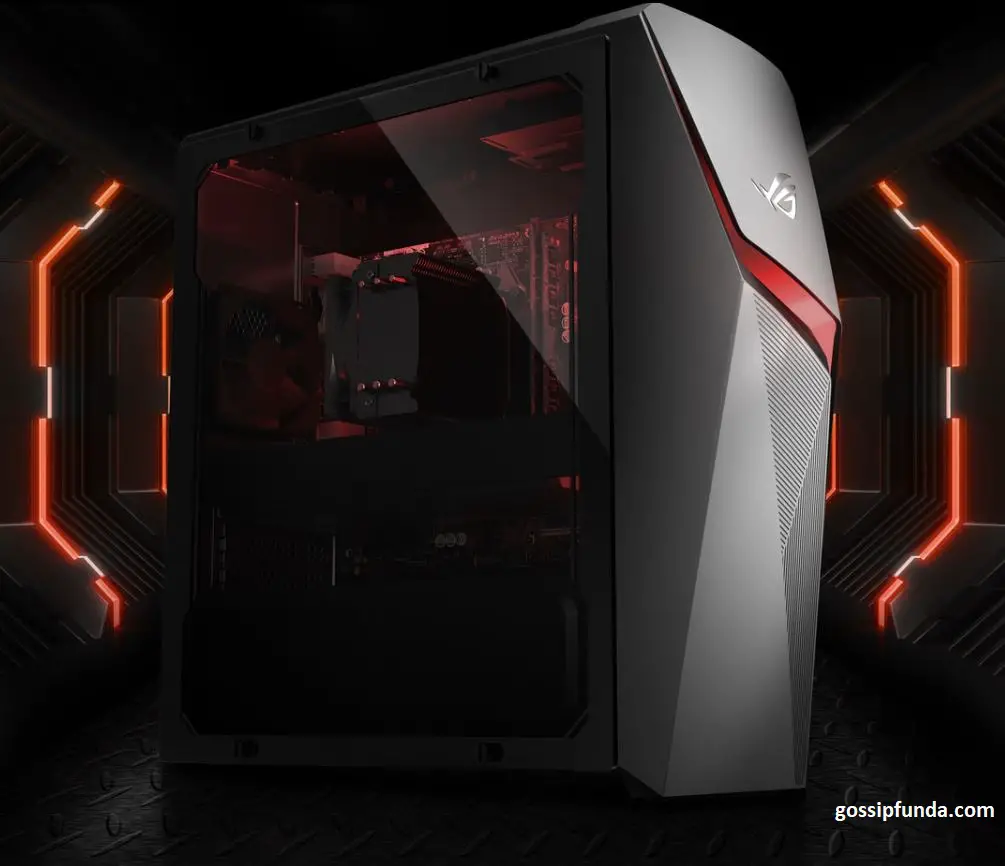 Personally, I recommend that you buy the 16 GB variant from the link down below. The Case features 8 x USB 3.2 ports. There is no compromise on the durability and the beauty of the case. You would literally need aa lot of devices to run out of ports.
Moving on to the storage, this computer has the perfect blend of SSD and HDD. You are offered a 1.5 TB storage where the 512 GB belongs to the SSD. It is very important to have an SSD on your computer because it is where the operating system is installed.
The boot times are ten times faster than the typical 7200 RPM hard drive. The build also features a WiFi card and Bluetooth 5.0 support. You can connect your wireless headphones without any worries.
Pros:
RTX 2070 Super
Ryzen 3700X
Excellent Build Quality
NVME SSD support
Multiple Ports
Reasonable Price
Cons:
Fewer upgrade capability
PSU unit could have been better (this one features 500W)
Windows 10 Home ( limits a lot of your features, therefore expected a pro at the price)
To conclude, this Asus ROG Gaming PC has a green signal to go for.
Do not Miss: $1500 Gaming PC Build Guide
Asus ROG Strix GL12 Gaming Desktop
This next computer on our list is really value for money. Why? I will get onto that later. Firstly, let us go over the specs of this machine. As always, this build features an RTX 2080 8 GB out of the box. The RTX 2080 series is the best of the best offered by Nvidia. Therefore, you need not worry about game performance. Quite literally, the game would be afraid to run on this computer.
The computer is powered by the i7 9700K. This means that there is a CPU heatsink installed as they are offering a K series desktop. This does not end here. Instead, the super powerful i7 9700K is actually overclocked to 4.9 GHz. This brings you faster compression, better editing time and longer life.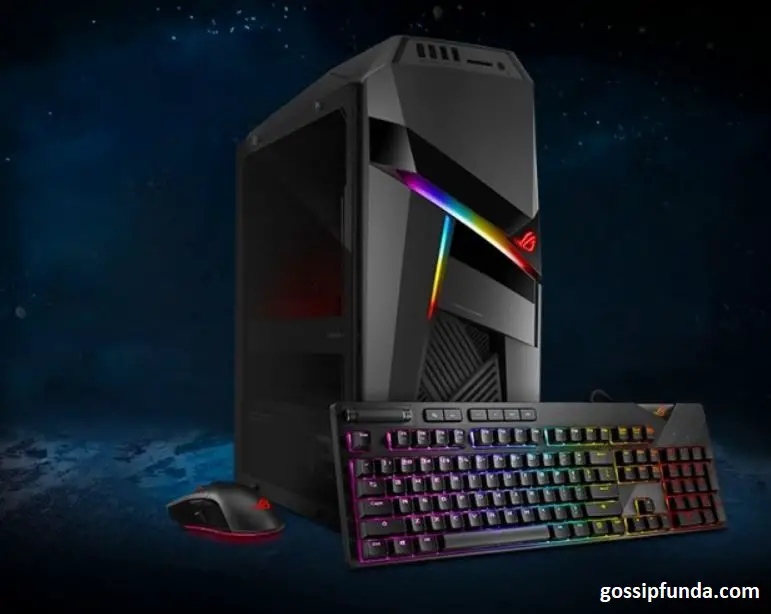 This ROG Strix brings you the delight of RTX packed with RGB. Let's face it…RGB does make your computer stand out a lot. The machine runs on 16 GB of RAM that is upgradeable. Personally, I wouldn't recommend the upgrade as 16 GB is more than enough.
Moving on, this machine packs a stupendous 1.5 TB of blend storage. The 512 GB SSD ensures faster and smoother performance. Therefore, every application should load faster and smoother.
There are eight USB ports, out of which 6 are USB 3.0 which gives precedence on speed.
Did I forget to mention that the CPU is liquid cooled? Yep. Liquid Cooled it is.
The case features a hot swappable 2.5 inch SSD tray. Therefore, It is like a small floppy drive but a gazillion times faster. There are even extra M.2 SSD slots for expansion of storage. Therefore, this machine is SSD proof.
Obviously, the build also features Wifi and Bluetooth support
Pros:
RTX 2080
I7 9700K Factory Overclocked at 4.9 GHz
Excellent Build Quality
Extra M.2 SSD slots, swappable SSD tray
Multiple Ports
Reasonable Price
Liquid Cooler
Features ASUS ROG Gladius II mouse & ASUS ROG Strix Flare (Cherry MX Red)
Cons:
2666 MHz memory of RAM, faster memory expected
Windows 10 Home ( limits a lot of your features, therefore expected a pro at the price)
The Build comes with a $400 worth Keyboard and mouse combo which is superb. Therefore, this makes a worthwhile Asus ROG Gaming PC
ROG Huracan G21 Compact Gaming Desktop
This one is a serious overkill on this list. You might want to buy this, only if you have a serious amount of cash to spend. Furthermore, this computer knocks the above two computers out of the park in look and size.
You have to keep in mind that the compact gaming PC becomes, there is a higher cost to manufacture them. Moreover, they are also prone to heat and cooling issues.
Therefore, you need to keep this in mind before buying this build.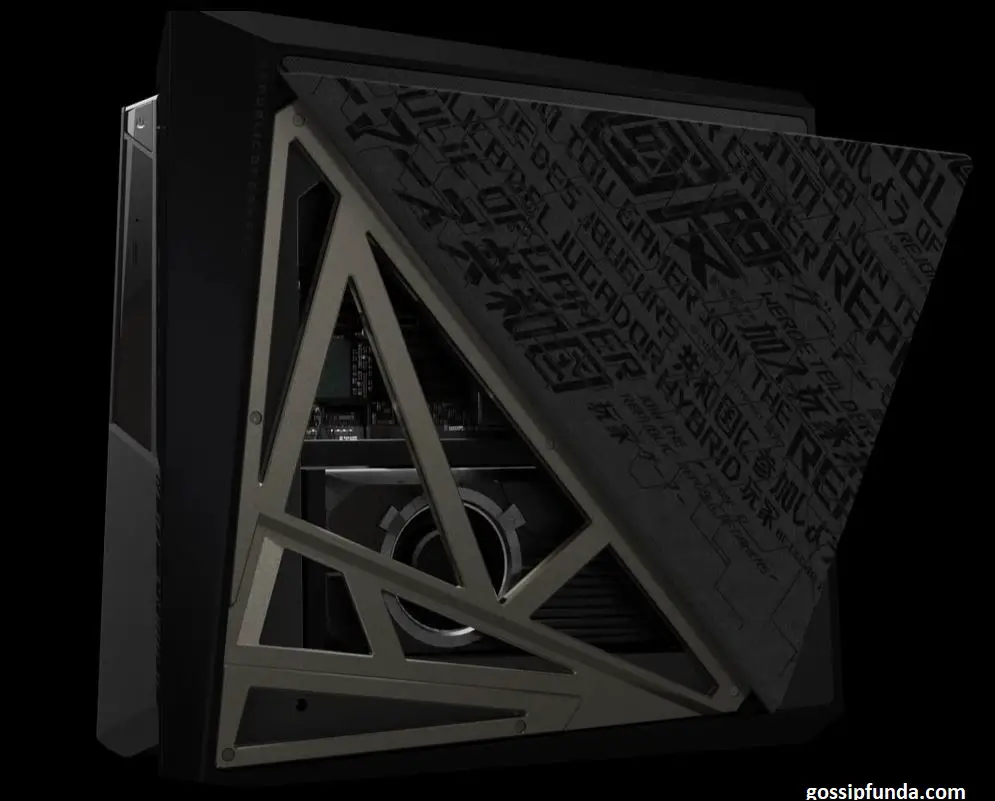 The build features an i7 9900K overclocked at 5 GHz. The processor would never disappoint you even if you throw editing or heavy games on to it. Furthermore, the build tops the RTX 2080
Considering the price, you might think… Why not RTX 2080 Ti? It is because the build is a compact Asus ROG Gaming PC.
The RAM is 32 GB locked at 2666 MHz. The less speed is overtaken by higher memory. The storage feature only 1TB SSD. This ensures that there is a smooth running of all applications. It also features 8 USB 3 ports and one type C 3.0 port
Pros:
I7 9700K Factory Overclocked at 5.0 GHz
Excellent Build Quality
Multiple USB 3.0 Ports
Beautiful looks
Cons:
Windows 10 Home ( limits a lot of your features, therefore expected a pro at the price)
Less to No room for any upgrades
Very High Price
RTX 2080 ( Expected: RTX 2080 Ti )
This build is not a green signal from me. Why? It is because you are paying a huge price to have a compact PC. Moreover, the components are not worth the price. Anyways, if you still wish to buy this following is the link.
Therefore, I totally recommend buying the upgraded version of Asus ROG Strix GL12. It features an RTX 2080 Ti and 32 GB of RAM with excellent cooling.
Don't Miss: 4k Gaming PC Build Guide