PC Build Guides are awesome and I love to suggest parts to people who want to build them. As always, today's blog is all about deciding on parts to build one hell of a gaming PC to run everything at 4k. Therefore, let us dig in and understand which parts we have to buy for this lovely 4k Gaming PC.
Firstly, today's gaming PC has a twist to it. It is going to be a legendary build. Therefore, there is no cap on the price. Moreover, it is not going to exceed the price point where people can't even think of buying. If you are expecting an SLI with custom water cooling, forget it.
The PC that we are going to make today is affordable in its wee sense and run games at maxed out graphics.
Warning: Due to COVID-19, many parts may not be available with the local retailers or the given links in the blog. Therefore, I suggest that if you are making a build right now, please be careful while buying. Moreover, please maintain the social distancing during these troubled times. Keep in mind that although the US has not initiated a complete lockdown, the virus is not like the normal FLU that has a vaccine. You can choose to go out and also choose to live and make the PC so that you can PLAY ON IT by being alive.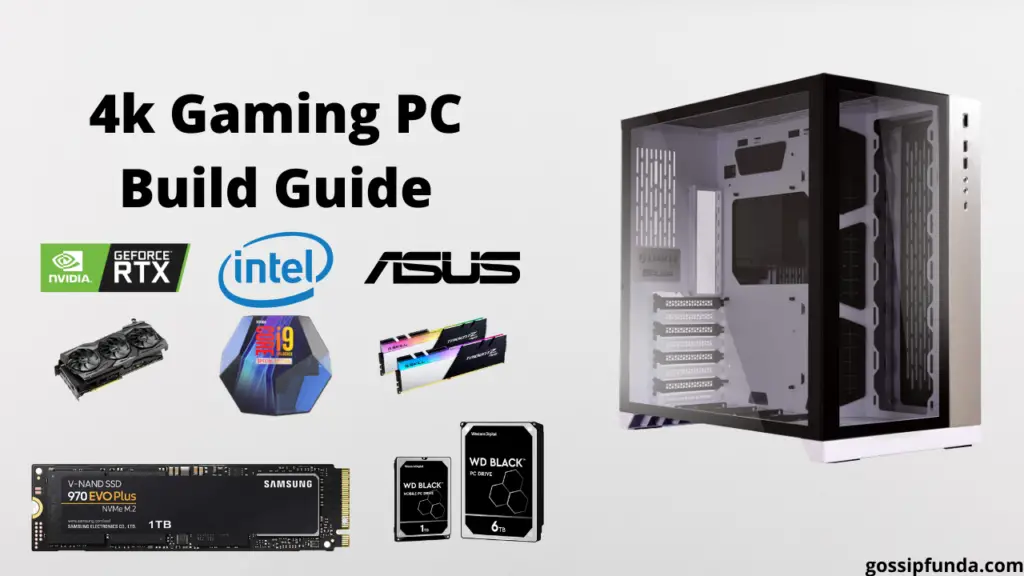 What processor to choose?
The question that is most difficult for any PC gamer is to choose the CPU. Most importantly, the CPU should aid him while gaming. Therefore, for this specific build, I have chosen to pick out the i9-9900K which is unlocked to work at 5.0 GHz.
What are the perks to choose this CPU? Well, firstly, the CPU is overclocked at 5.0 GHz base voltage. Secondly, as it is a factory overclock your job is to plug and play. Most importantly, it has a sign of up to a 78% increase in FPS while gaming.
This makes it the perfect CPU used for this Build. Lastly, it is affordable and value for money.
Do not miss: $500 Gaming PC Build Guide
Going over the Parts for 4k Gaming PC Build
Processor: Intel Core i9-9900KS
We have already gone through why we have chosen this processor. Let me add a few things I missed out. Firstly, the processor is an 8 core 16 thread beast. Don't judge the book by its cover as this little part is the cute definition of dropping a bomb. The single-thread performance is widely better than the AMD Ryzen processors.
Unfortunately, unlike the 3990X which is the granddaddy of processors, this one has a plus in gaming performance. We also do not want to go out of the park for the budget as mind you this project is going to cost you a lot.
Do not miss: Mobile data not working
CPU Cooler: Noctua NH-D15 chromax
We need to have a CPU cooler in this 4k Gaming PC build because of two reasons. Firstly, you need good cooling to cool the 9900K processor. Secondly, the K processors do not come with a heat sink. Therefore, we need to buy the cooler as well.
Noctua is a well known company that specializes in heat sinks and cooling. Therefore, this is the optimal choice to buy this cooler
Motherboard: ASUS ROG Maximus XI 
As we have chosen an excellent processor, we need a compatible motherboard. The Asus ROG Maximus is absolutely an overkill in this case. This motherboard supports tons of features such as one-click overclocking, M.2 heatsinks, and dedicated cooling zones.
The definition of RGB sync starts here where every part is made to do your bidding. The motherboard supports 4400 Mhz memory of RAM. Moreover, that 4400 MHz is the definition of fast.
The motherboard has an OLED panel to display the clock speed. It has a freaking display on itself. Therefore, this motherboard is optimal for overclocking, water cooling, RGB & much more.
Graphics Card: ASUS ROG Strix GeForce RTX 2080 Ti OC Edition
This is the most fun part to choose from in this build. The reason being there is no comparison between the other cards. I know that you guys would hit me if I didn't feature an RTX 2080, and as your wish is my command behold the ASUS ROG Strix GeForce RTX 2080 Ti OC Edition.
The GPU is the heart and soul of the 4k gaming PC and as usual, the RTX 2080 Ti doesn't disappoint. Moreover, it makes the benchmarks and AAA game titles look like a joke to run at 4k resolution.
Furthermore, by looking at the statistics, you will need a long time to upgrade this. It is because 80% of PC gamers use 1080p or less resolution to play games. The Game developers keep that in mind while optimizing the graphics. This means the RTX 2080Ti is going to hold for at least 3 to 4 years at 4k Maxed out to play games.
Now we come to the best part. The RTX 2080 Ti from Asus in this build is factory overclocked. Therefore, this means you do not need to tweak a single setting as it is already done so. Overclocking basically means to improve the performance of your card. Overclocking your GPU decreases shelf life and thus many people are scared to do so.
Therefore, I have chosen to put a factory overclocked build that works like a charm. It hits the spot to overclock and gives the best performance.
RAM: G.Skill Trident 16GB
You might be surprised to find that this build has 16GB of RAM. Well, this is just my recommendation as 16GB for gaming is enough. It can support heavy multitasking and gaming.
A bit of advise while buying RAM. Ensure that you buy the 3600 Mhz from the following link. It is because people accidentally tend to buy RAM at a lower frequency which is slow. To give you a nice general idea, my personal rig features 16 Gb of RAM at 2666 Mhz and I seem to work fine with any tasks. For example, running Doom Eternal at Ultra on my GTX 1070 (no overclock) does not affect with higher RAM capacity.
Although funnily enough, the GPU itself has 11 GB of GDDR6 VRAM which is what matters.
Power supply unit: EVGA Supernova 1000 P2 80+ Platinum
There is nothing better than a fully modular power supply unit. You can use the cable you need and put the rest back where they came from.
Moreover, buying a Power supply unit from a reputed brand is necessary to make sure your components get enough power. Therefore, this is the optimal choice for the build.
Lastly, this is an 80 plus platinum certified with 92% efficiency under heavy load.
Storage
Storage is probably the third most important part of this build. It is because we need to store our data in a drive that is precise, fast and easy to manage.
It is said that the blend of SSD and HDD is the perfect blend for any machine. Therefore, we are going to do just that for our 4k Gaming PC build.
SSD: Samsung 970 Evo Plus SSD
This is the perfect option to store our applications, the operating system. An NVME drive means fewer cables, better cable management.
The Samsung 970 Evo Plus boasts a 3,500 MB/s read with a 3,200 MB/s write that is an overkill. The drive is very fast and is the best for this 4k Gaming PC build
HDD: WD Black 6TB Performance Internal Hard Drive 
Yep! 6TB.
This legendary 4k Gaming PC build features a 6TB WD black Internal HDD drive. It is nothing but a definition of 4k overkill. You can easily setup a nice backup and redundancy on this drive. You can store all your media for probably the next decade.
There are literally no words to describe the storage of this machine. You can store games, render faster and boot like a cheetah
CASE: Lian Li PC-O11DW 011
The case is where you get to choose from a gazillion options. To tell you the truth, I am not that an expert on choosing cases that go with the color combination. Therefore, I suggest that you go over the cases that you like on e-commerce websites or nearby your house.
But if you are unable to select just like me, don't worry I got you covered. For this specific 4k Gaming PC build I picked out the case from this company called Lian. It has excellent cable management and airflow.
Do not miss: