Whether it is a careless mistake, system error, or an app crash, deleting essential messages on the Android phone can be troublesome since they might carry your cherished moment or even valuable evidence. When such an issue happens, one of the most important things is to act quickly before your data is rewritten and cannot be retrieved. Hence, quickly scroll down to the following solutions in this article about how to recover deleted messages on Android without a backup or without a computer.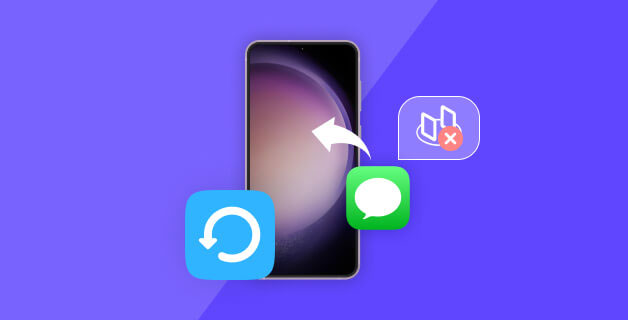 1. Is It Possible to Retrieve Deleted Text Messages on Android
Yes, it is. There is still a great chance for you to recover deleted text messages on Android even without a backup. When you delete a message or SMS, it is not gone forever immediately. You just cannot find the entry to access it, and the message will still stay on your Android phone for a period before expiring. Hence, to recover the message before it completely disappears, you will need help from third-party recovery tools. Alternatively, the recovery process can be much easier if you back up your Android phone on a regular basis. Before your valuable messages are gone for good, check out the following step-by-step guide on how to get them back.
2. Recover Deleted Text Messages on Android without Backup
Not all recovery tools can successfully retrieve deleted text messages on Android. Even when they do, some might accidentally erase your other data, which can be risky. Hence, is there a safe way to achieve Android SMS recovery easily? Yes, there is, and Apeaksoft Android Data Recovery is the right answer for you. Apeaksoft Android Data Recovery is a software that helps recover lost data from Android phones and tablets. It can restore contacts, messages/SMS, videos, photos, audio, WhatsApp data, documents, and gallery. Additionally, it can back up lost files, refresh the system, and manage phone data. The updated version includes an individual information protection function. With Apeaksoft Android Data Recovery, you can recover any data you need while ensuring personal information security.
Step 1. Install the Recovery Tool
Go to Apeaksoft's official site to free download Android Data Recovery for your computer. After installation, launch it and connect your Android phone to the computer. The program supports wireless and USB connections.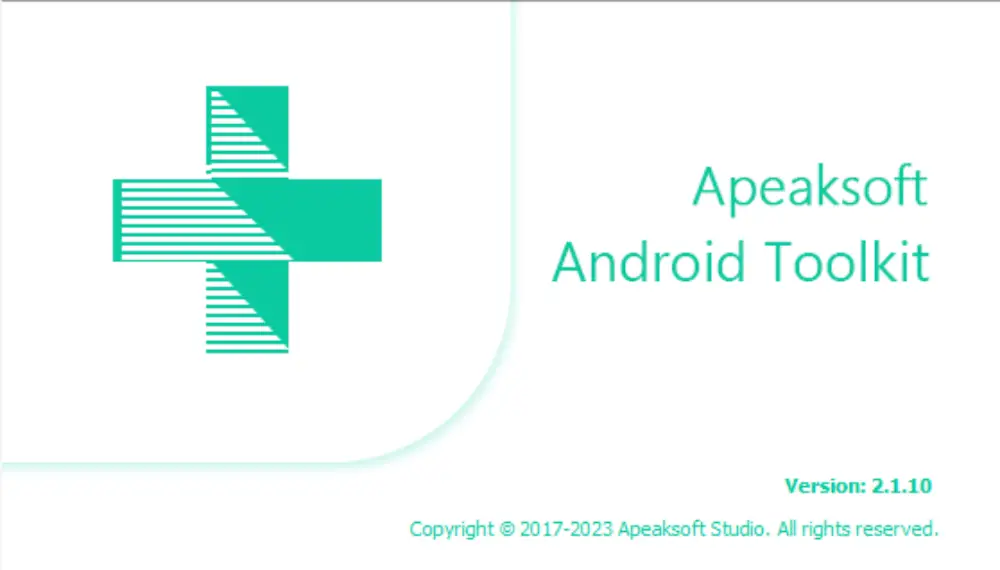 Step 2. Select a Recovery Mode
On the main interface, choose the first Android Data Recovery to recover the deleted text messages on your Android. To continue with the recovery, follow the on-screen instructions to allow USB debugging.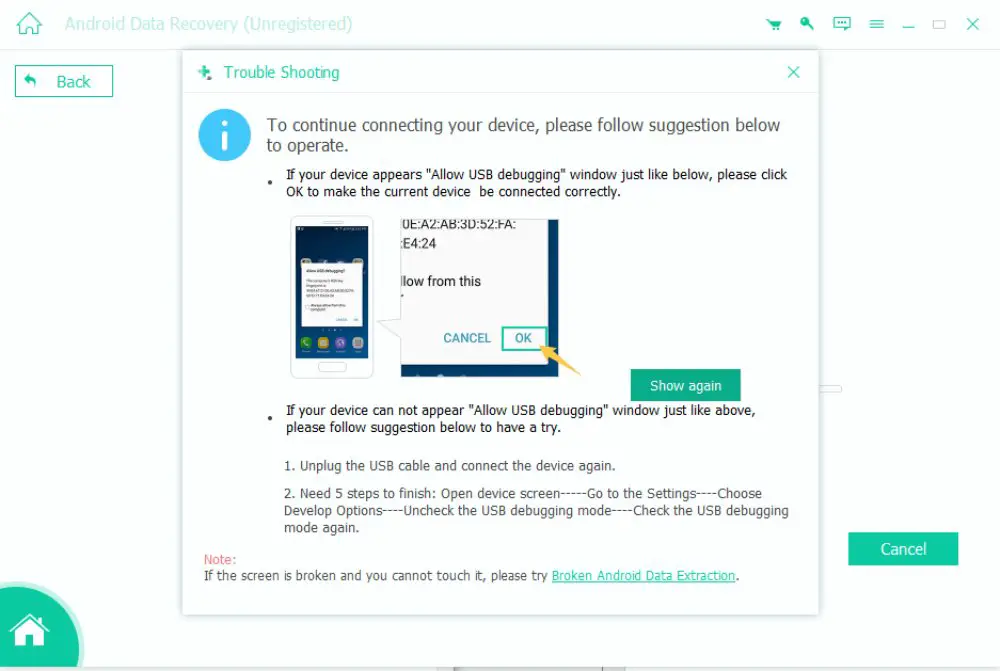 Step 3. Choose Messages
By default, the program selects all data for you. You can cancel the selection of other data and choose Messages only. Then, click the Next button to go on.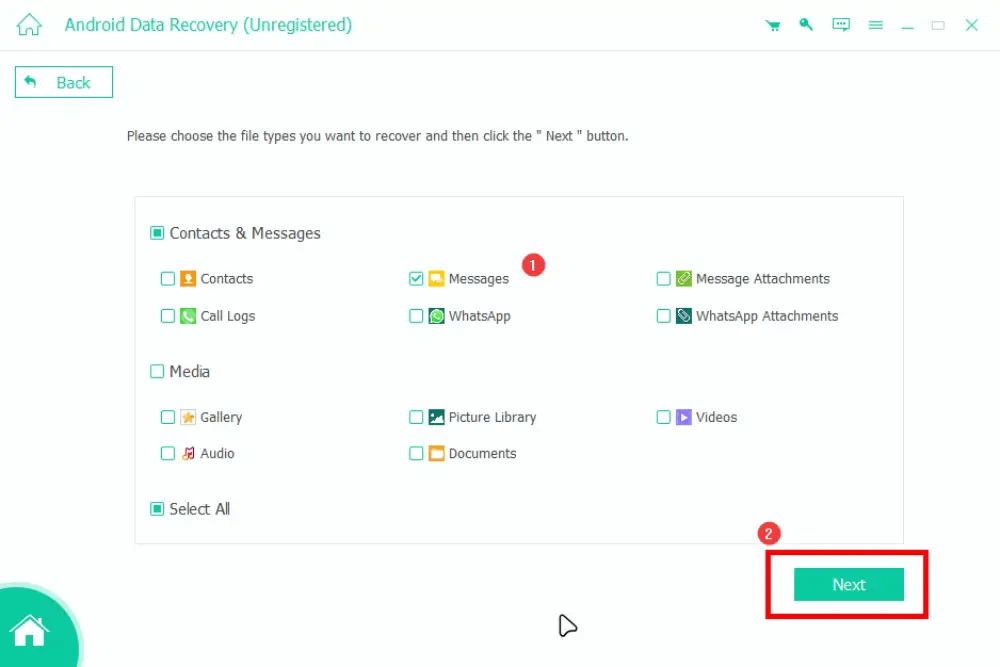 Step 4. Authorize Scanning
The recovery tool will start scanning your Android phone. At the same time, you must allow it to access your contacts and messages for recovery. The standard scan will start after authorization.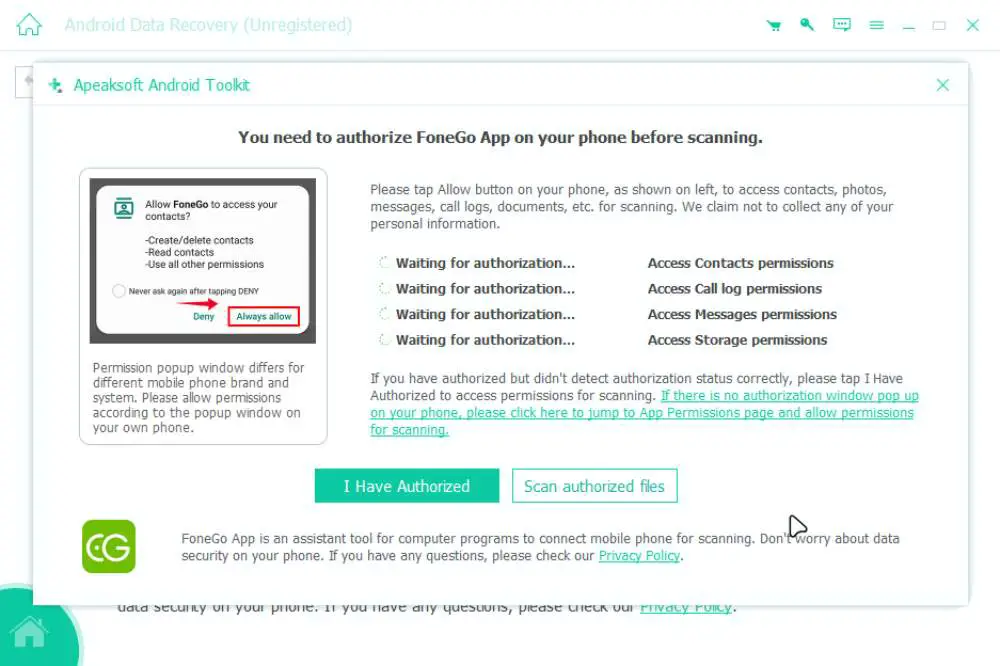 Step 5. Recover Android Deleted Messages
After scanning, you can see the messages. If you cannot find them, click the Deep Scan button to re-scan. Then, choose the messages you want to recover for Android and click the Recover button to get them back.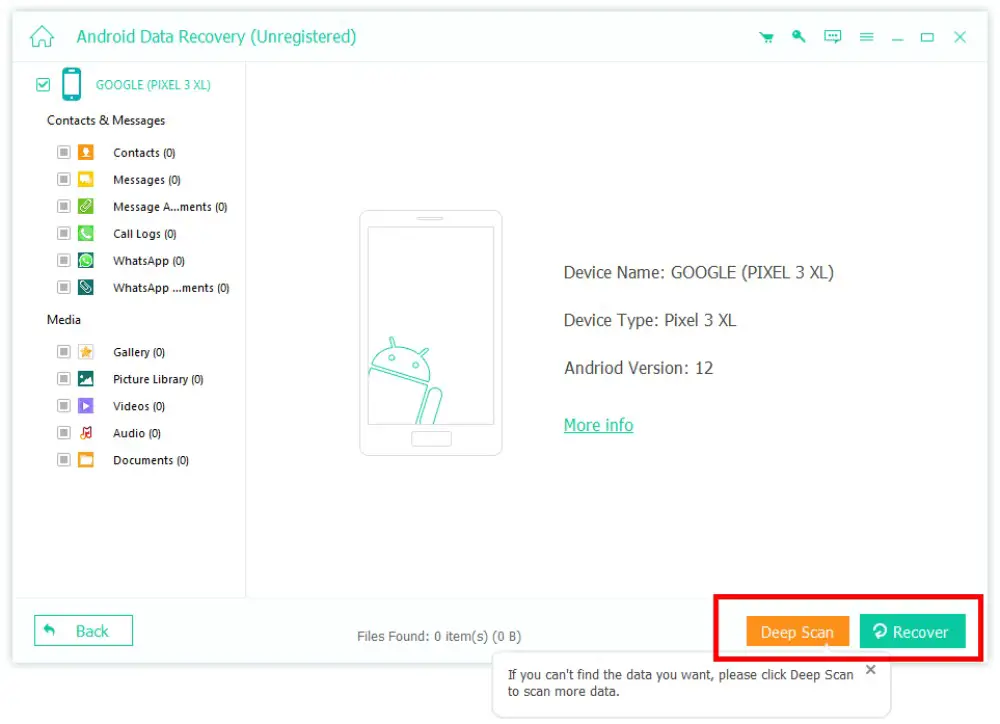 Step 6. Select Output Destination
After choosing and confirming the recovery of the message, you need to choose an output folder for the recovered messages. And when the recovery is done, you will see the deleted messages in that folder.
3. Fixed: Retrieve Deleted Text Messages on Android without Computer
The first solution is quick and easy but is not suitable for those who do not have a computer by hand. Do not worry. We still got you covered. Even without a backup or computer, it is still possible to restore deleted messages on Android, especially for those phones that have a recycle bin in the Messages app. Apart from this, you can also learn how to restore the Android phone, including the messages, from your previous backups. Let's dive in and start recovering.
Recover from Recycle Bin
For Samsung and Google Android phones, the Messages app has a recycle bin. If you cannot find where it is, see the steps here to find where your deleted messages are.
Step 1. Take the Samsung phone as an example. Open the Messages app. Tap the More button.
Step 2. Choose Recycle bin. The deleted messages are all there.
Step 3. Tap to choose those you want to recover. Select multiple messages simultaneously and tap the Restore button to get them back.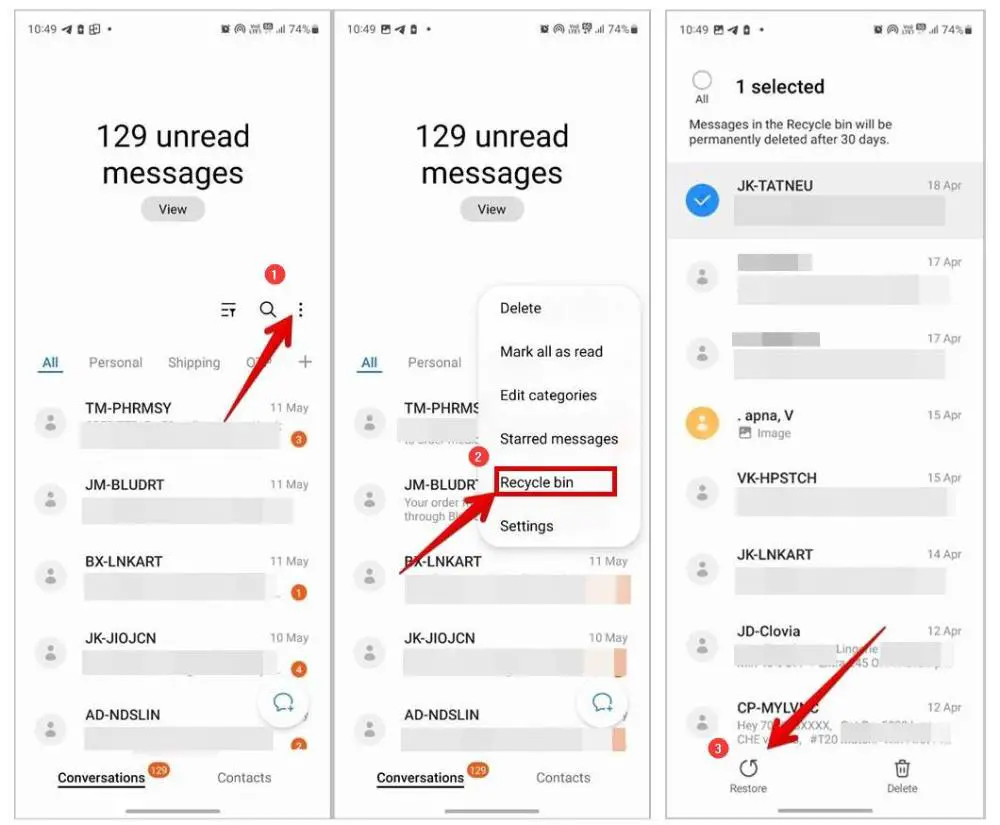 Note: Most recycle bin only stores the deleted messages for 30 days. Hence, the trick to restore them successfully is to act fast.
Retrieve Messages from Backup
You can save more time if you have a backup of the Android data, in which you can also find the corresponding Android messages. Whether you have backed the data in Google Drive, OneDrive, or system cloud backup, find and restore these backups to see if your previously deleted messages are back. Below is an example of retrieving deleted Android messages from Google Drive.
Step 1. Open the Google Drive app and tap the Menu button to see more.
Step 2. Select Backups and choose the latest backup to restore your Android phone.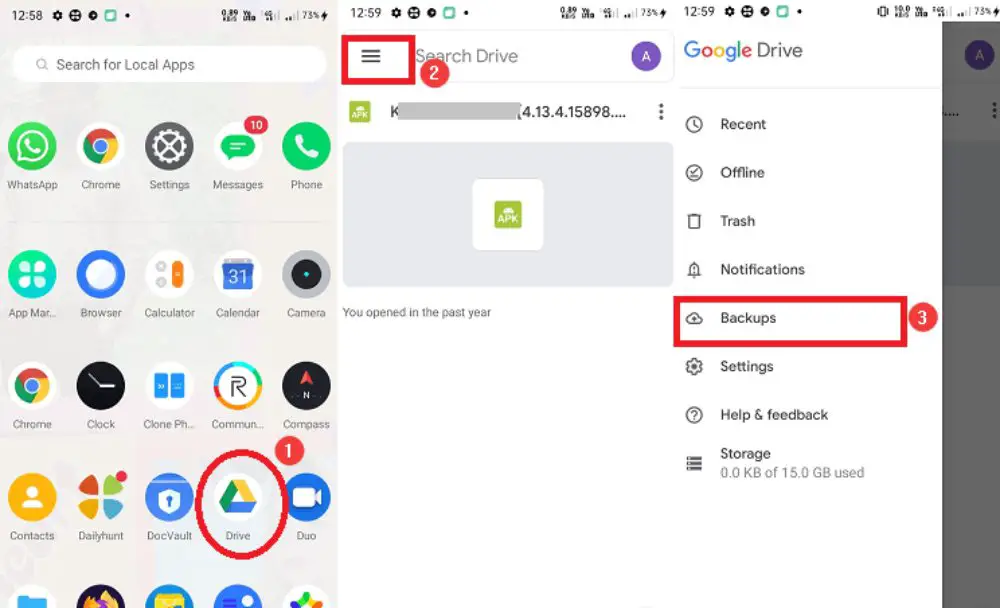 Ask the Messages Senders/Receivers
If you cannot find any backup and the above solutions do not work for you, try reaching out to the people you are texting to. They might keep the messages records and can send back the important information you need.
4. Tips for SMS/Messages Backup on Android
To avoid messages disappearing for no reason or boost the chance of getting deleted messages back on Android, backing up your phone data regularly is a wise choice. The backup can cover your Android phone's App data, Call history, Contacts, Settings, SMS /MMS Messages, Pictures and Videos. After recovering the deleted messages following the above guide, it is a good time to do a backup, and there are several choices for you, such as OneDrive, Google Drive, Dropbox, etc.
Conclusion
To sum it up, whether you want to retrieve deleted text messages from Android without a computer or recover without a backup, the above solutions can help you and provide detailed instructions. Share this article to help more people recover their valuable messages on Android phones.