What happens when this crucial data is lost because of the improper handling of your mobile phone? What if your android catches a virus and it formats or all of the data stored on your Smartphone gets corrupted. It is very frustrating to see your data gone, isn't it? Is it possible to recover lost data? All these questions will be answered in a few moments as android data recovery is not that hard to perform to bring back what is gone. Read the full post, and you'll be aware of the many applications and techniques to recover the lost data in android. So here it goes…
Whenever we go out for a party and picnic or a family trip, the most important part of those times is to make memories. To have these memories with us forever is to click pictures; otherwise, everything we do will go in vain. And so that after some time, when we look back at those photographs, we live those memories again. When we receive the message of our first salary or the message of our crush, we cherish that message for the rest of our life. We bring office work files and necessary data to home because we have to complete them before the deadline. Also, we save important bills and documents on our mobile phones for ease of accessibility and on-the-go work. 
But before diving further, I would like to break down a few terms that you will be hearing consistently throughout this article. So that it won't make this article sound too technical and challenging for you to understand. So, let's start the journey of android data recovery.
Don't Miss: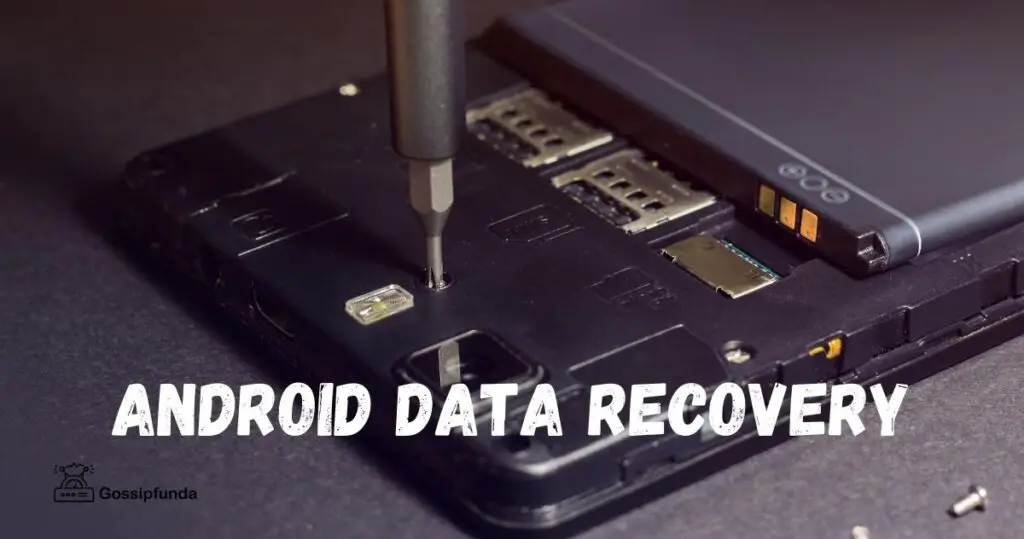 Method 1: Without any third-party
 The first method to retrieve missing android data without any third-party application or software:
We all know from our experiences that prevention is better than cure. To avoid the data recovery process, you should always keep your data backed up, either on another device or on Cloud. Amazon Drive, pCloud, OneDrive, Google Drive, Dropbox are all cloud service providers. Many of you are must be familiar with Google Drive and Dropbox. They also offer limited storage for free. If you want more, then you might want to check their plans. But from a general user's perspective, their free service should be enough for you to store and backup your valuable data. Nowadays, Smartphone brands also provide this backup and restore service.
If you have a backup of your data on one of these cloud storage services, then it will be an easy-peasy task to recover what's lost.
For example, if your data is on Google drive, just log in to your Google account from your mobile or any other mobile or pc. After logging search on the drive for the missing files. Also, you can check your Google photos and the trash folder to see if your deleted photos and files are there. Once you find your data, just check the data you want and click on restore. All your deleted data will be restored on your android phone.
Method 2: Using third party app
The second method to retrieve missing android data using third party applications:
Before applying the method, what rooted and non-rooted android phone is in general? 
Rooted android: It is a device in which you gain complete control of the device. It will depend on you and only you about what to keep on mobile and whatnot. You can uninstall and install something which is prohibited by the manufacturer. 
Non-rooted android: The devices that we are currently using as it is from the day they got delivered to us are non-rooted. We cannot do anything outside the boundary set by the manufacturer, like installing multiple OS or apps that don't support it.
USB debugging: Developers use this feature while transferring and receiving data to and from android. It's meant for an android device to be able to communicate with the Android SDK (Software Development Kit) using a USB connection.
           When you delete something from your android, it doesn't go anywhere. What the system does is just hides the path to that specific file or folder, but it stays there unless some new data overrides it. So one thing to keep in mind before data recovery is that make sure no new data is stored or saved on the device. Because it might overwrite the space on which your file was stored, and the recovery of the data may become difficult or impossible. So keep that in mind.
Now let's get ready to see and apply the android data recovery software applications for the lost, missing, and corrupt data.
Android Data Recovery software and apps:
1. Samsung Data Recover
The first application to start with is Samsung Data Recovery. It has the simplest UI and easy-to-use functionality. Also, It supports multiple scanning and many file format from jpeg to png and from audio, video to pictures. It doesn't ask for mobile rooting too. It also previews the data before recovery. To start the recovery, just download the application and install it. After successful installation, plug in your mobile to pc and launch the application.
After launching, you'll get a screen like below: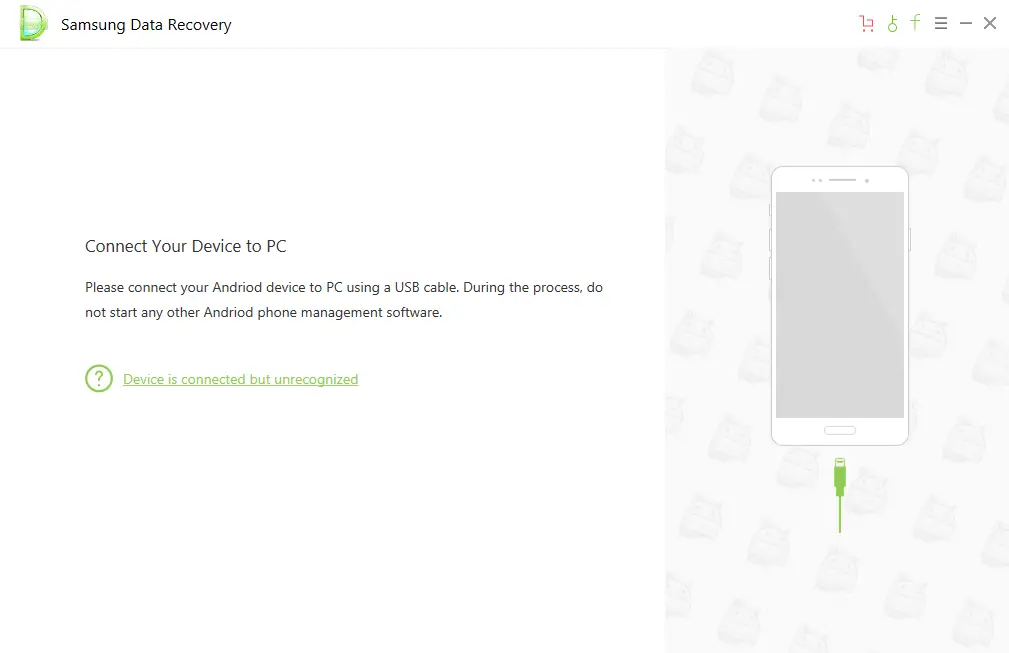 Connect your mobile, and it will start the connection between your mobile and the computer application. Choose your android version and follow the steps given on the screen to enable USB debugging.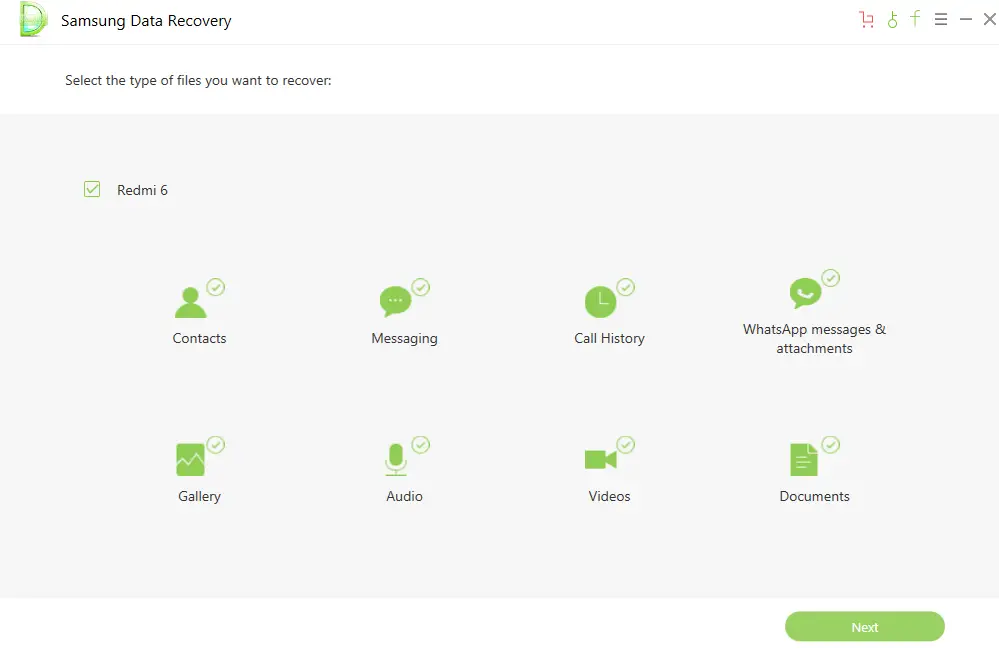 After this, Voila! A whole range of options will be available to you to choose from. This is paid software, so you might want to look into that. The free trial gives you limited access for a limited period of time.
2. EaseUS Mobisaver:
             It is another software for android data recovery. It is powerful enough to recover many files formats and internal memory files too. Also, It supports many devices like Samsung, Google, Sony, HTC, LG, Huawei, etc.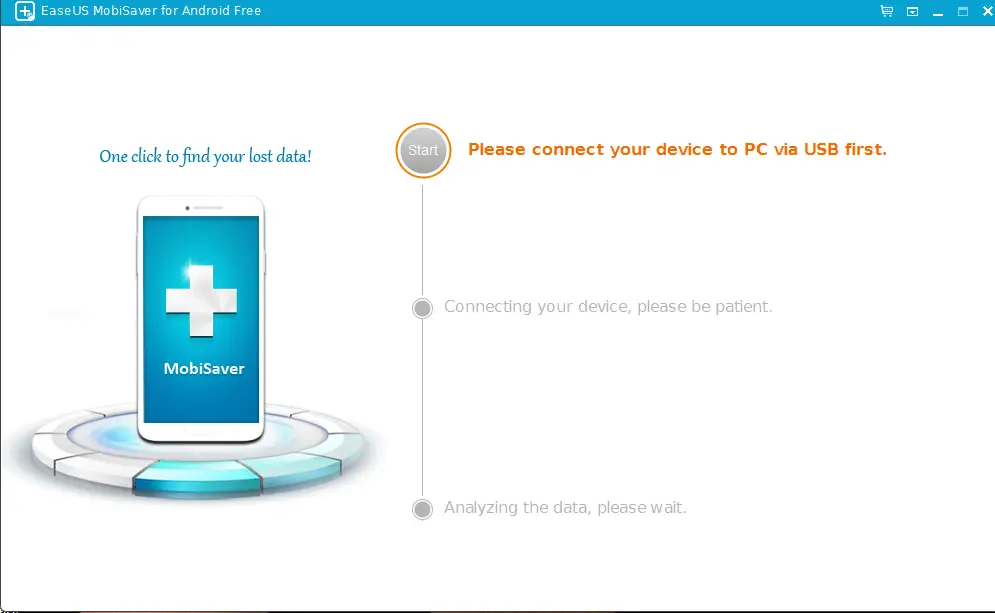 As you can see in the above image, you just have to connect your phone to a computer or laptop using a USB cable and turn the USB debugging option on, and you can start the scanning. The only drawback of this application is that it needs the root permission of android. That means you might have to root your android in order to use this recovery application. Also, you have to purchase the software to retrieve lost data. In the free variant, you can simply scan and preview the recoverable files.
3. Drfone Wondershare:
           Wondershare is a famous software solution for all sorts of problems ranging from personal to commercial use. As the official site mentions, Drfone is a complete package for all android related problems and services. With data recovery, it also provides phone transfer, WhatsApp transfer, phone manager, phone backup, system repair, and data eraser.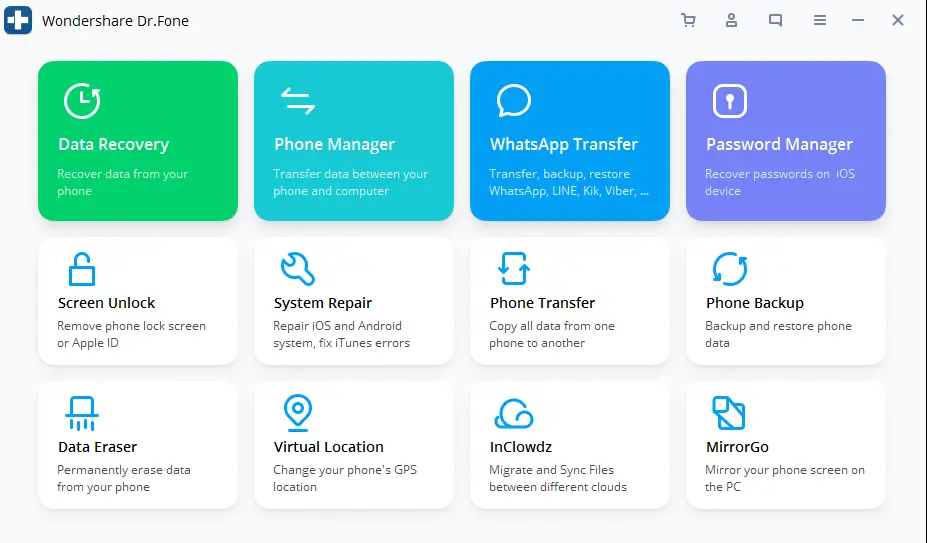 In the above image, you can see the main menu, and perform your task accordingly.
4. Fonepaw:
           Fonepaw is an android data recovery software that is famous for its speed and deep scans. It also supports many file extensions and keeps the data safe, including call logs, text messages, WhatsApp data and media, photos, videos, and documents. No matter how you deleted or lost your data, fonepaw makes it possible to bring that back in one piece along with backup can also be done. The free version comes with many limitations, so you might want to check that first.
5. Disk Drill:
           No matter how you lost your data, maybe because your phone is corrupted or water damage, memory crash, or system is not working or deleted unintentionally, a disk drill will handle it all. Files that are recoverable by this software application are emails, documents, music files, videos, and more. To recover the data, just plug in your android to a PC or laptop and enable USB storage. Now scan for the deleted files can recover accordingly. If the mass storage option is not there or not working, then you might have to root your device beforehand.
6. Recuva:
Last but not the least, Recuva. This is open-source software that helps in android data recovery as well as PC data recovery. It doesn't matter if you have deleted an entire partition of pc or lost all of the stored data on your android external memory card. Recuva will recover it as it is.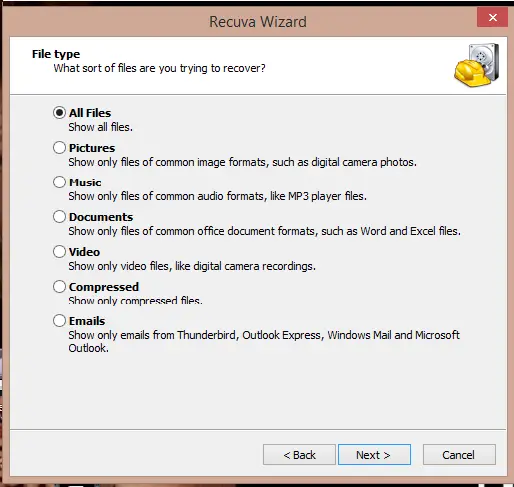 In the above image, after launching the application, this will be the first window you'll get. Here you decide what you want to recover, any specific file or all types of files.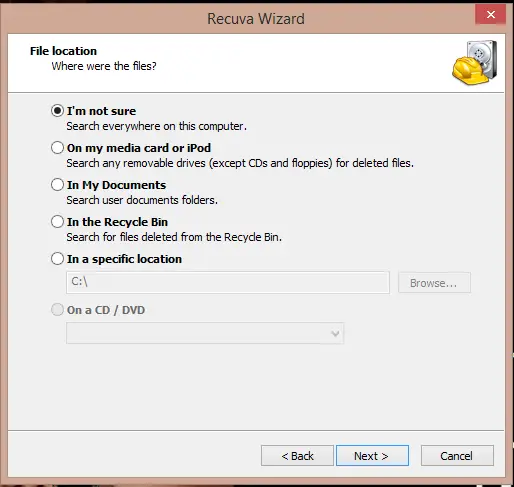 After that, you'll be choosing the file location where you want to perform the scan. It can be your hard disk drive partition, removable media like USB or External SD card, recycle bin, etc. You can also specify a particular location, as you can see in the below image.
To recover the data from your external SD card, just insert the SD card into your PC and scan for deleted files. After this, you'll be presented with another window where you'll be asked if you want a deep scan, check the option; otherwise, it can be left unchecked. It also shows the health and recovery status of each file, which means if it is recoverable or not or the file is much damaged. 
Read also: Iskysoft Toolbox
7. Bitwar data Recovery:
This application is one of the best out there for getting the lost data back. This software is also a paid one and gives you a basic feature in the free trial. This software also provides an android app that runs directly on your android phone to recover what is lost.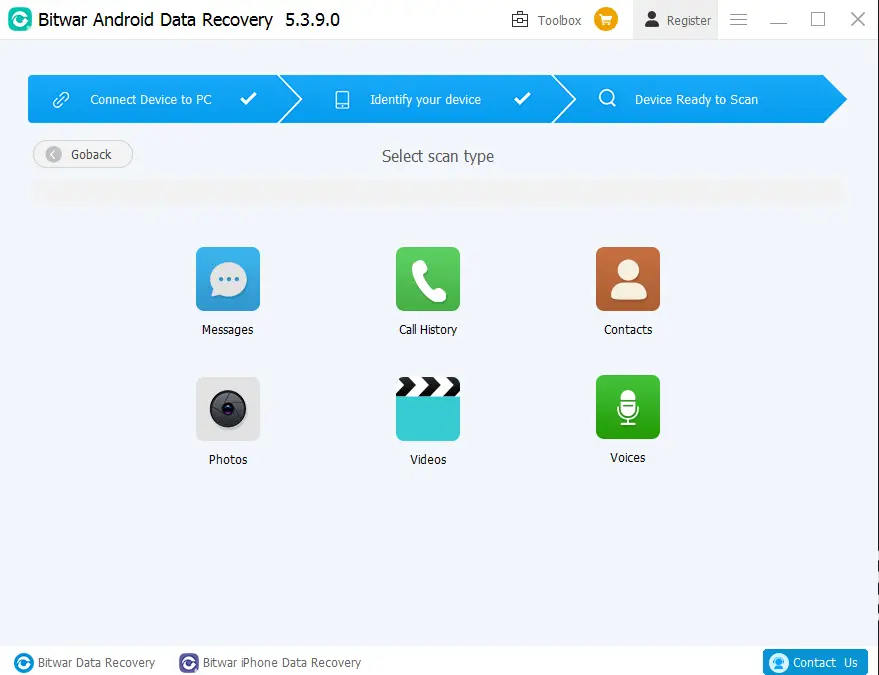 Method 3: Contanct Service Center
This is the last method suggested by us,. You should contact to the mobile service center, they will open your mobile even it is dead. They can do android data recovery through your ROM chip. Your ROM has main data, which can read through any ROM data reading device.
Conclusion:
           To conclude this article on android data recovery, you, as an android user, always look for your data backup. Taking data backup is a process of creating a copy of data so that when one of the situations comes where you don't find your data in place, missing or deleted, then it can be recovered. To avoid yourself from the missing data scenario, always back your data up to one of the mentioned cloud services. Even after that, you find yourself in trouble with lost data; use the tools we have to provide here according to your need.
You can also backup your data onto your pc for ease of accessibility. Keep your mobile up-to-date for any virus attack, do security scans, and handle mobile carefully. Don't let the mobile phone stay in the moisture area, keep away from watery substances and avoid contact with strong magnetic disks or magnets in general. And never save anything on the device if you know you've accidentally deleted something important file and now you want to recover it, because it will reduce the chances of successful retrieval of data.