As we all know, text messages are a popular way to send urgent messages to someone without using the internet. Many people all over the world use text messages not only to send urgent messages but also to send MMS videos. But also mention a common issue that your phone won't download pictures in text messages android. There is no longer any issue with sending and receiving text messages. Second, you may not encounter any issues when sending an MMS or a video. But then you get stuck; you get an MMS, but it doesn't get downloaded. Don't panic almost everyone faces it. But yes, the reason may vary from person to person. But don't worry we are here for you. Through this article, we will let you know about the problems that you might face and how to deal with them.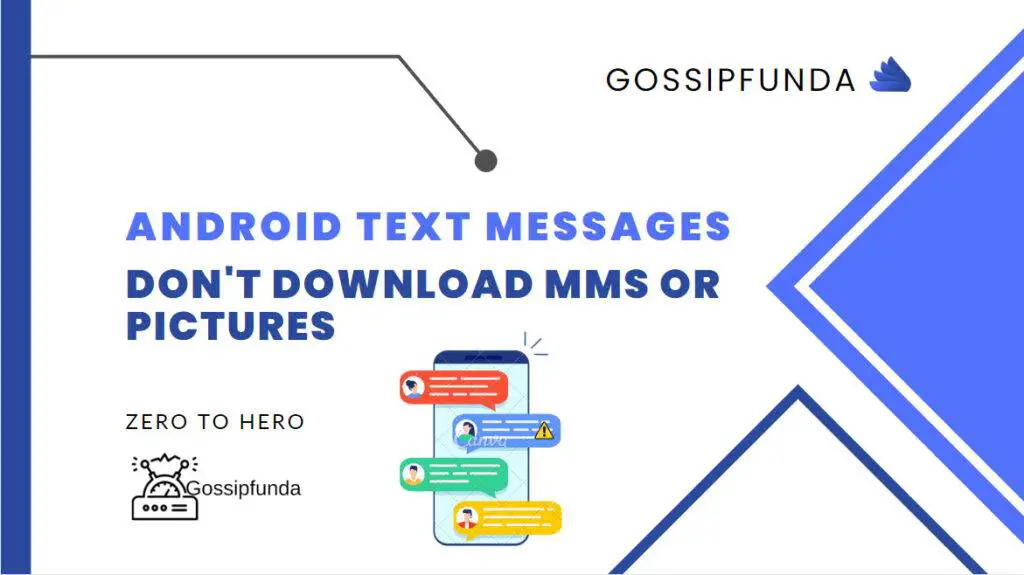 What MMS is?
MMS stands for multimedia messaging service. It is a common feature available in every phone to use. You can use this feature through your built-in text message application on your android. This feature allows you to share multimedia files over a network. They include pictures, audio, or videos. Using MMS you can share these types of multimedia files easily with anyone on the network. 
But yes currently almost everyone prefers using various other social media platforms for communication. Most of us have adopted other messaging applications like Whatsapp, Facebook, Instagram, telegram, etc. It is also true that today also many people still use MMS instead of the above-mentioned applications. They preferred MMS to reach out to the other person quickly.
Today many people complain a lot about "why won't my phone download pictures". While there is the sender, the one who quickly sends you an MMS but on the other side, the receiver on receiving it gets stuck while downloading it. Now here problems can differ from person to person. The problems may occur due to some network issue, or incorrect settings, or for some, it may occur due to the use of applications that interferes with the settings of text messages. So the problem can be anything but we are here with the solutions that you can use and get your problem.
Method 1: Restart your mobile device 
The first and foremost simple thing that you can do is restart your mobile. This is really a very simple and easy action to prefer. Therefore if you are unable to download pictures from your text messages the first option you should go for is rebooting your mobile phone. 
You are all electronic devices have an on-off button which may help you in resolving minor issues if present. And would make text messages work properly. After rebooting the device, check once if it's working. If it works, then this was I was a very simple fix. Otherwise please go to for next solutions.
Method 2: Verify the Network Connection of Your Phone
Now, if you want to download MMS, pictures, or audio, all you need is a decent internet connection. If you do not have access to the internet, then obviously you will be unable to send or receive MMS. Therefore please ensure that you have a stable internet connection.
Scroll down to see the notification section.
Check to see if mobile data or Wi-Fi is enabled. If not, please switch on any one of them.
You may also try turning off and on your airplane mode, and then turning on mobile data or Wi-Fi again.
Then you may try to download your MMS. If it doesn't work please go for the next solution.
Method 3: Delete Previous Messages 
Some phones and carriers support only just a limited number of MMS messages to be downloaded. And in case you have reached the limit then that may be the reason that you are unable to download MMS now. So consider deleting unnecessary or unimportant messages from your default messenger as an option to resolve this problem. Doing this will free up some space for your messenger. And then finally you can now attempt to again download the MMS.
Method 4: Clear Cache and Data 
Every single application that you install or are pre-installed on your phone consumes some cache and data. There are three cases in which you can go for clearing your cache and data. First, if your text messaging application has already used up a lot of storage space. To free up some space in this situation, consider emptying the default messenger cache and data.
Alternatively, it's possible that your cache files are corrupt. Therefore, in this situation, you may attempt this clear the messenger cache and data and resolve your problem. Third, it's possible that you made a mistake when configuring your text message settings. You may thus erase the cache and data to restore your text messages to their original settings. And as a result, downloading MMS functions flawlessly.
You can clear the cache and data by following the outline steps: 
First, turn on your Android smartphone.
Navigate to the Settings menu.
Scroll down and click on Apps.
Search for your default text messenger through the search field.
Click on the text messenger app.
Navigate to Storage and tap it.
Select Clear Cache. 
Select Clear data.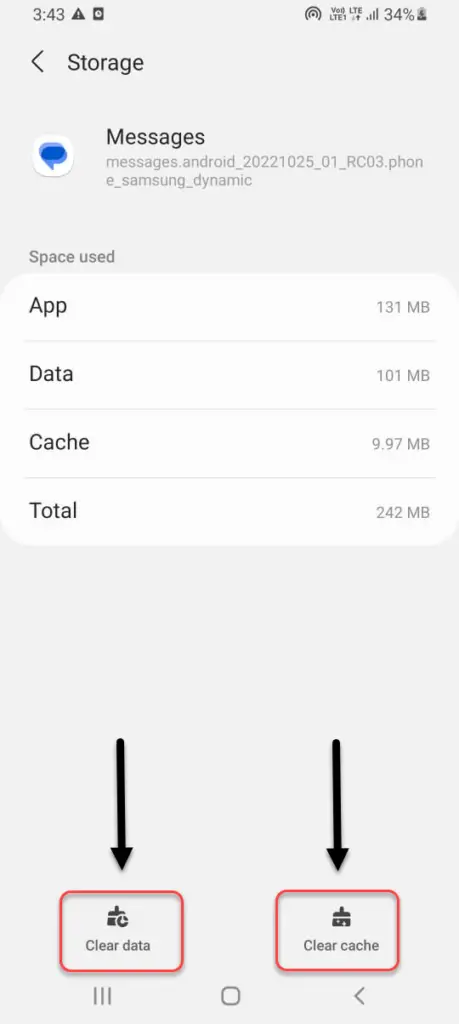 And you are done. This will clear the default settings of your text message application and also delete all its data. So this solves the problem of storage as well as will help you in recovering all default settings.
Also read: How to clear Instagram Cache?
Method 5: Allow MMS Auto-Download
Another possibility is to enable MMS auto-download. This option allows you to effortlessly send and receive MMS messages using your default messaging program. This ensures that every MMS you get , downloads automatically. So, follow the steps below to execute the configuration.
Navigate to your default Messenger App.
Click on the three bars in the top-left corner of the program. This will bring up a side navigation menu.
Locate and choose the settings option.
Tap on the advanced settings option now.
Find auto-download MMS, turn it on, and you're done. This will activate the MMS auto-download capability.
Method 6: Uninstall Troublesome Apps
As previously said, you may have installed some applications on your phone that interfere with the normal operation of your text messenger. So you may try restarting your phone in safe mode. Your smartphone OS bans all third-party applications when in safe mode. So, in safe mode, you should test the operation of the default messenger.  If in safe mode your default messenger works properly and allows you to effortlessly download MMS. This clearly shows that third-party applications are to blame. As a result, the remedy is to uninstall them. After uninstalling them, your text messages should function normally.
Method 7: Switch to a different application 
If any solution mentioned about doesn't work for you. Still, android text messages don't download MMS or pictures then it's time that you should switch to a different application. There are various messenger applications available like WhatsApp, Instagram, telegram, Facebook, Snapchat, etc. And let me tell you one thing they don't charge anything. You can just download any one of them as per your choice. Create your own account, log in to it, and finally start using it. You will definitely be able to send or receive any kind of MMS or pictures etc by using these applications. But you will need one thing which is a decent internet connection. But in case you don't want to switch to a different application you have one last solution for this which is mentioned below.
Method 8: Factory Reset Android
If every other method fails and your Android text messages still do not download MMS or photos, your only choice is to do a factory reset. This choice will undoubtedly organize everything for you. However, bear in mind that this procedure not only deletes all of the default settings for each application, but it also deletes all of your network settings, and downloaded apps. Also, it clears the settings of pre-installed apps and erases all of your data and information from your phone. So, before you proceed, make sure you have a backup of your important data.
You can perform a Factory reset by following the outline steps: 
First, turn on your Android smartphone.
Navigate to the settings menu.
Locate and press "General Management."
Locate and choose the "Reset" option, then select "Factory Data Reset."
And finally, Configure your phone and network settings, and connect to wifi.
And you're finished. This will reset your phone and restore it to its factory settings. There would be no information on your phone. You would not discover any past applications. You will also see that all pre-installed application settings and network settings have been retrieved. And, without a doubt, text Messenger works perfectly.
Conclusion
MMS is a popular function that is offered on the default messenger. You may use this tool to send or receive multimedia assets such as audio, video, or photos. However, many individuals have issues with their phone won't download pictures in text messages android. In this case, you can attempt any of the solutions provided in the article. In the article, we have almost tried to put down every potential solution that is possible.
You can try these out and get your text messenger to operate normally again. This post would have assisted you in understanding the genuine causes of not downloading MMS all pictures in your text messenger. Also, you would have got many Solutions to deal with this problem.