Is turning Phone Visibility ON safe for your smartphone? Hello and welcome back to another article at Gossipfunda. I hope the new year is treating you all well. Today I would like to take up the topic of Phone Visibility on your Android Smartphone. I will try to discuss everything regarding Phone Visibility and wireless connectivity feature in this article. Nowadays all smartphones provide these features for granted. We'll also take a look at the different types of information available to someone else through Phone Visibility. The ways they can get this information and how can they use it. So let's begin.
Today, when even chargers are wireless, it is important to get some in-depth knowledge about terms like wireless connectivity, and Phone Visibility. Hence in this article, I will be taking you through all these terminologies one by one. After discussing the terminologies I will discuss some tutorials about the uses of different wireless technologies like Wi-Fi and Bluetooth. Along with this, I will also discuss the harm of keeping Phone Visibility at all times. If you find this article helpful at all, do share it with your friends and family. With that said and done let's dive in deep.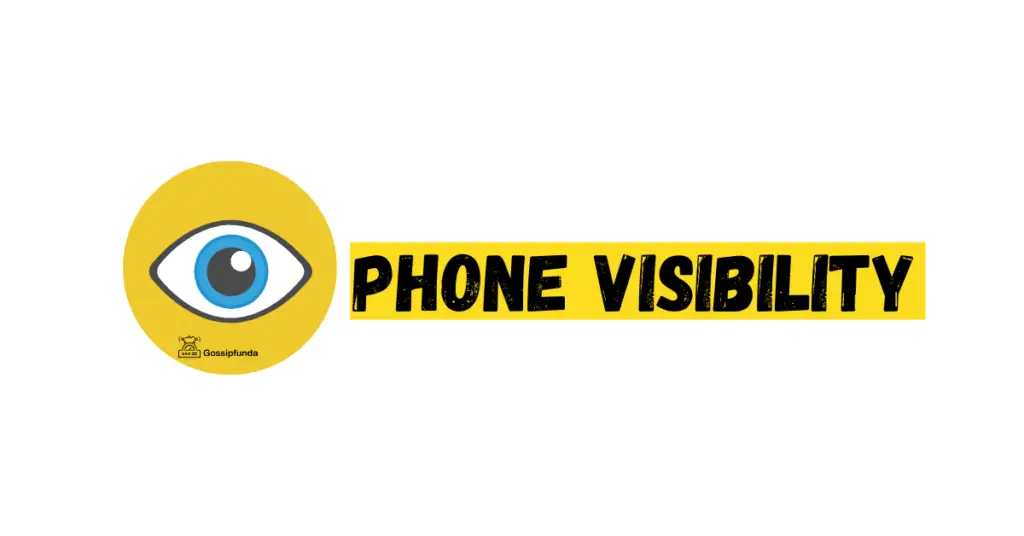 Wireless Communication
Going by the Wikipedia definition "Wireless communication is the electromagnetic transfer of information between two or more points that are not connected by an electrical conductor." A bit too technical for my taste. In more simplified words, Wireless communication is the transfer of data to multiple points without a physical medium using electromagnetic waves. This means you don't need a wire connecting two points to transfer data between them. Although this a very common thing now, it was revolutionary when first introduced. Even though the tech has seen a boom in recent years. Its history goes way back to 1880 when Alexander Graham Bell and Charles Summer Tainter invented the Photophone.
The photophone was a type of telephone invented to transfer audio using light. Photophone required constant sunlight and clear sight between the two points of contact. This greatly reduced the practical use of the Photophone. Following this, a large number of methods using electromagnetic waves were patented during this time. The real Wireless revolution began in the 1990s with the widespread popularity of commercial wireless devices. Wired technology was quickly being replaced with wireless tech during this period. This included cell phones, pagers, wireless computer networks, cellular networks, and several others.
This eventually led to other types of data being transferred wirelessly like images, videos, and text. Wireless technology in recent years has seen much more advancement which has led to things like live streaming being possible. Live streaming with minimal delays nowadays is not just common but has also been turned into a career by platforms like Twitch. Let's talk about two of the most common methods for transferring data wirelessly:
Wi-Fi
Wi-Fi is arguably the most used wireless technology in the world for transferring data. Over 3.05 billion Wi-Fi enabled devices are shipped every year. Wi-Fi enabled devices to include smartphones, laptops, desktop, smart TVs, speakers, and even refrigerators. Wi-Fi network is also very commonly used for accessing the internet using an internet carrier or broadband service. The broadband service is transformed into a Wi-Fi network by using a router. This enables multiple devices to connect and use the same network and eradicates the need for multiple carriers.
Many apps like ShareIt and Xender were introduced in the last decade for sharing files over the same wireless network. Wi-Fi bands generally work better in the line of sight. Physical obstacles like walls or floors can reduce their range and quality of connection. The typical range for a Wi-Fi signal is around 150 to 200 meters. As expected the strength reduces as you increase the distance from the signal source or the Hotspot. In today's world Wi-Fi has become a necessity. Even malls and coffee shops nowadays have started to provide free Internet connection through Wi-Fi. But connecting your phone to a public wireless network is not very safe and makes your device vulnerable. Hence it is only recommended to use wireless networks that are trustable.
Bluetooth
Bluetooth is another technology that has gained a large amount of popularity in these years. It is a technology used by mobile and fixed devices to share data between them over short distances. The amount of data that can be sent is also fairly limited due to its low transfer speed. Since nowadays Wi-Fi can provide better transfer rates over larger distances, Bluetooth is used as a communication media between different hardware. These days smartphones like Samsung's Galaxy line or Apple's iPhone have removed earphone jacks in favor of wireless earphones.
These wireless earphones contact with the smartphone using Bluetooth. Similarly, Gaming consoles get a huge amount of use from Bluetooth. The wireless controllers on Xbox or Playstation are connected to the console using Bluetooth. Since they are supposed to be used very near to each other it serves the purpose right without causing any input delays. Generally, the range of Bluetooth is around only 20 meters. Like Wi-Fi, Bluetooth is also present in almost every smartphone or speaker. Cars and even home appliances make efficient use of Bluetooth.
Now that we've gone through some of the most popular wireless technologies, let's discuss Phone Visibility.
Phone Visibility
In recent years Samsung and other smartphone manufacturers have added an option called Phone Visibility in the Connections menu. This option might not be very self declarative so let me explain what enabling it will do. Phone Visibility lets other smartphones find you while using Bluetooth using your smartphone's name or over the same Wi-Fi network. This ensures that only people you trust can send you data or view your information when using public Wi-Fi.
Is turning Phone Visibility ON safe for your smartphone?
Turning Phone Visibility ON is not safe, I recommend keeping the option toggled off unless you need to send or receive some files. This will generally increase your smartphone's security. Even if the attacker is on the same network they will not be able to affect you easily.
Enabling Phone Visibility
I recommend enabling Phone Visibility only when receiving or sending files from/to a trustable source. To enable this option follow these steps:
Go to the Apps sections.
Tap on the gears icon to enter the settings of your smartphone.
Under the Connections, press the More Settings button.
You should see the Phone Visibility toggle button.
Tap on this button to enable it.
That's it. You've now enabled Phone Visibility on your phone. Other smartphones will now be able to find your smartphone and send you data and vice-versa.
The smartphone's name plays an important role in finding it. By default, the smartphone's name is something related to the brand and model of the phone. You can change this from the About section in the settings.
Using Bluetooth To Share Files
Bluetooth is a great way of sharing data between two devices that are close to each other. Follow these steps to share files between two devices.
First and foremost make sure that you have Bluetooth enabled on both devices.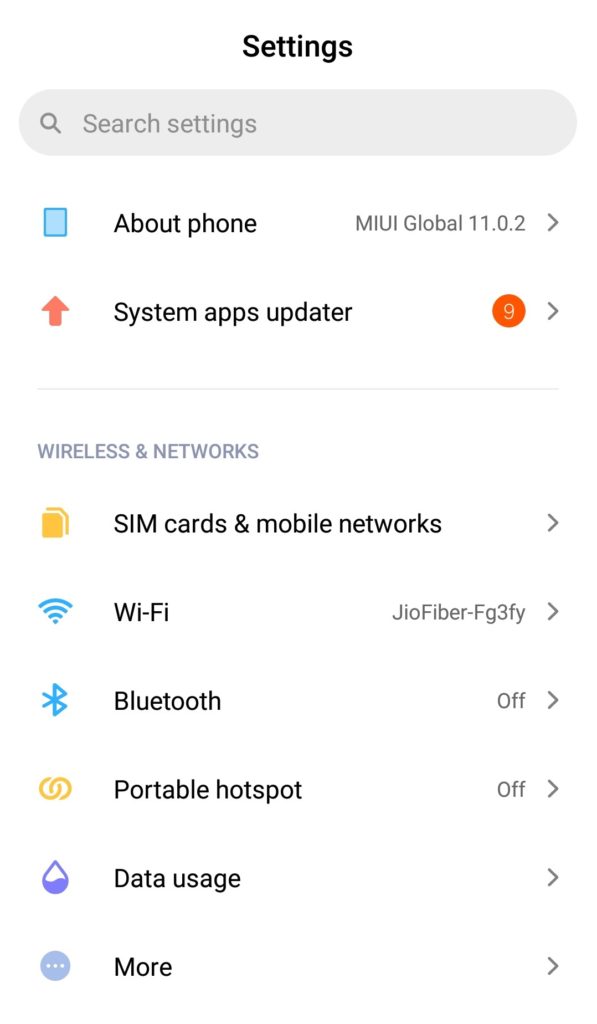 You also need to make sure that the Phone Visibility has been turned on both phones to pair them up with each other.      
Go to your Bluetooth menu and tap scan.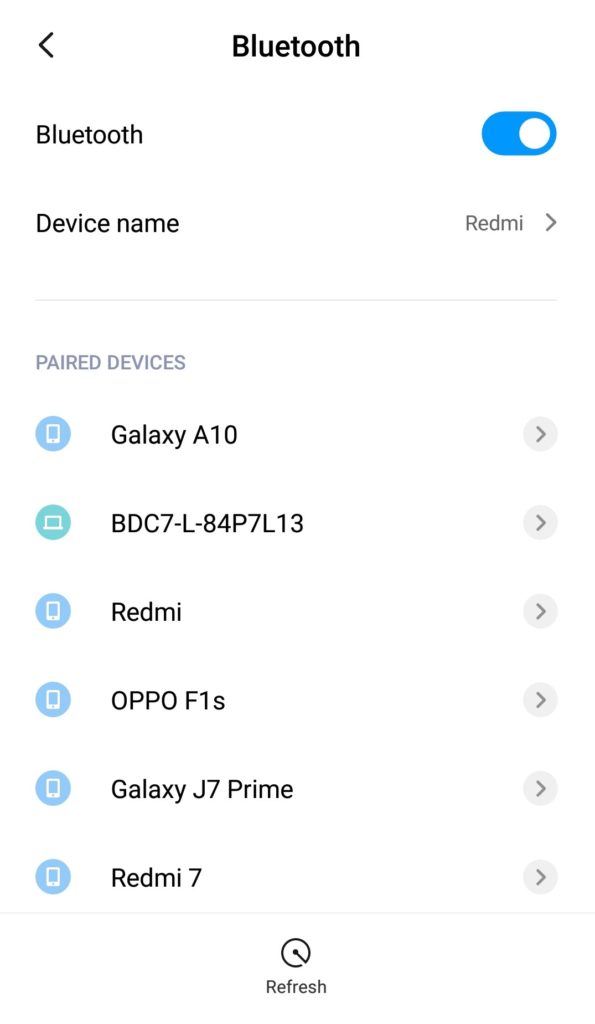 Find the device using its name from the list. Tap on it and select Pair. You might need to verify the passcode by simply tapping on the word Verify that appears with the pop-up.
Once the two devices get paired up, you now just need to send files.
Go to the File Manager or Gallery, depending on the type of file you want to send.        
Long Tap on the desired file. Another menu will appear and select Send from that menu.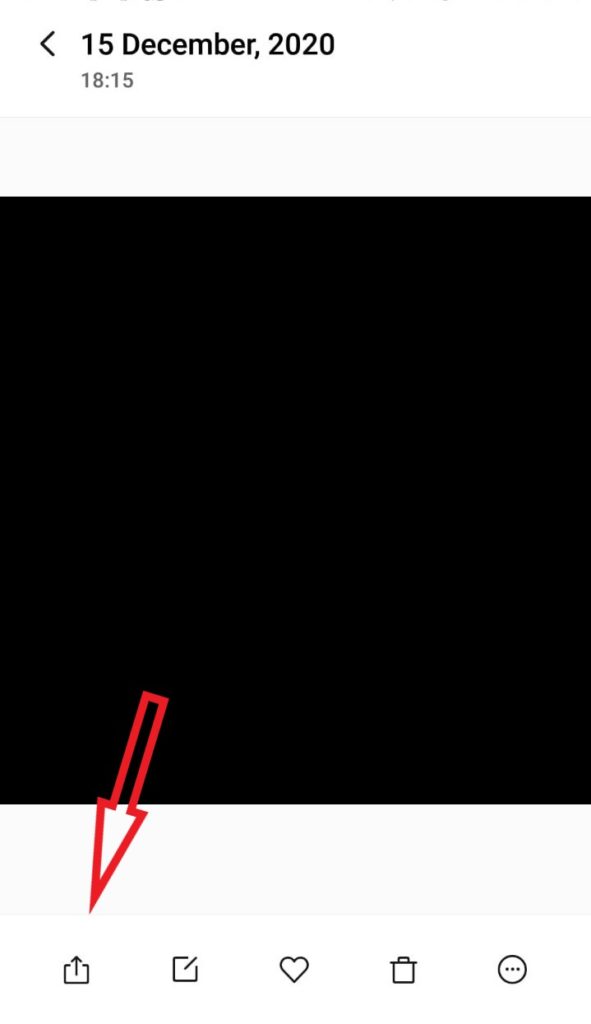 Another menu will appear. You need to select Bluetooth from this menu.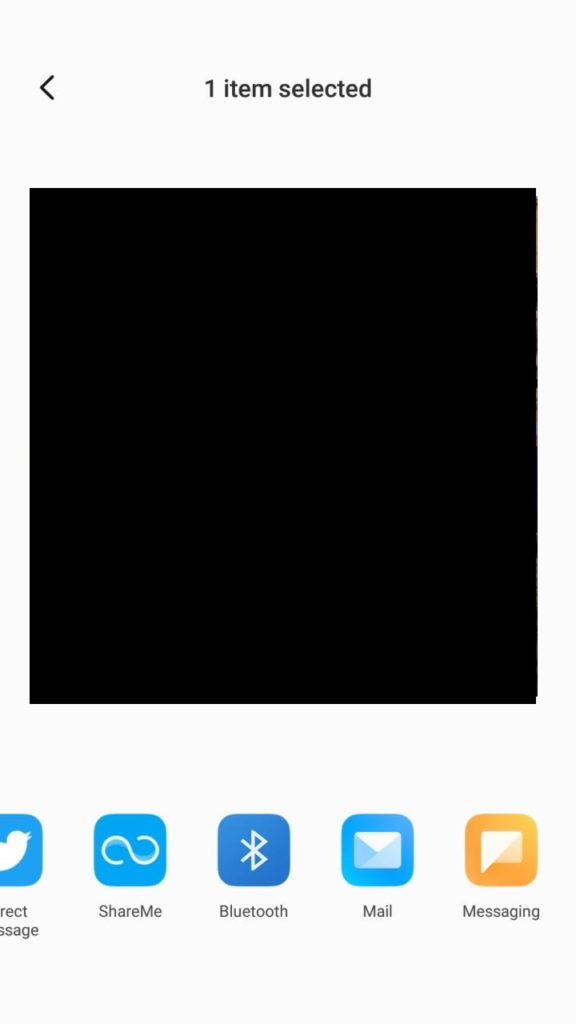 You will need to select the other paired device that will receive the file.                   
A confirmation pop-up will appear on the receiving device. Press Accept and the File Transfer will begin.
You have now successfully shared a file between two different phones using Bluetooth. Wireless earphones, Controllers, and other appliances can also be connected via the same Bluetooth menu on the Settings page of your smartphone. Be careful whenever you're receiving files from another device as there are chances of the file containing Malware. Consequently, I recommend using Bluetooth with only trustable sources.
Conclusion
We've now reached the end of this article. We've talked in-depth about the growth of wireless communication and data transfer through the years. We also discussed two of the most used wireless technologies namely, Bluetooth and Wi-Fi. We also covered their merits and demerits and their different area of use.
After this, we came to the main topic of discussion Phone Visibility. I also provided you guys with ways of enabling Phone Visibility and using Bluetooth to transfer files from one phone to  the other.
Hope this article comes in use to you. If it does, don't forget to share it.