Everyone likes a smooth-running system on their android devices. But nowadays, android users are coming across an issue where they find an error message that says, "Android process system isn't responding."
 Most of the users receive this message whenever they try to install a new application from the play store. Although android software is developing, there are still a lot of loopholes in the system. If you are getting messages like "Process System Isn't Responding," you have arrived at the right page. Here, we will be discussing the issues that cause it and how to fix the error. 
There can be a lot of reasons for this error. People can encounter this error because of:
A new android update.
No sufficient space on the external as well as internal drives
Software conflicts.
Some dangerous applications that the user must have installed from any unknown sources.
Rooted Device or Custom ROM
If some crucial files are lost.
What it means is that there are many reasons for this error to occur on your android device. If you want to resolve this "Android process system isn't responding" error to go away, you must perform the following steps. But please back up your device's data somewhere safe before performing the tasks.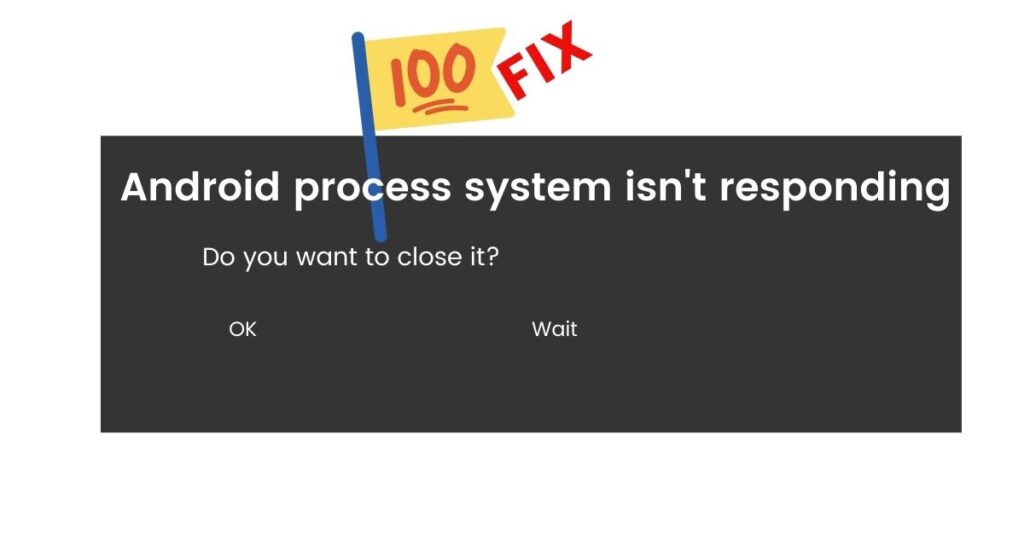 How to fix Android process system isn't responding
Ways to solve the error:
1) Restart your device
The first and primary step is to restart your device. It is the easiest way to resolve the bug and is performed by pressing the power button for too long. After that, press reboot, and your phone will restart. If this does not work, move on to the next step. 
2) Internal Storage
Any android user must have at least 300MB memory free for the android applications to function normally. It is because of lesser internal memory that the OS is not able to provide the data to a particular app. This causes the generation of this error. If the limit has already crossed, you can clear some cache data and uninstall some applications which you do not use regularly.
Go to settings.
Click on storage.
Clear Cache Data.
You can also stop some of the applications which consume a lot of RAM. 
Select settings and go to android settings. 
Then select the application which you do not use and consumes a lot of RAM. 
Click on the "Force Stop" option to clear RAM. 
If the issue persists, follow the next step.
3) Updated Device
A user must keep their smartphone up to date. You must regularly check for updates as the old software might cause errors like this one. The applications should also be updated regularly.
Click on Google Play Store
Open "My Apps and Games."
If all applications are up to date, then it is brilliant.
Otherwise, click on the "Update All" button.
Also, check for system updates.
Go to setting. 
Click on About Phone.
Click on "System Updates."
Download and install the new Operating System. 
Check if the error is resolved or not. Otherwise, try the next step.
4) Remove your SD CARD
SD card can be a major issue for users to encounter an "Android process system isn't responding" error. This error might also get generated if there is some malfunctioning in the SD card. Generally, these issues arise in SD cards with a memory of more than 16 GB. Firstly, try and remove the SD card to check if you are still getting the error. Restart your device and check it. If you are not receiving any bugs, then the error was caused because of the malfunctioning of the SD card. 
Note: Before you discard the memory card, please clear all the data from the SD card or save it somewhere safe as it will convert into e-waste.
5) Safe Mode
The error can also come up because of some third-party applications that automatically get installed into your device. It also slows down the speed of your smartphone. So, a solution to this is that the user should boot the device to safe mode as this will delete all the third-party applications. To enter a safe mood:
Press the power button for a long duration. 
Click on the power off button and press OK. Your device will enter safe mode.
Your device should be in safe mode now. You can check this by yourself as a small icon will be present on the bottom left corner that says, "Safe Mode."
Browse for some time to see if the error appears or not. 
If the error is not coming up, delete all the applications that you have installed on your device which are appearing on the screen.
Once you have done everything mentioned above, you should leave the safe mode by restarting your device.
Note: Every device has its way of entering the safe mode. Please google it if you are not able to reach the safe mode. 
6) Wiping off the cache partition
The user can also wipe the cache partition to see if the error is resolved or not. No personal data can be deleted from the device. 
Turn your device off.
Press the volume up button along with the power button.
When you see the logo of the device, remove the finger from the power button. 
As soon as you see your recovery screen, release all the fingers.
Use the volume up and down button to navigate and the power button to select the data option that says, "Wipe cache partition."
As soon as you have completed this process, restart the device.
If none of those as mentioned above points help, then factory reset your device. 
7) Factory Reset
You can always reset your device, and your device will function normally. But make sure that you save your data somewhere safe before resetting, as your data will be lost and may not get recovered. So please back up your device. 
Click settings.
Go to accessibility and select the option that says, "Back-up and reset."
Click on the Factory reset option and press OK. 
Enter your screen lock and press OK for the final time. 
Wait for some time, and the error will be resolved.
Conclusion
Simply follow the steps carefully, the "Android process system isn't responding" will be resolved. If factory reset could not solve the issue, you can also install custom ROM in your device. If the reset did not help, this means that some crucial files must have been deleted. In such cases, you can install custom ROM. I hope you have enjoyed the article. Do not forget to subscribe to the Gossipfunda Youtube channel and have a nice day.