Facebook Messenger is a tool for basic social media platform communication. Facebook Messenger has met the needs of millions of users while being one of the pioneers of efficient communication. There have been reports of Messenger not functioning on devices despite having such a large user base. These problems typically occur for reasons related to the settings of the device.
The application or its updates are the cause of these problems in other instances. This article assumes responsibility for giving users the necessary information to address the question of how to fix Facebook Messenger not working on your Android or iPhone/iPad.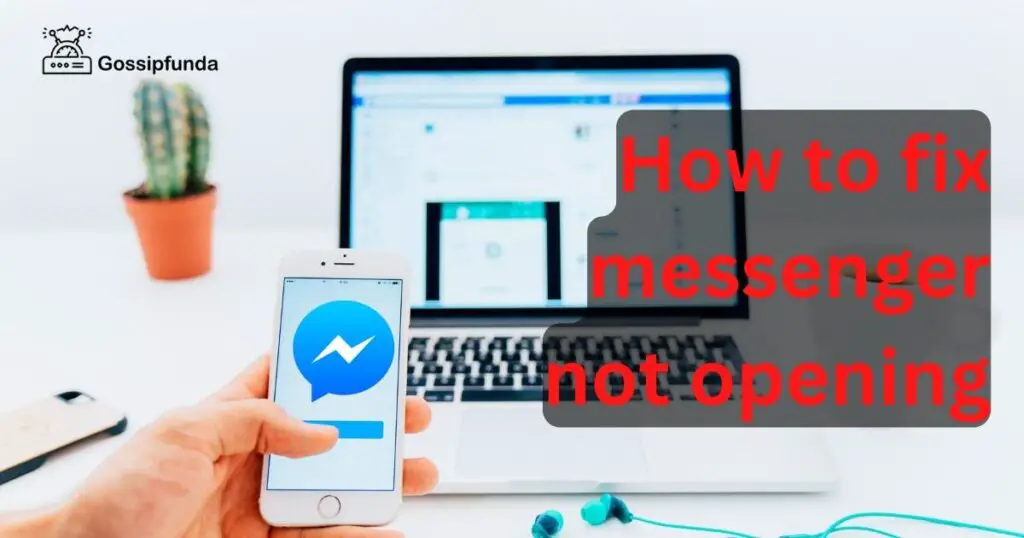 Reasons why messenger is not opening?
Since Messenger is open on your device and the Facebook servers are functioning normally, the problem may be with your device or the connections you are using. We have provided a comprehensive list of solutions that can be used to identify the cause of Messenger's inability to function on your device in order to ensure that you are able to free yourself from this miserable situation. It is crucial to carry out efficient troubleshooting when your messenger is not properly connected to the internet in order to pinpoint the precise cause of the problem.
Your messenger might not be detecting any wireless networks (wifi) or might occasionally lose internet connectivity for a number of reasons. In some cases, relaunching the application will solve the problem. In other circumstances, you might need to update the app or reset your network settings. The root cause will determine the best way to solve the issue. There are a number of reasons why your messenger might not be able to connect to WiFi networks or the internet, some of which we've listed.
1. Insufficient internet connection:-
Another problem that could be the cause of Messenger not working on your device is the application's poor internet connection. It is advised to always check the Wi-Fi rather than going through the device's settings before moving on to more complicated cases.
If Facebook Messenger isn't working for you, you can try restarting your Wi-Fi from your smartphone in the hopes that it will help:
Strong internet connectivity is required for Messenger to function properly. If your internet connection is unstable or unpredictable, the program might not launch or might crash frequently. To resolve this issue, you can check to see if your internet connection is steady. If you are using Wi-Fi, try to disconnect and reconnect to the network. Try converting your connection from mobile data to Wi-Fi or vice versa. You might occasionally be able to fix any issues with your internet connection by restarting your router.
2. Cache or data corruption:-
The Messenger app's cache and data might deteriorate over time, which can cause performance problems and crashes. The app's cache and data can be cleared to help solve this problem. On an Android device, go to "Settings" > "Apps" > "Messenger" > "Storage" > "Clear Cache" and "Clear Data" to delete the app's cache and data. To reinstall Messenger from the App Store, go to "Settings" > "General" > "iPhone Storage" > "Messenger" > "Delete App" on an iOS device.
3. Messenger is not opening as it is an out-of-date app version:-
Software developers update their apps over time to address issues, improve performance, and add new features. The app might not open if you are using an outdated version of Messenger because it is incompatible with your hardware or operating system. You can check whether there is an update for Messenger in the App Store or Google Play Store on your smartphone to fix this problem. Install any updates that are available, restart the app, and check to see if the problem has been fixed.
4. Hardware or software problems:-
If there are hardware or software problems with your smartphone, they may slow it down or prevent the Messenger app from opening. For instance, the program can fail if your device is low on memory or storage. By clearing up space on your device for storage and memory, you can fix this problem. It is advised that you take your device to a repair facility for additional help if it has any hardware or software problems.
5. App conflict:-
Installing any third-party programs that are incompatible with Messenger may result in frequent crashes or the app not opening at all. You can attempt to fix this problem by removing any recently installed third-party programs, and then checking to see if the problem has been repaired. If not, you can attempt a factory reset on your device.
6. Server problems:-
Facebook server problems occasionally result in Messenger not opening or having performance problems. These problems typically pass quickly and on their own within a few hours. You might attempt contacting Messenger support for additional help if the problem yet persists. By making a request in the Facebook Help Center, you can get in touch with Messenger support. In your request, be as specific as you can about the problem you're having, including the steps you've already tried to fix it.
How do I resolve the messenger problem?
You can take a number of actions to fix the Messenger not opening problem. If you encounter any of the problems mentioned above, you can refer to the remedy. You ought to be able to fix the problem and resume using the Messenger app if you carry out these instructions in the proper order.
1. Relaunch the app:-
Restarting an app is the first thing you should do to fix any problems with it. Try restarting Messenger if it crashes or won't launch. This can assist in resolving any transient problems that might be the root of the issue. On an Android smartphone, you can either restart your phone or dismiss Messenger from the recent apps screen. On an iOS device, you can close the Messenger app by double-clicking the Home button and swiping it up. Once the app has been closed, restart it to see if the problem has been fixed.
2. Verify Your Internet Connection:-
Checking your internet connection is the next step if the program still won't open. For Messenger to work properly, the internet connection must be steady. Try logging off and back on to the network if you are connected to Wi-Fi. Try switching to Wi-Fi or vice versa if you are currently using a mobile data connection. In some circumstances, rebooting your router can assist in resolving any problems with internet connectivity.
3. Update the application:-
To make sure your apps are working properly and are bug-free, it's crucial to keep them updated. If Messenger won't launch, it's possible that you're using an old version of the program. Go to the App Store or Google Play Store on your smartphone to see if Messenger has any updates available. Install any updates that are available, restart the app, and check to see if the problem has been fixed. Take the actions outlined below:
The first step is to open the App Store from the home screen and select the Updates tab at the bottom.
Scroll down to see if your Messenger app has received a new update.
Next, click Update to bring your Messenger application up to date. Open your app now to see if the issue with Messenger crashing stops happening.
4. Delete the data cache
Messenger keeps temporary data in a cache, and if that cache is corrupted, Messenger frequently won't function as intended. Although the procedure differs depending on whether you're using an iPhone or an Android, clearing the cache is comparatively simple. On an Android phone, you can delete the app without deleting the cache:
Open the Settings app, then select Apps.
If required, select "See all apps," then select Messenger.
Select Storage and Cache.
Select "Empty Storage."
You will need to reinstall the Messenger app because there is no way to clear the cache on the iPhone.
5. Install the App again:-
You can try reinstalling the program if the preceding methods don't work to fix the problem. Any corrupted settings or files that might be the root of the problem will be eliminated by reinstalling the application. Go to the Google Play Store and type "Messenger" into the search bar to reinstall Messenger on an Android smartphone. To reinstall the app, select "Uninstall," then select "Install." To reinstall Messenger on an iOS device, open the App Store, type in "Messenger," and then press "Get."  Take the actions outlined below:
First, deep-tap the Messenger application on your home screen until the edit mode appears. After that, click the Delete icon to remove it.
Step 2: Start the App Store after restarting your iPhone. Look for the Messenger application.
Step 3: Select Install from the menu. Enter the password for your Apple ID when prompted.
Step 4: Retry after the Messenger app has finished downloading.
6. Speak with Messenger Support:-
If none of the aforementioned solutions work to resolve the issue, you can try contacting Messenger support for additional assistance. You can contact Messenger support by submitting a request through the Facebook Help Center. In your request, be as specific as you can about the issue you're experiencing, including the steps you've already taken to address it.
In the event that your smartphone experiences any hardware or software issues, the Messenger app's functionality may be impaired or made inoperable. Your device can be restarted or started in safe mode to determine if the issue has been resolved in an effort to remedy it. If not, you can try to restore your device to its default settings or take it to a repair shop for more assistance
7. Activate the device's background refresh
For Android and iPhone/iPad users, background applications are available that keep an application running even when it is not open on the front. This enables the gadget to update itself automatically. In order to address the issue of FB Messenger not functioning, users must enable the background refresh feature in their Messenger application. Take the actions outlined below:
Swipe up to close background apps.
Step 1: On iPhone X and later, swipe up from the bottom and hold in the center of your screen for a brief period of time. That will show all background-running applications.
Step 2: To close each app, swipe it up.
Utilize AssistiveTouch to shut down background programs.
First, double-tap the AssistiveTouch button and choose Device -> More -> Multitasking from the menu that appears.
Tip: Under Settings -> General -> Accessibility, you can enable AssistiveTouch.
Step 3: Next, swipe upward to close all background programs.
8. VERIFY APP PERMISSIONS
Messenger also needs permission to access your phone's camera, data, storage, and other features, just like any other app. When denied, an application may be unable to carry out fundamental functions and even crash. Therefore, you must check your phone's permission settings to make sure Messenger has all the required permissions.
Android
Step 1 for Android: Tap and hold the app icon to access the App Info menu.
Step 2: Ensure that Messenger has access to all necessary permissions.
iOS:-
Step 1: Open the Settings app on your iPhone and tap on Messenger after scrolling down.
Step 2: At this point, turn on the switches to grant the Messenger app permissions.
9. Examine Messenger Light
If nothing else works, you might want to try Messenger Lite, which is a lighter version of the app. This is especially true if your phone is old or has very little free storage space. The Messenger Lite app is a condensed version of the Messenger app that uses less memory and provides almost all of the necessary features.
10. Reset Messenger's settings completely
In the event that none of the earlier troubleshooting methods were successful, reset all settings. If nothing has worked thus far, it is best to start over from scratch because Messenger may not be functioning properly on your Android device due to some of your phone's settings. After the reset, this method completely wipes out all of your sound, network, display, and custom settings, but all of your files and apps are still there.
Use the steps below to reset every setting on an Android device.
Scroll down to System settings after opening the settings app.
Choose the Backup and Reset options.
On the phone, tap Reset.
Select Reset all Settings from the menu at this point.
There should be a fix for the Messenger Android issue.
Conclusion
This article has been effective in giving readers a variety of options they can try to fix the Messenger problem. If your Messenger isn't functioning properly, it would be best if you used the above methods for successful outcomes.