As we move into 2023, the digital transformation of healthcare continues to accelerate, with new technologies and innovations changing the way we approach healthcare delivery and management. From the use of artificial intelligence and machine learning in diagnostics to virtual care and telemedicine, digital healthcare trends are reshaping the healthcare landscape, with patients and healthcare providers alike benefiting from more personalized, efficient, and accessible care. In this rapidly evolving space, it's essential to stay up-to-date with the latest trends and developments. In this article, we'll explore some of the key digital healthcare trends that are likely to shape the industry in 2023 and beyond.
The e-health system has improved service delivery by enhancing patient monitoring and easing decision-making. The revolutionized healthcare system has made health clinics and hospitals more efficient. The following are top-leading global health trends in 2023 that could help revolutionize the healthcare industry.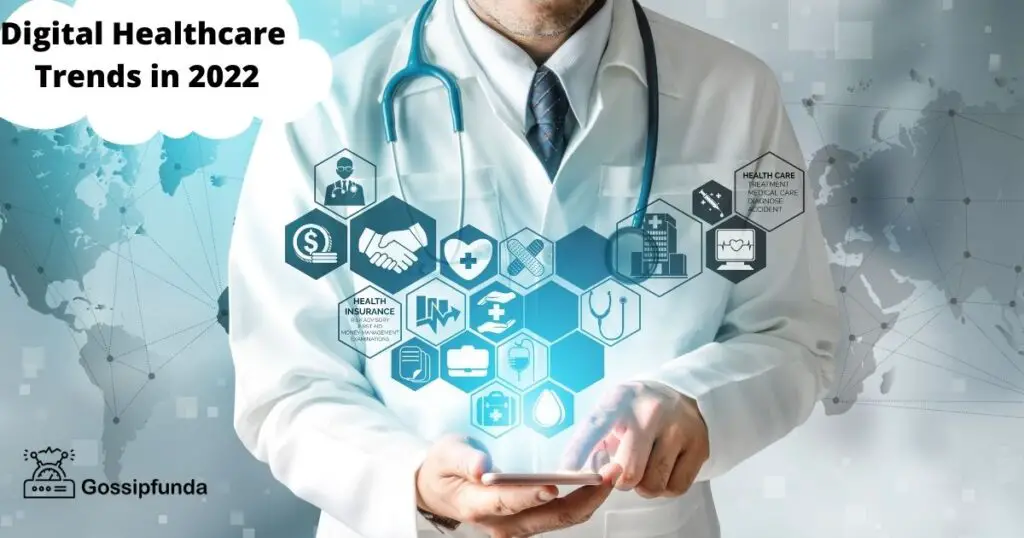 Healthcare Market Overview
Digital healthcare has spearheaded the growth and advancement of the global healthcare industry. E-healthcare mavens use up-to-the-minute information and communication technologies to create an efficient and cost-effective healthcare practice.
According to 2020 statistics, the digital health market is worth over $200 billion. Based on the same studies, the global digital health market will hit over $500 billion by 2024. The driving forces behind the presumed success include but are not limited to wireless health and mobile health.
Many physician's offices and hospitals have already implemented electronic medical records. In fact, statistics indicate that in 15 OECD countries, the leading care practices use EMRs.
Healthcare Trends in 2022
Do you want to revolutionize your healthcare services? The following are state-of-the-art and highly efficient digital healthcare trends you can implement. To optimize personalized service delivery, enhance security, and streamline processes, you might also want to install the healthcare software development.
Remote Monitoring
Monitoring patient health and wellbeing remotely has been streamlined by the massive adoption of remote patient monitoring systems. Remote patient monitoring systems enable physicians to monitor patients remotely, maintaining real-time records of terminally ill patients' health status. These state-of-the-art and efficient devices eliminate/minimize in-person monitoring, reduce the risk of contamination, and increase the accessibility of healthcare to patients.
Remote patient monitoring systems efficiently compute health data and alert patients about their health status. Recent studies indicate that by 2025, approximately 70.6 million people in the US would have used RPM tools, while almost more than three-quarters of healthcare facilities would have adopted the use of monitoring patient health systems.
Telehealth
Telehealth is an efficient and reliable digital communication technology widely adopted in healthcare. It streamlines and improves healthcare service delivery. It is a new healthcare technology that simplifies the delivery of healthcare services while minimizing in-person treatment and care sessions.
Recent years have seen substantial adoption of virtual care, both in developed and developing countries. In fact, with the invention of high-speed 4G and 5G internet, the use of telehealth systems in rural and urban areas has increased significantly. Projected adoption rates signal telemedicine will soon become prevalent in clinics, GP offices, and hospitals.
Artificial Intelligence
Al-powered healthcare software and tools will also become among the most preferred medical technology trends in 2022. AL and machine learning solutions boost healthcare service delivery and improve the patient experience. Medical experts will use Al and machine learning solutions to efficiently collect, analyze, and exploit data. It also streamlines the automation of recurring tasks, allowing doctors more time to handle other tasks with higher value.
It's projected that the full use phase of artificial intelligence and machine learning tools will be realized by 2030. The worldwide artificial intelligence healthcare market will hit $96.65 billion by 2028. The industry's growth rate is currently projected at 46.1 percent.
IoT for Improving Patient Care
There are many healthcare IT trends expected to gain momentum in 2022. The Internet of Things will become more prevalent in the coming years. These intelligent and reliable devices will improve the quality of patient care and prevent health emergencies. IoT devices are worn on the patient's body to monitor, record, and transmit real-time data of their heart rate, temperature, and blood pressure. The transmitted data is accurate and real-time and makes it possible for doctors to monitor the health status of patients.
The IoT devices are widely recommended for patients with chronic diseases because they help the target clients to manage their health and receive more tailored healthcare services. Professionals use the transmitted data to formulate unique and efficient care solutions for different clients. Doctors can promptly render more suitable health and respond to emergencies through the collected data.
Health Data Security
The healthcare industry has also seen massive adoption of health data security systems. The most advanced health tech trends include using e-health solutions to counter cybersecurity risks and keep patient data safe. Now doctors use health data security e-health solutions to optimize the security and confidentiality of patient data while safeguarding the data from breaches. With so many remote exchanges and cloud-data hosting solutions, the confidentiality and safety of client data are guaranteed.
The latest e-health solutions are optimized to meet the set regulatory requirements, add a layer of protection to client data, and streamline the implementation and enforcement of best practices. Among the solutions that will favor health, specialists include using health data compliance certification to host health data and more robust authentication processes to shield client data.
The latest and most active health data security tools have the power to counter viruses, active attacks, and exploits, and protect client data against vulnerabilities.
The best and most profitable way to revolutionize your healthcare and optimize patient care is by investing in the most advanced trends in healthcare 2022. Integrating your existing healthcare solutions with innovative and efficient IT, tech, remote monitoring, and Al systems can significantly improve the quality of care services you provide to your patients. It can also streamline operations and minimize staff workload, ensuring the completion of tasks early and efficiently. The above outlined are the top six healthcare trends expected to be a hotcake in 2022 and the future.