How to fix Error [pii_email_037d07812f905a3927ae]: permission denied (publickey). Before knowing how to solve this error, let us think about why it arises. What could be the reasons for this to arise? What does this error mean? How could it be solved? So if you don't know anything about that error and are searching for the best solution or alternatives to solve that error, then you are at the right place to know about its solution. Just follow the given below information carefully to solve the error. 
e-mails are the best communicative tool used for official and formal communication. E-mails are designed for official purposes. Microsoft Outlook helps us to send emails to others. The main reason for this error is their exceptional protection, it gives much more value to client protection, this is the reason their security was high as compared to others.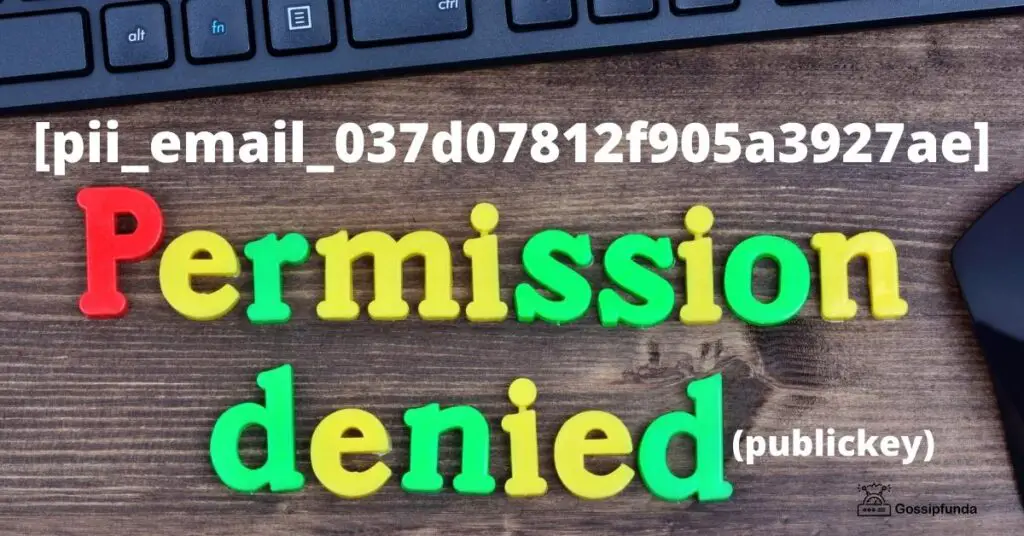 Reasons for [pii_email_037d07812f905a3927ae]: permission denied (publickey).Error code
This error occurs if there is a login mistake in the outlook mail, though it arises during sending mail. The main reasons are
Error in installation process or mistakes occurred while installing
Usage of multiple accounts on the same device
How to fix [pii_email_037d07812f905a3927ae]: permission denied (publickey).
So ,Let us discuss alternatives for repairing the error code [pii_email_037d07812f905a3927ae]: permission denied (publickey).
Method1: Clearing CACHE and COOKIES
Daily we browse many websites and open several links, sometimes we don't even think and click accept for some cookies, which may harm our software as well as the system itself. This may be one of the reasons to cause the error. So try clearing all the cookies from your browser and also clear all the cache, which also makes the system perform better.
Clearing cache and cookies is an easy task. Also sometimes while accepting cookies, you can also customize them. Some websites never allow us to read content until we accept cookies, at that time instead of blindly accepting cookies, you can customize cookies by choosing only the required ones.
Method2: Using Windows Automobile repair tool
Sometimes errors may also occur when the software has not been set up properly. Software setup is a crucial step to access Office 365 as well as Microsoft outlook. So using windows automobile repair tools helps in repairing the error.
Method3: Uninstalling the Program
If any of the above methods didn't work, try uninstalling the program. Uninstalling the program not only fixes one error, it also removes all the other errors if there. Now install again freshly, without any mistake, as the installation is a crucial step which we already discussed.
Method4: Contacting support team
If you can't get your resolve after trying many alternatives, contact the outlook support team. If your error is a minor one, it can be repaired easily by using any of the above ones, if it doesn't, contact the Microsoft outlook support team for additional assistance.
Let us discuss some major mistakes for getting this error and also solutions to recover them.
Major reasons for getting error  [pii_email_037d07812f905a3927ae]: permission denied (publickey).
We should never use the internet version of microsoft outlook,we should always consider using the PC program.
Using pirated software instead of original microsoft software, also causes this error. So never use pirated one's.
Using numerous accounts on a single device can also be a major cause of occurring error. So logout of all other accounts and use only a single one. This may resolve your error.
After uninstalling the program, we should also reinstall it, so that any error can be fixed as we're setting up software this time with utmost keen observation.
Finally, if any of the above methods doesn't work, Just call Microsoft outlook support team for more assistance.
Frequently asked questions(FAQ's)
Q. Is there any problem using pirated software?
Ans: Yes, of course, many of these errors arise due to pirated software or using multiple accounts on a single device.
Q. How to contact the Microsoft outlook support team?
Ans: You can contact Microsoft Customer Support at Phone Number 1 800-642-7676 or microsoft.com/contactus
Q. Error can be resolved if I uninstall my program?
Ans: Not only this, other errors will also be resolved if you uninstall the program because many errors arise due to the wrong setup or initialization. You can install again without making any such error as what you did before with utmost care.
Q. How do I clear my cache and cookies?
Ans: Open chrome and click on a symbol that has 3 linear dots, which is at the top right corner, and click on more tools and clear browsing data by choosing a time range. Below that "Cookies and other site data" and "Cached images and files," also check them. So that your cache will be cleared.
Some of the email error codes are:
All these error codes can be solved by the above-given methods
[pii_email_0048997cdc300383cb33]
[pii_email_009f53665137e7af0673]
[pii_email_00ba47ac8b2817e36aa3]
[pii_email_01748f73813796642591]
[pii_email_0186a242b8f048119e49]
[pii_email_019b690b20082ef76df5]
[pii_email_021ad854812db5484be8]
[pii_email_024084e62ef7c98e3c28]
[pii_email_0265bb33eaeb18eeb6b8]
[pii_email_027301e7af80ce24cbce]
[pii_email_029231e8462fca76041e]
[pii_email_030209161d411575be49]
[pii_email_036509233abccb394a1e]
[pii_email_037d07812f905a3927ae]: permission denied (publickey).
[pii_email_0384756a0415c35e1493]
[pii_email_03dac92bee03b36a435f]
[pii_email_03e5b347263210840ae8]
[pii_email_0471b6b3965e46b38f2c]
[pii_email_04b8a82e489233ceac97]
[pii_email_0571c4a678d0ff6381b8]
[pii_email_05d95f9563d412a5e139]
[pii_email_0642b6407de1d9fad1d4]
[pii_email_064efcb120fe6f0d7dfa]
[pii_email_065a57e82feb11879b55]
[pii_email_066f1e5f1e4576b47760]
[pii_email_0691e81e4c93e6a27ded]
[pii_email_06eded8f100f865c1776]
[pii email 06f535d2f46dc9e0e2c4]
[pii email 0732a6c55da3918b17f5]
[pii email 073d4b111397d547e2ab]
[pii email 0763df7609c640dae09d]
[pii email_07a63723810b70686330]
[pii email_07cac007de772af00d51]
[pii email_07d7c704e58464ac66c0]
[pii email_07e5245661e6869f8bb4]
[pii_email_081a2214d44147a79040]
[pii_email_0925839c0e5ab68ce37e]
[pii_email_094e1c56dee62f1fd809]
[pii email_09561ce25d5bd38c7da2]
[pii_ email_096d854470c8a6a62b16]
[pii_ email_09b26e2744e0cea6e5ad]
[pii_ email_09fefdd8c1cb3bccfeb6]
[pii_ email_0a2a355eebfea6b9c921]
[pii_ email_0a5b0e04b6004ebd9b82]
[pii_ email_0a6dd78c913d3311f010]
[pii_ email_0a7c21ebae115a3a5cdc]
[pii_ email_0a8c90abbff13e5619a7]
[pii_ email_0a9e2e80721b0641b5bb]
[pii_ email_0ad520a0be6582097e0d]
[pii_email_0b81b6a44f711a90bd63]
[pii_ email_0c53e8f99f30b8d2a921]
[pii_ email_0cb90a72c8b0af041cd8]
[pii_ email_0cbbda68c705117dc84f]
[pii_ email_0cd81888a5fe7246075b]
[pii_ email_0d0109a26f84744098ea]
[pii_ email_0d304b417851a62ee487]
[pii_ email_0d328a4c4fca15132c99]
[pii_ email_0dbab9c46c5c58d60a2c]
[pii_email_0de9c7d77885e57f870f]
[pii_ email_0e79498cc1d0ba4e9939]
[pii_ email_0f9d88e83fe22c427ce6]
[pii_ email_0fb3fac562b06ea1d115]
[pii_ email_1005f45dfe415af52d61]
[pii_ email_109932ebe32aa2cfaf52]
[pii_ email_11687221d231d0418ac7]
[pii_ email_11fe1b3b7ddac37a081f]
[pii_ email_122e44b2ae1917e73fd4]
[pii_ email_123dd92c65546aac4234]
[pii_ email_12d877e418db81a3db1c]
[pii_ email_12d9523f44da829512c5]
[pii_ email_1301877d336b4b12255e]
[pii_ email_131546848961bc72085b]
[pii_ email_13300b0737cfd2a20e53]
[pii_ email_13b868ca84a140da1169]
[pii_ email_13d4c39867d3cf436b66]
[pii_ email_14775682b7e2565009f8]
[pii_ email_ 148502ad759f50f39787]
[pii_email_ 151bec11d189ff79a688]
[pii_email_ 15239523225845f9f742]
[pii_email_ 15f0a5521228c1e8c361]
[pii_email_ 1606b61a08e6a2cf4db9]
[pii_email_  161e698f458e83eb16af]
[pii_email_162e94a1e978527b7833]
[pii_email_ 16ddaa10b84c03299904]
[pii_email_ 170f48204c9bdf9eafd2]
[pii_email_ 171327765cd9c45da595]
[pii_email_ 17904eadb002a490df86]
[pii_email_ 17ce57b51555d7a0ee45]
[pii_email_17d1dd6f206561101fd8]
[pii_email_ 191e8e729dfc2454e1eb]
[pii_email_ 195c2dd99ba1add9c672]
[pii_email_ 19b15ea9833a99b1d76c]
[pii email  19fe6303c7b96a9d9a99]
[pii_email_ 1ada691c53e1271bdca6]
[pii_email_ 1b481cd6bc515a7c2adc]
[pii email 1b7c64ce91221ad3af70]
[pii email  1bc24f13e6217fe6e335]
[pii email  1c180f5a66c1c91ee09f]
[pii_email_ 1d19961ba7de39b014c1]
[pii_email_ 1d792d7a4e3281d25278]
[pii_email_1efa25531beff66f32d8]
[pii_email_ 1f0253add227588633cf]
[pii_email_1f31c35811d104595431]
[pii_email_ 1f48969bb440fe39f8e6]
[pii_email_ 1f59b478e2752c0b8774]
[pii_email_ 1fa19ebf22c7dfe0aa78]
[pii_email_ 1fb861393abed78ab415]
[pii_email_ 200230ea774797dbca40]
[pii email 2021edc6bf88520fdc5e]
[pii_email_202eb5c9e03ef53aef6f]
[pii email 2031b8aa05a3e0b21ffd]
[pii_email_ 20805ae68021cfd0c123]
[pii_email_ 20df769630edcdd016f8]
[pii_email_ 2107f1e523e3cdc83256]
[pii_email_ 211413435d9fecc30356]
[pii_email_ 2146310bc5b3ec559a07]
[pii email  21d637f66bdfae264e06]
[pii email  23183a9275de05b260d1]
[pii email  232a7b08d359f68d74a7]
[pii_email_ 2347cc2ba8bf85585a24]
[pii_email_ 2380b9d6520a43ec25f6]
[pii_email_ 239c1f01a8558ebfa15f]
[pii_email_ 2440dab3fdb346e55609]
[pii_email_ 245b0c3d7279080caff4]
[pii email  24778bc97d360f4ebec6]
[pii_email  247df5366a8bac33a9d6]
[pii email_ 24ab5aaf677a5c128e4f]
[pii_email  24cd8732894e939e8496]
[pii email 250ae20cd24be7d4f778]
[pii_email _2538ab643fd387c2ed72]
[pii_email_ 2574ee28734b829a5e42]
[pii_email_ 25cdfd69153d0162d0f1]
[pii_email_ 265d3708313ba5e38b47]
[pii_email_ 2669f5ef5c1fda8e20d2]
[pii_email_ 270157bf4fd9931a3401]
[pii_email_27700e3fc23711772552]
[pii_email_2776f13cb4eb31324aa1]
[pii_email_283a3b234a30c4726510]
[pii_email_ 289f6006db741fde924c]
[pii_email_28ce56625b3f3d90ff32]
[pii_email_ 28dc65b73e084c7fdeb3]
[pii_email_ 29953475ba73f3dcbc58]
[pii_email_ 2a8d3e8ce2e8253ef528]
[pii_email_ 2b539e9c12cd0221c6a1]
[pii_email_ 2b7572749d2376671c44]
[pii_email_ 2ba7ad2c55c40a89d4d3]
[pii_email_2bcf55d6589aa1106df7]
[pii_email_2c4de0ee0458a817f509]
[pii_email_2c5d108980d117c8ca52]
[pii_email_2c7ffac304e8422ff449]
[pii_email_2ca50676eb24597a475f]
[pii_email_2cc49243665f29dc6152]
[pii_email_2d113871790217b2253f]
[pii_email_2d4443d23f8630bdb4d2]
[pii_email_2d7a0cfa4afe4a8e230e]
[pii_email_2d9a4c9ba17f9822500d]
[pii_email_2daa5a9f2cefc0afc998]
[pii_email_2e58bc4542b1103f45a2]
[pii_email_2f5e9430a5acb611dc9f]
[pii_email_2ff7b10bd40cede19dc1]
[pii_email_304b9b27d538415a4ade]
[pii_email_305c3f83f3d40c46cf71]
[pii_email_3067d7d353cdeade9afa]
[pii_email_30bde02da10bd27ab9d7]
[pii_email_3104a6cc9158590916bb]
[pii_email_31292814763ad1fd1fdd]
[pii email 316cb5e2e59f1ce78052]
[pii email 31856158f12f63ff1c05]
[pii email 3193bfb8164038e487c7]
[pii email 31d30373eea36d659548]
[pii email 31e3dd6da9b0f80a3ee7]
[pii_email_32af4f02d0b9abc96c1e]
[pii_email 32dbe586a362437df5b4]
[pii email_32ecc2895ce6d9c0e82d]
[pii_email_33369369fe7e39e7f832]
[pii_email_338034f14d68ea443925]
[pii_email_3389a61d9b0fd4e52d8b]
[pii_email_33919a258e929d2368a9]
[pii_email_33a2b85b7bf58e62129f]
[pii_email_33bcc5fa9284de56eb3d]
[pii_email_340776305ab2770b083c]
[pii_email_356435afca3bf570afae]
[pii_email_35800da0131beebe44e2]
[pii_email_35a59c8a36721dcc137f]
[pii_email_35a6abc7ff0feba30547]
[pii_email_35ecc45cdf0e64449ffb]
[pii email 361fe9bc996c9c296d02]
[pii_email 36513d782f033d9a8074]
[pii email 367ebd071aaf1663625c]
[pii_email_36da9934d2dc2b741d79]
[pii email 37544bf4d350a0915f54]
[pii email 37aa0fbf53cb549e2201]
[pii email 37f47c404649338129d6]
[pii email 380371492495a13c7bde]
[pii email 3811c0b2cefeac52c418]
[pii_email_387fb3a7cd2b118358b8]
[pii email 388f7ce2f9c7ff8bf33e]
[pii email 38ffbd187b08c6efb106]
[pii_email_39065c4ef6f080d07ef3]
[pii_email_3977a14727fbbd446799]
[pii_email_39b488ed3a6ea57f1f5b]
[pii_email_39d4dd517c8e2efdf074]
[pii email 3a055da5e78763bfb9d1]
[pii email 3a161a437f6cf9be85f5]
[pii email 3a19ac5cc937023e1594]
[pii email 3a4527b94ccfd3ceab3a]
[pii_email_3a74beff0dc78ea44fdc]
[pii_email_3a9d3c10845f8b9d77b2]
[pii_email_3a9d3e9e999e7c6eddce]
[pii_email_3aa687ac68e9b1fe5f6c]
[pii_email_3ab4d07620fbbae85967]
[pii_email_3ae25ddefddd04391d34]
[pii_email_3af808b2d3c4cdf999da]
[pii_email_3b9c7cadc7ee7d3fa2e1]
[pii_email_3c461a53eb62f26f31c8]
[pii_email_3c4b34de2e37cd3e1ddb]
[pii_email_3c4e64746b7dbdf0f125]
[pii_email_3c7e8b2fb6c19f4629a7]
[pii_email_3c85d9bd059ab02ca5a9]
[pii_email_3ceeb7dd155a01a6455b]
[pii_email_3d805a1f13535b676660]
[pii_email_3da6f7f92016ac861201]
[pii_email_3dad33635e39566ee90e]
[pii_email_3dd76af4bcadd8ded428]
[pii_email_3ead507470f8a1e16b47]
[pii_email_40020e1fd1986d140f54]
[pii_email_401f5a620f8bb97b5d5c]
[pii_email_4023ea51dc9d522ec659]
[pii_email_4030182c8c36a4760c94]
[pii_email_40473a4c35bcdc16a706]
[pii_email_416481637cb639d9ada9]
[pii_email_4164ec418a72be8fa89c]
[pii_email_41da2c0096965a8f712b]
[pii_email_41f7c67ca704e02f96ab]
[pii_email_422972f2054e7c774737]
[pii_email_424fd9a5317c671d05b5]
[pii_email_427b827e187d584174ab]
[pii_email_42f4857a3ef7b85ab9f2]
[pii_email_437edd5318590855c652]
[pii_email_437f9945544e0f0f7028]
[pii_email_43cc0294ab76683978c3]
[pii_email_440a6549cafb7b46ef17]
[pii_email_44163c33c0822f90c3bd]
[pii_email_441ab633e037aadb52c0]
[pii_email_44436d5d11f457522dac]
[pii_email_44466cf9949b95d4594a]
[pii_email_4510b7a5b38e0f5b6360]
[pii_email_462bd3d1880f25e69fa3]
[pii_email_46376daf8820c03f4930]
[pii_email_465db9ce916b2d9ff1c0]
[pii_email_46aaf5cec5db9a1a54d4]
[pii_email_4727697a3488b04e9192]
[pii_email_47a736db4fdd0c9cb169]
[pii_email_47d6d05800e76df67e02]
[pii_email_47ef5b50e706c6c9614f]
[pii_email_482ff27963de9242838a]
[pii_email_48506579338ff6e2ed96]
[pii_email_489529e0b9637cc262ce]
[pii_email_48da44a4d9a7f61445c7]
[pii_email_48e2e2522b01e3ac4183]
[pii_email_491af3a6264a7d75cbc9]
[pii_email_4963ef873adfeebdcd41]
[pii_email_4990a90249bab2dc1e58]
[pii_email_4992293e319828c4a8be]
[pii_email_49a00af416fdd0773b60]
[pii_email_49d846a1e06ef9973dcb]
[pii_email_49f9df70e93bbe083adf]
[pii_email_4a54df77285983c5da74]
[pii_email_4a59ef44c13ba9918d59]
[pii_email_4ab6b0504340da25fcc8]
[pii_email_4acb8481b3e6a2d952ef]
[pii_email_4b470d39cff59c61fc9d]
[pii_email_4b6933f12f12addd4d57]
[pii_email_4b8fa8b8e14f953a10cc]
[pii_email_4bd3f6cbbb12ef19daea]
[pii_email_4bf51888a1e8a04a8a75]
[pii_email_4c21aede2e6a0dfecb86]
[pii_email_4c85d48d4a455606074e]
[pii_email_4c8efe3c3c9894e6e295]
[pii_email_4c910535350b5a41ee81]
[pii_email_4d1f64ded2ff0dd46177]
[pii_email_4d38d057dfe87e05d53a]
[pii_email_4d754ba459eda4988469]
[pii_email_4dbb03acbeec58b4388f]
[pii_email_4dc602d8e38f916753cd]
[pii_email_4dd09cddea0cd66b5592]
[pii_email_4dfa8f33c33ab3acd31c]
[pii_email_4e1e2cda8452b2c3c051]
[pii_email_4e1f76200635de888e88]
[pii_email_4e59b64c647d562282c6]
[pii_email_4e6145493b03fe14425d]
[pii_email_4e84de26a74770a30ece]
[pii_email_4ee229f37201b0f70aab]
[pii_email_4f042b5c6823d5d73512]
[pii_email_4f103a81b5197b75caeb]
[pii_email_4f2a44ff6f2cb1cb255a]
[pii_email_5005a714f5982d41de48]
[pii_email_502c34e6c2ae3321055f]
[pii_email_50a190fe2a8a684dfc58]
[pii_email_519b1bf588cf9a3db179]
[pii_email_51f3b5027b09fdb07d93]
[pii_email_5222783aa3cc073c05dc]
[pii_email_522d39cbbdceda264fd4]
[pii_email_5271fdf749e27ea21fc9]
[pii_email_53040687ab54a844cba0]
[pii_email_534f6280ad857c92ee2d]
[pii_email_53a96cf59dc9edbfb82f]
[pii_email_54134c894bfa42379ff3]
[pii_email_542a2b4c8b476d11b1cc]
[pii_email_542c26df1efc9731633e]
[pii_email_5439177ede8301c50c44]
[pii_email_54ad50a5123f5087a7b0]
[pii_email_54c36cbe8ddd45bdefae]
[pii_email_54c8aefd6d2736bed98e]
[pii_email_54f47ac095216047bfd8]
[pii_email_55a844830c317b675153]
[pii_email_55f7d12e5b033cd8386d]
[pii_email_563b546bff1ca33d1e4b]
[pii_email_56e01d749b71d518daac]
[pii_email_57585d6cf4028389f7c9]
[pii_email_57a4a2f20ec6813a8481]
[pii_email_57a94af4d4fda2145bad]
[pii_email_57bcb91a887c4c8f6415]
[pii_email_57bde08c1ab8c5c265e8]
[pii_email_589b87cd8fa683bf6243]
[pii_email_58a6a619fc3ea359fade]
[pii_email_58f829737a74939b0853]
[pii_email_58fffc10f1403c2bb372]
[pii_email_5915ecf130b244fd0676]
[pii_email_59265524389fb02816df]
[pii_email_5984d8e8e4ee8cbfa464]
[pii_email_598c367533eee0bb7c89]
[pii_email_599ef9b50ab4a231614c]
[pii_email_59bbd1cc3a9f29be366c]
[pii_email_59ea919492dfc2762030]
[pii_email_59f973f4231f5a5eb99f]
[pii_email_5a3f70ed21f415521fa3]
[pii_email_5a57052bde18587fcbf7]
[pii_email_5a6ff5cdba78ad856432]
[pii_email_5aca9fb7b2f34aaf0db0]
[pii_email_5acedcbbbb61b4f95212]
[pii_email_5ad66ba21018e66cf241]
[pii_email_5ad76de80d3447062e7e]
[pii_email_5ad9e71fd8c2493515da]
[pii_email_5aefd30a47e124ba7aea]
[pii_email_5af3b45002edabbc2e51]
[pii_email_5af69612e94fbd709c78]