Hola Amigos! Welcome to the Gossipfunda blogs. Tech talks are the gossips for fundamental and technical people. And here, on this platform, we try to present you discussions and solutions on each and every small and big issues/errors which you will always find insightful, helpful, and interesting.  This blog is dedicated to the 'Not Registered on Network' error. This is seen many times in a small window on our mobiles and tablets. We will do our best to answer all the possible questions and terms related to this subject matter. Do not miss our blog on mobile network state disconnected: AT&T | Sprint | T Mobile | Straight talk.
Why does 'Not Registered on Network' issue occur?
Sometimes when we try to make a call or want to send a text message or try to dial a USSD code, a message pops up on our screen as 'Not Registered on Network'. Many times, the network connection is lost for a long time. This issue is seen in different situations.  When your device gets fail to detect the SIM cards present in the slots, and then we can this line 'Not Registered on Network'
Is 'Not Registered on Network' an Android issue?
At a point of time, it became the mindset of the people that this issue is majorly found in android phones and that too particularly in Samsung pieces. But it is not the reality. Google made it clear that this is a T- mobile issue so cannot be considered as Android issue.
Read more: Mobile network not available
How to fix 'Not Registered on Network' issue?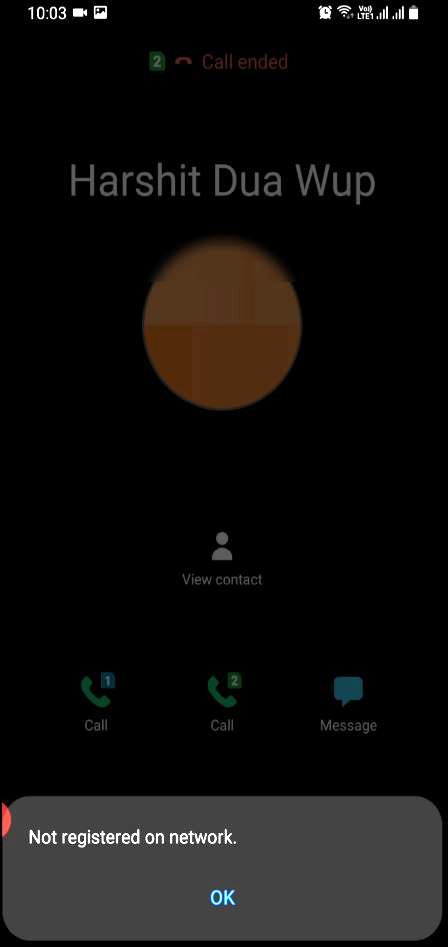 Methods for resolving this issue:
Let's start with the initial and the prior ones.
Method I – Put in 'Flight Mode'
First of all, put your device out of action for all the wireless connections like Wi-Fi and Bluetooth.
Then put your mobile phone on 'Airplane Mode' for a couple of minutes. You can select this alternate from the menu bar.
Then turn off the 'Airplane Mode' and have a check on your network.
You can replicate this method a few times.
If the above simple method does not fix your problem then you can try for another one.
Method II – Turn on and off 'SIM card'
There is always an option to make changes in the settings of any system or device to solve any error to make some changes according to our requirements. So, by this method we will just try to make some changes and then again reset it as it was earlier.
To traject the settings of your device, click on the 'Settings' icon. You can also find 'Settings' option on the Status bar.
Find the 'Connections' section from the menu and get inside it.
Here you will find an option as 'SIM card manager'. Select this option.
Here you will find information regarding the SIM cards as how many cards you are using, which SIM cards you have and in which slot. Then, you also get information about the preferred SIM for particular actions like Calls, Text messages and Mobile Data. So, you have to tap on the SIM which is claimed as 'Not Registered on Network'.  Here, just turn off and turn on the SIM for a couple of times and then check the network.
Method III – 'Restart' your smartphone/tablet
If even method -II does not prove to be beneficial for you, then simply try to 'Restart' your mobile phone. This method is said to be default method for Indian smartphone users. It acts as a brute force method or in simple words hit and trial case. Restarting the smartphone, magically solves most of the problems. It works some time and sometimes nothing happens. This should always be given a try if nothing is working out.
Method IV – 'Reinsert' the SIM card and Battery
SIM cannot function appropriately if it is not detected by the operating system in the slot. So, this can be another way to resolve the issue. Along with this on the safer side, bring out the battery clean the battery slot, and then insert the battery again in a proper way.
For taking out the SIM card, firstly 'Power Off' your device. This is an advice to not to harm the system.
Then bring out that particular SIM card from the SIM card slot (if you have more than one options), clean the slot and the card in the best possible way and insert it again at the same place in the same position.
'Power On' the device and check for the network. You will not find that error now.
Method V – Update system to latest version of operating system
This error can also occur if your software is not updated for a long time. So, updating the device can be one of the solutions. To do so:
First, connect your device dive to a wireless network (wifi/ mobile data)
Click on 'Settings' from the Status bar.
From the pop-down menu, click on 'Software Update'
Download the update if any pending. This will take time.
Install it as the download completes.
As the installation completes, your device will reboot. Then it may restart.
Method VI – Updating APN
When you try to switch the SIM card to different Network Provider, your device could not catch up and might need some changes in the APN (Access Point Name) Settings. Access Point Name/ network name is a passage between public internet and the mobile network.  A mobile phone which is providing a data connection should be configured with an APN to present to the carrier or in simple words we can say an Access Point Name (APN) provides all the details that your device needs to connect to mobile data. To update APN:
Negotiate to 'Settings'
Then check the 'Connections'
Next, traverse 'Mobile Networks'
Here, click on 'Access Point Name'
Click on 'Add' option and set the APN by asking it to the Operator via call or message.
This is it. Have a check on your network again.
Method VII– Select Network Manually
If we get some error on a network, we can also switch to another network manually. By this way, we can try all possible network options and can use the one that is suitable and error-free. This method can be used by any Android user. The steps are as follows:
You might have observed that every change is made in the settings. So, again go to 'Settings' as the first step.
Next, you have to opt 'Connections' and then move to 'Mobile Networks'.
The next option must be 'Network Operators'.
Now search for the networks. This will screen all the available networks and will show you in the form of a list.
You can select the desired network from here.
And the problem is solved.
Method VIII– Device Blacklisted
International Mobile Equipment Identity abbreviated as IMEI is a distinct number for every mobile. It is used to identify iDEN, 3GPP, and satellite phones. It is generally punched in the battery section of the mobile and can also be seen on the screens by some method. A device has IMEI only if it has a SIM card slot. When a mobile is stolen, it is tracked with the help of IMEI only. Valid devices are identified by GSM with the help of IMEI and restrict network access for the theft pieces.
So, if your mobile is a stolen one and is recorded as Misplaced/Lost in the blacklist of the country, then your will definitely see a dialog box with a message 'Not Registered on Network' on the screen. This means that there is no method for you to resolve this issue. We are helpless for you. In this situation either you can sell the mobile or need to dispose it. Otherwise, you will get in trouble.
Method IX – Resetting Network Settings
If you belong to coding or science background, then 'trial and error' method will for sure strike your mind. Am I right? So, this method really proves to be helpful in many situations. We will apply this here too. For this,
Again, to the 'Settings' of your device.
Here, go to the 'General Management' option.
There you will find 'Reset' alternate. Click on this option
Now click on 'Reset network settings' where you can reset Wi-Fi, Bluetooth, and other network settings to their default settings.
Under this, you will find 'Reset Settings' option at the bottom of the content.
You shall be requested to the unlock password if you have.
Tap on 'Reset Settings' and wait for a moment for a confirmation message.
Method X– Enter Service Mode (For Samsung phone users)
In Samsung phones, this error is usually very common. This error mainly comes because of the radio signals that are usually flicked off. This situation takes place when there is an issue on Wi-Fi or GPS.
This matter can be settled by following the following basic steps.
Firstly, open the Dial pad and type this number – ##4636##.
Then a popup will come where you will be asked to enter a Service Mode, so click on it.
Then go for Device Information or Phone Information from there.
 Now opt for Run Ping Test.
Now you will see Turn Radio Off button, so click on it and your device will restart.
If the phone does not restart, choose Reboot option.
These were all the possible methods which you can try to get rid of this issue.
Conclusion
We have covered the 10 best methods to fix the issue -> Not Registered on Network. If there is a genuine issue then it can be resolved but if the problem is due to some illegal actions then at some point there will not be any solution left. In this article, we started understanding what the issue is, why do we see face it. Then we got through the solutions to fix this error. With each method, there was an explanation for when to use that particular method.
Along with it I also introduced the important terms to all of you which I found as my my friends must be familiar about. If you keep any electronic gadget, then try to understand each and every aspect of it. Because it is better to either understand the technology completely or do not get indulge into it. Incomplete knowledge/awareness may prove harmful for anyone.
To keep yourself updated and to find the solutions for your problems and doubts, keep visiting this site. For sure you will add on something to your knowledge. This is all for this article.