Do you know the details of your phone? What phone do I have? Many of us don't know about their phones in detail. The only information we know is a company and about ram and other software or apps. Nowadays hacking is very obvious, so you must know what type of phone do you have. Is that phone reliable for us? What happens when your phone gets lost or stolen, do you have data? We should know about Model numbers, IMEI Numbers, MAC address, Security level, and other specifications like processor, RAM, ROM, Build number, CPU architecture, Core, Chipset, Clock speed, Instruction set, Resolution, Refresh rate, Kernel Version, Baseband Version, Bootloader, and SDK, etc. Do you know your phone's model number? Isn't it necessary for yourself? Let's check out how to avail ourselves of this information for further use.
After then we should not always have to carry a box of the phone or receipt, we will search for it on our phone. Sometimes it becomes necessary for us to remember all this information, but we don't know where these specifications are listed. Now read the full article till the end to get complete information.
What phone do I have?
Every phone has it's own specifications like model number, IMEI Number, battery, display, etc. If we own the phone so we should know about everything for safety purposes. If you are reading this article because you are hacked by someone then must read: How to fix a Hacked android phone?
Now we will proceed with different methods to identify the model number.
Model number checking
Method1: At the back of the phone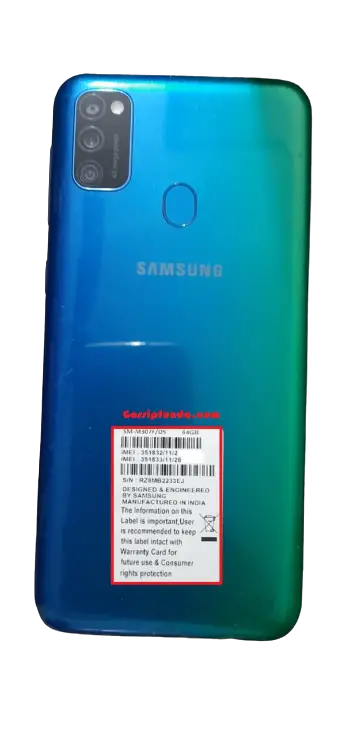 Many smartphones mention their model number at the back of its body. You should turn over your phone to the back.
Smartphones like Samsung, LG, NOKIA, the model number is illustrated at the back.
You can check and know about your phone's model.
Now the problem persists with that phone that doesn't have anything mentioned at the back. Don't worry! Your phone contains everything in it.
Method2: Visit settings to check
You have to open your settings on your phone. To visit there, you have to follow these steps:
Step1: To open "settings" first, you have to pull down the notification shade and then go to the settings icon. 
Step2: Many phones don't get the icon at once, so you have to pull it twice. Some phones have a "system option" available, click on it first and then go to the about option.
Step3: search for the "about phone" option in the settings bar.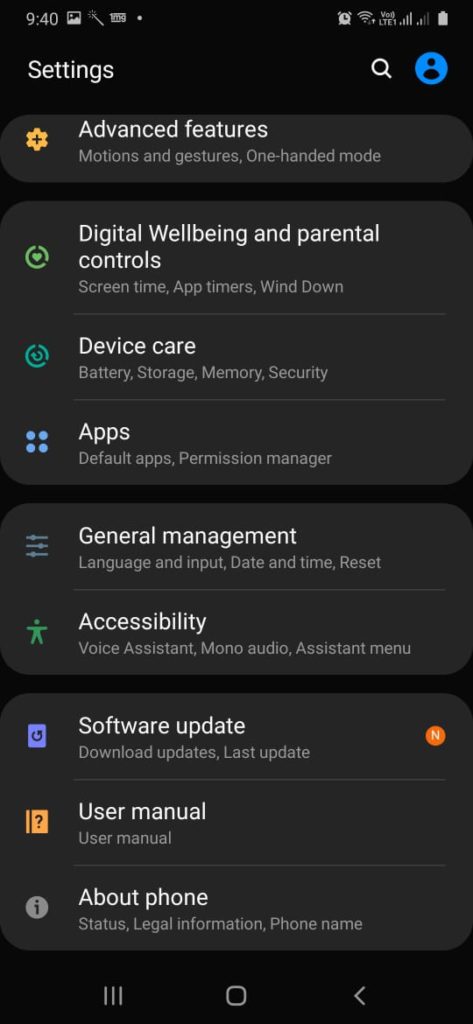 This option avails yourself to many things such as device name, model number, version, display, etc.
If you don't get the information about the model number, so you have to go deeper for that and click on the hardware info.
It will help you to access information related to the phone.
Method3:Third-Party App
Sometimes many individuals find it more difficult as a different manufacturer is available that doesn't serve you the same system, and it becomes difficult to find out about the phone.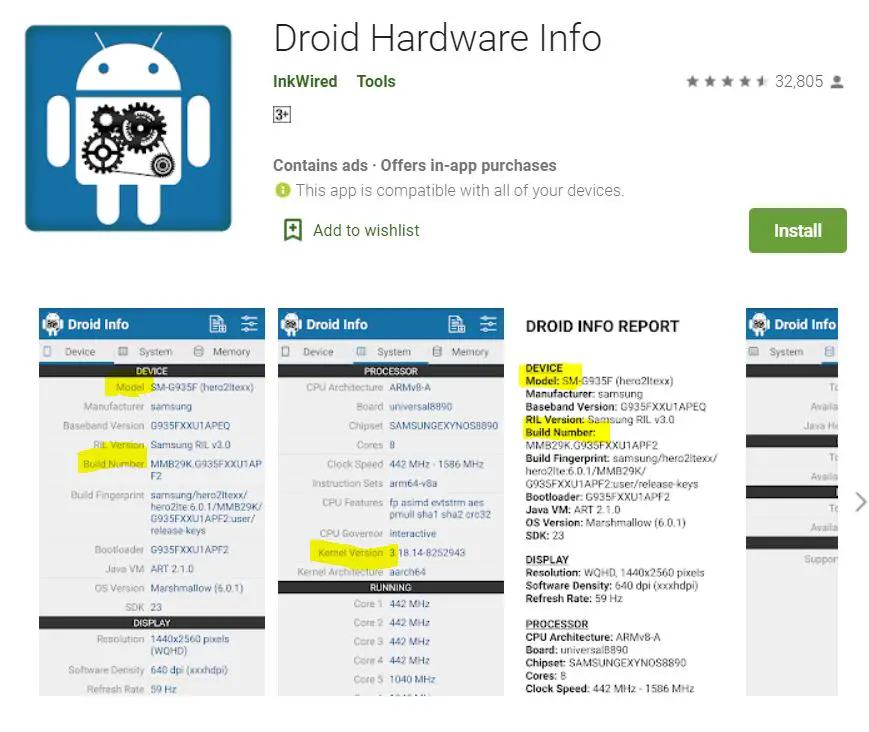 A third-party app is recommended that is known as Droid hardware info. From the name of the app itself, it looks that it gives you information about systems hardware. To access this information from the app, you first have to install it in the android and then search for several specifications. This app not only provides you with the model no but also: Build number, CPU architecture, Core running, Chipset, Clock speed, Instruction set, Resolution condition, Refresh rate, Kernel Version, Baseband Version, Bootloader, SDK and many more.
Method4: Box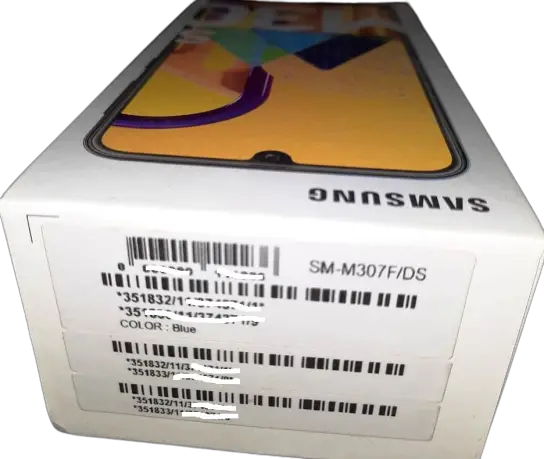 Box also mentions about the device. A white receipt is pasted on the box that states various stuff about your phone.
The easiest way to find out the model number is to check that receipt and read the mentioned things such as model number, device, etc.
Removable batteries available in some smartphones, basically old ones, consist of the white chip that also mentions this stuff.
Method5: Order receipt
The order receipt is also one of the methods to identify the model number. A slip consists of many things written on it, such as date of delivery, which device you have purchased, some specifications, and cost. You can open it as it comes with the packing if you order your item online. It is stuck in the delivery box, and you can open and check it.
Method6: Keypad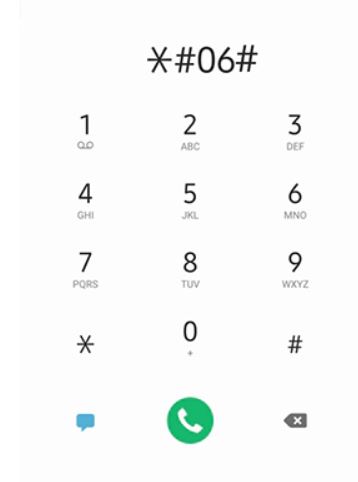 Different manufactures have different keypad dial number, in my case Samsung, head to your Keypad and dial *#06#
 How to search iPhones model number?
The model number of your iPhone,iPad, or iPod touch can be identified as mentioned below:
You have to search for options in the settings. Move to model number by selecting part number mentioned in the about menu. You will receive your model number.
iPhone 8 and further models will have their model number mentioned in the sim tray slot. You have to remove the sim tray and then glance into its model number is indicated on the upper side towards the display.
Previous models of iPhone 7 and iPhone 7 with iPad and iPod will have their model number mentioned at the back of the phone's body.
Processors, RAM, network, and various specification checking
Functions of processor, RAM, ROM
Processor-
The processor of the phone works as a brain to the system. It is a chipset that works during different functions such as charging, clicking photographs, and working on it.
Clock speeds are one of the significant features that help to make the performance of the device faster.
Difference between RAM and ROM
| RAM | ROM |
| --- | --- |
| RAM stands for Random access memory. |  ROM stands for read-only memory. |
| It stores data as long as power is supplied to the system. | the |
| It can read its data, write and erase it many times. | It can only read the data stored. |
| Provides your high-speed memory | Works slower than the RAM. |
| Data stored can be easily accessible. | It is difficult to access the data in ROM. |
Now we will see how we can check all these specifications of our phone.
An app called Inware that is available to provide you with different information related to your Android phone.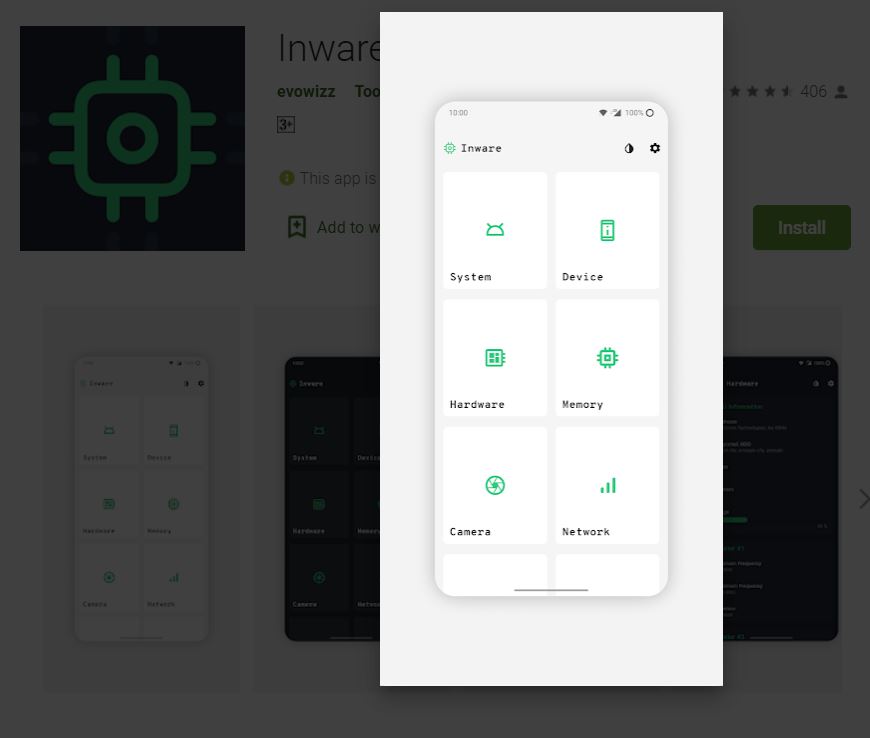 Below are some steps to use this app, follow these steps and know about your device
Step1: Go to Google play store as it stores a different app.
Step2: You have to search for the inware app.
Step3: You have to install the app so that you can access the specifications of your phone.
Step4: Now, you have to open the app that will appear on the home screen.
Step5: App will give you some messages or notification regarding your permission to access your device.
Step6: Tap "allow" to permit them in the messages that will appear at your display of the phone.
Step7: Now, the app will give you full access to your phone specification.
Inware app systematically organizes everything as provided below:
Battery
Device
Hardware
Memory
Camera
Connectivity
Network
Media DRM
These are the headings that contain all the specifications of your system. Inware is free and can be used in various phones without causing crises.
 How to Check IMEI Number?
IMEI number stands for international mobile station equipment identity. It is provided for every phone. This number can be instrumental in blacklisting the network or calls when your phone gets stolen. Police also require this number for verification purposes, usually when your phone gets taken away or stolen. IMEI numbers are connected with slim slots. Phone having dual sim slots will have two IMEI numbers.
The process to check IMEI number are as follow:
Method1: Check the IMEI number using the USSD code
This process works on every phone and smartphone.
Dial *#06# so that you can get your IMEI number.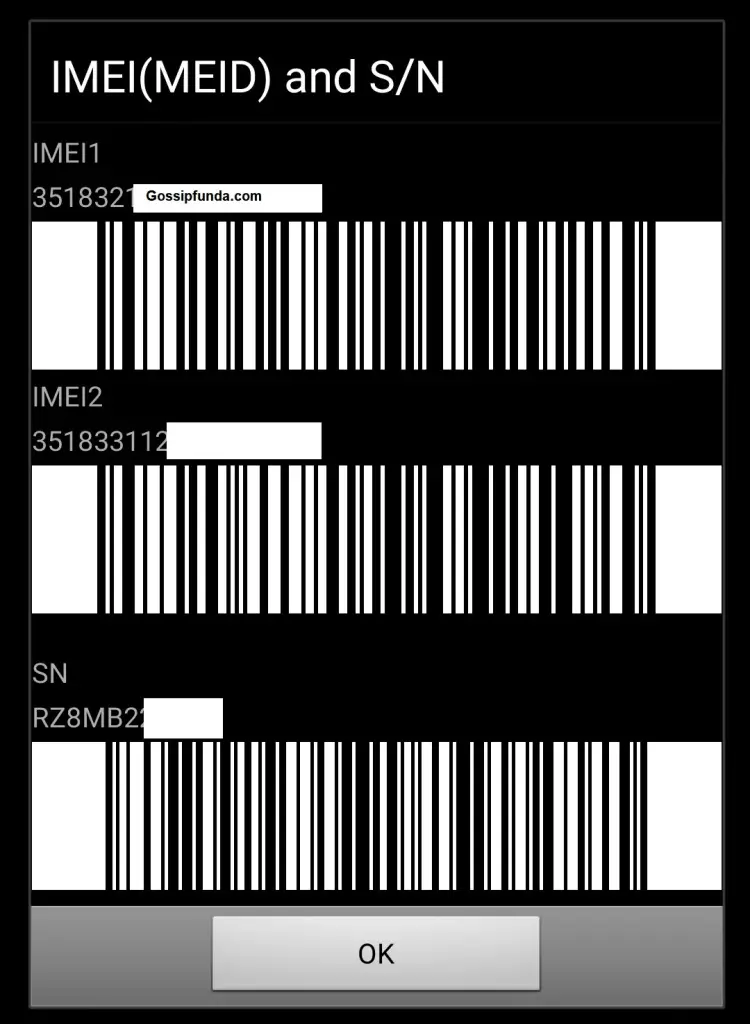 Your IMEI number will appear on your display. Either you can note it down anywhere or can use advancement by taking a screenshot.
Method2: Same as Model number
Most of the cases Model number and IMEI number both are shown simultaneously. Go back to model number methods and repeat the same for IMEI number,
Check IMEI in iPhones
iPhone 5 or latest iPhones have their IMEI number mentioned at the back panel. iPhone 4 and older versions have their numbers written on the sim slot so you can take it out and note your IMEI number.
Through settings, you can also check the IMEI number.
Go to settings.
Move towards "about" option and tap on it.
Many options will get appeared, such as IMEI, RAM, device, etc.
You can check your IMEI number from there.
 Through Bill or box of the phone, Box containing the phone has a bill attached to it that also mentions various specifications listed on it. You can also check on it; instead of throwing it out, you can keep it and check whenever required. Even you can carry it with you and use it at the time of emergency.
Check MAC address
Go to setting->about phone->status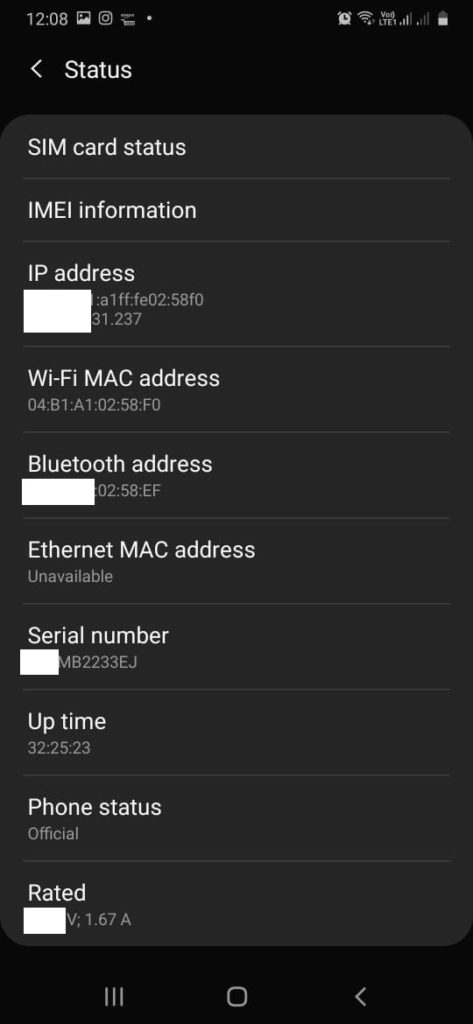 Now you will get mac address, serial number, IP address etc.
Check Security Status
Setting->about phone->legal information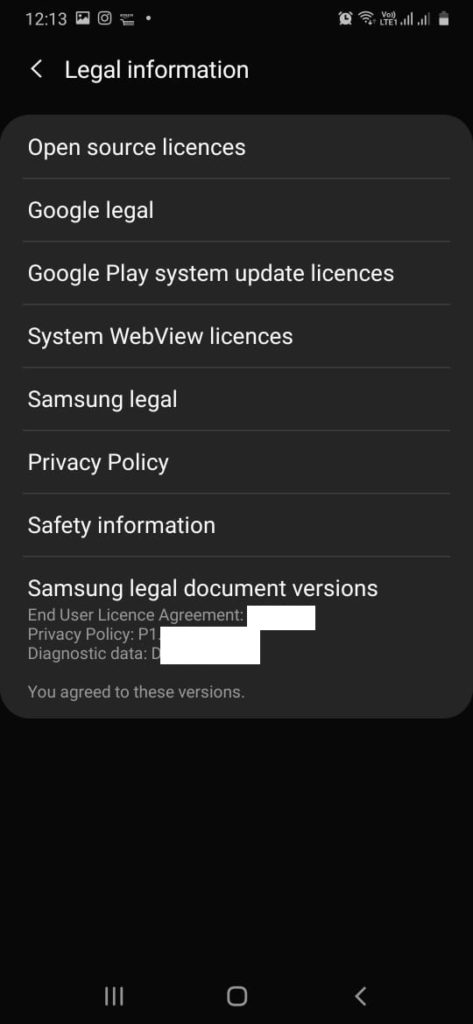 All the legal term will be shown like privacy policy, safety information, system WebView licence.
What if you lose your phone?
As many of us don't know about these things and consider them unnecessary. If you have lost your phone and need this but don't remember you can access it using the steps mentioned below:
Go to Google Dashboard and log in using your Google account.
Select the android option that will seem to you in the display.
IMEI number will be shown to you as many devices are associated with the Google account.
Now, there is no difficulty in using your phone as you get full knowledge about the available system in your smartphones.
Conclusion:
We have provided you with enough knowledge about how to check your devices' phone specifications or model number. Now there is no need to worry if someone asks you about what kind of phone you have. You can answer them merely with the above mentioned different ways to check out about your device.
Basically, Every specification is listed on your phone, so you can access it anytime by visiting settings and clicking the "about" option. Now it becomes easy after reading this article to know about your phone deeply. Now everyone will become advanced regarding their phone and have full knowledge about it. Finally, you know "What phone do I have?"