Just encountered a Hulu error 94? Considering you just get tuned in to the streaming platform to watch your favorite show, it can be quite excruciating. Stay tuned with our article to resolve the error. We have come up with an 8-step quick and easy solution to fix this issue.
What is Hulu error 94?
It is a common problem prevalent among a wide variety of streaming devices such as Windows, MAC, Android, IO, XBox, Samsung, and LG TV. There could be two primary reasons at the core of this problem. The first one is that there might be a temporary problem with the internet connection. The second could be that there is a disturbed connection between the device that is being used to run the stream and the application that you are trying to access. In both of the cases, generally, a Hulu error code of 94 is displayed.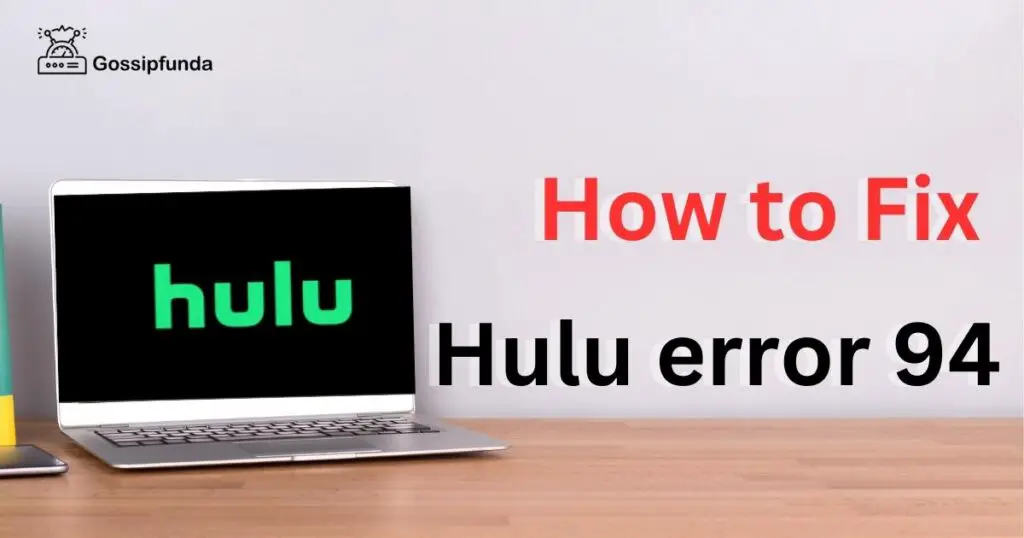 Why this error 94 has occurred?
As mentioned earlier, the connection that is being used to access the service might be unstable. This can lead to an application not being able to maintain a consistent connection with its servers. The application that has not been updated can cause this problem. This is because the servers are constantly updated to add new features in order to help them work efficiently, and chances are that you might have missed one of them. VPN: If a VPN is being used to dislocate your location, then your actual location will be changed. Then this error can take place.
How do I know it is Hulu error 94?
Generally, it is indicated when a display error code of 94 is shown on the screen. Through these certain parameters, you can be assured that you have come across a Hulu error 94.
Number 1: The screen is constantly stuck on the initial "welcome screen." It has been as such for quite a while and isn't proceeding as it is supposed to.
Number 2: A black or blank screen is on the display. Chances are that your website might be frozen with a blank for quite a longer duration of time.
Number 3: The app screen shows that "Hulu was unable to start," or it could be "We're having trouble loading this right now."
Above mentioned are the points that are commonly shown when the system is unable to process a service request by the user.
How to fix the hulu error?
To begin with, and to get you back on the road to your entertainment, we have come up with a quick and effective six-step solution. These methods are specifically designed to help the user fix the error display and get you back on your streaming sites.
Method 1: Disable your firewall
A firewall can usually misinterpret your service request as a malicious one. This is done in order to prevent unauthorized access from taking place. To disable your firewall.
For Windows users:
Click on the Start button.
Search for "check firewall status."
Click on the option
Then look on the left side.
It says, "Turn Windows Defender Firewall on."
Then go to private network settings and public network settings.
From there on, you have to select "Turn off Windows Defender Firewall."
Press ok button
Once you are done with these steps you can open your browser and access hulu
For mac:
Click on the menu bar.
Open the System Preferences
Click on security.
Switch to the Firewall section.
Turn off the firewall.
Method 2: Restarting your application
One of the effective ways to solve the problem is by restarting the streaming application. It is proved to be effective in most cases. It's necessary to terminate all previously running processes before restarting the browser.
To restart the browser in Windows:
Step 1: Go to the taskbar.
Step 2: Search for Task Manager
Step 3: Select a process that belongs to your browser.
Step 4: Select the option. End Task Manage
Step5: You can select "no active processes" to end.
After you're done with this, you can visit your web browser again and access Hulu again.
Method 3: Power on and off your device
Sometimes you need to power on and off to re-establish the connection in order to refresh the connection between your device and the application you are using. In order to do so, here is the list of steps to perform (on computers):
To switch off the device:
Step 1: go to start menu
Step 2: Click on the shut-down button.
Step3: click on ok button.
To switch on the device:
Step 1: Switch on the power button.
Step 2: Allow the computer to re-boot itself.
Step 3: Once opened, reconnect your internet connection.
Step 4: Open your web browser.
Step5: stream hulu again
Usually it gets refreshed once opened, but if the problem tends to persist, you can jump to our other solution.
Method 4: VPN error
Certain times, the error could be due to the use of a VPN. The VPN tends to show your location as being in another country. It hides your true geopolitical location, due to which the streaming sites refuse to connect, as they are meant for a particular server that works on restricted terms in selected geopolitical regions. To fix this disable your VPN, here the some ways through which you ca disable your VPN.
Step 1: Go to the Start option
Step 2: Proceed to network connections
Step 3: Check for a VPN
Step 4: If the VPN is enabled, disable it.
Step 5: Look for a Proxy Section
Step 6: There, you can find out if a proxy server is enabled or not.
Step 7: The proxy is setup manually with the help of the Windows help bar.
Step 8: Shut down and restart the computer 
Step 9: Connect again to the Hulu streaming site.
For Mac users:
Step 1: Click on the Apple menu bar.
Step 2: Select System Preferences
Step 3: It shows networks; click on it.
Step 4: Click VPN and select the Disconnect option.
Step 5: From there, you have to select the network connection being used.
Step 6: Click Advanced option a pop-up appears; from there, select proxy settings.
Step 7: Deactivate all settings
Step 8: Then shut down the Mac, reboot it, and connect to Hulu.
Method 5: Perform a check on your internet speed.
The slow pace of the internet can cause errors while loading the stream. Hulu requires a certain recommended speed to run; if the speed doesn't match the server requirements, it can cause an error.
Do take into consideration the following steps:
Check your internet speed and match it to the requirements of the Hulu app.
Remove your router.
Wait for 5 seconds.
Replug your router
Disconnect all devices connected to the router to increase the speed.
Remove extra applications running at the same time.
For your smart phone:
Switch to airplane mode.
Remove airplane mode.
Switch on the internet.
It reconnects to the Hulu server.
Method 6: clear cache
Most of the time, the cache needs to be cleared. The stored cache can cause errors. In order to rerun your streaming site, you need to do certain tasks.
For Android users, these steps are to be performed to clear cache:
Go to the search bar and search for settings.
Select the three dots in the upper-right corner of the screen and then select them.
Open the Settings app on the smart phone.
You can open this by clicking on the three dots in the top right corner.
the search term "Storage" and click on it.
From there, select apps and click on other apps.
Search Hulu in the search bar.
There is an option of clear cache
Select and press OK.
Reopen your hulu app.
For iOS users, these are the steps to clear the cache:
Lookout for settings
You can search for them in the search bar at the top.
Search for storage and press to continue.
Find the Hulu app and click on it.
In macOS, there is usually an "offload" option meant to clear cache.
Click on it.
Remove Hulu from the background and then reopen it.
Method 7: Check for DNS servers 
The DNS server could be the main factor contributing to the low speed of accessing the streaming site. Sometimes DNS servers take a ton of time to load, which could cause a delay in the server's usual time or make it unable to load. Thus, Hulu error 94 is displayed as a result. So in order to customize the DNS server, the following steps are to be taken into consideration.
Go to the start bar.
Click on the control panel.
Select the network and connection options.
Click on the option Change adapter settings 
The option are displayed
Then select Internet connection by right clicking on it. 
From there, select Properties.
Windows displays to access an Internet connection's properties
Double-click on it.
A general tab is enabled from there.
Select the following DNS server addresses and use them to your advantage.
For a preferred DNS server, type in the value 8.8.8.8.
For an alternate DNS server, type in 8.8.4.4.
Click ok option from the dialogue box 
Restart Hulu to access it.
For Mac users, steps are simplified to customize the DNS server:
Go to the Apple menu.
From there, click on System Preferences.
Select the Network option and proceed to Advanced.
There is a visible DNS section; switch to it.
For the + sign, click on it and add 8.8.8.8.
For + again, you have to add 8.8.4.4.
Click on OK option
It is time to exit this window.
Now reopen hulu and stream your sites.
Method 8: force stop hulu
For Android users, do these certain steps to force stop your application:
Go to settings
Search applications
Search for the Hulu app
Click on "force stop."
Agree to it by clicking yes when a dialogue box appears.
For a computer:
Go to the control panel.
Search for applications
Click on "Installed Applications."
Search for Hulu 
Click on force stop the application.
 Conclusion
Here are the series of methods that can be applied to fix the Hulu error code 94. This article explains each method in details with steps specifically categorized for users of various devices such as Macs, Androids, Windows, and iOS. Since few methods fail to work, multiple solutions can be applied to help resolve this error. I hope this helps.
FAQs
If force stop safe?
Yes it is 100% safe.
Is power on and off useful?
Yes, it is mandatory to boost the performance.
Can  error 94 linked be linked to DNS failure?
Yes most of the times.