In today's article, we will try to understand what hidden profiles mean, how to find hidden profiles on social networks for free and what is the need to do all this. Let us get into it at once and explore the various options available.
In today's world, almost everybody has a social media presence. Some of the most popular social media platforms in today's generation are Instagram, Facebook, YouTube, Twitter, Snapchat, and TikTok, and the list never ends. Some people are available on all platforms whereas some might choose a few selected ones and be active on those. There are hundreds of reasons for this huge rise in the usage of social media platforms. The world has moved completely online these days.
People have started posting each and every small thing they do online. It has become like an unsaid rule that things you do have to be posted for the world or else people think that you are boring. Although it does not matter that much as long as you are happy. LinkedIn is used to grow your professional network or Facebook, Instagram, and its likes for staying in touch with your friends and family. With the rise in people's online presence, the most important question that arises is privacy. One must be very careful while posting something on the internet and should make sure to not overdo it and put ourselves at risk.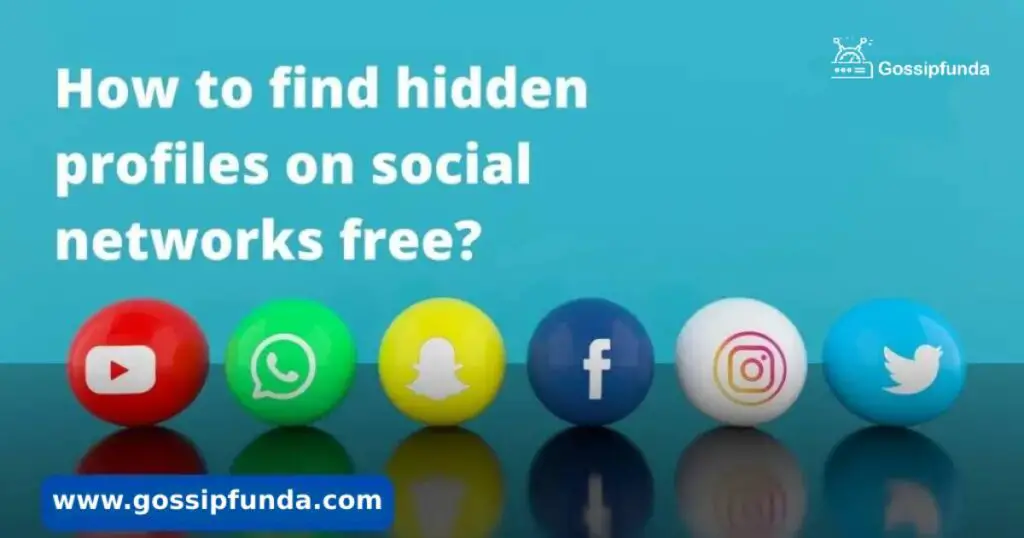 Hidden basically means something that is not widely visible. In no way does it mean that it is not available. It is, but you are just not able to see it. A person can choose to set their privacy settings in such a way that their social media profile is not completely available to everybody. We can understand this in the best way by considering Facebook as an example. Facebook is one of the most widely used social media platforms available. It gives its users the flexibility and freedom to customize their privacy settings. Users can lock their profiles so that only the people they accept as friends can see what they post. Another interesting feature is that on Facebook one needs to accept a person as a friend. Only then they can view their profile, unlike the Twitter model where you have no control over who follows you.
This is definitely one of the best ways to secure your account and at the same time be active on social media as well. Once you restrict who gets to watch a certain post, you can be sure that your information will not fall in the wrong hands. Having said that, it does not guarantee the same because a piece of information can get transferred from a trusted source to others as well and you will not have any control over that.
What is the need to find someone on social media?
In this segment, let us understand the need for this article. Why would someone try to look for another person's online presence? It is very important to ask this question and to answer it is even more important. You can learn a lot about a person from these social media networks. What is the personality type of that person? What do they like or dislike? Which kind of people or pages do they interact with? In Fact, you can even find out if there are any mutual contacts between the two of you Let us now see a few scenarios where this might come in handy.
Scenario 1:
Imagine that you met someone new online on a dating website. After talking for a few days, you decide to meet them. Before going to meet somebody it is of utmost importance for you to get all the information about them. Things that they might not mention upfront. You can even get to know if there are any mutual friends you share with them. If you do get to know any common friends then it is easier to get even more details from them. Isn't it always better to be safe than sorry? It is very important to do a thorough background check before you even think about considering someone as your partner.
Scenario 2:
Many times young children create their social media accounts without a parent or guardian knowing. Now, the internet has all kinds of stuff that children should not get exposed to. There is so much adult content available and so easily accessible that in no time children could get affected by it. There are also a lot of dangerous entities which target minors specially and lead them on the wrong path. It also risks their security because, without proper awareness, the kids are most prone to oversharing or getting exposed to content that can leave a scar on their minds.
Scenario 3:
One more scenario where we would like to know about a person would be at our place of work. It helps a lot knowing your colleagues outside of work too. It builds a more wholesome environment to work. Sometimes if you have an important meeting with a client. Just a little extra information about them and a personal touch could land you that contract! Knowing your own colleagues or your juniors either professionally or outside work also could lead to great and long-lasting relationships. Many companies even do a background verification where they visit and analyze your online presence and the kind of content you get exposed to.
Is it legal?
Well, there is a very thin line between something being legal and turning illegal. Finding a friend or colleague on social networks to casually get in touch with them is completely legal. But, stalking is illegal. Tracking someone's day-to-day activities obsessively is illegal and that person can take strict action for the same. Even if you do not have any malicious intent, stalking is dangerous because you don't even realize when it becomes an addiction. It is absolutely necessary to educate teenagers and young adults about stalking. So that they do not end up unknowingly breaching someone's privacy by stalking or falling prey to it themselves.
Now that we understand what exactly we are doing here, and why we are doing it. Let us now dig into how to actually do it. There are a lot of different methods and tools that can help us. Some of these tools are paid wherein you enter the name, email ID, or phone number of a person and it will run its algorithms to find the matches for you. But, you can only view the report generated after paying some money. However, if you do not want to invest money, there is nothing to worry about. There are a sufficient number of free tools available to find hidden profiles on social networks.
Using traditional search engines
This is the simplest way to search for any profile online. The most reliable, trustworthy, and dependable search engine – is Google. It is the solution to most of the things we don't know and are interested to know and learning. Simply launch Google Chrome and type the name you would like to search. A simple google search will reveal thousands of profile matches and you will have to visit everything one by one to find the desired profile.
Another way to narrow down the search is by specifying a site and the username they use if you are aware of it. Just type "site:abc.com @username". Here, the username is their username on the abc.com website. Usually, users have the same username across platforms and this fact can be used to exploit the users. If the name does not work, one can additionally check for any nicknames or any other information to search for them.
Using reverse image search
If you have a picture of somebody and know that it could be their profile picture or uploaded a photo on any of the social networking sites then you can go for this method. It is important to note that only pictures which are made publicly available can be viewed during the search. Many users set privacy on their photos which makes them not discoverable. Usually, we search for a keyword and get image results but this is called reverse image search for a reason. Here, we will give an image as an input and get results based on that. Let us see how this can be achieved in a few simple steps:
Launch Google Chrome and go to Google Images from the top right
On the google images page, click on the camera icon located at the end of the search bar
You can now provide an image link or upload the image and hit enter
This will start the image search and browse through all the images available online.
It will display all the similar-looking images based on its algorithm.
Users can skim through the search results to find what they are looking for.
Using external tools and extensions
There are multiple third-party people search tools available online. With a simple google search or image search, the disadvantage is that you get a lot of irrelevant results and it is a tedious task to go through everything. This is where people's search tools come into the picture. Their advanced algorithms make the search more refined and produce only relevant results to the users which saves a lot of time. For that, some of these tools charge a fee for their service. A few of the popular tools are Spokeo, BeenVerified, SocialCatfish, and so on. The steps are more or less the same for all of them and they are very basic:
Google search one of these extensions or tools and select the authentic link.
Open the page and find the search bar to type in the keywords
Type in the username, email ID, phone number, or any other detail you know like address, work location, or anything.
Hit enter or click on the magnifying glass icon to search and let the back-end algorithms do their magic.
If it is a free tool or extension then the results will display on the screen directly. If not, you will have to pay the required amount and then be able to view the report.
Please note that it might take some time for the entire search to finish as it skims through a huge dataset and a lot of social media platforms and their likes. You must not refresh or hit the back button during the search or else it will fail and you will have to run it again from the beginning.
Conclusion
In this article, we discussed how to find hidden profiles on social media networks free using a lot of different methods and tools. It should accomplish the task well. But it is very important for me to mention that the internet has a wide range of content available and not everything is authentic. There are a lot of fraudulent websites and tools available and one must be aware of them. Some of these tools claim to give you the information you need for money.
Once you pay you to realize that it was a fraud and no relevant information is collected in the first place. Another type of scam is trying to get malicious software installed on any machine. If not investigated properly, users might fall prey to this very easily. Thinking that they will get the data they need about somebody. They might expose themselves to malicious entities which might be harmful and can cause a lot of damage. There is no need to worry and panic but just be alert and research before doing anything online. With this note, we can wrap up this discussion and hope that it helped you in some way.
FAQs
If I want to know all the whereabouts of my friend, is it illegal?
It is not illegal if you do it casually and do not make it an obsession. Another very important point is consent. If your friend communicates that they do not approve of it then it becomes stalking which is illegal and punishable.
How do verify whether a people search tool is fraud or not?
A simple google search should help! Read reviews about the tool from users. Check the statistics like how much has the tool been used. Is it a secured HTTPS link or not? These checkpoints should give you a good idea about the authenticity of the tool or extension.
Why do people hide their social network profiles?
Well, it is an individual's choice. Not everybody is an extrovert and likes getting discovered by unknown people. Also, in a way it is a good practice to secure your data and set strict permissions on the content you post or view.