Want to reset your MacBook in under 15 minutes? Want to secure your personal data from suspicious people? Learn how you can easily and safely reset your MacBook without skipping a beat. See how to prepare your MacBook for resetting. Learn how to clean up your MacBook before selling/giving it away to other people. If you want to take a short way then check out the video on our YouTube channel. Are you trying to figure out how to reset your MacBook Air or MacBook Pro the right way? You maybe don't want to ruin your day by resetting your MacBook the wrong way? Or maybe you want to clean your personal data before selling your MacBook.
No matter the reason you are trying to reset your MacBook, doing it correctly is the key. In this article, we are going to see how we can reset the MacBook and set it back to the way it first came in the box.
NOTE1: You can follow the same steps to reset a Mac (computer) or any other Apple device running Mac OS on it.
Now before we can reset our MacBook / Mac, we need to make some changes which will be depending on your MacBook. The steps will work for the latest macOS Catalina and most other older models. If you have an older version of the macOS, we would suggest you update the version before resetting.
NOTE2: Before we can start with the resetting process, you must backup your data as resetting will remove all your personal data. Now you can backup your data on iCloud or external hard disk, etc. Keep in mind the size of the data as if you are using cloud storage, you may be charged more for it. But if you are not sure how to backup your data then you can see other articles online for the same.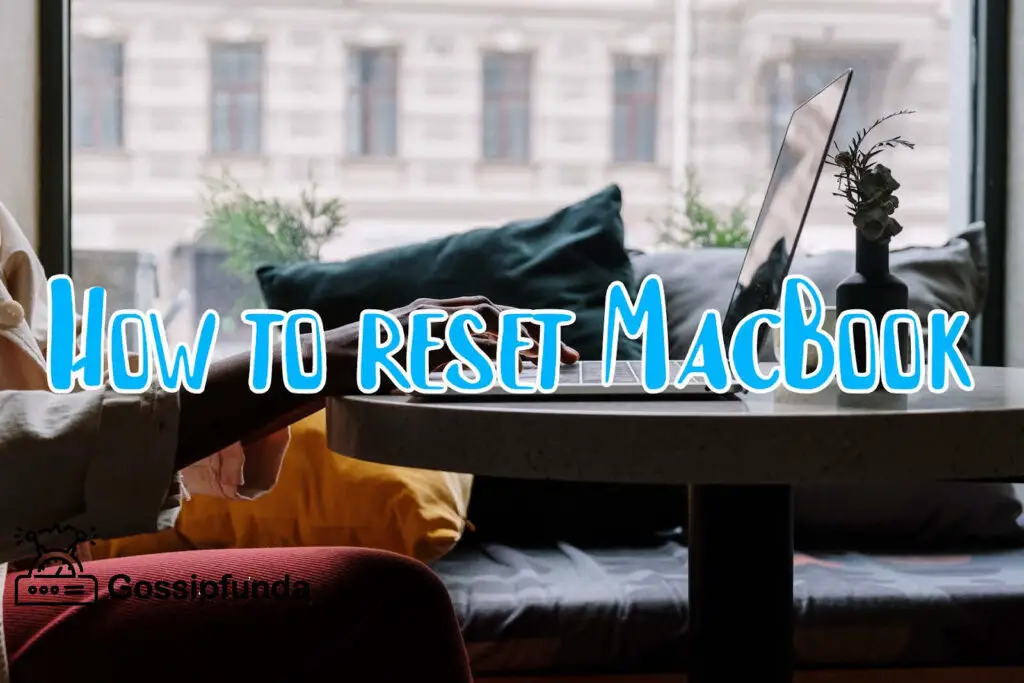 What to do before you reset your MacBook
When you are resetting your MacBook, there are some things you should keep in mind. This will avoid you using any personal data like images, videos, work files, etc. Even if you are shifting to a new MacBook these tips will make your life a lot easier.
Keep these points in mind while resetting your MacBook:
First of all, the most important thing to do is to backup all your files. Backing up your files every month is not a bad idea, especially if the files are work-related. Now you can either back up data on physical storage such as a hard disk or pen drive. Or you can choose to back up your files on cloud storage which provides reasonable pricing. Some of the good options are Google drive, Apple cloud, Mega drive.
Now you should sign out of all your accounts such as Google accounts, Apple accounts, and other third-party applications. This will also help you if you are selling your old MacBook to someone. However, this tip is not very useful as all your data will be cleaned along with all the login credentials.
Sign out from your iCloud (Apple cloud), go to the menu, and open system preferences. Now click on Apple ID and turn off the find my Mac feature. Once done, sign out.
Make sure you have downloaded all the passwords to avoid getting locked out of accounts. If you are not sure how to download them then you can see them on YouTube or write them down if you are more comfortable.
Now disconnect any Bluetooth device like Apple pods or Apple buds so avoid any connection issue in the future. This is very unlikely to occur but worth taking precautions. To disconnect them open the Apple menu, go to systems preference, and choose Bluetooth. From here you can disconnect your Bluetooth devices like earphones, headphones, speakers.
Now you are ready to reset your MacBook without any issue coming up, you can keep these pointers in mind for resetting any other device. In case you are planning to sell your MacBook on eBay, then you should reset MacBook and check if any sensitive data is left.
We are now ready to move forward with our guide to reset the MacBook, you can skip these steps if you are going to use the MacBook yourself after resetting.
How to reset a MacBook Air or MacBook Pro
Do not start the MacBook, first press the Command + R key (together) on the keyboard and wait for your MacBook to start up. Apple logo should be visible once the keys are pressed.
Once the MacBook is up and running, select your preferred language and continue. Select "Disk Utility" and then click on continue.
Now you need to select your startup disk, it should be on the sidebar (the default option will be "Macintosh HD"). Once you select it, click on Erase button.
Once the disk is erased for which you have selected the name, then you need to select MacOS Extended from the drop-down menu and then click on Erase.
If you want to encrypt your disc for extra security, choose the "Journaled, Encrypted" option. You'll be prompted to create a password. Choose GUID map.
Click on Erase and you will be done, exit the window once it is done.
Now you need to add your Wi-Fi which you were using before as it will be reset. You can add Wi-Fi by going to the top right-hand corner of the screen and following the steps you use in daily use.
Now you need to reinstall macOS on your MacBook, go to the main menu -> reinstall macOS -> continue.
Now a popup should appear on the screen, select continue.
After clicking you should see the software license agreement, you can read the agreement if you like. Once done click agree and choose the boot disk.
 Once you have selected the boot disk, click on Install and wait for the first step of the installation to complete. This is going to take some time so we recommend you put MacBook on charge and do some other work.
 Once the first step is completed, MacBook will restart and then you can continue with the installation.
Conclusion
We have seen how to prepare the MacBook before resetting and why it is important to erase any personal data. Resetting the MacBook is not hard but resetting it the correct way is difficult. The steps are simple to follow and the guide will take you through them. But if you want to short way through the guide then you should watch the video on our YouTube channel. The link is attached to the article.