Samsung S20 Ultra 5G vs. iPhone XI Pro Max
 Samsung S20 Ultra 5G vs. iPhone XI Pro Max– The Flagship Battle: The Samsung S20 Ultra is the latest offering and the flagship device from Samsung, which has been launched about a couple of months ago. Don't Miss: Apple iPhone XI Pro Max, iPhone 12 Pro Max Specifications + Comparison [No Rumor!] the latest offering from Apple, which was launched a few months back.
Although there is quite a good gap between the launch of both devices, both are flagship devices of the two most popular brands of the smartphone industry. Therefore, there must be a detailed comparison between these devices.
                So, let us go through the details of both the devices and compare them on each and every ground.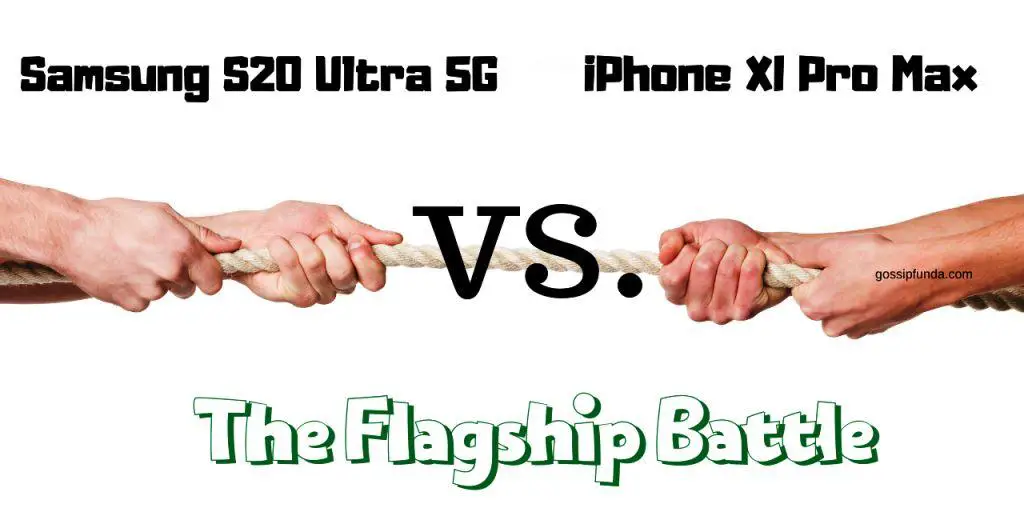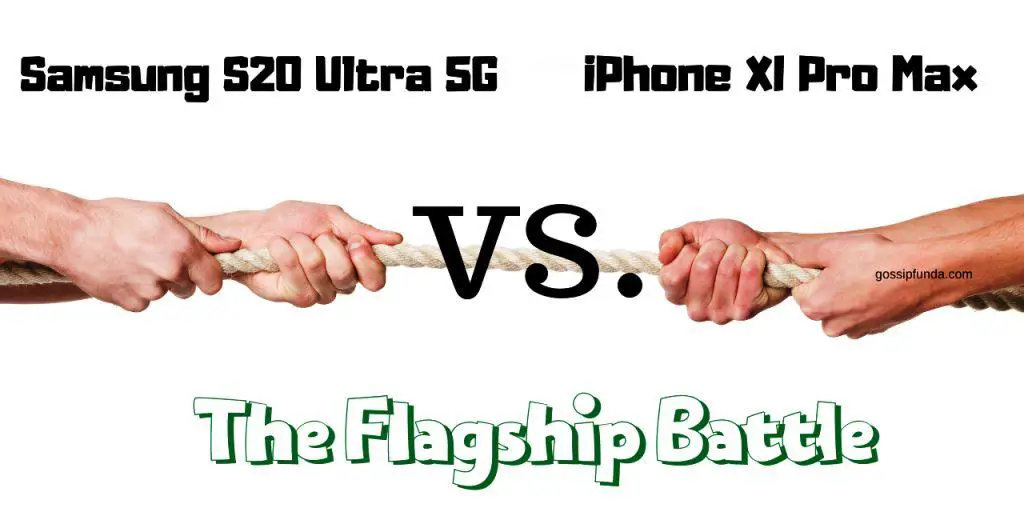 Build Quality and Looks:
Both the device come with glass build. The iPhone comes to its own strengthened glass body, whereas the Samsung S20 comes with a Gorilla Glass 6 on its front and back. That said, the iPhone has got a matt finish on its rear surface, which improves its looks but makes it more prone to scratches at the same time.
On the other hand, the Samsung S20 Ultra comes with a glossy and smooth design, which IS comparatively less prone to scratches. Therefore, the Samsung S20 Ultra is more recommended if you are searching for a device to use without cover.
Coming to comfort and in-hand feel, both devices do quite well, but Samsung manages to give a larger screen with the device being almost the same sized as the iPhone. Along with that, the Samsung S20 Ultra is a lot lighter than the iPhone XI Pro Max even though it has much higher battery capacity and more significant dimensions. That said, the weight balancing or the weight distribution of both the devices has been done really well.
This parameter is entirely preferential, but if told to choose one, I would prefer the S20 for its more comfortable hold.
Display:
Both devices offer superb displays. The iPhone XS Max Pro comes with has a Super Retina XDR OLED display, which is really impressive. It also has the right tone technology, which will change the warmth and other display parameters as per the outside environment. The Samsung S20 Ultra comes with Samsung's own 'Dynamic AMOLED' technology. It is bright and really satisfying. The resolution seems better, and the display is larger too. Another thing where the Samsung leads is it supports HDR10+, whereas the iPhone supports upto HDR10 only. Samsung has a better refresh rate, as well.
Although both of these do have a good display, it's quite clear that Samsung has taken the lead here as well.
Camera:
 The Samsung S20 Ultra comes with a Quad-Camera setup at the rear, whereas the iPhone has a triple camera setup only. This itself gives a better position to Samsung. Apart from that, the picture quality has been observed better in Samsung S20. The pictures have more detail, and colors come out to be more accurate.
Noise is also minimal. On the other side, Apple gives a slightly yellowish tint to its pictures, and the images have noise too, hence decreasing the details in the photos. The white balance is also better in the case of S20. Coming to dynamic range, both devices perform reasonably well in this, but white balance is messed by Apple iPhone 11 Pro Max.
The pictures of the iPhone have less clarity than Samsung S20, and the images of the iPhone are oversaturated too. Coming to the front camera, both have a single camera setup, and both capture quality shots. But the studio lighting and other 3D features are better on the iPhone. But sadly, the iPhone messes up the white balance and skin tone looks pale even with the front camera photos.
                Both devices come with support for OIS (i.e., Optical Image Stabilization) and EIS (i.e., Electronic Image Stabilization), and hence video recording is perfect in both the devices. The videos come out stabilized and clear.
 So here also, my verdict goes with the Samsung S20 Ultra.
What is com.android.incallui?
Performance:
 Both the phones come with really powerful chipsets. The Samsung S20 Ultra comes with the latest Qualcomm Snapdragon 865 processor, whereas the iPhone has A13 Bionic chipset. Here Apple takes a huge lead because the A13 Bionic chipset performs amazingly well. Everything runs super smooth. The A13 Bionic chipset is faster and more efficient at the same time, which makes the device perform outstandingly well. RAM management is also useful in both devices. Most of the applications stay in memory.
                The iPhone XI Max Pro comes with a dedicated Neural Engine, which aids in Advanced Machine Learning, and hence makes the device faster and more convenient. It also improves the user-friendliness by the invention. It helps in running the triple camera setup efficiently. This Neural Engine handles face ID, AR features, and other such AI features.
 Gaming and other heavy usage can be handled easily by both the devices. There is no heating issue in any of the devices, but both of the devices tends to get a little bit warm after prolonged heavy usage, which is quite evident due to the glass back of both devices.
                Hence, here my verdict goes with the Apple iPhone XI Pro Max. Kudos to hard work of Apple's R&D (Research and Development) Team.
Battery Life and Charging:
                The Samsung S20 Ultra comes with a humongous 5000 mAh battery, whereas the iPhone XI Pro Max has a 3969 mAh capacity battery only. Both devices can easily last for more than a day, but Samsung's S20 Ultra shows phenomenal performance here. Even with heavy usage, it will last for around two days. Both devices support wireless charging and fast charging and come with efficient chargers, but the Samsung S20 has better-charging capability.
 The charging capacity is also better in the case of Samsung S20 Ultra. Because it comes with support for 45 W fast charging, whereas the iPhone XI Max Pro comes with support for 15 W fast charging only. This fact is quite disappointing, considering the price point of the iPhone.
                Here too, my verdict goes with the Samsung S20 Ultra.
Multimedia:
 The multimedia output of both devices is very enjoyable. Both devices come with dual speaker stereo sound setup. But sadly, both devices come without any 3.5 mm audio jack.  But fortunately, enough, the Samsung S20 and the iPhone come with an earphone inside the box, with type C jack and lighting jack, respectively. Another advantage of Samsung is it supports HDR 10+, but the iPhone doesn't. Which is quite disappointing.
 So here I am quite neutral. That said, the multimedia running hours is much higher in the case of Samsung S20 Ultra.
Connectivity and Sensors:
                Samsung takes a considerable leap here; it comes with 5G, which Apple doesn't have. That said, all other connectivity features remain almost the same. Both devices come with the latest Bluetooth version, latest Wi-fi technology. For location-related services, both devices come with A-GPS, GALILEO and GLONASS. Additionally, the Samsung S20 Ultra comes with BDS, and Apple comes with QZSS. NFC is also available on both devices.
 As far as sensors are concerned, both devices come loaded. They have all the sensors like Compass, Gyroscope, accelerometer, etc. The iPhone misses out the fingerprint sensor, which is disappointing at this price point.
That said, the face recognition feature of the iPhone is entirely reliable and can be counted on. It works fast and accurately, even in pitch darkness. Another thing that Samsung S20 Ultra offers is the FM Radio. Although this isn't a much-used application these days, it is included in Samsung but not in iPhone XI Max Pro.
Comparison spec sheet:
| | | |
| --- | --- | --- |
| Spec | Samsung S20 Ultra | iPhone XI Max Pro |
| SCREEN | 6.9 inches 6.5 inch 1440 x 3200 | 2688 x 1242 |
| CHIPSET | Qualcomm SD 865 | A13 Bionic |
| CAMERA | Rear Quad Cam Setup 108 MP + 48 MP + 12 MP + 0.3 MP | Rear Triple Cam Setup all three 12 MP shooters |
| BATTERY | Li-Po 5000 mAh | Li-Po 3969 mAh |
| CHARGING | 45W fast charging Reverse charging supported | 18W fast charging |
| 3.5mm JACK | Not available | Not available |
| AVAILABLE PORT | USB Type C | Lightning Port |
| SAR Value(head) | 0.94 W/kg (head) | 1.16 W/kg (head) |
| SAR Value(head) | 0.95 W/kg (body) | 1.17 W/kg (body) |
Conclusion:
                 The Samsung S20 Ultra was launched quite a good long time later, as compared to Apple's iPhone XI Max Pro. Hence some upgradations and betterments are apparent, but the latest offering from Apple, which is not having have all the latest features, is not far behind too. It gives the Samsung S20 a good competition. The overall processing and AI (Artificial Intelligence) is better with the iPhone.
That said, the Samsung S20 Ultra is way better in all other parameters – be it camera, battery, display, charging, and even sensors. All these apart, the price of Samsung S20 Ultra is way less than the Apple iPhone XI Max Pro. All these said, my verdict goes with Samsung's flagship; these people have done their job phenomenally well. But those who crave for Apple as brand value or depend on the Apple eco-system and have other Apple devices, this is the best iPhone available out there in the market.