Twitter, Inc is an American company from San Francisco, California. The company's microblogging and social networking services are termed by the name "Twitter". Previously it operated the "Vine short video" app as well as the live streaming service known as "Periscope". On Twitter, users can post or interact with other users and these small messages are termed "Tweets". However, if you are an active Twitter user, you might have to delete your current account for some reason. Maybe you want to open another new account and start fresh. 
Deactivation of a Twitter account is quite simple. It just requires a few steps which when followed, will undergo a "Deactivation period" of 30 days. During this Deactivation period, your account will remain invisible to other Twitter users. If you change your mind someday, you can again start your Twitter account. 
But how to delete your Twitter account completely including all your information? Here, we will be stressing this topic only. There are many ways or alternatives to delete your Twitter account permanently. Besides different alternatives, there are a few precautionary measures to be followed as well. So, let's start the discussion.
Things to keep in mind before you delete your Twitter account
Account deletion needs scrutiny and attention. Be aware of the fact that you are deleting your account for a valid reason. A part of the population of Twitter users decides to delete their accounts due to some simple issue that can be resolved without even deleting the account permanently. Therefore before deactivating your account, look if you face these issues as stated below:-
A lot of tweet notifications can be irritating. It is very difficult to attend to everyone's tweets at once. And deleting tweets one by one is too much hassle. If you want to delete your account to get rid of excess tweets, just don't do it. Rather, use apps like the "TweetDelete" app whose utility is to delete all your tweets all at once. 
It isn't necessary to delete your Twitter account if you want a new username for it. Don't delete your account if you want to open another account of yours with a new username. You will lose all your followers. Instead, you should know that Twitter allows users to change the username, provided it hasn't been already taken. Thus, you can easily change your username without losing all your followers and your Twitter account.
It might be the case that you are planning to start a new account with the same username as the older one. For this, you should better deactivate your current Twitter account for the time being instead of deleting it completely. But it would be better if you can avoid setting up new accounts with the same username or email address. 
Some people want to save some of the data in their Twitter accounts. If you are in such a position, just request Twitter for the archived date. After this, you can deactivate your old account and start a new one also.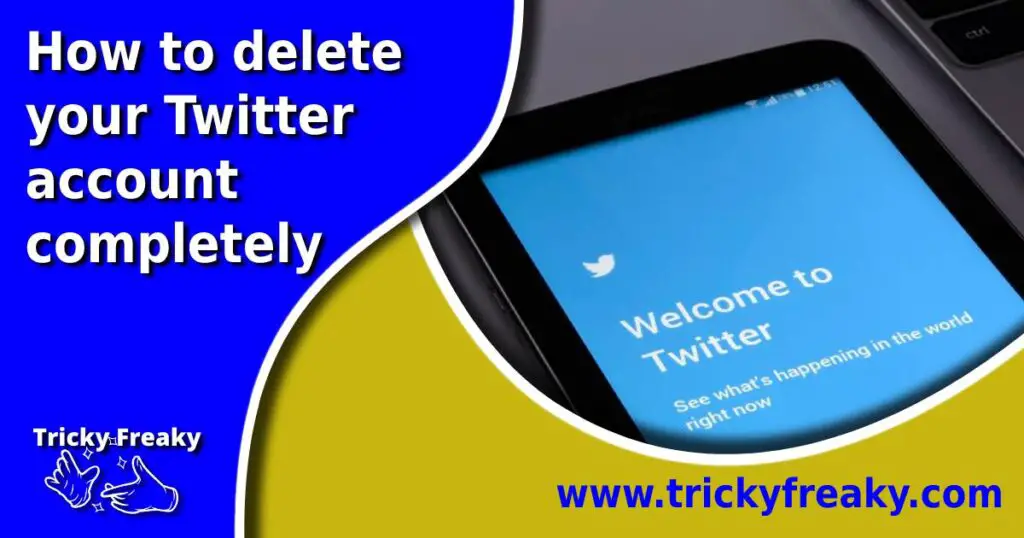 How will you delete your Twitter account forever
A simple way with a few steps is what its synopsis says. Firstly, what you are required to do is deactivate your account before deleting it. This will make Twitter aware of the fact that you have chosen to delete your account. As stated earlier, the Deactivation Period is of 30 days. In this period, your profile information and tweets will be completely removed from the platform. After the completion of 30 days of Deactivation, your account will be permanently deleted once and for all. 
Now, it depends on what way you are deleting your Twitter account. If you are deleting it from a web browser, perform the steps below:-
Search for "Twitter". Go into it.
Log in to your Twitter account with the appropriate credentials.
When the main domain page appears, you can see a three-dotted icon on the left sidebar. Access the menu by clicking on it.
Select "Settings and Privacy" from there. 
Now click "Deactivate your account".
Go through the information on the screen once.
Click on "Deactivate" to send your account into the Deactivation Period.
The browser will prompt you to enter your password and confirm it.
After confirming, select "Deactivate" again.
If you want to know how to delete your Twitter account completely from the Twitter mobile app, follow these steps:-
Open the Twitter mobile app on your phone.
Tap your profile picture.
The menu related to your Twitter account information will show up. Tap the "Settings and privacy" option from there.
Go for the "Account" option which appears under your Twitter username.
Tap the "Deactivate your account" option.
Go through the information message once.
Tap on "Deactivate".
When prompted to type your Twitter password, enter it correctly.
Select "Deactivate" once more to initiate the account deletion process. 
What will happen after you start the Account Deletion Process
During the Account Deactivation period, your Twitter profile can no longer be found or accessed by anyone anymore. Anybody on Twitter can't send you tweets anymore. 
Within this 30-day deactivation period, if you don't want to revive your account, you can leave it as it is. But if you have initiated the account deletion process by mistake, you can come back to the platform again. After 30 days, your Twitter account will soon be out of existence within another week. 
However, within the Deactivation time, you can set up another new account without any hindrance.
Will my tweets be visible on any place or platform even after account deletion?
Yes, it might be visible on some search engines and internet archives. This thing only happens online every time. Although, it does not need much attention as nobody can access the tweet or your account even if they try. Let's explore this fact a bit.
In the case of search engines:-
Some of your popular and most followed tweets can show up in the browser sometimes even after deleting your account. This happens temporarily due to recrawling back of their pages. What you can do is just click on the deleted tweets or profile and check if it is still accessible. You should get an error page if you do that. If you can still access that tweet or account, you should be aware that you were unable to delete your account correctly. Just revise the steps on how to delete your Twitter account completely and initiate the Account deletion process properly this time. 
But maybe for some reason you are desperate and want to remove your existence from the Twitter platform at once. In that case, you need to request Google to delete that particular tweet. The steps to execute this are as follows:-
Log in to your Google account. If you don't have a Google account, create one or use someone else's existing account.
Copy the URL of the tweet that you have just seen showing up on your browser.
Navigate to the "Remove outdated content" page of Google.
Paste the URL of the tweet which you want to be removed.
There you will notice a red-colored "REQUEST REMOVAL" option on the bottom right. Click on it. 
You can also follow similar steps to remove the tweets on "Yahoo" or "Bing". The point to be noted is, that only URLs that no longer exist can only be removed on request. A tweet that already exists on an active account of yours, cannot be removed anyway.  
In the case of Internet Archives:-
Internet archives possess the ability to generate some old tweets. The Library of Congress once upon a time, used to archive each and every tweet. However, they stopped doing it from 2017 onwards. You should also know about the digital archive of the "WWW" found by an Internet archive based in San Francisco. It was referred to as the Wayback Machine and was launched in 1996. It also saves tweets but it doesn't disclose in what principle they archive Twitter pages. The director of the company Mark Graham once stated- "So we archive some tweets– not all of them and not even nearly most of them– but we do archive tens of millions of tweets every week, and we archive them from a variety of sources". 
Therefore the overall conclusion is, that Wayback Machine saves all of your tweets by default unless you are a celebrity. It supports a feature known as "Save Page Now". This feature lets users archive any particular URL. In this way, some of the tweets might possibly show up in the digital archive. And anybody can't remove them as Wayback Machine only approves the domain owner's request regarding removal. 
How can I change my username or set it as the username for another account?
Do you want to change your username? Nothing much, just find the three-dotted icon on the main account page. Tap it to open the menu. After that:-
Open "Settings and privacy".
Select the "Account" option.
Go to "Login and security".
Change your username accordingly.
Do you want to use your old username for a newly opened account? Follow the method discussed earlier. But, the older account's 30-day deactivation period should be over by then. You will find the steps of how to delete your Twitter account completely at the beginning of this article. All the credentials of your older account will remain unavailable in these 30 days. When the older account is fully deleted, be quick enough to set that name to the new account. Twitter allows only one unique username for one user. If you delay, that particular username might be taken by some other random Twitter user. 
The same is to be done regarding your email address. One account should have only one unique address. Although, Gmail users have a catch here….
Twitter can identify dots in email addresses that Gmail cannot. Therefore, you can add a similar email address with a dot somewhere in between. In this way, you won't be caught by Twitter as it will think you are a new user. But try to avoid this practice as you might find yourself between multiple Twitter accounts registered under multiple email addresses. 
What to do if I want only to delete all my tweets but keep the account
Yes, excessive tweets can cause quite a hangover. You can just delete the tweets as per your choice without deleting your entire account. Just delete them one by one by opening the drop-down menu on the corner of the tweet. Then tap on "Delete". 
But if you want to delete a bulk of messages, you can opt for third-party apps. Some popular and efficient apps for this purpose are "TweetDelete" and "TweetEraser." 
The TweetDelete app's free version allows the deletion of up to 3,200 tweets at once. The paid version of these apps helps you delete the entire bulk of tweets on your Twitter. 
Read Also: Where are videos saved after being downloaded on Facebook?
Conclusion
So this was all about how to delete your Twitter account completely. We have covered the necessary steps, as well as the pros and cons. You can just give this article a read and try it yourself. Don't forget to keep the precautionary methods in mind. Hope you find this blog useful. 
Frequently Asked Questions:-
Does deactivating a Twitter account mean it is deleted?
Answer:- Absolutely not. Deactivation of your Twitter account means the deletion process has just been initiated. The user can come back to revive their account if they feel so. The account deletion process will be complete only after 30 days from its day of deactivation. After deletion, there is no way one can recover his/her Twitter account. 
Does deactivate mean losing all my Twitter followers?
Answer:- Not really. Once you agree to deactivation, the account will remain intact with your entire set of followers. However, nobody can access your account during this period. Fluctuation in the number of followers may occur in the preliminary 24 hours of restoration. You should report an issue to Twitter's contact support if the follower count hasn't been completely restored. 
Can I have more than one Twitter account with the same email?
Answer:- Generally, you can't possess multiple Twitter accounts with the same address.Unless the older one is removed from Twitter platform. Although, you can do it if you are a Gmail user. This is because Gmail will not recognize if you add a dot between your email. Twitter will treat it as a unique email address.