ibotta account is especially known for its cashback system after the transaction. ibotta works better in many shops . Also it helps us in reimbursing the payment i.e getting cash back . Also coupons after the transaction using ibotta is completed. It is very much helpful for a consumer and also makes the payment smoothly online. Despite making payments online has some myths of lost or server problems, ibotta has made its way unique through giving cash back rewards to the one who made the payment through ibotta. This app cannot be achieved until and unless it has a subscription model. It reminds users to make payments else it will be deactivated .Of course, if the user is not active in ibotta, it will be automatically deactivated and also reminds the user to redeem.
Although many people get benefitted using the app and making payments while some may not show interest . Due to some factors and might want to delete the account and want to remove all the subscription process. So people like those may face difficulties thinking that it is impossible to do that in android. But it is possible and let me show you how to do it.
Just follow the below mentioned steps to delete your ibotta account. The following article shows two ways to delete your ibotta account. Proceed through any of the possible ways that work for you. The process is very easy , and also I have mentioned each and every step very clearly.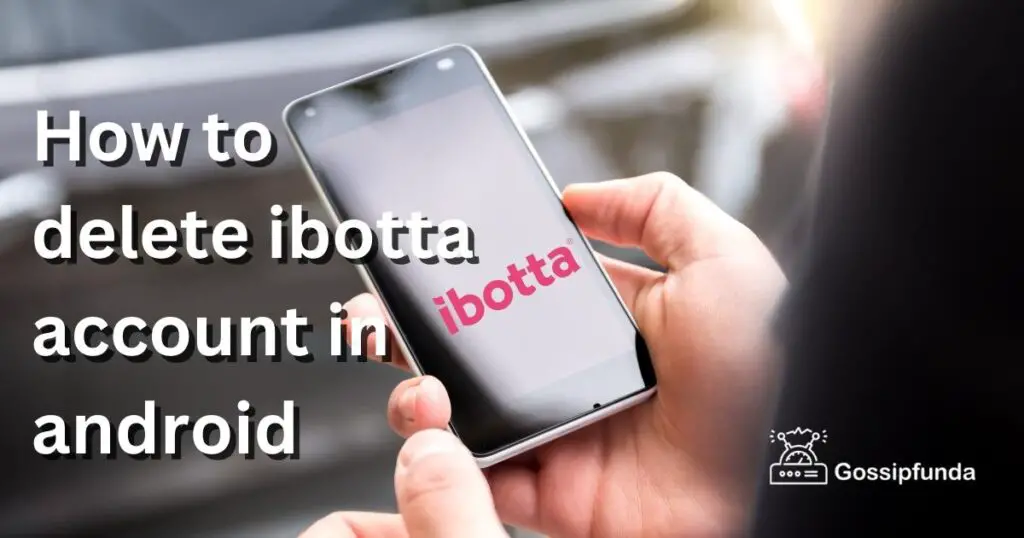 Steps to delete ibotta account in android
Doing any process will have several steps. So let me list out the steps in order and proceed accordingly for the process to delete the account.
Open the ibotta account in the mobile or website in your system
You will be viewed with an option on the dashboard called "I need help with"
From the list of options select account settings
Now select My profile
Now select My account info
You will get a list of options , scroll to the down and then click on "Cancel my Ibotta account"
ibotta account deletion process
The summary of whole account deletion process mentioned above helps you know working of your request to delete account. To delete the account, you need to submit a request to the Ibotta team. Through your profile which helps them to know your details better .Also your payment settlements need to be done for the Ibotta account to be deleted. Sending requests to the team or website is not a big problem as I have already mentioned to you the details regarding the process to be done. You have to make sure that the procedure needs to be done as I have mentioned .Soon team or Ibotta officials will make a ticket of your issue and will back to you soon after. Going through steps carefully allows you to raise a request for you to submit the ticket of  account deletion.
After Account deletion
The moment you send a request to the team of Ibotta or the officials of Ibotta, you will receive a confirmation message from them regarding the cancellation of your account . Along with that you will receive statement about their terms regarding the deactivated account, maintenance fees, dues that are pending. You also will be available to read more about those through link directed by them. This will be done after the request of the account deletion for Ibotta. 
In this way, you can delete the Ibotta account, which is a very simple process. But deletion of Ibotta account needs to be careful. Also about many aspects like clearing the payments . Dues and also bill settlements play a major role in deletion of ibotta accounts.
Reasons For deletion of ibotta account
There will be many reasons for the deletion of the Ibotta account.  Some users use it and some may download without being able to use it . While some may also forget that it exists. In those cases it is suggested to delete the account . Any main reason people delete an Ibotta account is due to its maintenance fees. It is to be paid even if you don't use it. In such cases it is a waste of money. The main reason for using Ibotta is to earn cash with smooth online payment .It may at least reimburse some of the amount that you have paid. If there is a wastage of money without any usage and without any cashback results in loss for the consumer or customer who is using this.
So in such cases, the customer will think about deletion of the account. This will be the primary reason. Also keep in mind that if there are multiple accounts, your information will be exposed or easily available. It will result in data breach.So don't encourage such activities which are illegal. This results in the deactivation of accounts, which will be the action taken by the team or officials of ibotta . This may happen sometimes without  informing . 
Some other reasons may also include deleting the account. For e.g when the customer's dues are pending. But they may tell you that he/she had smooth transactions, got cashback, but want to delete the account. So anything could be the reason for deleting the ibotta account, but primary reasons are what are mentioned above. But most importantly Ibotta will also ensure whether you have paid your bills or not. Also there were cases when Ibotta had blocked the accounts of some users.
Alternate way to delete ibotta account
While coming to another way of deleting the ibotta account. Any website will have a mail id , so that people can write issues to them. Ibotta officials also have a mail id, where people get in touch with them and write their queries to them. Here in this case, to delete the ibotta account , you have to write an email to them regarding the deletion of the ibotta account. The team will get back to you to check , once they receive your request. This is the formal way of requesting the team or officials of Ibotta to delete the account, which you have mentioned clearly and also once you have sent the request to delete the account , you cannot reactivate the account again. So follow the below mentioned process to mail the Ibotta officials about your issue of deletion of account.
Open your email account , so that team can easily identify you , if you mail them from registered email id
Once you have opened your mail id, click on compose to send a mail to team of Ibotta
Now ,Type the mail id of the Ibotta Officials which is as mentioned below in the "To" field.
Mail id: [email protected]
In the Subject space, type in the subject as requesting the team to delete Ibotta account
Now , while coming to the body of the email, type in your query which includes your name, account Id. And most importantly reason for deleting your Ibotta account. Since you have mailed them from your email Id, the team will uniquely identify you.They will revert to your request as soon as possible or will take action regarding your request.
Let me show you the format of the mail 
Subject: Regarding Deletion of my Ibotta account
The Body of the letter should contain like this:
Dear Team,
I am "your name" user of Ibotta. Due to some reasons "mention your reason"  I want to delete my Ibotta account. My account ID is "mention your account ID" .  So I request you to delete my account permanently. Please let me know the status of my issue and also work on it as soon as possible.
With regards,
[ your name]
[account ID]
In this way you can mail the Ibotta team regarding your issue of deletion of account. They will revert you and will ask for any details regarding your statement or transaction list . So that you can send yours accordingly and be in touch with them through the email ID mentioned above.
Note:  You don't need to type the same information as I have mentioned to you in the body of the letter, you can type according to your need, and can also elaborate on the issue with all details. Make sure your important details and issues should be mentioned clearly, only then can the team take action on your issue.
After mail
Team of Ibotta will revert you back once you have completed the process of mailing account statements or them regarding your issue. It will send you a confirmation mail or can also ask you for any other details for their confirmation. Once after the verification of all the details of your Ibotta account , they will check whether it is suitable for deletion or not . According to that they will send you a confirmation mail that your account is deleted permanently. Once you get to know about confirmation of account deletion, you can delete the app from your mobile.
So ,once you get to know about the process of deletion of an Ibotta account, there still might be some questions that will arise in your mind. Many members like this post their doubts in the comments. Let me answer some of the frequently asked questions mentioned below.
Read Also: tv.youtube tv/start enter code
Conclusion
Ibotta is one of the cash back apps for the payment that you made online from ibotta. It enables you to make online payments smoothly as well as gives you a reward in the form of cash back. You need to take subscriptions for this ibotta account and also some maintenance fees need to be paid. So if you feel that you have benefitted from this, and made sure to use it, then you can pay the maintenance fees, else there is no need to use this. Paying maintenance fees and not using them results in loss for you. In such cases you can delete or deactivate your Ibotta account . 
As I have already mentioned how easy the deletion of accounts is in the above mentioned article. It is completely based on sending a request to them regarding one of your issues, which is deletion of an ibotta account. The team will get back to you with a confirmation mail or may also request you some of their needs if anything needed like account ID or Account statement or it may be screen shots of the recent transactions that you have made through for proofs, which you will easily submit or send to them in the same mail. Once you get confirmation from them regarding the deletion of the Ibotta account, you proceed to the next step of deletion of the app from your device.
Frequently Asked Questions