LinkedIn is the largest professional network and career development service that can be operated through the LinkedIn website or with the mobile app. Presently it is a wholly owned subsidiary of Microsoft. Even though it is a social media website (app), unlike other social media platforms, LinkedIn can create professional connections. The user has to take a basic membership or a premium membership. For the basic membership if you are not subscribing to any option, then it is completely free. Those with basic membership can establish connections with similar professionals. Connections are established on a member collaborative basis. The invitation process to get connected can be accepted to make the connection network. Companies can advertise on LinkedIn for their business growth through the premium membership or pay-per-click option. You can selectively delete the services that you do not want. Also, there is a provision in LinkedIn to close the account and deactivate it if you no more needed the account. Instead, you can delete the LinkedIn account permanently. After deleting permanently, LinkedIn waits for 20 days to completely remove your account details. Within that time you can change your mind if you need, it and activate it.
Degree of Connections in LinkedIn
When logged in, every profile you visit on LinkedIn will either show the 1st, 2nd, or 3rd-degree categorization, or none at all. It is at the upper right when seen in a web browser. There is a relationship known as the "degree of connection" between each user on LinkedIn and you. According to the hypothesis, everyone on earth is connected to everyone else through a succession of "friend of a friend of a friend of friend" relationships. Similar to that, Linked In maintains a certain level of connectivity. Between you and every other member of LinkedIn, there exists the said degree of connection relationship. There may be
A first-degree connection.
A second-degree connection
A third-degree connection
An extent beyond these three degrees (outside your network)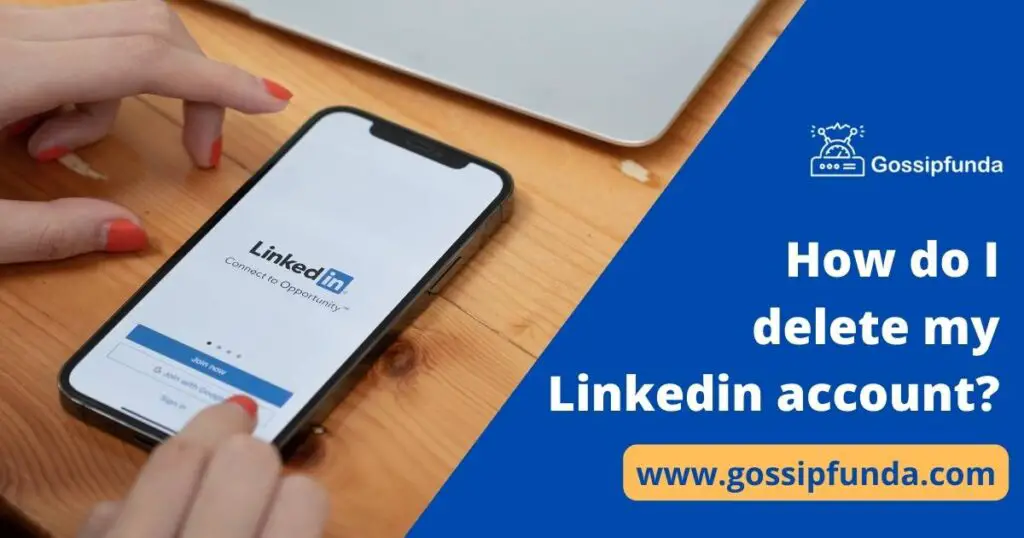 Advantages of LinkedIn Accounts
LinkedIn accounts can be utilized to maintain contact with former and existing coworkers as well as to establish contacts in your sector. It's a priceless resource for recruiting and job searches, as well as a wonderful method to be updated with industry news, build your professional reputation, and make your brand more visible. For businesses, there is a directory listing on LinkedIn that helps the brand awareness of their products. LinkedIn allows users to create their profiles. Job seekers can create a profile along with the resume explaining their education, pieces of training undergone, work experience if any, other outstanding skills,  and a photograph. 
Business companies and other employers have access to job postings. Also, they can search for better profiles matching their job roles. It is an interesting fact that you can follow LinkedIn members, and also make some followers for yourself. Users can access the recommendations from a member. These can be a job recommendation, business recommendation, or connection with other people.  Users can follow the businesses if they like. Also, they can save the job details for application at a later stage. Even the members can restrict their profiles from showcasing to the public.
Basic, Premium, PPC LinkedIn Accounts
With a basic or premium account, you can create and publish (visibility settings) your profile along with a curriculum vitae and certifications received. Even you can make a better exposure to your experiences and training undergone. Instant job offers are also received if you have an effective profile. Business owners can make an entry in the LinkedIn business directory with easy steps.
Basic accounts
As a social website, LinkedIn provides the overall benefits along with a basic LinkedIn account. Those are, 
Find and connect with classmates and co-workers.
Request for establishing many connections
Search for profiles of LinkedIn members
View the profiles of other LinkedIn members if they are set as visible (for the public)
Make recommendations for jobs or placements
Receive unlimited IN Mail messages.
Save up to three searches
Get alerts about the messages 
Restrict the visibility as per your wish
Individual learning subscription
Premium accounts
There is a monthly subscription rate, and billing cycle for LinkedIn premium accounts. You can accomplish the following overall beneficial effects by subscribing to a premium LinkedIn account.
Provides premium careers for professionals to make them well-placed
Premium benefits can be used with LinkedIn Premium subscriptions. Those benefits are Premium Essentials, Premium Business, LinkedIn Learning, Recruiter, Sales Navigator, LinkedIn Learning teams, and InMail messages
Sart-ups or established Businesses can make clients, and generate leads in sales thru the Sales Navigator
Businesses can hire talented candidates thru the Recruiter Lite
You can get deep business insights, and thus adopt new business strategies
You can improve your skills thru LinkedIn Learning sessions (Individual LinkedIn Learning Courses)
DACH companies can have many benefits thru the LinkedIn Premium accounts
DACH companies are  Enterprises in Deutschland, Austria, and Confoederatio Helvetica. DACH businesses are engaged in providing all types of technical or non-technical business solutions for other companies.
Pay-per-Click Accounts
PPC is a marketing technique used in Internet-based businesses. Pay-per-click options are useful for businesses to publish their Ads, sponsored jobs, and product details. There is a payment fixed as per the rules of PPC clicks. The charge will be deducted for each action like a click or an impression made by the viewer. PPC Account is a better option for start-up companies to get introduced to the audience and thereby attain business conversions. As the viewers click or view the ad, a rate is charged.
How to Delete The LinkedIn Account
Deleting the LinkedIn account is very much easy and will not take much time. You can follow the steps below to delete your LinkedIn account.
Log in to your LinkedIn account
Then go to your profile
Near the profile picture, there is a tab namely 'Me'
Select the tab to open the sections under this
Select the Setting & Privacy 
Scroll down to see the option 'Close Account' and select this option
Press Continue to proceed
The deletion page will be displayed asking the reason to delete the account
Enter the valid reason to delete the account
I hope that the above steps helped you to delete LinkedIn Account
Delete a Basic LinkedIn Account
See the detailed demo shown below:
 Open your LinkedIn account and go to the Me tab

Under the Me tab, there are many sections. The screen looks as follows: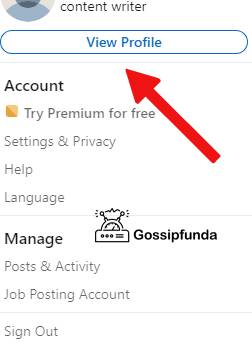 Go to the option Settings & privacy. Then scroll down to see the option to close the account.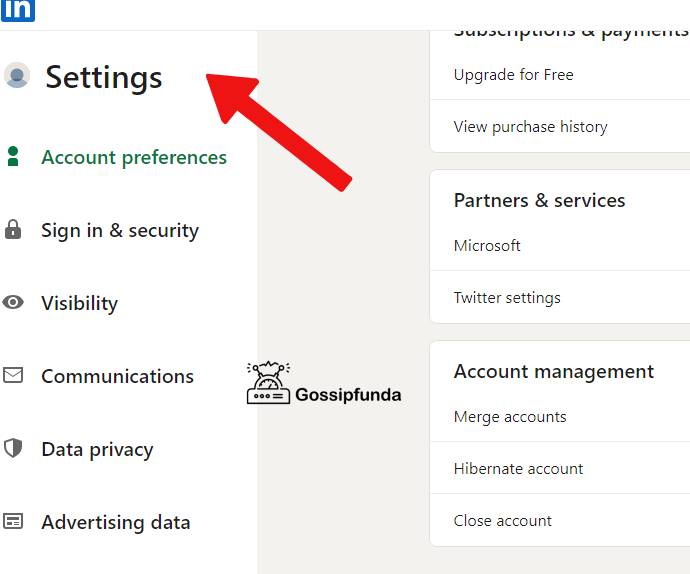 After selecting the option Close account, next, you are prompted to press Continue. Then the next window will be opened.
Here you have to answer many questions. If you like to delete your account then you can proceed by answering the questions with full sincerity. You can write the exact reason for deleting the account.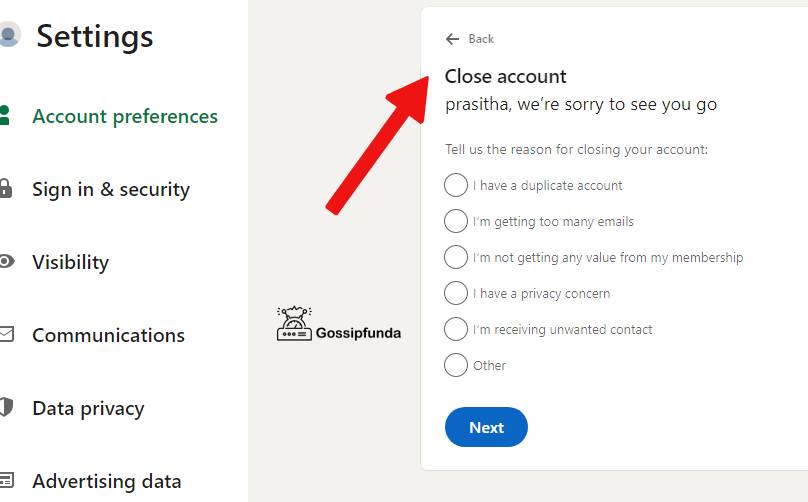 Deleting a Premium LinkedIn Account
As we saw in the case of the basic LinkedIn accounts, the Premium account also can be canceled thru the LinkedIn website or the mobile app. But a premium account comprises many subscriptions.  Thus to delete the premium accounts you must follow the steps below. Steps to cancel your Premium subscription:
Click the Me icon near the profile picture at the top of your LinkedIn homepage
Select Access My Premium from the dropdown
Click on the Manage Premium account Option
Premium Subscription settings page will be opened
Select Manage subscription
Click on the option Cancel subscription
Deleting the Pay-per-Click Accounts
Pay-per-click products charge you for each click. For Sponsored Jobs, LinkedIn Ads, and other products where you are charged per action, you can choose the PPC option (including clicks). Any activities that are delivered are charged and non-refundable
After Effects of Deleting a LinkedIn Account
The subscriptions and the premium account will be working as per the refund policy of LinkedIn. It is available on their official website.
Basic Account
Any information in your LinkedIn account that has been removed permanently will no longer be accessible to you. Your LinkedIn profile will soon be removed from the LinkedIn website as well as search results on Google, Bing, and other connected search engines. You have time allowed for twenty days to deactivate your previous LinkedIn account if you feel guilty about deleting your account. The subscriptions will remain until the end of the payment cycle.
Premium Account
LinkedIn will maintain your premium status until the end of the billing cycle if you decide to discontinue your Premium subscription. There are no refunds available for LinkedIn Premium subscriptions, like, Premium Essentials, Premium Business, LinkedIn Learning, Recruiter, Sales Navigator, and LinkedIn Learning teams. InMail messages are included in the list of Premium features that expire at the end of your monthly cycle if you decide to cancel your Premium subscription. Please submit a request through the Google Help page if you have a membership that was purchased through the Google Play Store and renewed within the previous 48 hours but you want to cancel it and get a refund. You can contact LinkedIn for further help regarding the refund. 
Read Also: Best LinkedIn Lead Generation Practices for 2022
Conclusion
LinkedIn is a social networking website that allows one to create and maintain connections with those with similar professional backgrounds. The profile can be created with a complete CV and training certificates. Employers can find out the candidates, and vice versa. There are different types of accounts that can be created on LinkedIn. Those are basic, premium, and PPC accounts. Different subscription rates are to be paid for a premium account, and PPC accounts.  LinkedIn allows learning sessions and helps to get placed in different companies.
Also, many subscriptions are available with different accounts. Some of them are Premium Essentials, Premium Business, LinkedIn INmale messages, LinkedIn Learning, Recruiter, Sales Navigator, etc. Along with the PPC accounts, Ads, and sponsored jobs also can be published. If you are planning to delete an account, then you can temporarily deactivate the account, or completely delete the account. LinkedIn will wait for twenty days for your return. After that, the account will be removed completely. If subscriptions apply, then the LinkedIn refund policy is followed, and the refund will be done as per the rules.
FAQs
What is DACH company?
DACH stands for Deutschland, Austria, and Confoederatio Helvetica.  The DACH businesses are Enterprises that are engaged in businesses that provide after-sales services, design solutions, technical solutions, and customer support. Businesses in these sectors have a sizable amount of their production and exclusive products from other brands. Customer who seeks services are from entirely different fields like the engineering, chemical, healthcare, construction, and infrastructure management sectors. Usually, some of their own branded products include supplies, hydraulics, industrial equipment, valves, etc. 
How do I delete my LinkedIn account?
You can create different types of LinkedIn accounts. These can be temporarily deactivated or deleted permanently. There is the option to get it deleted from the LinkedIn delete page. This can be obtained by Privacy & Settings. The accounts with subscriptions will be operational until the end of the payment cycles. Some of the subscriptions are refundable, and some are not. The refund policy of the subscriptions will be executed as per LinkedIn policies. LinkedIn allows a twenty-day time to retain back the account if you have a second thought to revert. The PPC accounts will be changed for each completed task or action. The charges deducted will not get returned when you delete the PPC account. Refunding the payment after deleting the LinkedIn PPC account will be based on LinkedIn policies.
What are the advantages of a LinkedIn account? 
LinkedIn is a social website that connects the same category of professionals to share their views and professional experiences. The connections can be a sequence with the 'friend of a friend of ….. You can create your profiles consisting of the academic certificates you received so far. Even you can include experience certificates, training details, and Certifications obtained. If the visibility is set for the public, then the connected members including employer companies can view and select the profile that matches their provided jobs. Even you can utilize the self-learning facility along with the subscriptions for LinkedIn Learning services. If you are a business owner you can utilize the LinkedIn directory to publish your business details. Also, there are specific features applicable to businesses.